Google Cloud
VanillaSoft moved its servers to the Google Cloud. This move will allow us to provide you with much better application support, especially as it relates to disaster recovery, uptime, and overall service levels.
Prevent a duplicate contact from being added manually
A checkbox has been added on the Admin side of VanillaSoft to the 'Customize Add/Edit Contact' page, allowing Admins to turn on a feature that automatically checks for duplicate contacts (based on the phone number) when a Caller manually adds a new contact, or edits an existing contact. When enabled, if any of the phone numbers on the newly entered contact match any of the phone numbers on an existing contact in the same project, the Caller is prompted to select one of the following:
View the duplicate contact
'Cancel' the adding or editing of a contact
'Continue' to add or edit a duplicate contact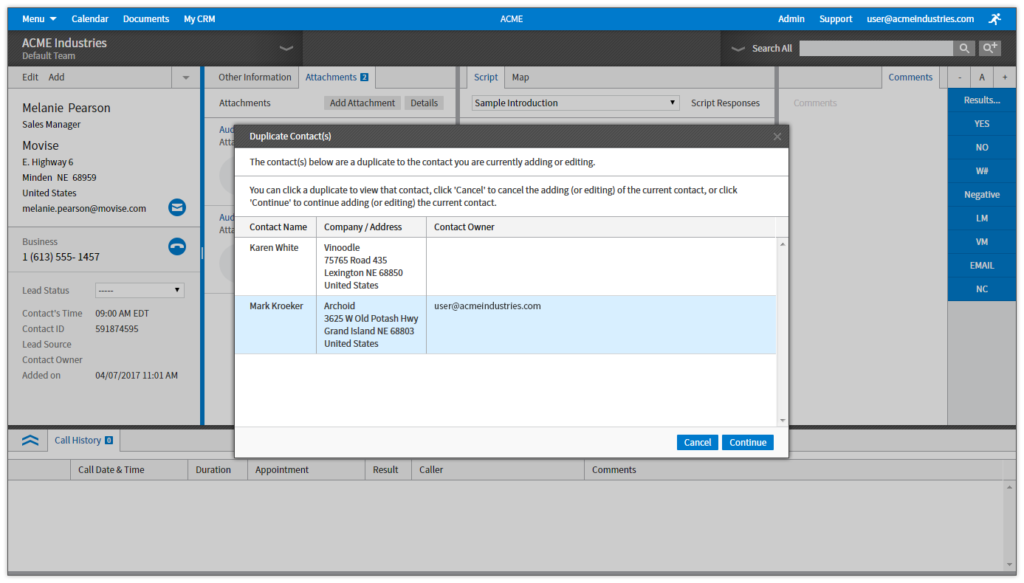 Force a delay before a lead can be resulted
Want to delay the resulting of each Contact to ensure your callers are working each lead appropriately?
A checkbox has been added on the Admin side of VanillaSoft to the bottom of the Results Code page stating, "Prevent the Caller from resulting newly routed Contacts for ▢ seconds". If enabled on a Project, Callers are not able to result a Contact until the specified time has expired for the following scenarios:
When a new Contact routes after the resulting of a previous Contact
When a Caller first logs into VanillaSoft and the first contact is routed
When a contact comes up from a search.
If the Caller attempts to result a contact within the specified time, a message appears stating the amount of time left before the contact can be resulted.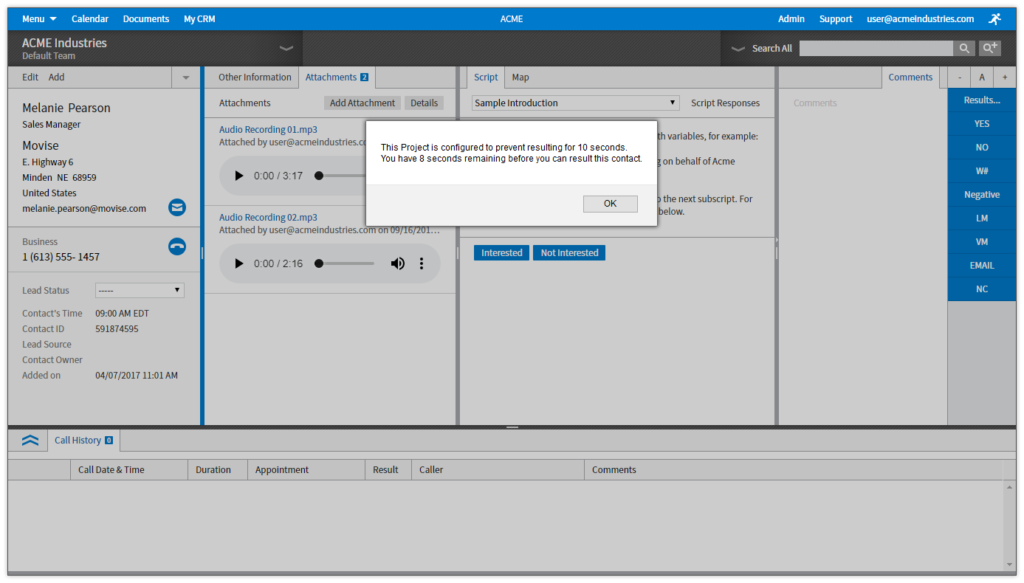 Incoming Web Leads enhancements
We have added three new items to the Options section of the Incoming Web Lead page:
Add the ability for the Admin to delay when a new inbound web lead routes
Prevent an incoming web lead from creating a duplicate contact
Update Only (ie. do not add a new contact)
Learn More about Incoming Web Leads
Restrict a Caller from communicating via SMS to manually added contacts
A checkbox has been added on the Admin side to the bottom of the Phone Fields page stating, "Contacts manually added by callers are automatically opted-out of SMS". When checked, contacts manually added by your Callers are automatically opted-out of receiving SMS messages.
Learn more about SMS messaging in VanillaSoft
Calendar Improvements
The option selected in the 'View Calendar for' dropdown on the Calendar page will 'stick', meaning the next time the Caller goes to the Calendar, that previously selected project continues to be selected.
A 'Current Project' option has been added to the 'View Calendar for' dropdown. When selected, the calendar view will always be the project that the caller is currently working on.