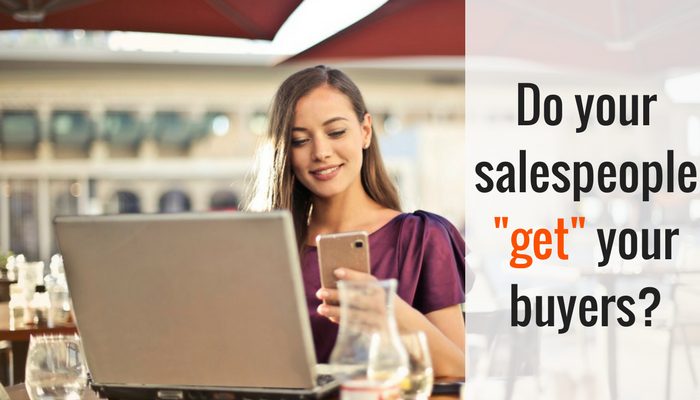 Amuse me for a moment and pretend that a Fuller Brush (or any door-to-door) salesman came knocking on your door today. Once you get over the shock of a man in a full suit and fedora at your door, how do you expect the conversation to go? Likely, he wouldn't take too much time to learn about you or your household, and he'd quickly try for a hard sell.
This old-school approach to sales obviously doesn't work anymore — not with consumers nor with B2B decision makers. Technology, obviously, has changed the game. With the availability of so much information online, why would you simply listen to some stuck-in-the past stranger tell you about why you or your business need his product? You wouldn't. You would do your own research and expect to speak to a sales professional who is as informed and aware of your needs as you are about potential solutions.
Understanding your buyers and the paths they take to get to the sale is an essential element of selling. Do your salespeople "get" your buyers? Sellers must recognize the expected experience and give their B2B prospects what they want. Below I'll review ten tips every sales pro needs to know to succeed in B2B sales.
1. Understand your buyer's habits and expectations.
The Internet enables customers to search out the information they're looking for before reaching out to a sales representative for help. 51% of B2B buyers turn to online content to research buying decisions according to Demand Gen Report. And smartphones make it even easier to do it on the go. 82% are using their smartphones, and 56% use a tablet to access content, including webinars or videos that have more educational value than sales innuendo.
However, data collected by ITSMA (Information Technology Services Marketing Association) shows that "70% of B2B technology solution buyers want to engage with sales reps before" identifying their short list. Yes, the buyer is doing a lot of online research, but there's still a need for sales reps to facilitate the buying process.
Be proactive and find a way to engage with prospects earlier in their journey to the sale. #SalesEngagement is key. #prospecting
Click To Tweet
Knowing the tendencies of modern B2B buyers helps you recognize opportunities to engage during the buyer's journey. Either you can wait for the prospect to get more than halfway through the buying process to reach out to you, or you can be proactive and find a way to engage with prospects earlier in their journey to the sale.
2. Respond quickly – but not too quickly.
Everybody knows you want to beat your competition to the punch. You want to call that lead back ASAP when they fill out a form on your website. There's being fast and there is being creepy. Don't make your prospect feel like you are a stalker. Patience is a virtue – but the window for patience is limited, so listen up.
VanillaSoft partnered with the Telfer School of Management at the University of Ottawa to study sales calls and sales lead follow up. According to their analysis, responding within five minutes typically delivers an 18% rate of positive outcomes. When you respond within 10 – 60 minutes, however, your chances greatly improve to a 38% rate of positive outcomes.
Responding to #leads within five minutes has an 18% rate of positive outcomes. Wait for it... however, responding within 10 – 60 minutes, increases your chances to a 38% rate of positive outcomes. 🤯 Heck yeah! #SalesEngagement
Click To Tweet
3. Build trust.
Before you pick up the phone to call someone back, conduct online research about the prospect to help you tailor the conversation to him or her. Show your interest in the person, so you can build a relationship that develops a "know, like, and trust" bond. Wouldn't you share more with someone you trust and are comfortable speaking to?
When you do get the decision maker on the phone, keep in mind that you need to act as a trusted source or teacher. According to Forbes, a salesperson's teaching ability drives over 53% of B2B customers' purchase decisions. When you take on the role of an educator or consultant, you build credibility and trust with the prospect.
4. Ask questions and listen.
Asking the right questions allows you to discover a prospect's pain points and learn how you can help. Remember – you're looking for more than "yes" or "no" answers. When asking questions, you want to get a prospect talking. Yes or no questions are not going to reveal anything of significant value or help you uncover additional opportunities.
Let's take a look at a study by Gong on talk time for top performers vs. all others.
Top reps listen 54% of the time
Average reps listen 32% of the time
Bottom reps listen 28% of the time
So, as you can see, it's not only important to ask the right questions but you also need to allow your prospect time to think about their answers and listen to what they're saying.
5. Focus on business results and outcomes.
People are busy, and they don't have time to listen to you "wax poetic" about the features and benefits of your solution. Make it easy for them to understand how your product helps them achieve their desired results. If you've spent time asking questions and listening to the answers, you should be able to formulate a results-oriented response to the prospect's pain points. You should be able to discuss – at least at a high level – how similar clients have used your product or service to achieve similar desired outcomes.
While this adage comes from a Harvard marketing professor (Theodore Levitt), the sentiment is quite applicable to selling, too: "People don't want a quarter-inch drill. They want a quarter-inch hole!" Help your customer understand how to get the result (a quarter-inch hole). Don't focus on the craftsmanship of the drill bit if that's not part of the customer's list of "must-haves."
6. Tell a story.
People can more easily remember stories than plain facts. In an article for the Association for Talent Development on Storytelling and Brain Science, Doug Stevenson says, "when you tell a story and make a point, you make an emotional connection."
Before your call with a decision maker, review your library of case studies or think about anecdotes shared with you by current customers or other customer-facing teams. Uncover a compelling story that will appeal to the decision maker.
7. Know your stuff!
Not only should you have a complete understanding of the products you're selling, but you should also know about your competitors' products and current industry trends. How does your product compare, which features do you have that your competitors don't, or which features do they have that you don't offer? You can level the playing field when speaking with prospects if you know the answers to questions like these. And, following current industry trends not only shows a level of passion for the industry, but it can also trigger talking points.
8. Leverage the available communication technology.
Technology affords us with multiple communication venues. The phone is highly valuable in the sales process, but don't discount other digital means. Email, social media, texting, and even personalized video can help move a prospect along in the decision-making process. You need to find out early in the sales process what touchpoints the buyer prefers to make them feel comfortable.
9. Qualify leads.
Change the mantra from "always be closing" to "always be qualifying." There are a plethora of sales qualification frameworks out there starting with IBM's age-old acronym BANT. Find the one that works for your products or services and ingrain it into the minds of your reps.
10. Develop a sales cadence.
Research from the Telfer School of Management at the University of Ottawa has found that sales teams using a front-loaded cadence have the most success. With a front-loaded cadence, you have the opportunity to build a strong personal presence right out of the gate. When developing a cadence for yourself or your team, pay attention to best days, times and frequency to maximize results.
If you're in B2B sales, give each of the above points consideration. Keep that Fuller Brush salesman in mind as your example of what not to do. Instead, embrace your role as a trusted advisor and guide. Focus on building relationships rather than spouting off a list of features and generic benefits.
There is far more to each tip than we can cover in a single blog post, but I hope this post gets you thinking. Which area do you think today's sales professionals need to work on most? What point is your own biggest strength or area for improvement? Let's talk about it in the comments below.