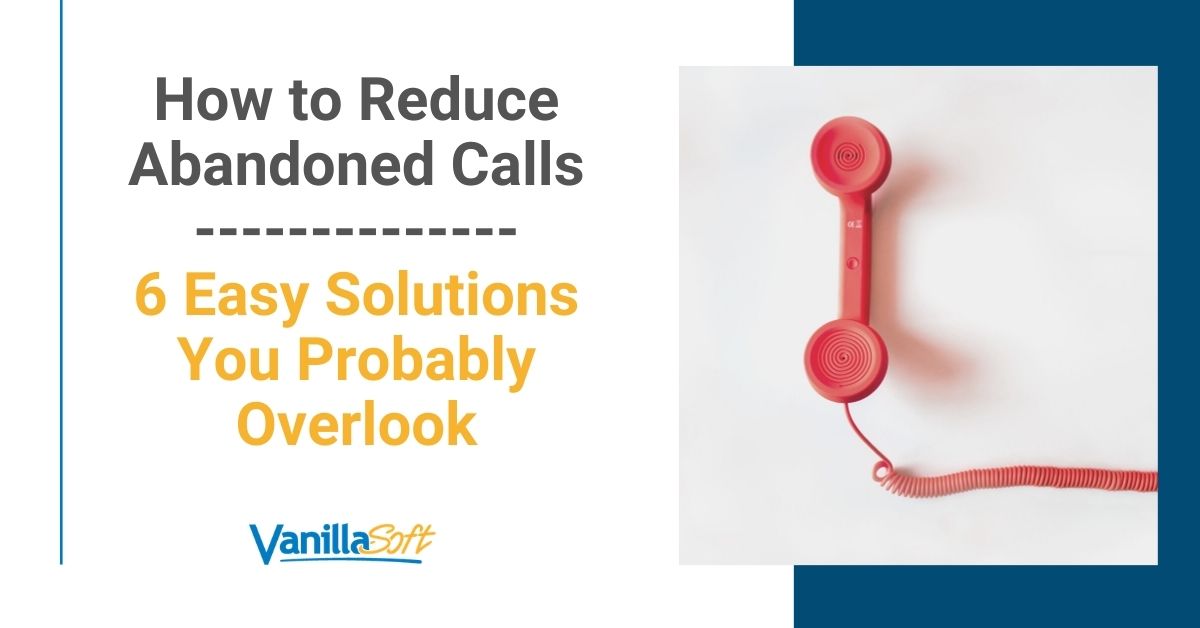 In an Arise Virtual Solutions customer survey, two-thirds of people said they'll only wait on hold for two minutes or less – that's the narrow window of opportunity you have to reach most customers!
If you can't get them off of hold and connected to an agent fast enough, the result is you lose business, and your call abandonment rates soar. No bueno.
Call abandonment happens when callers hang up before they get patched through to an agent, or sometimes it occurs during the call while an agent assists them. The call abandonment rate you track is just a percentage of call abandoners out of the total number of incoming calls to your phone lines.
There are several reasons why your customers abandon calls, but you can typically chalk it up to long hold times or service so subpar they need to hang up before you can get another word in.
To prevent and stop both problems in their tracks, keep reading.
Meet your newest metric to track: call abandonment rate
Your call abandon rate is a huge deal, and it needs your attention ASAP.
Tracking this metric means you can better understand your customer's (dis)satisfaction and how it affects their loyalty – when you know their issues, you can start fixing them.
GetVOIP's senior tech writer and reporter Corey McCraw says one of the most common key performance indicators (KPI) for a successful call center is the call abandonment rate.
Why? Because a core goal of your team should be to strengthen "the relationships you're forging with not only your existing call center customers but with potential future ones as well," says McCraw.
You can reduce the call abandonment rate by improving your call center call flow. This provides prompts to speed up the call process and find solutions to customer problems in the most expedient way.
Although you'll have to settle on an abandonment rate that meets your company's standards, you need a benchmark to base yours on to know whether you're above or below average.
👉 According to Corey, the industry-standard call abandonment rate is between 5% and 8% – but don't stress yourself out because they can also reach as high as 20%.
Ultimately, it's yours to define and track.
6 key ways you haven't tried to improve your abandoned call rate
We've all abandoned a call here or there, so you can understand why your customers don't have the patience to deal with excessive hold times.
Luckily for you both, there's plenty you can do to ensure no one has a reason to ditch your line.
1. Try it out yourself
Do you know what your leads experience on your customer call journey?
This tip is easy to overlook because you assume you just know – but that's not always the case, even if you set the steps up yourself.
One of the best ways to gain insight into why abandoned calls happen is to objectively go through your own sales process and experience your customer's pain points.
You might learn the issue is your wait time or on-hold message (stick around for solutions to both of these!); no matter what it is, you'll be in a better position to resolve it.
2. Step into the future with an IVR phone system
Interactive voice response (IVR) systems are life and time savers. These automated phone systems can manage your incoming calls, interact with callers, determine the reason for the call, and much more.
As a sales organization, your tech stack is a crucial aspect of your success – that means an effective phone system that reduces the number of calls that need agent support is necessary to cut down abandoned calls.
Here's what an IVR system takes off your plate and handles for your customers:
☎️ Submit a trouble ticket.
☎️ Assist with common troubleshooting issues.
☎️ Process payments.
☎️ Activate accounts.
When it can't help customers through pre-recorded messages or sending them to voicemail, the IVR system simply forwards the call to one of your agents.
3. Work the (IVR) system
While we're on the subject of automated phone systems, here's a neat feature you can implement to reduce abandoned calls: automatic callbacks.
With this feature, your customer gets to choose to receive a call back rather than wait in the phone queue for the next agent – when an agent becomes available, your IVR calls your customer and connects them.
Why is this important? Because people hate to wait, folks.
To enhance your customer's experience with your call journey, spare them the frustration of waiting on hold for who-knows-how-long, and provide a have-your-cake-and-eat-it-too kind of option – like one where they get the help they need without having to wait for it.
Heck, you can even go the extra mile and include an option that lets your customer set an appointment to receive a callback.
4. Give customers something to do (and stay one step ahead!)
For the callers who opt to hang in there and wait on the line for the next agent, don't just let them wait aimlessly.
Think about when you're waiting for phone support – 30 seconds feel like 30 minutes, right? Yup, but the only exception is when you keep busy.
Another way you can decrease abandoned calls is to minimize your customers' perceived wait time by authenticating them right in the queue.
While they wait, prompt them to prepare required information like identification or account numbers, for example. That way, they don't get bored or angry and count each passing second.
Plus, because you validate information during this extra step, your agents don't have to. (Reduced call times and abandoned calls FTW!)
💡 Pro-tip: This is also an effective way to manage customers when the ratio of calls to agents is too high.
5. Hire (more) agents – and keep them trained
Sometimes, your issues with abandoned calls simply come down to good ol' supply and demand – too much of one (demand) and not enough of the other (supply).
Luckily, you can resolve this and lower call hold time and your abandonment rate in two ways:
Hire more agents.
Adjust the schedules of your current agents to match high-traffic periods.
One solution is obviously cheaper than the other, but it's essential to staff your team based on the volume of calls you receive.
If not, there's no way you'll be able to efficiently manage influxes of incoming calls without compromising quick and supportive service.
Whether you bring new agents onboard or get creative with the team you have, training is vital.
It's awesome to have tons of agents to help you easily distribute calls, but how much help will they be if they don't have the skills to perform under pressure or think quickly on their feet to move the customer along?
Try these techniques to train your agents, and offer them regularly:
Refresher e-learning courses.
Webinars.
Workshops.
Conferences.
Hire outside consultants to deliver in-house training.
Incentivize learning and reward achievements.
6. Take the mystery out of waiting
Every so often, remind your customer of their queue number, the estimated wait time, and that someone will be in contact soon.
The idea is to help them perceive progress.
Clarity is all anyone wants, especially your waiting customers – when you give callers an estimated wait time, they're less likely to abandon the call because you helped set their expectations, and they know how long they'll have to wait.
In between these reminders, don't further risk losing your customers by playing canned recorded messages that say some version of "Your call is important to us" on a loop.
In fact, hearing that same message over and over won't only irritate customers, but it might make them think they've waited longer than they have.
As you rethink your strategy to reduce abandoned calls, check out this webinar to rethink your sales approach and empower it to succeed in any situation! (Even the ones we don't see coming.)