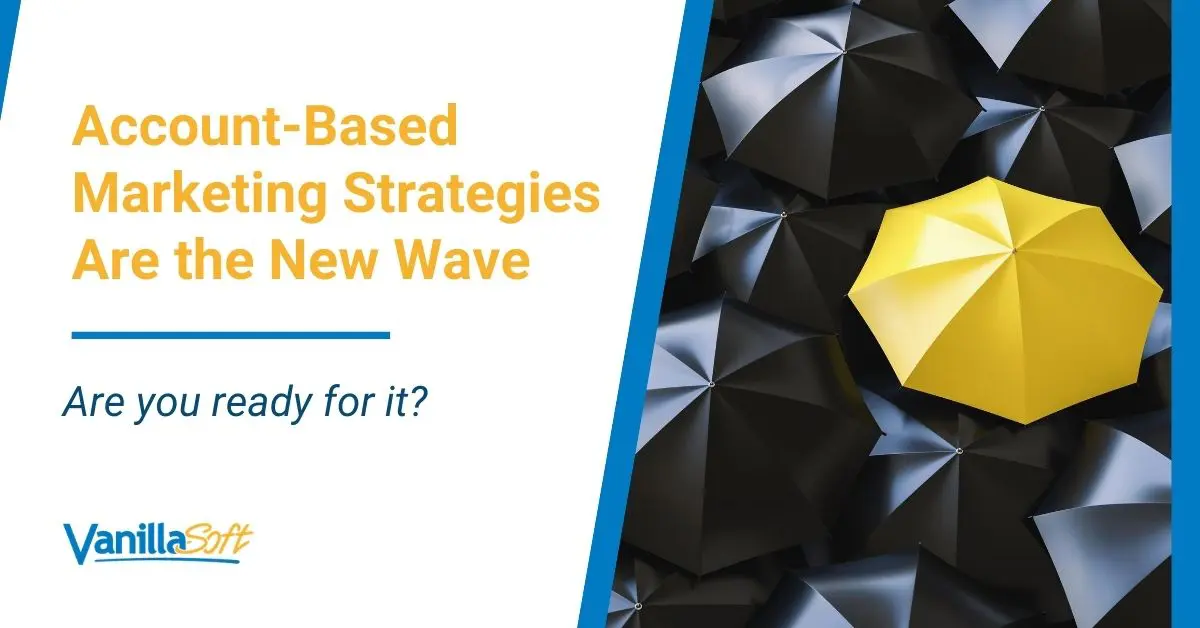 Unless you've been living under a rock, you've probably heard of account-based marketing (ABM). You might even be asking yourself if your sales and marketing teams are ready for it.
According to MarketingProfs, companies experience 36% higher customer retention rates and 38% higher sales win rates by aligning sales and marketing teams.
Look who's intrigued! Now, get hip: ABM is a focused approach to B2B marketing where marketing and sales teams — AKA "smarketing" — work together to target best-fit accounts and turn them into customers.
Traditionally, B2B folks cast a wide net for lead generation, hoping to capture as many leads as possible. The problem?
Well, as the sales funnel gets narrower towards the bottom, most B2B leads never become customers. Bummer.
But… it's an avoidable bummer. A bummer you don't have to experience if you're using your smarketing noggin. Get the picture?
Sales reps and marketers, you have to get on the same team and page — misalignment not only results in lost productivity but also in lost business opportunities. Throw in ABM, and your approach may damn well be invincible.
Account-based marketing for… sales?
Yup! Welcome to the new world of doing sales right — and smart.
Account-based marketing (ABM) is a strategic sales and marketing approach that uses highly targeted and personalized communication to win new business ($$$).
Basically, ABM takes the traditional marketing funnel and flips it upside down. Marketers typically launch a broad campaign to target a bazillion leads in hopes that the sales team can alley-oop the ball (lead) and slam dunk it (leads → customers).
ABM, on the other hand, targets a specific company and engages key decision-makers within that company to create new sales opportunities.
Make sense?
At its core, ABM is all about how to best get your foot in the door and prospect the right accounts with a catered approach. This means that marketers can better personalize their efforts as they know exactly who to reach. And with a better pool of leads, the sales team can be more effective and even shorten the sales cycle.
Plus, wouldn't you like to spend less time, money, and resources on campaigns that fail? Get with the ABM program and create personalized campaigns that speak directly to your prospects.
Think you're ready for ABM?
Not every business is ready to implement account-based marketing, and realistically, it's not right for every business model.
So before you seek out ABM, there are some things you need to take stock of, like your current business structure, organizational alignment, processes, and CRM — but that's not all.
1. Evaluate your accounts — create a target account list
Has your business ever created a target account list to market to?
Not a target lead list of marketing qualified leads or sales qualified leads — a target account list of what your business considers ideal purchasers of your product or service.
If target accounts lists never made it to the agenda of your team's marketing or sales meeting, give it a shot before you switch over to ABM. But if you already have these lists, fire up that #smarketing engine: You're well on your way to ABM readiness.
2. Know the costs of creating new customers
Consider this: Do you want to keep floating by or do you want your business to grow with new accounts and strong selling strategies that increase account lifetime values?
One of the goals of ABM is to increase average deal size — if your product pricing isn't strong enough to generate revenue while you focus on other target accounts, this might not be the right time to bring ABM into the picture.
But if your product or service is priced competitively, there's a higher chance you can bring in increased revenue compared to the competitors across the office park.
At the end of the day, ABM creates growth, expansion, and engagement with new accounts and new opportunities in your current accounts — if what you want is to find ways to scale your closed-deal revenue, make a right turn on ABM Street.
3. Analyze your sales processes
Much like your fitness journey, ABM is a long-term marketing strategy — it takes time for results to show up.
With that in mind, look at your sales processes: How long does it take to close a deal? Who are the key players, and what's their purpose? Are they on the same page?
"Account-based marketing uses key insights from past processes and programs to build a better organizational future with larger annual contracts, more closed new revenue, and a funnel velocity unlike ever before," says Mojo Media Labs.
"Without this documentation, ABM would be flying blind, basing decisions off of assumptions, and for an inherently strategic program, that simply won't work."
Two key ABM-readiness indicators worth a second look:
Sales cycle length
Required salesperson interactions
If your sales process is documented with clearly established roles and responsibilities, ABM is right around the corner. If your sales process could use a little attention, don't move on with your ABM journey until you address the issues.
4. Get your technology and measuring method ducks in a row
Step 1: Make sure you measure the number of leads and the conversion of those leads into opportunities and customers — doing so makes the transition much smoother to think in terms of accounts (like ABM does) rather than leads.
Plus, it helps to have definitions in place for each lead lifecycle stage. If you do, ABM is calling your name; otherwise, take the time to flesh them out. The point of ABM is organizational alignment, right?
Here's another metric of readiness: Your technology. To be ABM-ready, your technology infrastructure should include a:
CRM
Marketing automation system
Targeting ABM advertising tools
Augmentation tools
If one of those words appears to belong to a foreign language, well, you know what that means…
Sales and marketing: The harmony your business needs
When sales and marketing teams join forces to elevate the buyer's journey, everyone wins: A TOPO study says an ABM strategy improves customer lifetime value by 80% and increases win rates by 86%, over a traditional go-to-market approach.
Outlined by Sangram Vajre for Terminus, here are some benefits that everyone enjoys when sales and marketing teams work together with ABM:
Tightly aligned sales and marketing teams
More efficient use of the marketing budget
Shorter sales cycle
Better customer experience
More successful sales conversions
What are you waiting for? Now that you know what to do, implement an ABM strategy so you can #smarket smarter, accelerate your sales cycle, amplify sales opportunities, and, most importantly, win over high-value accounts. Now more than ever, you need to align your marketing and sales teams to grow your revenue faster! Don't know where to start? We've got your back. Check out our webinar on Winning Key Accounts Using a More Personal ABM Approach on Linkedin today.