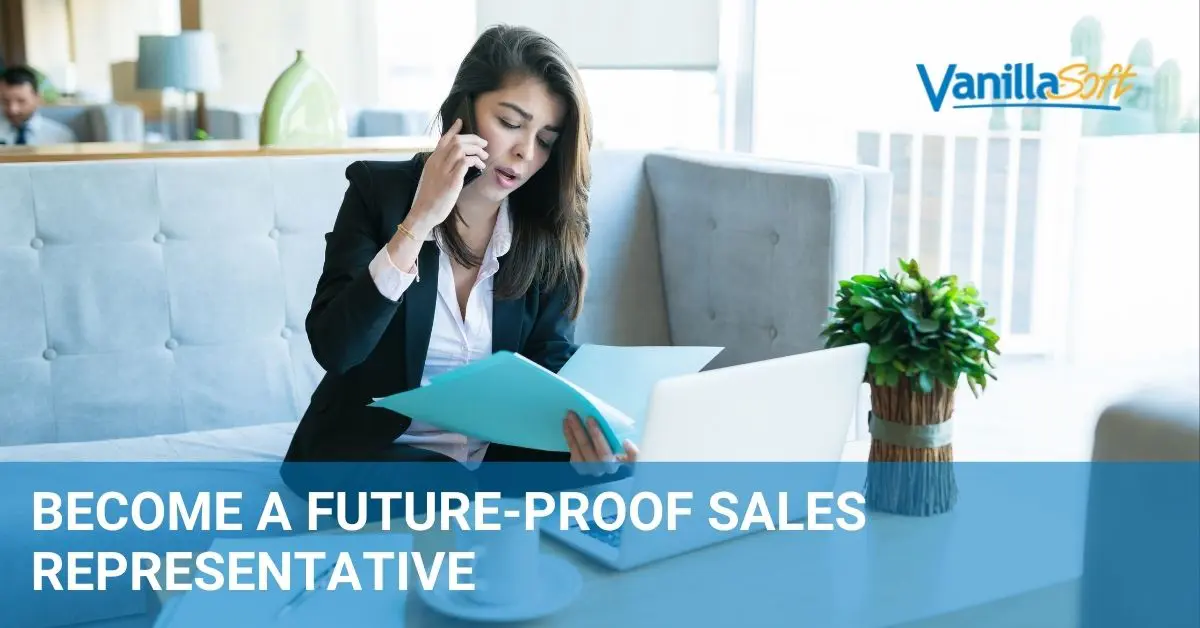 An article in the New York Times states, "there are, nevertheless, many instances where proper advertising is producing better results than the old method of personal solicitation – larger volume at lesser cost." Is that an argument that sounds familiar? Throughout recent years, people have been sounding the alarm proclaiming that the position of sales representative is doomed. Of course, it's not a new idea. As a matter of fact, the article I just quoted was written in 1916!
In the 1916 New York Times article, Arthur J. Steinfeld claimed that the railroads changed everything. People no longer required a traveling salesman to come to them – the customer could travel to the retailer, and it was advertising – not sales reps – who drew the customers to stores. Fast forward to 1962, and you've got "The Vanishing Salesman," by E.B. Weiss – a book full of predictions about how pre-selling, advertising, branding and the "new age of self-selection and self-service" would reduce or eliminate the need for salesmen.1 Remember, both the NYT article and "The Vanishing Salesman" book were written well before the advent of the internet. So, for at least 100 years that I've personally verified, the Chicken Littles of the business world have been proclaiming, "the sales sky is falling!"
Experts have proclaimed sales jobs are doomed for at least 100 years. Is history on the rep's side?
Click To Tweet
Things, of course, have changed dramatically since 1962. The internet does bring a whole new level of "self-selection and self-service" into the buyer's journey. Sales representatives are a dying breed in some verticals. In 2012, Gerhard Gschwander of SellingPower magazine predicted that of the 18 million salespeople at the time, there would be fewer than 3 million sales reps needed by 2020 in the U.S. In 2015 Forrester forecasted that one million B2B sales representatives in the United States will lose their jobs to e-commerce by 2020.
The prospects sound kind of gloomy, huh? Maybe.

Maybe not.
History Is on the Side of the Sales Rep
The Harvard Business Review points out, "As certain buying steps move from salespeople to online and other channels, new complexities and uncertainties for buyers will emerge. As in the past, innovation within companies and across entire industries will continue to produce new offerings and new ways to buy that are not yet apparent to buyers. This knowledge gap will create a need for salespeople to help buyers navigate unknown waters, even in today's environment."2 Essentially, history is on the side of salespeople when you consider the examples HBR lists:
Between 1995 and 2013, the pharmaceuticals industry got rid of 55% of its sales jobs.3
Meanwhile, high tech industry giants such as Google and Dell added B2B sales positions

Google added thousands of sales positions – including inside sales jobs for selling locally-targeted advertising to small businesses.4
Dell added sales consultants to help business owners through complex software and hardware purchases.5

During the period of 1995 – 2013, the number of B2B sales jobs did not shrink thanks to technology and innovation.6
While the news above is good, it's also an important reminder that the industry you sell to or the product you sell may not always require a sales rep. Watch for the red flags that signal the sales role may be in danger (going away or decreasing to more of an order taking role) for your industry or product: increasing self-service and e-commerce, commoditization, technological disruption, and societal or political changes that impact your business or industry.
Become a Future-Proof Sales Representative
We know it's highly likely that new complexities and innovations will create new sales jobs to replace those that may be lost in the future. However, that doesn't mean it will be easy to land one of those new sales positions. It's vitally important that you take steps to future-proof yourself. The future-proof sales rep will . . .
Take on multiple roles
Sales reps who are comfortable in a variety of roles will be desirable to employers. Important skills to hone include client management, project leadership, and support. These skills will be especially important in industries that are trending more toward self-service and e-commerce. While the number of sales reps will decrease in these industries, there will still be a place for well-rounded, multi-skilled sales pros.
Be better educated
We are seeing this trend now. B2B decision makers especially want to ensure they are dealing with intelligent salespeople who can appreciate and assess their needs and provide the appropriate guidance. Sales is an increasingly knowledge-dependent role.
Be dedicated to life-long learning
The rate of technological change is astounding. All these changes mean salespeople need to commit themselves to continuous learning. Stay updated on your industry and emerging industries. Check out technologies that can change how you interact with your prospects and customers. Today it's smartphones and social media that help you stay in touch. Tomorrow it will be virtual reality or something yet unimagined.
Have strong written communication skills
While nothing beats a great person-to-person phone call, we all know that email, text messages, and social media have increased the amount of written communication between sales reps and prospects. If your grammar skills aren't great, take a class to brush up on your writing.
Have strong networks and social networking skills
A future-proof sales representative will be desirable not only for his or her knowledge of social media but also for the strength of his or her network. In fact, your network could very well help you find your next job.
Be more tech savvy than previous generations
If you are a Millennial or younger, this is probably a piece of cake for you. For those in the Generation X crowd or late-range Baby Boomers, it's important that you up your game in the area of technology. That doesn't mean you have to become a coder. It does mean losing any fear you may have about social media or learning how to use new software platforms. Sales and marketing is becoming increasingly technology dependent. The more tech savvy you are, the better your chances to succeed will be.
Still need to hone classic sales skills
Regardless of how skilled you may become at the above listed skills, sales ability will remain important. Even now, sales enablement technology with queue-based lead management helps sales reps make more calls per hour, leave more voice mails, and send more emails. A great sales productivity solution will just make bad sales reps fail faster. Great sales reps now and in the future need to practice their call scripts, engage in role-playing, seek a sales mentor, and participate in sales training opportunities.
Future-proof #salesreps need tech & #socialmedia skills, but classic sales skills matter.
Click To Tweet
What's in Your Sales Future?
Next time you hear about how the sales sky is falling, remember how well history has treated the role of the sales representative. While there will be winners, there will also be losers. Don't be on the losing side of sales history. Remember the traits that help you future-proof yourself for your next sales job.
Want to see the future of better sales calls? It's already here. Start your VanillaSoft free trial today!
---
Citations
1 – 6 source: Despite Dire Predictions, Salespeople Aren't Going Away, March 2016