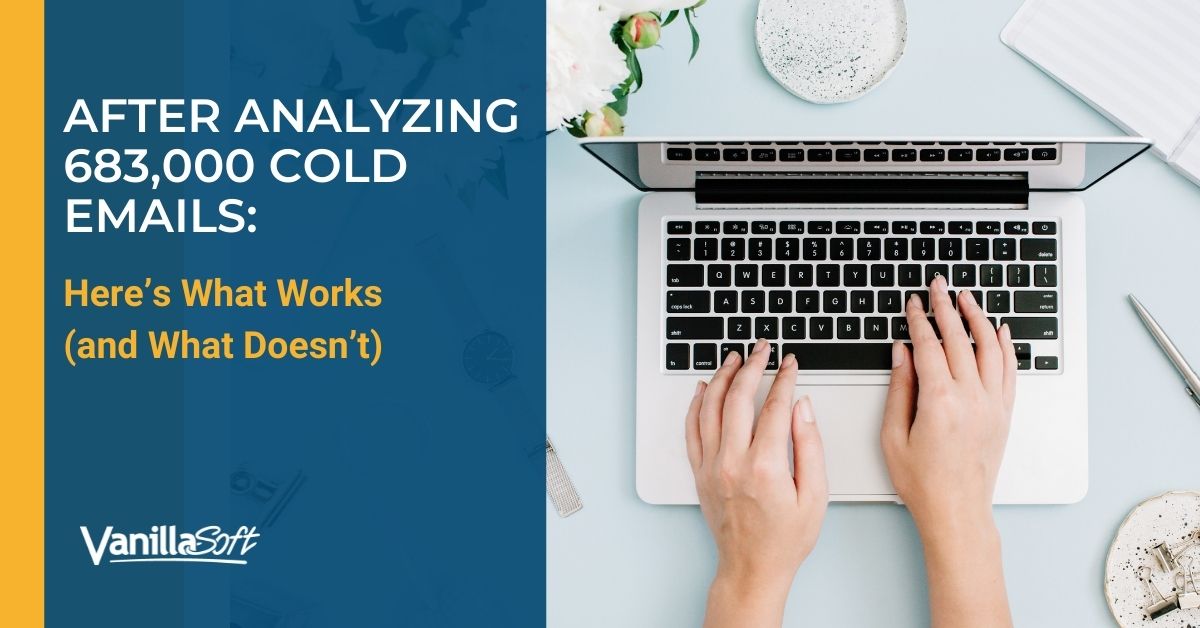 Email open rates can be a depressing metric. They're rarely high, even when they are relatively good. So how can we make the most of our emails to prospects by optimizing everything possible? We need data.
Ollie Whitfield, product marketing manager for email-automation app Autoklose, analyzed 680,000 cold emails to find out what works. He says the data shows that subject lines and timing are two variables we can fine-tune to maximize our success.
Ollie shares his best tips for increasing open rates, including the best day(s) of the week (hint: is there a best day of the week?!) and hours of the day to send emails, as well as how to craft those all-important email subject lines.
It's such a common saying that I'm not even sure who said it first: Without data, you're just another person with an opinion.
And although I'm full of opinions –– as are most of the guests on my show –– I think we all know that business decisions are best made with some hard facts to back them up.
That's why Ollie Whitfield, product marketing manager for email-automation app Autoklose (a VanillaSoft company), analyzed more than 680,000 cold emails using the Autoklose platform.
The biggest email in the whole damn data pool clocked in at an astounding 6,580 words. Ollie says that's 8% of the length of the second Harry Potter book. (That's some Hufflepuff energy right there.)
"It got opened," he says. "That's the cool thing. It didn't get a reply that time. I would never say it doesn't matter what you write because it does, but the subject line comes way before that, of course. And that's where some of the more interesting stats come from, too."
He notes that not that many emails actually do get replies, unless they're out-of-office messages or something like that.
So the length of the email itself is secondary to the length and clickability of the subject line. Ollie found one message with a 52-word subject line –– and, you guessed it –– that one didn't get opened.
"If you think about it, an iPhone has maybe four, five, or six words before it truncates. That's how most people view their emails. What's the maths on that? 52 words is eight times the length of a subject line on a phone."
My maths says it's 13 times the length if we assume the app truncates at four words.
"That's why I didn't become a mathematician," says Ollie.
But he's a super-talented product marketer with incredible, data-driven insights on how the sales game works. Based on his research, Ollie shares the best tips on how to boost your open rates with simple tweaks to your subject line and timing.
What's working with email subject lines: Write them like text messages
12% of cold email subject lines have between 11 and 20 words. Are you in that 12%? If you are, there's a cure for it. But brevity is an art.
If you keep your subject line between three and five words, it needs to be tight and tailored to the recipient. If you send something like "Your Autoklose case study," they'll want to open it and find out more –– because it's about them.
According to Ollie's study, the most common length of a subject line is four words. Closely behind that: six words, then three.
His research suggests that the more you make emails sound like texts –– "without 'LOL' or smiley face emoji, but with an appropriate tone," he notes -–– the better.
Generally, the shorter the subject line, the better. Folks, take note:
Subject lines that are six or seven words result in worse open rates.
The content of the subject line doesn't matter as much as the length.
The data doesn't seem to suggest that there are more replies to a seven-word subject line than an eight-word subject line –– and that's because you can't get replies unless the emails are opened.
So, when it comes to subject lines, the shorter the better. But obviously, one word is rarely enough. To put this into practice, Ollie recommends:
Skipp modifiers like just, definitely, and very.
Lean into the clickbait. You might try something like "'Hiring Darryl Praill' or 'Firing Darryl Praill.'"
Be creative as heck. The idea is to make the recipient think: Why the heck would he write that?
Be open-minded about your email strategy
When you send your emails matters. But there are some subtleties to consider.
First, the day of the week can have an effect, but "there's not really a runaway leader" for the day on which emails are most likely to be opened, says Ollie.
But the stats say Monday is the best day for sending cold emails.
However, Ollie cautions: "There's never a case for thinking along the lines of, don't ever touch Thursdays" (or any other day, for that matter!)
Most people don't email over the weekend, he adds –– not because they're not working or thinking about their prospects, but because they think it's verboten.
However, even though weekend days performed less well in terms of open rates, as you might expect, the overall numbers weren't bad, Ollie notes.
"I didn't expect that at all," he says. "But do not write it off."
The most important thing to keep in mind is what your prospect might prefer. Consider the following:
If you have any information about their preferences, that's great. Have you heard them say Mondays suck for them? Obviously, take note.
But what if you have no idea? Think about their role. Think about your interactions with prospects in similar roles and how their staff interacts with them.
If you're cold-emailing a CRO, you're not just fighting for their attention –– you should aim to get the attention of their team. Monday is probably a busy day, but the CRO will likely review their inbox with that team, so it's worth a try.
"What kinds of things go on in their routine that mean they might have space to have a little look at the inbox?" Ollie asks. "When might they be expecting certain things to come through on a recurring basis?"
Send your cold email at prime times (that'll vary according to who the recipient is)
Your best bet to find out your winning strategy? Experiment, grasshopper!
Perform your own tests to find the best times of day for emailing. If you're sending them between 9:00 a.m. and 5:00 p.m., and you discover that afternoons yield the best open rates, you can schedule your campaigns to deploy during that time.
You don't have to write them in the afternoon if you're most productive (and sharpest) in the morning. Scheduling emails — it's a thing!
However, you should ideally keep those hours free.
"If the best email open rate and reply rates are in the afternoon, I don't necessarily want to be doing anything that takes me away from that," says Ollie.
"If I get a load of replies saying, yeah, I'd love to chat, I don't really want to leave that until the next morning. I don't want to be in a demo, dipping out of that call to reply. If I give a crappy demo I'm moving way down my pipeline."
Statistics show there's not a huge difference between sending something at 2:00 p.m. and sending something at 4:00 p.m.
"The bigger differentiator is who you're sending it to, what industry, and what seniority they have," Ollie says. "But for engagement, it does seem like later in the day –– maybe post-lunch –– is where it's at."
On the other hand, if it seems like a ton of industry-specific newsletters drop at three o'clock (and a slew of webinars take place then too), don't try to compete.
That's why he says the key is to "readjust the pipeline and readjust your calendar" constantly.
So: Be intentional. Test your campaigns. Analyze the results. Whatever you do, make sure you focus on what's in it for them –– not you.