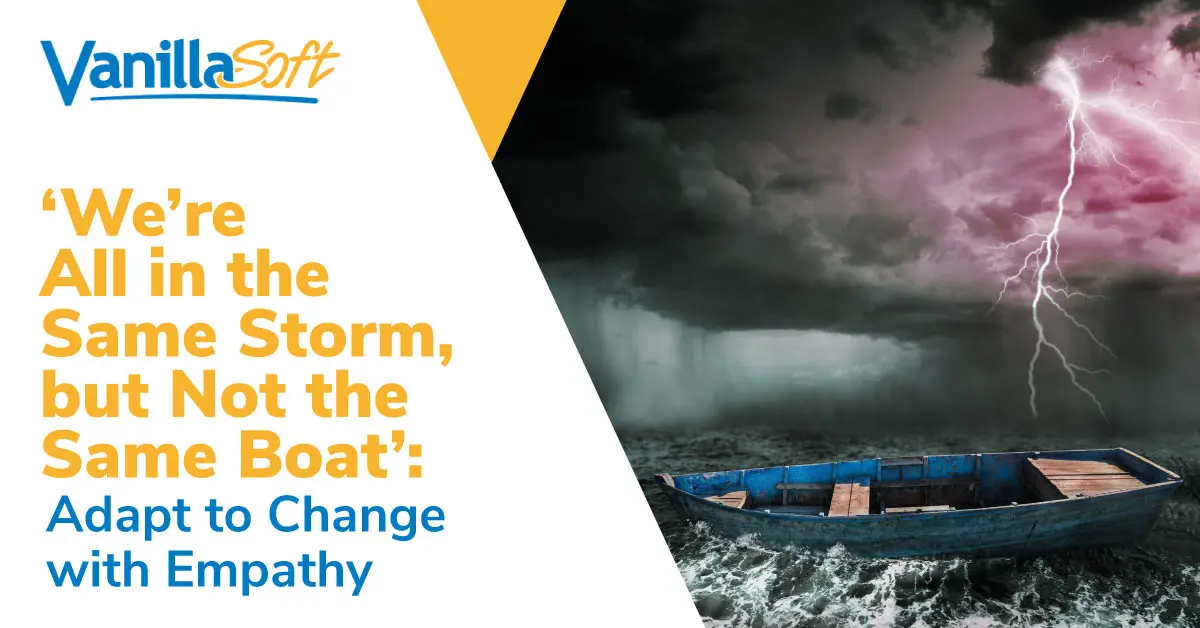 The concept of "modern sales" has changed dramatically in just the last few months, and sellers must adapt and embrace empathy selling.
Xvoyant CEO Rob Jeppsen says adaptability is a skill you can build through identifying key indicators of change and devising creative approaches to meet sellers' "new normal."
No matter what changes come our way, empathy is the best approach to sales –– in the best of times, but especially now.
Most of us can agree: So far, 2020 sucks.
There are a few upsides, for sure: Sweatpants 24/7, drinking beer from a coffee mug on Zoom calls, and an embarrassment of riches in the form of memes (like: "#tbt to when we thought Tiger King was the craziest thing about 2020.")
Sales guru Rob Jeppsen has one of his own: "A funny thing happened on the way to quarter two. A pandemic."
Flexibility has always been crucial to sales success. Our buyers' needs, spending habits, priorities, and even the way they purchase change constantly. We've got to change with them.
And now, more than ever, we're called to meet the moment we're in with agility and empathy. Old ways won't win new business.
On an episode of INSIDE Inside Sales, Rob shares his best practices for rolling with every economic downturn, virus, and sliming that comes our way.
Rob is the founder and CEO of Xvoyant, a platform that helps sales organizations scale leadership and demystifies the improvement process. He's a sought-after keynote speaker and host of the Sales Leadership Podcast. Plus, he was arguably the loudest, most opinionated guy repping Team USA on VanillaSoft's UK v. USA smackdown.
Rob firmly believes that adaptability isn't just a concept. It's a skill you can build through identifying the key indicators of change, using A/B testing, selling without being too product-centric, and engineering customer experiences to your benefit.
New rule: Follow the puck
The concept of "modern sales" is in constant evolution. If you think that phrase refers to the last few years, you're wrong, says Rob. It's changed dramatically in just the last few months.
"With really no time to prepare, all of a sudden, the way people buy has changed, and the way they allocate cash has changed. Their needs are suddenly prioritized differently," he explains.
Rob takes it in stride. He trains sales reps to be uber-close to their market, maintaining a strong understanding of its pain points and potential problem-solvers.
He paraphrases Salesforce CEO Marc Benioff: Don't go where your customers are –– go where they're going to be."
With all due respect, we think he stole that from Wayne Gretsky, who said: "I skate to where the puck is going to be, not where it has been."
Let's get into Rob's four guidelines for adapting just as quickly as The Great One, no matter how slippery life gets.
1. Qualify to quantify: Run A/B tests
A/B testing is a way of life for Rob and his team.
"We're always in the mode of asking: Is this still working as well as it used to? Are there other things we should be looking at?" he explains.
Rob thinks too many salespeople are "product-centric, rather than problem-centric."
Learning how to adapt quickly requires a 'problem-centric' mentality, focused on conversations that identify what issues buyers encounter and the results you can enable them to achieve.
"If you're able to dollarize the value of those changes, you can find out how they rank in terms of the problems faced by the company as a whole. As you take that kind of an approach, you'll have customers volunteer new problems and emerging problems before they become the new normal," he says.
Staying ahead of that curve is one of the best ways to adapt.
2. Think different: Embrace new use cases
Rob says it's vital to understand what your buyers' problems are and why they matter, but you also need to identify how your solution can be used.
As an example, he cites a recent marketing email from a company that sells portable phone chargers, ChargeTech.
"I'm a road warrior. I travel all the time," he says. "I don't now, obviously. But portable chargers are my best friend."
Rob has purchased several of them from ChargeTech, and he's on their mailing list. Recently, they sent him an email with the subject line, "how to beat cabin fever."
Knowing that so many of their customers are working from home, they pitched their large-size charger –– which can keep a laptop and any number of other devices juiced up all day long.
And the message was: Enjoy the spring weather while social distancing with ChargeTech.
"That's a perfect example of adapting to a usage situation," Rob explains.
3. Find your hook: Focus on customer experience
A lot has changed recently, but some things haven't. Once you identify the situations in which buyers will use your product, you need to craft experiences that will take them through the sales process.
If you think a buyer is willing, able, and has the financial/political resources to convert, ask yourself: How can I engineer these experiences in different ways?
It's quite likely that you're dealing with a team that's working remotely instead of clustered together for a quick call. Timing may have changed, too. Many companies are "either in hunker-down mode, growth mode, or shrink mode, depending on what's going on," says Rob.
He's got another sports analogy to help explain.
Kareem Abdul Jabbar wanted to be the next Wilt Chamberlain, who was dunked all the time. When the NCAA made it illegal to dunk, Kareem had to develop a workaround. He invented a completely new shot, called the skyhook.
"Kareem made it so he could be dominant in his post without being physical. It extended his career –– he played into his 40s. He's still the NBA scoring champ to this day, and nobody's even close, because he found a new mechanism."
Rob advises to ask yourself: What's the version of the Skyhook that will help you engineer a sales experience that's different from your competitors –– or at least, one you can deliver before your competitors figure it out?
He recommends starting with three tactics that can set you apart:
Get great at video: "Don't get good at it, get great," Rob says.
Analyze financial impact: Go beyond knowing the numbers: You should understand what they mean for your buyers. Your mantra should be: How do I speak fluently about their situation?
Assign homework: "Give homework assignments to customers," advises Rob. Tell them: "Because we did this, I'm going to do this –– and you're going to do this … and then we'll move forward."
That last one really gets the client invested in the sales process –– they're investing time in it.
4. Aye, Captain: Lead with empathy
Rob isn't the first to say it, but it's an evergreen axiom: "Learn what it means to lead with empathy."
He reiterates what he said in our UK v. USA debate, which took place near the beginning of the COVD crisis: "We're all in the same storm, but we're not all in the same boat."
⬇️ Watch the UK vs. US webinar ⬇️

"But," he adds, "our task now is to find out what kind of boat your customers are in, what shore they're paddling toward, and how the storm affects them."
If they're steering a medium-sized boat, they might feel confident riding out the storm. Are they floating in a dinghy? They're probably terrified. Another client might be hiding in a cruise ship casino with no idea a storm is happening.
If you're not the nautical sort, how can you distinguish the differences between all these watercraft? The same way you prospect –– through research. Look at the following:
Persona –– Knowing their role is crucial. (The CEO might be the captain, but many decision-makers are well below deck.)
Company size and structure –– How many employees do they have? How many, and what type of customers do they serve? Is their workforce (and client base) distributed, or is their business strictly local?
Marketplace –– A deep understanding of your clients' market and/or verticals can set you apart, especially when macro-economic forces are at play.
Apply an empathy selling approach
By analyzing these elements and working with the new normal for a buyer, you can create what Rob calls an "I get you moment" –– not to be confused with an "I got you moment."
That's how you adapt and lead with empathy –– and, he adds, "you will find that things change fast."