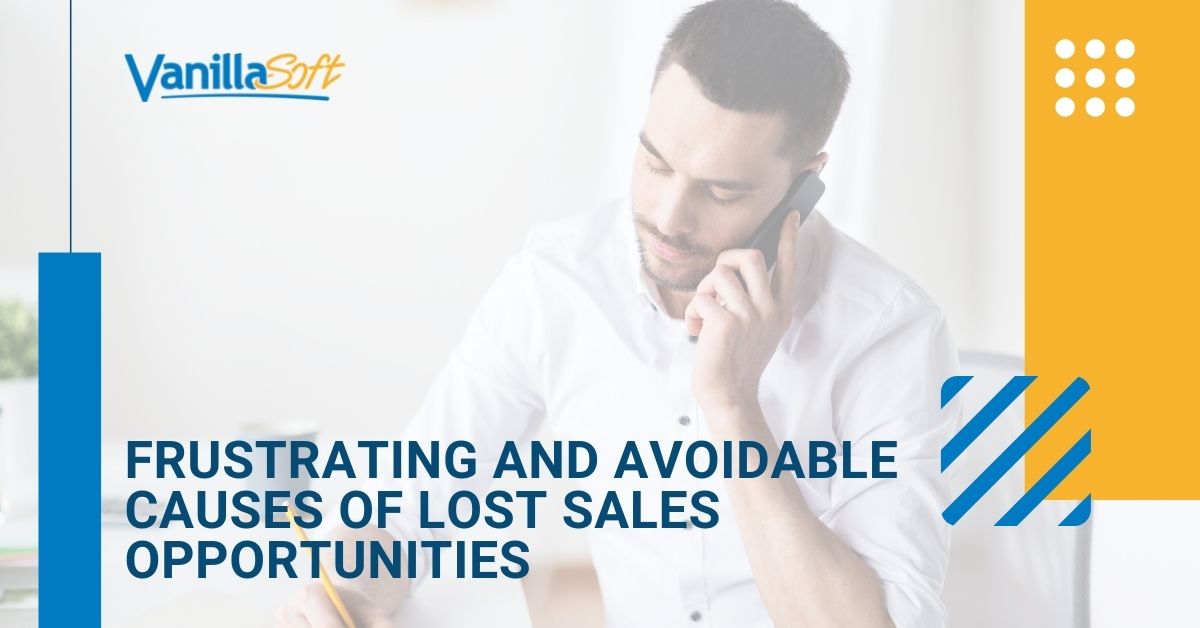 Nothing is worse than forecasting your sales for the month and then losing the sale you were most sure of closing. According to research from IDC, 85% of sales representatives struggle to meet their quotas. In this article let's take a look at a few possible causes of lost sales and how getting past the first meeting is a big step.
Keeping the Meeting
Getting your qualified prospects to set up an appointment is one thing; actually having the meeting is a different story. The appointments you set with your prospects could be getting canceled for several reasons. Let's start with the basics.
The first aspect of canceled appointments I'd like to address is who. Job titles today can be misleading and provide the idea of more authority than the person holds. For example, secretaries are now Administrative Assistants, and many other non-managerial titles include "director." These individuals are often just gatekeepers. Be certain that you're talking with someone who truly has decision-making power to avoid lost sales.
Inviting too many people from your company is another deterrent and a possible reason for abandoned sales meetings. You risk scaring off your prospect by introducing them to too much too soon. If they have specific questions for IT, then invite IT to join in on a follow-up call in the future.
Timing is another important factor that comes into play. Everyone is busy these days, and a thirty-minute meeting is rare. When sending a calendar invite try to keep it under 20 minutes and show that you value their time by being prepared. How far out you schedule an appointment can also affect the likelihood of it being canceled. By allowing the prospect to pick a date more than two weeks in advance, you are setting them up to cancel on you. A lot can come up over two weeks, and a sales meeting will be near the top of the chopping block if they need to trim their schedule.
One way to avoid cancellations is by clarifying what will be discussed in advance. Set expectations for the conversation so that when your prospect sees your appointment on their calendar, they think about securing a solution to problem 'x' and not just another sales call. You can do this by including a brief outline of your meeting in the calendar invite or simply mentioning it when asking for the meeting.
Qualifying Your Leads
According to Forrester, by the time a lead contacts someone at your brand they're already more than 60% of the way into the sales process. This means they've already done most of their research and have been comparing your brand with competitors. Colleen Francis from Engage Selling says four stages make up most pipelines: prospecting, qualification, presentation, and closing. She points out that 75 percent of the time in the buyer's journey is spent in the qualification stage. It's also important to note that "90 percent of all sales start to fail in that qualification phase." The probability of a sale increases as the seller invests more time into the buyer's qualification stage. During this period, the buyer needs to ask the right questions and find out how their product addresses the sellers' needs.
Tips to Avoid Lost Sales
Chasing unqualified leads is a major time waster for sales reps. Asking questions and reviewing company data will help to weed out prospects unsuitable for your product. It's important that you invest your time wisely and qualify your leads before starting to court them.
InsideSales.com reported that when a lead is called within five minutes of sending an information request, they are ten times more likely to respond and four times more likely to be a qualified lead. Sadly, the same report indicates that 71% of Internet-generated leads are not called. Software features like VanillaSoft's Queue-Based Priority Lead Routing ensure no leads fall through the cracks uncalled.
The presentations you give to your prospects should be efficient and brief. As noted earlier, everyone is busy, so you'll want to keep your presentations short and to the point. If you're using PowerPoint, try not to overload your slides with data.
And finally, be authentic when speaking with prospective clients. If you're using a script, use inflection in your voice to avoid sounding like a machine. Showing your personality portrays your uniqueness and humanity. As Bryan Kramer says, it's all about human to human (H2H) connections, not business to business (B2B) or business to consumer (B2C).