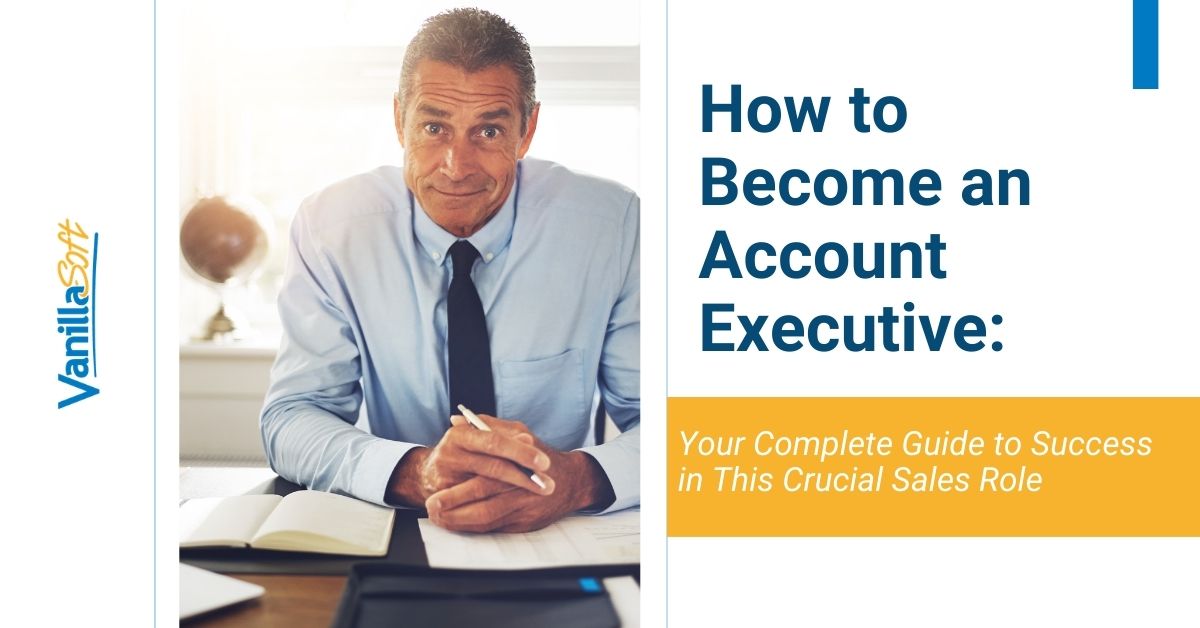 The average base pay for account executives (AEs) is $60,260, according to Glassdoor. But that's nowhere near the ceiling. Based on your location and industry (plus commission), you could earn upwards of hundreds of thousands of dollars per year.
There's no doubt your ears have perked up at the possibility of a hefty salary, but the responsibilities that come with this sales role aren't for everyone.
If you're a sales development rep (SDR), sales coordinator, or something in between, the AE promotion path feels like a natural next step. But here's the truth: Just because you're a great SDR, for example, doesn't mean you'll make an amazing AE.
The first thing you need to do before setting your sights on this role is to understand why you want it. So follow this guide to see if you're cut out for the job.
The AE role & what it's all about
If you want to be an AE, prepare for your day-to-day sales responsibilities – like closing big deals – to share the spotlight with customer service and being a brand ambassador.
Besides managing your client's day-to-day needs and being their point-of-contact, the AE role also requires you to generate new business plus foster and maintain relationships with existing clients. You'll have to keep up with numerous brands to learn their ins-and-outs and the best ways to champion their needs so you can close them.
If that sounds exciting to you, you'll likely love being a liaison between your company and theirs – not to mention working with every department in your company to ensure your client's satisfaction.
It might be in your wheelhouse to be resourceful and know more about your client's account than their own internal team, but what about making big decisions? Your company and the clients you manage will lean on your wisdom to keep them in the black.
No matter your industry, here's what you can expect your day to look like as an AE:
🔑 Prospecting and assisting with sales calls.
🔑 Learning about client's needs, industry, and competitors.
🔑 Administrative tasks (like updating your pipeline).
🔑 Marketing and advertising.
🔑 Creating and implementing timelines for projects.
🔑 Presenting performance reviews to clients and management.
🔑 Anticipating and mitigating challenges for clients.
And that's just some of what you'd have to do.
The whole nine yards of AE qualifications
Are you truly ready for this next career step?
In an episode of VanillaSoft's INSIDE Inside Sales podcast (💡check out more episodes here!), VP of global mid-market Sales for Global Web Index Kevin Mulrane said, "A lot of SDRs I talk with are very eager to get into that AE role because they think it's easier … Like the hard work SDRs put in every single day, I think they want to try and get away from it."
If that's why you want to jump the SDR ship (or any gig you currently hold), pursuing this might not be the best move. So before you throw your hat in the ring for the open AE gig in your agency, try this first: Shadow a pro.
"I think it's important for SDRs to walk in the shoes of an AE," shares Kevin, "and with that AE, really identify the differences in the actual skill sets." Why? Because they're two unique roles.
Let's check out the three elements of what you need to make the cut.
1. Education
According to this article by Zippia, 64.6% of AEs have a bachelor's degree and 13.9% have master's degrees. Still, it's possible to land this role with only a high school degree or GED if you have years of professional experience.
Keep in mind that these degrees hold the most value: marketing and/or advertising, business management, communications, and accounting and finance.
Even with a degree, you'll have tons more to learn – but employers can typically supply additional training.
2. Skills
Between hard and soft skills, these are what most AE roles want you to possess:
Team player
Organization
Sales expertise
Project management
Analytical thinking
Communication
Negotiation
Problem-solving
Customer service
Goal-oriented
Presentation skills
Strategic planning
3. Previous experience
This CareerBuilder article says only 10% of AEs have less than five years in the field, but that's no reason to fret – most companies just want you to have at least two to three years of experience in entry-level roles in a related field. (The more client-facing roles, the better!)
Like any industry, no business wants high employee turnover, especially in an AE role that requires you to develop long-term client relationships. It might feel like you can't compete with the 66% of AEs who have more than 21 years of experience, but guess again.
You'll earn tons of certifications and licenses throughout your career – while they are great ways to boost your resume, a proven track record of closing deals and growing accounts will have a huge impact.
Keys to success – before and after you land the job
Being sure this is the right job for you is half the battle. Now that you know how to qualify, here's how to stand out before and after the, "You're hired!"
During the interview
Landed an interview? Good for you! If you want to keep your name at the top of the callback list, heed these tips:
💡 Prepare for the interview. Learn what you can about the company. If you walk in with no knowledge about its history or clients, it hints that you won't bother to research clients.
💡 Don't be late! This is a given, but it's still worth a mention – a lack of punctuality can signal potential carelessness with clients, too.
💡 Be persistently patient. You're giddy, but there's a process. It's always a good rule of thumb to thank your interviewer after, but that's where the buck stops. You don't want to be a pest, so be patient and give it at least a week before sending another email.
💡 Don't focus on yourself. If you only talk about yourself during the interview and not the role, your interviewer might question whether you can truly commit to the organization's needs.
💡 Ensure your goals align. You want the job, but only the right job. Ask questions about the company's goals and values to see if you believe in them, too. (That'll make your job easier!)
How to rock the role
Kevin says it's important to familiarize yourself with the KPIs and metrics of the AE job you have your eye on. What do you need to do every day that'll drive success?
Whether it's the number of calls to make, leads to identify, demos to qualify, or emails to send, it's on you to be intentional about how to achieve your goals successfully.
Preparation and planning are key to setting yourself up for success, "but until you understand exactly what it's going to take from [the perspective of KPIs and metrics]," says Kevin, it'll be tough for you to get there.
When you do land the role, here's how to head up your role like a boss (after you celebrate the win 🍾):
💡 Be responsive.
💡 Always look for opportunities to provide value.
💡 Because people buy from people (and not businesses), always be personable.
💡 Focus on having meaningful dialogues with clients over a good sales pitch.
💡 Never stop cold calling.
To the AE role and beyond
If you made it to the bottom of this article and you're still sure this role is a good fit, chances are you'll make a damn good AE.
In this role, your workday will be fast-paced and competitive, plus filled with meetings and touch bases with colleagues, clients, and prospects.
But the experience you gain will set you up for the senior career possibilities that follow being an AE: director of sales, business development manager, sales consultant, and more. Hell, you can even land in the c-suite.
Wouldn't it be cool to crush your first sales quota when you land your new gig? Watch this webinar to learn how to bring you over 200% of your quota!