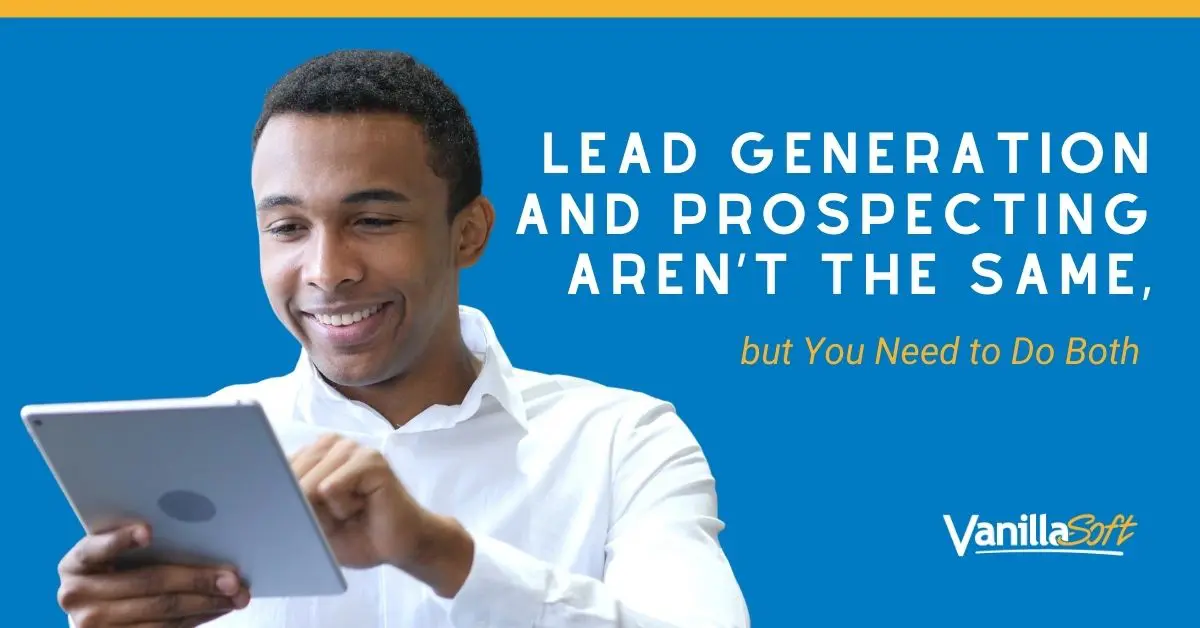 Sales professionals need a lead generation strategy.
Prospecting and lead generation aren't the same thing. But both are essential to success in sales.
Consultant, author, and speaker Kendra Lee says that generating leads is often left to marketing teams, but she urges sales reps to do it too –– just not in the same way.
To generate solid leads, you can repurpose existing content or create your own. (It's a lot simpler than it sounds). Just be sure to track your progress.
Those who say failure isn't an option probably haven't done anything truly impressive.
Case in point: Oprah Winfrey was fired from her first co-anchor job in local news. J.K. Rowling's first Harry Potter book was rejected by 12 publishers. Michael Jordan had to play JV before he made the cut for his high school varsity basketball team.
So sales consultant Kendra Lee is in good company. She began her career as an accountant for IBM before shifting to sales, and it was a bumpy transition. She initially failed Big Blue's entry-level sales exam.
Kendra did get hired as a rep –– in the company's least-lucrative territory. But she was told she had to make quota within a year, or she'd be out.
"It was quite daunting, and yet I took the job," says Kendra. Over 10 years at IBM, she grew that territory's revenue from under $300,000 to over $9 million and ranked in the top 2% of its national sales force.
Kendra later founded her own company, KLA Group, with the philosophy that "sales is not an art; it can be learned."
The coach, sought-after speaker, and author of two award-winning books joined me on an episode of INSIDE Inside Sales to share her approach to lead generation.
How is it different from prospecting? Why should sales reps (not just marketing folks) do it? And what the heck does it look like in 2020?
Drip and drop knowledge
Many might think they're one and the same, but Kendra makes a strong distinction between lead generation and prospecting.
Prospecting is a playbook that contains scripts, targeted lists of people to contact, and planned cadences. "It's really all about the message I'm delivering to whatever my target market is," she says.
Prospecting relies on "brute force" to convey a message, she adds. When Kendra trains reps, she encourages them to "prospect hard" for a month. If there's no response, "rinse and repeat": Put the prospect aside, wait a while, and repeat the sequence again.
But lead generation requires a different set of tools, usually centered around content. It should have its own cadence, too –– "a slow drip," not a steady pour, and over a much longer period of time.
Connect > access > convert
When should you prospect, and when should you generate leads?
For Kendra, prospecting is necessary when "you've got to fill your pipeline quickly."
Prospecting is always the fastest way to find opportunities, she adds. But lead generation is best for people you really want to get in touch with.
Perhaps you've done the prospecting, but you haven't gotten in the door: "Now we're going to drip on that," says Kendra. Build your brand. Create awareness. Just share.
Or, she says, you can start with lead generation and end with a prospecting sequence. Chances are, you'll be on the prospect's radar. And that cold call will feel considerably warmer.
Either way, it's about playing the long game.
Use what you've got
Often, salespeople don't think about lead generation because they don't know how to find content, Kendra says.
But almost everybody's website has blog posts, checklists, eBooks, infographics –– "all sorts of cool assets at your fingertips if you just look."
She recommends looking at your company's blog and any other existing online content that you can leverage. If you partner with other vendors, resell other companies' products, or align with their software, you might be able to share their content, too.
If you have a marketing team, find out what they're working on. Often, sales reps are siloed from marketers and have no idea how much content they actually create.
If your company doesn't have these kinds of resources, look for content that's relevant to the industry or company size you're targeting.
"You don't have to become a writer and create your own blog posts," she says.
(You could, but it would take away from the time you need to sell.)
"Use what's already available," Kendra advises –– anything that is valuable and that will enhance the conversation you ultimately have with your prospects.
Keep it short, sweet, and real
When salespeople first try lead generation, they often think they have to "write like marketers," says Kendra.
But it can work against you. She has seen sales reps pen weird headlines and carry out ill-conceived creative ideas, like a direct-mail effort that involved sending a shoe to a prospect.
Yes, a single shoe. No, it wasn't some kind of creepy threat. (For those of you
watching too much "Dateline.")
Thankfully, the follow-up message was innocuous, though corny: I just wanted to get a foot in the door.
"Let marketing do that stuff," she adds. (And let them embarrass themselves, if they want to.)
Instead, she advises authenticity. Be yourself, and "write a genuine email, as if you're having a conversation."
But don't make that email too long. Your goal should be getting an appointment –– that's it. The pitch, of course, comes later.
To put it another way: Treat your initial messages to prospects like lingerie: Don't bare it all; retain a bit of mystery.
Amp up your screen time
There are many channels marketers use that sales reps don't.
The sales team shouldn't be responsible for optimizing the company's website to increase organic traffic, for instance. But much of the marketing arsenal can be used as secret weapons on the sales battlefield –– especially video.
Kendra mentions one rep who makes first-person videos tailored to the contacts he wants to reach.
He doesn't send it in the first or second communication. It might look like a phishing attempt.
But his third message includes a brief video, in which he talks about a business issue or a piece of content that's potentially interesting to them, with a simple call to action: This is what I want to talk with you about.
The videos are 20 or 30 seconds tops and embedded into the emails themselves.
Virtually no budget or training is necessary to make a video on your smartphone, or with a webcam via Microsoft Teams or Zoom. If you have time, use individual prospects' names in each video. The other option is to create one video for a group of prospects organized by industry, title, or other common factors.
"What's cool is –– just like on this podcast –– you feel like you know the person," Kendra says. "You've actually heard them talk to you."
Track… and lead the field
Measuring results is crucial to lead generation, Kendra says.
Just as a platform like VanillaSoft can enable efficient prospecting with a purposeful cadence, "you absolutely want a resource that allows you to lay out your whole playbook –– your whole plan for lead generation –– into one place, and know where each person is within it."
Ideally, that's a system that not only tracks your activities, but also provides simple ways to monitor your metrics.
Maybe you'll find that a particular article, or a certain type of content, generates a robust response, while others are met with… [crickets].
"Paying attention to results will help you to fine-tune your campaigns," says Kendra.
Get your lead generation strategy going
Remember failure can be a learning experience and put you on the road to success. Put a lead generation strategy in place and see what happens because prospecting alone can only get you so far.
And results, in the long run, are what really matters. Just ask MJ, J.K., or Oprah.