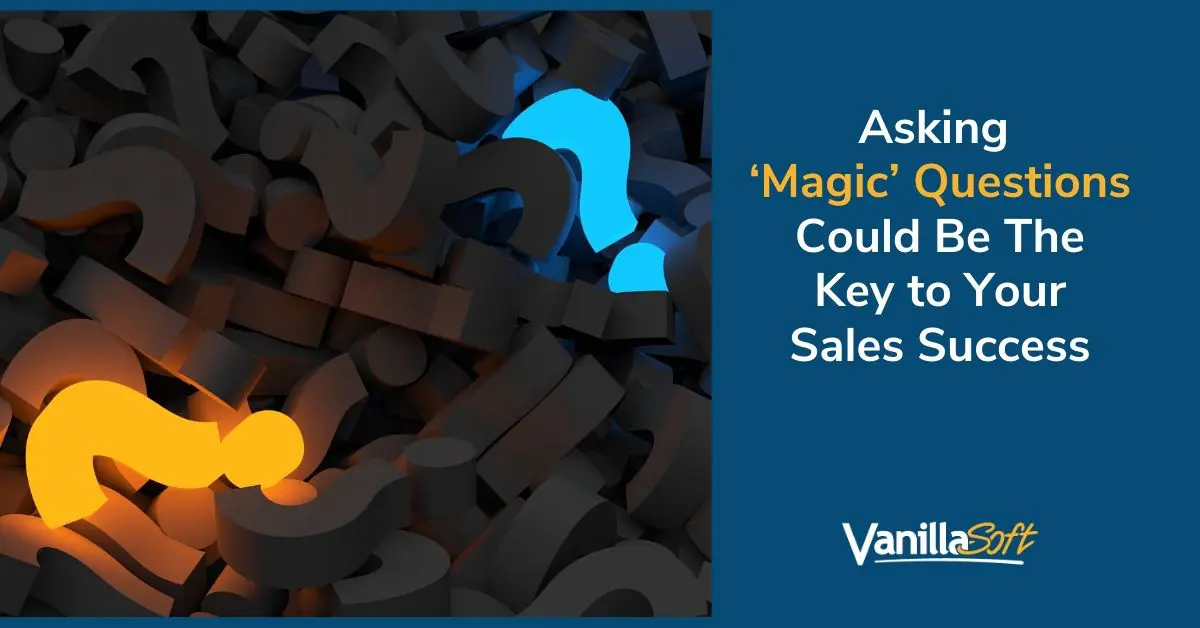 Think back to when you were just a kid. You probably had a fierce curiosity about some subjects and you asked a lot of questions. It didn't matter if you pestered your parents or teachers with rapid-fire questions about a world you'd only just begun to know; instead, you let the unknown fuel, rather than stifle you.
Boy, does that change when you're an adult.
Suddenly, you're in a meeting wondering how to ask your boss a question without looking like a total dummy. It's time to shake that feeling! Here's the thing: you can't learn, do your job or solve problems unless you ask questions.
As the president of People First Productivity Solutions and founder of the Sales Experts Channel, Deb Calvert has conducted 25 years' worth of research on this subject. She says there's only one thing she knows of "that can create value instantly and create a bonding experience and even build trust," and that is asking good questions.
Deb joined an episode of the Inside INSIDE Sales podcast to share tips on how to ask good questions that create instant value (and won't make you sound like a census-taker).
Thought-provoking questions = magic
Questions are the simplest tool you have available as a sales professional, but it all comes down to how you frame them. Sales pros will often ask about the weather as an icebreaker, but there's no magic in that question, people! According to Deb, these "old standby" questions are "hackneyed and trite."
Buyers want an experience that has to be personalized and meaningful, states Deb, adding that, "they want value creation that is unique to them in a moment [or] in an instant."
So, how do you do that? Leverage the tool you've had since you were a kid and lean into the power of asking questions.
"Thought-provoking questions can unleash all kinds of power in a relationship," says Deb, but the question has to be good.
On your next call, follow the criteria Deb believes makes a quality question:
It's well-constructed. Whether you ask a close-ended question on purpose to get an initial reaction or an open-ended question to let your prospect think, your question's purpose is to engage.
It goes beyond the obvious. Buyers expect to be asked certain questions, but they don't want to be part of a survey. Ask questions that create a relationship and leave an impression.
Quit asking bad questions (And stop rushing the process)
Remember: your purpose in the first encounter is to get another call. If you don't pace yourself, you might scare away the buyer and lose your deal.
Imagine you're using a lead list to call the businesses listening to your company's webinars. "What you really want to know is the value they found in the webinar," points out Deb.
You want to "ignite some additional interest and get them to take some next steps with you," she continues, "so why not craft a question that gets right to the heart of the matter?"
Bad question: I saw you listened to our webinar, do you have any questions for me?
Good question: When you watched the webinar, what information did you find most useful?
Do you see the difference? Deb says your goal is to expand the conversation and advance the sale, so frame your questions in a way that lets your prospect reflect. How else are you going to learn what they value?
Let's make it super simple: You have to ask your question and then shut up so you can find out the buyer's need — use that to continue the conversation.
Dial back the diagnostics
To set yourself and your product apart, form a relationship the way Deb advises: incorporate some natural follow-ups, stay in the moment and listen to the emotional tone that comes with the response.
Oh, and if you think you're the only expert on the call, guess again. Chances are your buyer is fluent in sales-call-ese, so they expect your qualifying questions — overlooking needs discovery is where you can make them feel minimized.
It's important to understand the difference between the two, notes Deb, otherwise "you'll have an imbalance and you'll disenfranchise the buyer."
Obviously, that's the last thing you want to do, so how do you avoid having a robotic conversation?
Deb describes two different questioning styles: diagnostic or dialogic.
Leading diagnostically means you ask several questions to diagnose a problem and give a solution. Pretty cut and dry.
Dialogic, on the other hand, is where you facilitate a two-way dialogue. You get to ask bigger questions, possibly fewer, "but you're yielding the floor to the buyer because they're sharing that process of thinking," says Deb.
The same approach applies to emails. "The chances that they will reply at some point are substantially higher if you ask a really good question," she says, "so why not put a great question in the subject line or in the first paragraph of your email. What do you have to lose?"
To learn more about asking good questions, check out Deb's book, "Discover Questions Get You Connected." It shares a plethora of sample questions and guidance to help you make the most of your sales calls.