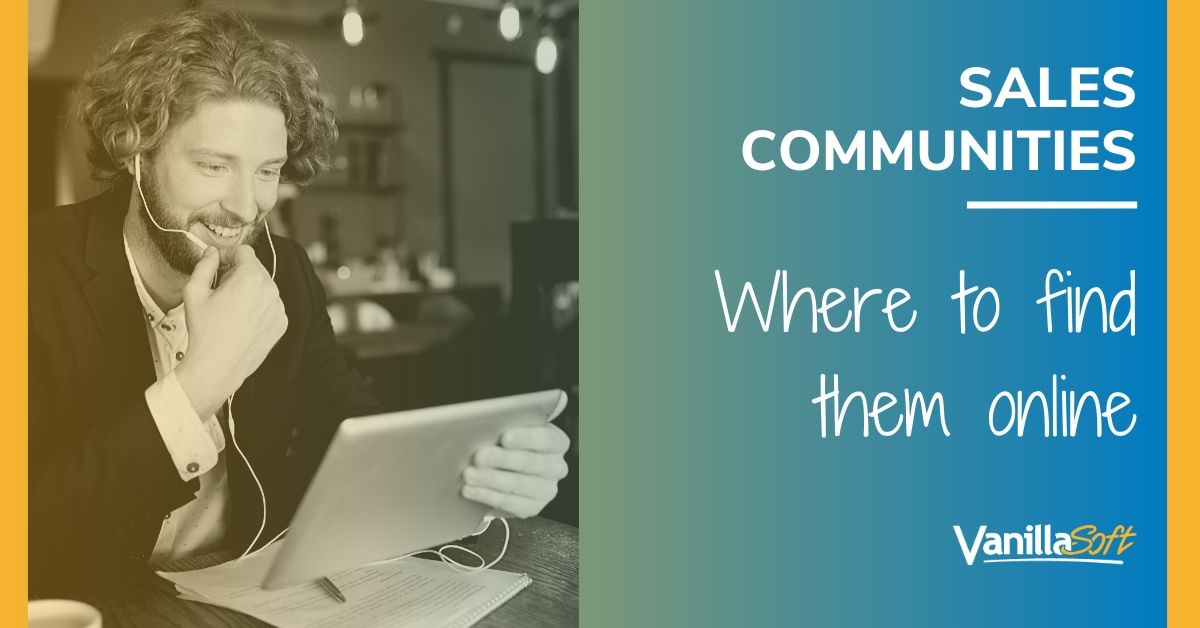 Most salespeople would describe themselves as a "people person." So suddenly moving from a job which requires coming into an office daily or visiting clients consistently to isolating at home with (shudder) your friends and family is jarring. Have no fear! Your sales friends are still here! You just need to know which sales communities you should join.
Every network on this list takes advantage of social media and online communities to share best practices and network. They've grown in popularity steadily because the sales profession is moving more online and remote due to overhead, the rise of inside selling, and other market factors we'll let marketing describe in more detail. What YOU need to know is you're not alone…even when you're selling alone in your room or at the kitchen table.
In the past few weeks most of these communities have seen a huge uptick in activity as they host virtual networking events; debate which sales tools, products, and services are best for a newly-remote sales team; and offer advice on how to sell when it seems like no one will want to buy.
Professional Networks
These amazing organizations are focused on training, networking, and advocacy for the sales profession or a group of professionals. Several are membership-based but have online activities open to anyone; others are focused on networking but have a fantastic infrastructure that has allowed them to seamlessly move online. If you're not already involved with at least one of these groups, you're missing out!
The American Association for Inside Sales Professionals (AA-ISP) is the largest sales organization in the United States. Their members include all roles which align with internal sales teams and are supported by chapters around the world, conferences for all levels, an Inside Sales Academy and Accreditations, a Resource Center, and Mentor Program. The AA-ISP helps members improve the professionalism and performance of themselves, their teams, and entire organizations. While the AA-ISP focuses on paid memberships, the local LinkedIn groups are typically open to anyone. Find your local chapter here!
Blacks In Technology is a tech-focused community and media organization that is dedicated to increasing the representation and participation of black women and men in the technology industry. While this is not a sales-specific community, they are known to be supportive of anyone who works in the tech industry. Local chapters are in many major cities and growing, and each has multiple ways to meet people online, including Facebook, LinkedIn, and Slack!
While OutinTech has built its community through in-person events, they've migrated online through their "Queers on Zoom" program, which is a daily meeting with a new topic each day. (Monday is LGBTQ+ Trivia, Tuesday is Networking, and Friday is a Drag Race Watch Party!) Who said all online communities had to be 100% business?!
Peter Kazanjy founded this 13,000+ member, invite-only, community as a forum for Sales Operations, Enablement, Management, and Leadership experts. Their GoogleGroup has everything from strategic questions to a job board to "digital salons," where they consistently get top minds to talk about everything from improving 1:1's to comp plans to leadership development. Note: This is a group focused on leadership roles, so they will tend to screen out individual contributors.
LinkedIn Groups
LinkedIn isn't just a place to stalk prospects, send InMails, and like your friends' posts so they can improve their social selling score. Their groups are an incredible way to instantly expand your network and gain access to content and thought leaders who don't have time to dig through the comments on their public posts. While many are "gated" (i.e., you have to request to join), they're all open to the public and have different rules for what goes and what doesn't. Check these out to start, and we'll see you in there!
UNcrushed is a non-profit organization on a mission to raise awareness of the many mental health challenges faced and how people have overcome them. Many people around us are suffering from challenges such as grief, depression, addiction, burnout, anxiety, and PTSD, yet they remain nameless and faceless.
Founded and administered by Trish Bertuzzi, the Godmother of Inside Sales (and the author of "The Sales Development Playbook," which was on our list of books to read in 2020), this is THE group to connect for best practices, present your problems and get real-world advice. The objective of our Inside Sales experts group is to give Inside Sales executives a forum to share ideas and information – as a result, no self-promotion or spam is tolerated. Bring your problems, leave with solutions!
Just like their flagship website, SalesHacker's Linkedin group is a deep well of information and content. But their comments are filled with great questions and some heated discussions of the more controversial ideas. This is a great place to get inspired, debate the finer points of tactics, and meet more salespeople you likely wouldn't know otherwise!
The online home of the Women Sales Pros organization, this is the group to join if you want to network with people devoted to helping companies to find, recruit, onboard, retain, and promote great women in sales and to help support women to rise within organizations. Connect online now – get to know some members, and when things open up again, make sure not to miss any of their amazing in-person events!
Bravado.co
Bravado is a relatively new player in the communities game. It is a unique platform aimed at raising the bar for the entire sales profession through:
building social credibility through reviews for sales professionals,
and providing a platform to allow content creators to interact with their audience seamlessly while creating a repository for content that makes looking for old posts and collateral a breeze.
You do have to create an account to join all of these communities, but it's worth it!
This is the online community of the Women Sales Pros organization. Where the top women in B2B sales go. Helping companies to find, recruit, onboard, retain, and promote great women in sales and to help support women to rise within organizations.
The online community for Becc Holland's wildly popular "Flip the Script" training and events. Join for all the latest and greatest content from Becc and to connect to other fans who are applying the lessons taught to troubleshoot and support each other!
The incomparable Belal Batrawy runs this community. It is focused on moving away from sales-bro tactics of dialing for dollars, 24/7 hustling, and thinking of sales as just a daily grind. Posts focus on working smart and not hard should be the norm, not the exception.
Just like in the office! Your "go-to hangout" to talk about the real issues facing sales pros today, plus tips on taking care of yourself through the rollercoaster that is a sales career (especially in today's tough sales climate). This is a place to share what's on your mind RIGHT. NOW.
We're a little biased here when it comes to this group. After all, it's the online community of our own Ashleigh Early and her podcast co-host Kasey Jones for their show, "The Other Side of Sales."Regardless of our bias, this is a terrific community focused not only on the podcast but also on highlighting performance through self-care and the stories of amazing sales professionals whom you may not know about!
Additionally, Asleigh and Kasey are rolling out weekly live Virtual Roundtables open to the entire community. These sessions promote "real life" discussion and brainstorming to maintain connection despite the distance.
Get Involved in Sales Communities
While the world has changed, it hasn't stopped. There are as many companies hiring sales reps as there are companies experiencing layoffs. Where one sector is slowing another is heating up. This is a time of intense change and opportunity. Get involved with your sales brothers, sisters, and siblings – find those opportunities, figure out the right strategy, and get selling!
See any communities that look like your people? Are there any groups you're in that are saving you from a nasty breakup during lockdown? Tell us how you've found and built your tribe so we can add and adjust to this list as needed!