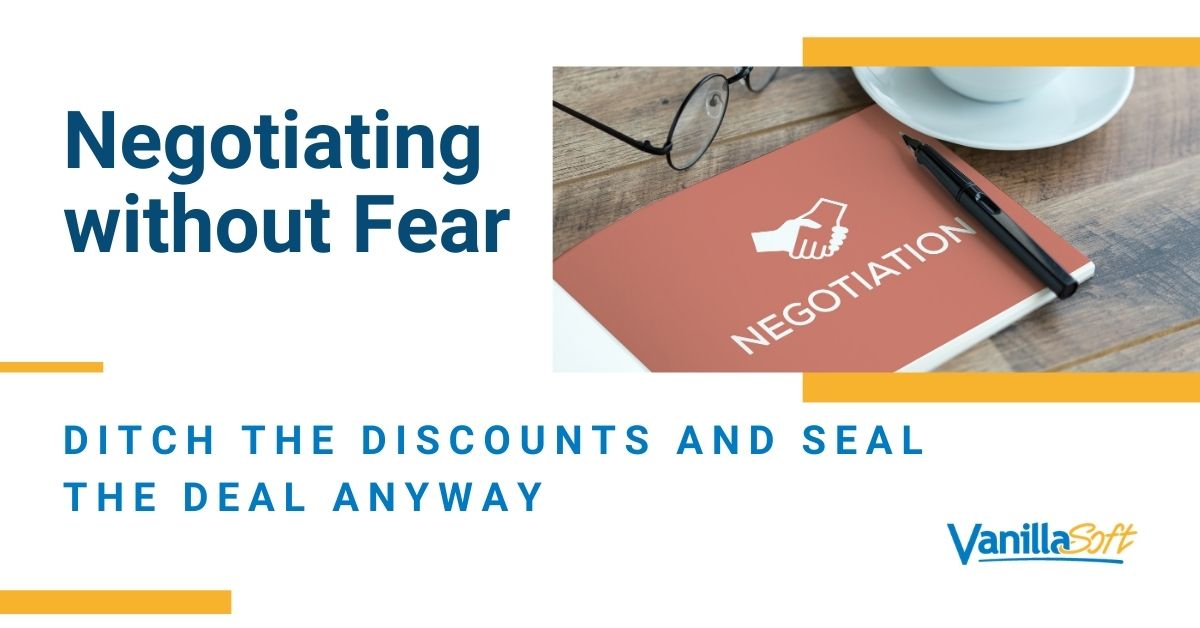 It's common for salespeople to offer discounts during the contract negotiation stage of a deal (and if they don't, the buyer might ask for one).
Surf & Sales CEO and co-founder Scott Leese says a discount isn't a necessary or even preferable way to demonstrate value.
Scott breaks down his theories on negotiating from a position of strength, what you can ask a client to do in return for a discount if you give one, and how to build a culture that prizes real value (not just making deals at any cost).
Who doesn't love a bargain? It's hard to resist a thrift-shop score, a Black Friday deal, or those $4.99 rotisserie chickens from Costco.
But if you're the one selling, it's not nearly as satisfying. As the saying goes: A fair bargain leaves both sides unhappy.
And in the B2B world, there aren't any "everything must go" blowout sales or "loss leaders" to draw in frugal shoppers who end up impulse-shopping away their savings.
"You don't have to discount or alter your contract terms, at least not all of you," says Scott Leese – entrepreneur, trainer, author, and CEO. Surf & Sales, the company he co-founded with Richard Harris, is both a podcast and an annual (well, pre-pandemic) sales retreat in Costa Rica.
Scott believes value is something that's conveyed, not negotiated.
"If you've done your job, the value should be clear and powerful," Scott says. "The ROI should be clearly communicated and understood by the prospect."
On an episode of INSIDE Inside Sales, Scott shares his philosophy on pricing: why you should stand firm, when to make exceptions, and how to nurture a value-driven culture in your organization.
'Hold the line' on price
If 2020 taught us anything, it's how to adapt quickly.
During an economic downturn, we know businesses may be strapped for cash, and competition is stiff. So we assume that we should be especially flexible.
"I would never say every deal or industry is the same, but you don't have to discount," says Scott. "You can hold the line. You can push back."
He thinks many reps are "terrified" of moving backward in the sales process if buyers angle for a discount you can't (or won't) provide. Salespeople tend to think: If I've gotten all the way to the contract stage; why would I go back to discovery again? Why would I go back to discussing pain points, problems, and value?
"It's really important to know that sometimes you have to go back in order to move forward," he adds.
But even though the market seems strange right now, some things remain the same.
"I would've given this same advice pre-quarantine," Scott says.
He encourages "everybody – not just account executives, but their bosses as well, to help their AEs hold steady and not be intimidated over price. Because it has a real, meaningful impact, not just on your quota, but on your wallet."
Push and pull
From a buyer's point of view, negotiation is imperative.
After all, if they can get a $50,000 product for $40,000, they'll have $10,000 to grow their business. If that happens, they might come back to you for more seats or add-ons.
So that's why many salespeople capitulate to a discount, thinking: If they're successful, I'm successful.
But Scott has another strategy.
"Here's the last thing buyers will never tell you: We secretly, deep down, respect pushback. We'll try to intimidate you. We'll threaten to leave. And some of us will do it."
But most buyers just want to tell their colleagues a negotiation happened.
"I think that's totally fair and appropriate," says Scott. "Price and contract terms just end up being a mutually agreed-upon number that makes sense for both parties."
He expects buyers to want a deal, and "there's absolutely nothing wrong with that."
Quid pro quo is apropos
If a client pushes back hard, Scott thinks it's within his rights to ask for something in return. He might ask them to participate in a case study, provide a testimonial, or appear on his podcast. That way, "you're getting a bit of what you want, and I'm getting something I want and need as well," he says.
Scott doesn't think those kinds of asks happen often enough. Sellers tend to cave under pushback from seasoned buyers. They get nervous and think the deal will disappear.
"Hold on; take a deep breath," he advises. "He [the buyer] isn't going anywhere. Presumably, he's having this conversation because he knows you have a premium product and you're the vendor he wants to choose. He just needs to show he's done his diligence."
That means demonstrating to his boss that he's capable of scoring a win. Plus, "his ego needs a little bit of a win as well," Scott adds. "Just by having that dialogue, it's 100% possible to land on something that makes sense for both parties."
Crunch the numbers (yum!)
Even if you do end up lowering your price for a particular buyer, Scott advises against offering the discount they're asking for. If a customer asks for 30% off, he'll offer 10% instead and propose a quid pro quo, as mentioned above.
A 30% discount is vastly different than a 10% discount when it comes to your commission, he notes.
When working with one of his private sales coaching clients, Scott calculated the difference a smaller-than-average discount would make on that client's quota attainment, as well as his commission. It added up to $24,000!
"It really has a huge impact on your commission check," he says. "I wish more people who are selling right now would take some time and do that math."
Smart negotiations are in everyone's best interest
Whether you're an account executive or a sales leader, how can you affect change in the culture of your company to reflect a counter-discount policy?
Scott thinks it's "significantly easier as a fractional CRO or a head of sales because you're the one who's setting the tone for the whole organization. If you allow your sales managers to get pushed around on things like price or contract terms, you're not teaching those sales managers to encourage their AEs to ask for referrals, case studies, testimonials, and things like that."
That does everyone in the whole organization a disservice, he adds.
If you're an AE whose manager is pressing you to discount the product – to "just get the deal over the line at any cost" – Scott questions your manager's motivation.
Just as buyers don't want to feel like they're transactions, neither do employees. They might wonder if the manager has their best interest in mind or whether they're thinking about their own payday.
Pay it forward, don't back down
Scott urges us to cultivate generosity: "Don't keep information to yourself so you can stay number one on the leaderboard. Help everybody around you. If you go from one AE on the floor to two, three, and four who hold the line, the culture starts to change."
At its core, that culture will feature a new belief system that says we don't have to discount in order to get a deal.
"People are paying full price during quarantine. People are doing two- and three-year deals right now, not just month-to-month deals," Scott says.
"Get really good at this stuff and put it into practice. And then go ahead and lead from the floor. Be the captain – and teach everybody around you what's working."