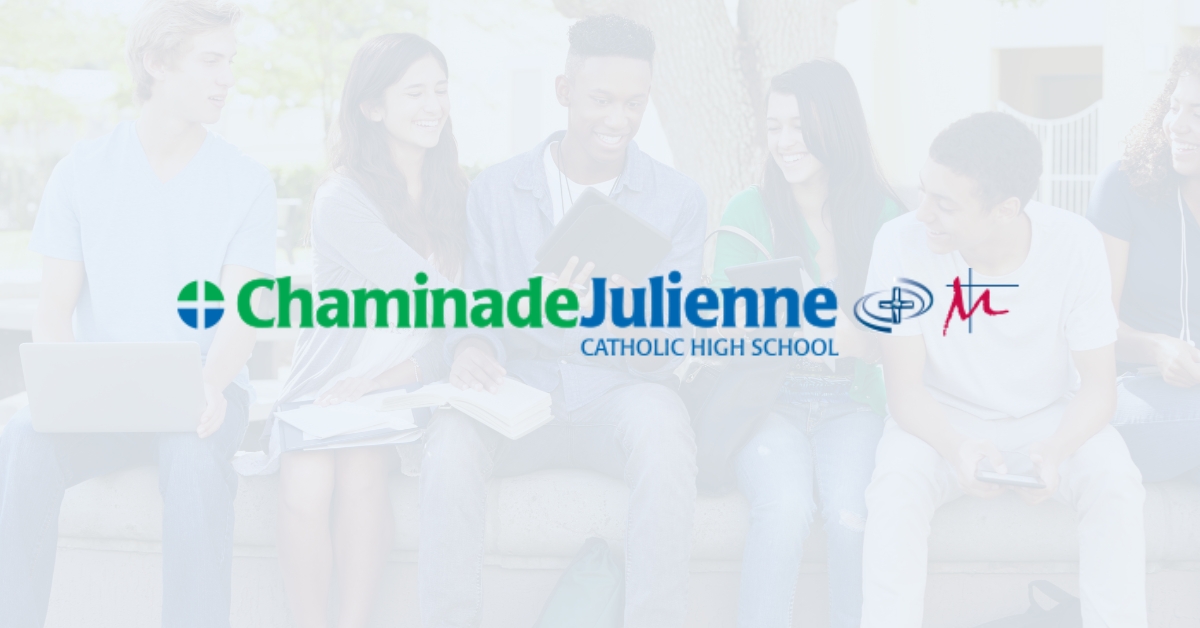 Chaminade Julienne revamped their student fundraising program and saw tremendous growth, including exceeding their campaign targets by 80% during the first month of implementation of VanillaSoft with a 17% pledge rate and a 23% close rate.
School Overview
Founded in 1850, Chaminade Julienne Catholic School is a private day school in Dayton, Ohio. The staff and students have been championing cultural diversity and academic excellence since its inception. Students from nearly 60 different zip codes and backgrounds benefit from an advanced prep curriculum and innovative teaching methods.
Students at Chaminade Julienne volunteer in the spring and fall semesters for a couple of weeks to assist in the school's annual giving fundraising efforts. Twice a year they work shifts to call and text parents of alumni, alumni, and other donors of Chaminade Julienne. Some of them even stay throughout the year to help with other fundraising work to benefit the school and its students.
Challenges
When David Cordonnier entered the Annual Fund Coordinator role at Chaminade Julienne in the spring of 2022, his first big task was to run the phonathon.
For over a decade, the student fundraising team had relied on an old-school, less efficient system of cell phones and paper spreadsheets. Although they managed to do a lot with what they had, the process was slow, tedious, and time-consuming. Calls were made the old-fashioned way using paper sheets — with no software automation, prioritization, or strategic segmenting. The team sent text messages and engaged in follow-ups but had to write down pledges on tear-offs.
Every part of the process was manual, meaning all pledges and donations had to be sorted into baskets at the end of each shift. The fundraising team highly benefited from digitizing and speeding up all these tasks.
"Once I started working with students, the process just seemed really tedious. We had burner phones. That's what I called them. I think we were pretty sophisticated for the technology we were utilizing. We had text message follow-ups. We had the call sheets, and they had tearaways for pledges that we had to mail in the morning. When a kid was finished with their 40 call sheets, they would have to come up to the table, I'd have baskets with different sorting options, and students would have to sort them, and then I'd have to check them, and it was just a mess."
Due to the previous system and the time of year David came on board, the main goal of the first spring campaign was to keep it running smoothly and reach out to as many people as possible. They raised between $17,000 and $18,000 that spring, an impressive amount considering the labor-intensive system they were working with. It's important to emphasize that, being a high school, Chaminade Julienne doesn't solicit the same types of gifts that universities might during their phone calling efforts. Their calling campaign is component of their $1.2M annual fund and heavily focuses on non-leadership level gifts for just a couple of weeks rather than significantly larger dollar amounts.
Coming from a political background, David understood that they had to be more efficient and effective, more streamlined, and more automatic to make things easier for the students to engage constituents better. And he knew there were software solutions that could make this happen plus ensure success for student callers while making them feel comfortable and confident while calling.
How VanillaSoft Helped
VanillaSoft, with its powerful customization features, seemed like a perfect choice since it allows fundraising teams to create highly personalized outreach campaigns at scale quickly and easily. Switching from paper-based processes and spreadsheets to a donor-engagement platform with an intuitive dashboard that puts all the information about constituents at students' fingertips resulted in significantly improved student, staff, and donor experience, all of which showed in significantly better campaign outcomes.
Effortless onboarding process
David was pleasantly surprised when the implementation and onboarding process didn't take the planned eight weeks. He expected a very steep learning curve, but in reality, it was smooth sailing.
This quick setup time can be attributed to the fact that the school wanted to start with the basics, with plans to fold in more robust features such as SMS, email follow-ups, and drip campaigns down the road. VanillaSoft is modular and can be customized to be as simple or as complex as users need it to be. David also dedicated himself to the setup process and dove right in, picking only the most crucial features the team immediately needed for the upcoming campaign, making implementation a breeze.
The customized onboarding process for Chaminade Julienne mainly revolved around uploading their data to the platform, setting up scripts, and training students, which required somewhere between 8-10 hours.
Exceptional user experience
Unlike some CRMs and donor engagement platforms, VanillaSoft isn't clunky. It's intuitive and user-friendly, which is why the students at Chaminade Julienne easily figured out the platform and were able to start using it with ease right away.
David is especially pleased that they didn't need any hand-holding. Quite the opposite, the students showed him things he hadn't even learned yet. They would simply come to the office, grab a laptop and headset, and start calling. Last but not least, they enjoyed their job and had a much better user experience than ever before.
"As we started, we had four or five students make over 100 phone calls, which is a lot for us. They would just come in, grab the laptop, throw the mic in, and they're off to the races. They didn't need my instruction or guidance. It was fantastic. As we've began our spring campaign, students surpassed the 100 call mark with two days."
Improved donor experience
Although donors don't see everything the team sees on the fundraising side, it's safe to conclude that all the optimization and customization abilities VanillaSoft brought to the table also improved their experience.
Here are a few things David pointed to:
The caller ID identifying the fundraising team as Chaminade Julienne and not a random number or as spam meant that constituents were more likely to pick up.
Using VanillaSoft and going paperless additionally ensured data privacy compliance and protection.
A more strategic approach to determining whom to call at which time was much more convenient and nicer for the donors since they were reached out to at the time they preferred.
VanillaSoft gave constituents an easier way to donate than ever before. With their previous system, Chaminade Julienne didn't have the option to implement a payment processor. With VanillaSoft, they got an opportunity to select one that integrated well with the platform and worked for them, thus being able to process credit card gifts over the phone in real-time.
No need to expand the team
David is the only member of the staff using VanillaSoft — he gets the data from the database team member and loads it. There was no need to hire additional employees to set up and maintain the platform, which allows for a pretty slimmed-down fundraising program budget.
"Now, I can go back and very quickly pull a list of who all was contacted in the fall. Even if they didn't answer. I know our touch points better."
Results
Although student callers already did a great job raising money for the school, implementing VanillaSoft only amplified their efforts and helped them exceed their goals while making their job easier.
Chaminade Julienne implemented the platform in October 2022, and throughout the month, they had 11 calling sessions. The students made about 1,800 calls, and 335 of those calls resulted in a gift or a pledge.
David is in charge of the entire annual fund, so he has the ability to limit other solicitations during the phonathon to track and attribute pledges and gifts made during this period to students' efforts. For example, let's say a student made a phone call, and the constituent didn't agree to give on the spot. However, if they went online the next day and made a donation, this was attributed to the phone call the student made.
17% of all calls made resulted in a gift or pledge, which is an incredible success. The school had a dollar goal of $20,000 for its fall campaign, and it made over $36,000.
To put all this into context, about 22 unique students raised $36,000 in 11 calling sessions. They were able to close 23% of records, which is a quarter of the calls they made, with an even higher contact rate. The combination of software and strategic efforts allowed them to get in touch with potential donors at high rates, optimizing their efforts and setting them up for success.
According to David, VanillaSoft definitely played a role in the success they experienced in the fall. They exceeded their revenue goal because the students enjoyed using the platform and reported that the ability to segment and prioritize data was tremendously useful. Thanks to such a streamlined approach, David optimized and quickly saw a return on investment, his time with a more streamlined approach, and, as a result, quickly saw a 290% return on investment during the fall campaign with the spring campaign just beginning.
Download PDF