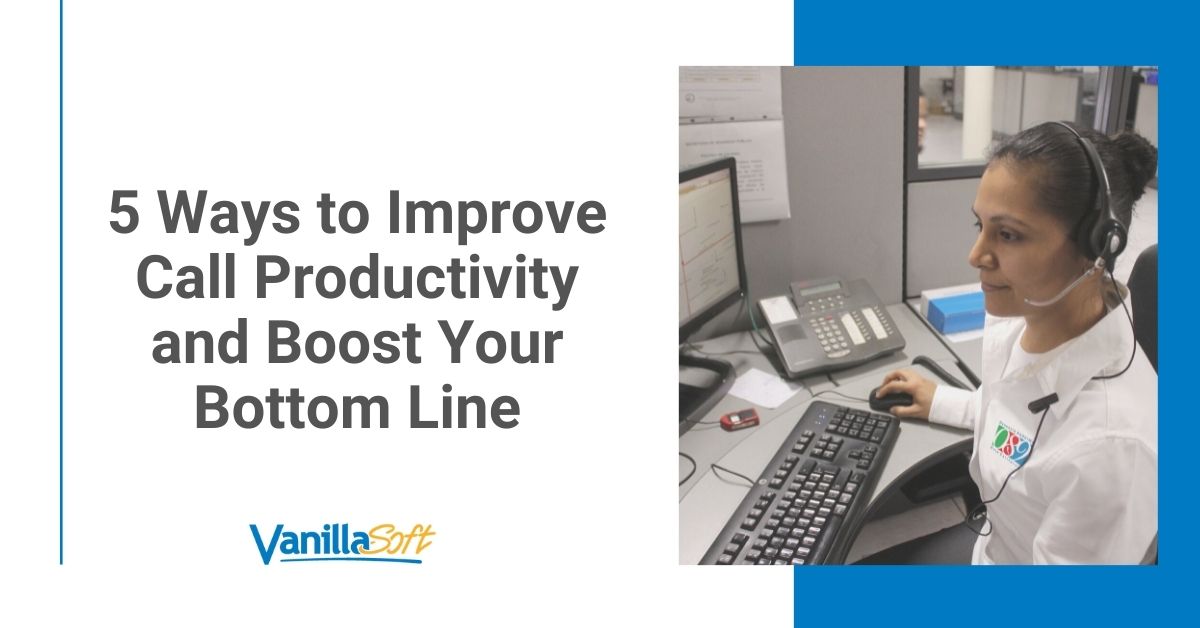 As we near the end of the year, many people are revisiting their goals or resolutions and generating new ones for the next trip around the sun. At an outbound call center, the end of the year review usually portrays that it's crunch time for the sales team. To maximize the limited number of selling days left, call centers focus on ways to improve call productivity. Easier said than done.
---
Prefer to listen instead?
---
Companies lose at least $1 trillion a year on poor sales productivity and wasted marketing budget. Research from The Bridge Group, reveals the top challenge for about 65% of B2B organizations is sales productivity. This issue comes as no surprise when you consider everything that the sales rep has to attend to in a day. HubSpot reports that salespeople's days are consumed by:
Writing emails

Entering data

Researching leads

Attending meetings

Scheduling calls
5 Ways to Improve Call Productivity at an Outbound Call Center
Only one-third of your sales team's days are spent talking to prospects. Revisit your strategy as it pertains to these five tips to improve call center productivity and help your team make the most of every working hour.
1. Technology – Give your sales reps more time to talk to prospects by automating their repetitive tasks. Sales lead tracking software can reduce administrative duties and streamline who to call next with an auto dialer and queue based routing system. Inside sales software can also assist with scripting and save time with voicemail automation.
Instead of sitting on a call leaving another rendition of the same voicemail, your reps can record the message in advance and drop it into the mailbox as they move on to the next call. According to The Sales Hunter, the best length of a voicemail message is eight to fourteen seconds. Anything longer and the receiver is likely to delete the message and move on.
Personalization is another aspect you can address with technology. Invest in a sales engagement solution so sellers can easily gather information about the buyer to help them connect with them on a more personal level. Implement artificial intelligence or machine-learning into your sales process to promote personalization into the sales process based on buying behaviors.Today's buyers want a customized experience, and many are willing to divulge personal information for it. Incorporate collected data to personalize the sales experience, and you can increase sales by 10% or more.
2. Marketing and Sales Alignment – Less than 10% of B2B companies have tight alignment between marketing and sales. The disconnection faced by the other 90% results in loss of revenue and overlooked opportunities. Many of the leads marketing provides are ignored by sales reps and almost 80% never convert into sales. Opening lines of communication between your marketing and sales teams help these two groups operate as a unified team that can more easily work together to meet year-end revenue goals. Take time to develop a sales & marketing service level agreement to help continue a harmonious and productive relationship between the two groups.
3. Training – Aberdeen Group's recent report, Ongoing Sales Education: The Best-In-Class Have Learned to Learn Better, reveals that 88% of top-performing sales organizations provide ongoing training and education. Set your company up for higher sales performance by enabling employees to combine an understanding of sales principles with the execution of proven sales actions. Continuous training provides 50% higher net sales per sales professional according to The Brevet Group.
4. Metrics –Instead of focusing parameters on sales dollars, they should gauge productivity. Analyze things like conversion rates, call rate, win rate, average number of touches, and length of the sales cycle.
The average salesperson makes fewer calls in the first two months of each quarter than in the last month. Encourage consistency by incentivizing factors your reps have control over. Create contests to help improve call productivity, and tie contest points or prizes to call productivity metrics for added motivation. Driving them throughout the year to keep productivity levels up, will, in turn, lead to increased revenue.
5. Point of Contact – Dealing with gatekeepers and targeting the C-suite may no longer be necessary. Although 64% of the C-suite makes the final assessment, decision-making influence is moving around the org-chart.The role of the person within an organization whom your inside sales representatives attempt to reach often correlates to what your company sells. The purchase of software products would likely be assessed by a technology professional or a department head who may be easier to reach than a high-level executive. More than 80% of those not in the C-suite have influential powers in the purchase decision today. Sometimes it can be more productive to work your way up to the decision maker by engaging influencers first.
You don't have to get your agents to work more hours to improve call productivity. Instead, address the five focus areas above and endeavor to get them more engaged with their work. Committed employees feel like they are valued members of the team. To show your appreciation, simplify their daily processes with software, provide additional training that will, in turn, help their career, and reward their efforts.
How have you improved productivity at your outbound call center?