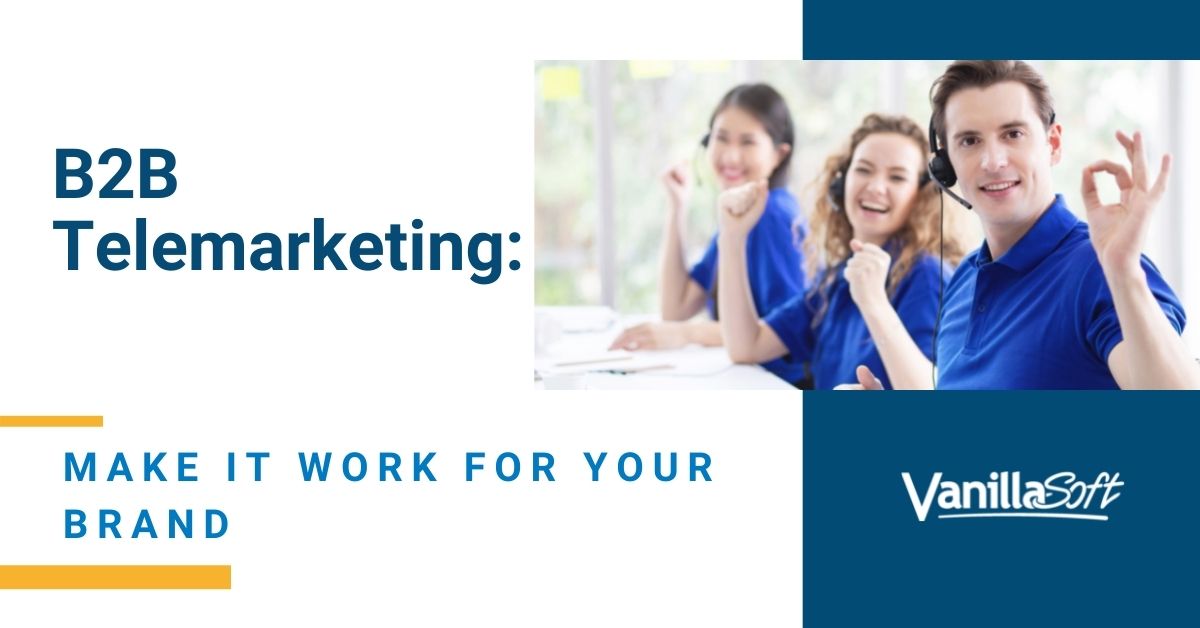 Telemarketing.
Something about that word makes people's skin crawl.
However, B2B telemarketing is a valuable option when it comes to high-quality lead generation, something that 63% of marketers pinned as their biggest challenge.
The thing is, this method is super effective, but you can't simply set up a call center, hire people, give them a phone, and expect results. Your reps just have to keep some points in mind when making those phone calls if you want to be successful.
Discover how to make B2B telemarketing work for your brand with our eight tips for success.
1. Set realistic goals for telemarketing campaigns
Establishing tangible goals for your telemarketing campaigns allows you to measure progress and adds something for your salespeople to strive towards.
Don't forget to include deadlines for your goals.
If you're working with long-term goals, split them into smaller milestones to make them more manageable for you and your team.
2. Be quick and persistent with follow-up
Don't expect to get the results you're looking for on the first attempt — or even the second, third, or fourth contact attempt, for that matter.
Reps must make an average of 5.7 contact attempts to reach a positive outcome with a lead. That is true even for leads who are a good fit.
You'll also want to take into account that most leads won are those contacted three to four times within the first four to five days of being in the sales cycle.
Formulate your sales cadence so that your reps reach out early and often.
3. Build quality contact lists
There are many ways to build lists.
A few methods are to use LinkedIn, build landing pages, do webinars, or create lists based on website visitors. On-page forms can help you collect interested prospects' information.
You can make inbound and outbound marketing work to your advantage.
Have your team update your lists as they make calls.
You want to keep those lists updated and clean, right?
If an individual is no longer in a specific role, note that information to ensure that someone else on your team doesn't call them again with the wrong info.
4. Use sales scripts as a guide
Even the best reps can benefit from a top-notch script.
However, don't expect your sales reps to read your B2B telemarketing scripts word for word. Consider scripts as more of a guide and give your team the flexibility to be natural and authentic in their sales conversations.
VanillaSoft's Logical-branch scripting feature allows you to build dynamic scripts that will walk your reps through meaningful conversations with prospects.
In other words, this powerful tool helps reps to adapt to the context of each conversation and provides them with effective objection counterarguments, valuable data, and key differentiators they can use to close deals.
You may also want to think about adding a mention about a loyal and well-known client into the script. Referencing a brand leader that has similar pain points to your prospective buyers intensifies your company's credibility.
5. Coach your team to improve their skills as B2B telemarketers
Companies equipped with coaching programs achieve their sales objectives 9 percent more than those that do not.
Here are a few ideas of where to focus your ongoing coaching attention.
Handling sales objections
Ensure your sales representatives know how to overcome common objections or delay tactics like, "send me more information," "we don't have the budget," or "we've already got a solution.
For example, the price objection can be turned into an opportunity by digging further into the issue and unearthing more information such as:
Has the buyer already exhausted their budget for the year?
Are they willing to find the money elsewhere if you show them the actual value of your solution?
Is it just an excuse?
All these layers of information will give your rep more room for maneuver and allow them to come up with a way of securing a follow-up meeting.
Overcoming cold call anxiety
Many sales reps, 48% of them to be more precise, get cold feet when they have to pick up the phone and call their prospects for the first time.
Present your team with ways to overcome cold call anxiety. This could be through role-playing or having a shadow on a live call.
Leaving voicemails
Train them on how to leave voicemails that invite a step forward in the sales cycle, not necessarily a callback.
Learn how to map out and develop your voicemail strategy in The Sales Voicemail Playbook for SDRs.
Ongoing product training
Provide your team with ongoing product training.
As products evolve and new ones are added, it's important for salespeople to be informed and up to speed so they can explain the features and values to prospects.
6. Integrate B2B telemarketing into your overall strategy
As a business in today's market, you're likely using a variety of channels to connect with your prospective customers, i.e., social media, email, telephone, SMS messaging, etc.
Instead of thinking about telemarketing as a separate piece of your business, incorporate it into your omnichannel approach.
Use it as another outlet to create a touchpoint with your prospects. This way, you'll create a more immersive experience for your prospects and keep the lines of communication open.
Such an approach will eliminate the potential intrusiveness from your telemarketing efforts and transform this tactic into an effective nurturing tool.
7. Analyze and adapt
Identify what's working, what's not, and then make the necessary changes. Continue with the practices producing the best leads and end the others.
A/B test your scripts to see what resonates with your prospects and look at segments to see what is generating the best leads.
VanillaSoft comes with a number of useful features that give a detailed insight into your reps' performance and the effectiveness of your campaigns. By monitoring the sales activity of individual team members, keeping track of ROI on leads, and call activity metrics, you can manage your team and implement different strategies accordingly.
8. Use the appropriate software
A sales engagement platform like VanillaSoft enables your team to spend more time engaging with prospects and less time inputting data or searching for information.
Keep them on the phone selling!
Our queue-based lead routing technology has helped sales teams triple their contact attempts and improve the success of their efforts. By automating the prioritization of leads, your reps will always call only the leads that are most likely to convert.
Are You Ready to Conquer B2B Telemarketing?
B2B telemarketing results can vary significantly due to industry, but your strategy and adherence to best practices like those above can have a positive impact. Expect a considerable effect on your B2B telemarketing results from applying these eight tips.
Do you have any other B2B telemarketing advice that works well for you? Please share it in the comments below!