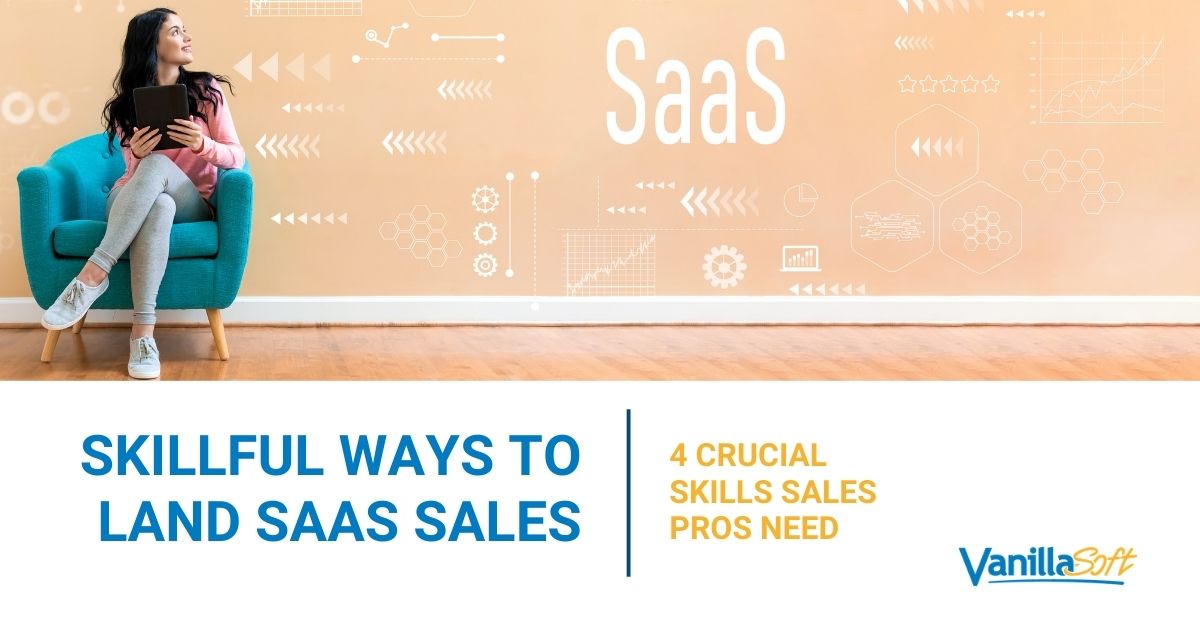 Welcome to the billion-dollar industry that is SaaS (aka software as a service).
Think MailChimp, ZenDesk, DocuSign, Slack, and Netflix. Chances are, most of the applications and platforms that suck up all your time are badass SaaS companies.
The SaaS sales business is booming, so you're jumping into – or stretching your legs in – an industry with tons of opportunity and development.
Since that also means more competition to beat, understand that there's no room at the top for SaaS reps who don't embed themselves into the world of technology.
That means to excel at high-tech and software sales, you have to be a sales rep who actively expands their grasp of industry trends, deepens their product knowledge, and uses all their skills and grit to get the job done.
Enterprise SaaS sales – what to know as you grow
Sales reps of any industry have the same goals: create brand awareness and help customers achieve maximum value from their products.
However, as a software sales rep, you sell expensive, high-powered hardware, software, operating systems, and services – this demands an effective strategy that can outlast the often lengthy sales process involved to acquire, upsell, and retain clients.
According to an article by Zendesk, the five stages of the SaaS sales funnel are:
Awareness: They first learn about your product.
Interest: Curiosity sets in.
Evaluation: Your prospect actively considers making a purchase.
Engagement: The product is in the cart, but they're still unsure.
Purchase: *Blows party horn* ⭐️
It sounds simple, but remember that you pave the road from awareness to purchase with lots and lots… and lots of touch points to connect with your prospects.
It's not a day at the beach, but keep this in mind: each contact is your chance to show off your stellar customer service, the personalized attention you provide, and your expertise in the industry; you get my drift?
To close deals in enterprise software sales is to play the long game, folks.
Excel in high-tech SaaS sales with 4 skills that close deals
As a software sales rep, you connect innovative and modern tech to the customers who need them. Looking for new approaches to lead with?
Here are four more skills to add to your repertoire to reach SaaS sales clients.
1. A laser-focus on how you solve their problems
Your SaaS product isn't what your prospects want to know about in the first 15 minutes they penciled you in – they only want to hear about how your software's solution helps solve their problems specifically.
Rather than telling them you sell a lead management solution, start with a highlight that demonstrates how your product is the new way to guarantee hot, prioritized leads every day. Good 'ol wisdom.
Enterprises carefully choose their risks, so what nagging issues can you simplify? Resist the urge to be a bottom-line focused sales rep here; instead, be a problem-solving open resource that fully explains the value your product provides, plus how it outshines competitors.
This is your chance to make your prospect's jaw drop with customer success results and to prove just how damn skilled you are. (And show why your high-tech SaaS tools are worth every penny.)
2. The ability to be frugal and minimize discounts (it's called a trial/demo for a reason!)
You're in the enterprise software sales business – people need a free trial or demo of your product before they work with you. Fair enough.
But you don't want to get carried away. Being a top-notch rep in high-tech sales means you keep your eye on the bottom line.
While trial periods and recurring discounts in SaaS sales usher in business, if there's a lack of structure, you can easily hurt your business in ways that lead to huge L's in revenue down the line.
For example, if you offer free trials, 14 days is the max length your free trial should be, says CEO Steli Efti in his article for Close.
I know you're wondering, so here's why:
Most people don't use free trials for the full term.
Users display a heightened sense of urgency for quick trials and are more likely to try the product immediately.
By reducing your free trial, you also shorten your sales cycle – lower customer acquisition costs FTW.
Let's back it up a bit. After customers sign up for your free trial (and before they finish it), this simple move will separate you from your SaaS sales competitors: Make sure to consistently call each trial user as soon as they come through your system.
They say the business that understands the customer, owns the customer, right?
When you do that, you'll significantly improve your answer rate, and it'll be easier to qualify prospects, saving you time and money. Plus, you can get ahead of the objections game, ya know, the one prospects always want to play…
If free trials aren't something you offer, make sure there's an easy way to book a demo. Demos can be a powerful tool in your pocket to help customers have a visual of your tool and how it works.
3. Killer communication skills combined with tech prowess
Between email, video, social media platforms, and every other communication tool out there, you can't sell SaaS without, well, using another SaaS.
The most skilled enterprise software sales reps should have killer communication skills – but they should also be savvy enough to know how to leverage tech to land quality prospects.
For example, email drip campaigns are perfect to target prospects who've expressed interest in your business.
"These campaigns tend to drive click-through rates and keep prospects from forgetting about you," Patrick Grieve explains in an article for Zendesk. That's people who download your ebook, take a quiz on your website, sign up for a free trial, or purchase exclusive content.
After a few weeks, your campaign automatically sends those leads engaging and informative content, things that they'd find most valuable about your product – then, bam! They convert. Wouldn't that be nice?
It's not that immediate, sadly, but this strategy to make more SaaS sales works. To squeeze all the juice out of your email drip campaign (and ensure prospects don't forget about you), these are the two tactics you need:
Axe the robot email address (i.e. [email protected]) and go with a human touch – use a real name.
It's okay to get a little annoying. Just make sure that your content is valuable, fun, and interactive to keep your recipients on the hook.
4. A bit of humility and the desire to 'always be improving'
Kendrick Lamar wasn't talking directly to SaaS sales reps in his hit, "HUMBLE.," but the message still applies: Sit down and be humble, would ya?
No matter how far along (or not) you are in your experience with high-tech sales, there's always room for improvement. I know you've heard that a ton, but probably because – wait for it – it's true!
Especially since you're in tech, get used to the ever-evolving landscape of gadgets and tools that make our jobs easier. To help you navigate through it, prioritize constructive feedback – all the best SaaS sales reps do.
It's often easier said than done, but the key is to be human. At the end of a call with a prospective client or a newly signed-on one, be honest and ask about your performance. Did you address their needs? Did they feel heard? Was your pitch effective?
Believe it or not, your honesty and vulnerability is refreshing to customers.. Use this opportunity for improvement to receive both the gratifying and discouraging comments.
You're here to listen, and act on what you've heard.
Reach more SaaS sales clients with the advantages of cutting-edge AI tech. Our eBook 📚 , "How Sales Leaders are Using AI to Improve Performance," tells you all you need to know about leveraging AI solutions.