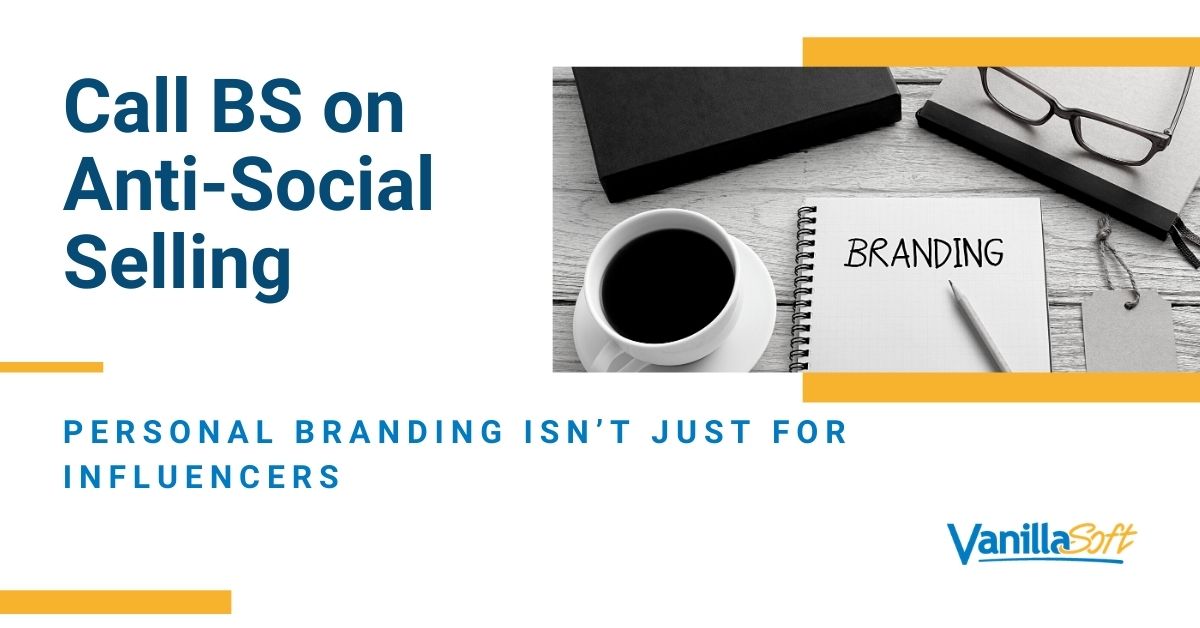 Creating a personal brand via your social profiles, the content you share, and your interactions with buyers can help you establish credibility, trust, and a reputation for understanding their needs.
Sales experts Kristina Jaramillo, Josie Marshburn, and John Moore say personal branding is a must for sales reps.
The three sales pros share their strategies for optimizing your social profiles to provide maximum value (for both you and your prospects).
Sometimes, what we learn when we're young turns out to be only half true. Like you are what you eat. If that was really the case, we'd all be made of Kraft dinner and dino nuggets as kids before morphing into cheap slices of pizza in college and Chipotle burrito bowls by the time we're 30.
Equally absurd is the idea that personal branding is just for influencers. You can, and should, create your own brand – even if you represent a company that already has its own. And yes, even if you're just a rep and not a leader (yet). Plus, you don't need Instagram or TikTok to do it.
So step away from the selfie stick and take entrepreneur/author Lisa Gansky's words to heart: "A brand is a voice, and a product is a souvenir."
John Moore, VP of Revenue Enablement at Bigtincan, also known as "The Collaborator" in sales-rockstar circles, would agree.
"You need to show that you have something to say that's of value to people you're trying to reach," he says. "But it damned well better not be all about you, you, you."
Through your social profiles, the content you share, and your interactions with buyers, you can establish credibility with a brand that's about understanding their pain points and their needs. That's your brand – your unique voice; your way to build trust and differentiate yourself from uber-crowded social platforms.
On a very special episode of INSIDE Inside Sales, John joins Sales Enablement Benchmark founder and CEO Josie Marshburn, as well as Personal ABM president Kristina Jaramillo to discuss personal branding for sales professionals.
Our guests share their expertise on exactly how it adds value, and why the shiny new Brand You is key to every one of those #2021goals.
Excuse my just
We've heard it all before, so don't @ us before you read on:
It's not about me, it's about the product (or the service).
It's about my company and its brand. I'm just a facilitator.
I'm just a person; I'm a matchmaker. I match your pains and problems with my company's solutions.
"We're not Yentas out there anymore, being blind matchmakers," says John.
You represent your company. But by building your own personal brand, if it's in alignment with the organization you work for, you begin adding value to every conversation.
Josie agrees: "It's really interesting to think about what we use LinkedIn for today: networking, lead generation, and to convey messages either about ourselves or our companies. All of that is branding."
She explains being surprised about the state of many SDRs' profiles – and what they say on social platforms.
"I was coaching a girl the other day who put something rather negative on LinkedIn," Josie says. "She's looking for a job – and [what she said] was about recruiters. So I sent her a quick message: Hey, if it was me, I wouldn't put that out there. This is why…''
Josie's coachee replied with "a really nice note: Yeah, but I disagree with you so I'm gonna leave it out here."
Godspeed, Ms. Coachee. Godspeed.
Storytime: Show up to grow up
So what should your profile include? Expert opinion survey puts in this way: a story.
And according to Kristina, that story should highlight your expertise: "That's how you'll stand out from other SDRs, business development, or account reps. It's how you build value."
If you have the opportunity to meet buyers IRL, it's a bit easier (or at least more elegant) to make the leap from salesperson to trusted advisor. But in the era of social distancing, it's not as simple: online interactions are your only hope.
Do you only repost others' posts? And/or do you just "like" them, or comment things like, preach! or yeah, what she said.
"That's one of my biggest pet peeves," Kristina adds. "Just kind of showing up to social, but not sharing your point of view – just resharing other people's."
Share all you want, she adds, "but put your spin on it: what you agree with, what you disagree with…and why."
Calling BS on anti-social selling
John, Josie, and Kristina have heard a number of excuses from folks who resist social selling.
The top two are:
I don't have time. "It's not a valid excuse," says John. "You can spend five to 10 minutes a day and do an adequate job getting your opinions out there, sharing a little bit of value each day."
I don't want to have a social presence. "I don't know how you sell today without one," says Josie. "I had an exchange today with somebody on LinkedIn who said they just started using it. And I thought, man, where have you been? It's been around since 2004."
LinkedIn is more valuable than ever in the era of COVID, but it's been a great way to stay in touch with clients and colleagues for years. So it's "super important to build your brand on a platform like LinkedIn," John adds.
"But I also think it's important to build it in the right way."
Snack-size sales
If you're not a social maven (yet), Kristina says: "Do it in bite-sized chunks. Work on your profile a little bit at a time. It doesn't have to be all done at once."
Think of every little engagement you have, she adds – whether you're commenting on a post or sharing one, or sending an invitation to connect – as a "mini-sales conversation."
Every "mini" conversation is a chance to add value, whether it's with a prospect or someone you'd like to partner with in the future.
"You're adding value every step of the way," says Kristina.
John says he built a strategy document – for himself.
"What the heck am I trying to accomplish?" he asked.
When he wasn't sure of the answer, he read books and listened to some more on Audible. Then he "boiled down those lessons" into a series of training courses and best practices for Bigtincan's customer-facing employees.
The key takeaway was: Your LinkedIn profile doesn't need to be a resume. In fact, it probably shouldn't be.
John shared his own LinkedIn profile and walked his team through it, section by section, showing them how he converted his page from a CV to "a story – about how I can add value, how I can be of help, and of service to you, the person reading it."
Plenty of folks on his team were skeptical.
"Let's be very honest and transparent," says John. "They said, that's BS, I don't have time for that."
Slowly but surely, though, he began "converting" people toward enhancing their profiles to reflect not just resumes, but a series of short case-study-style stories that truly connect with buyers.
All together now
Our guests urge you to think outside the InMail box on LinkedIn.
Sales communities abound beyond LinkedIn and Twitter. Specialized groups spring up all the time: RevGenius, Revenue Collective, Thursday Night Sales, and the Sales Enablement Society forum. Communities grow around blogs like Quotable by Salesforce and through a myriad of sales podcasts (like this one).
"I agree with the idea of trying to go everywhere," says Kristina. "LinkedIn is my platform of choice, but it's just a tool. The platform doesn't really matter, as long as you're in the right place for your audience."
What does matter is "personal communication," she notes. "It's that emotional connection you're making, building trust. Take that communication across any platform you choose. I think that's the bigger value-add."
When John revamped his profile, he asked himself: "Where are the people I want to build a relationship with?"
He wasn't about to drop his knowledge (or his cat's antics) on Tik Tok, "because there's nobody talking about sales enablement there."
For him, it was a mix of CMOs, sales enablement experts, and sellers, so "the biggest community I could most easily become part of, and share value in, was LinkedIn," he says.
"But I've started to spread out to other communities as well."
He can do that with confidence because LinkedIn is an "initial beachhead where I'm delivering consistent value," says John. "It's the gold standard."
However, he adds: "I think it's important that, as you achieve your initial success on LinkedIn – if that's where your community is – you start to identify, just like any good marketer would, the other places your audience lives and become a part of those communities as well."
So, get out there and start working on your personal brand. See what others are doing and test out different things to see what resonates with your target audience. And remember, don't just regurgitate what others share – put your own spin on it.