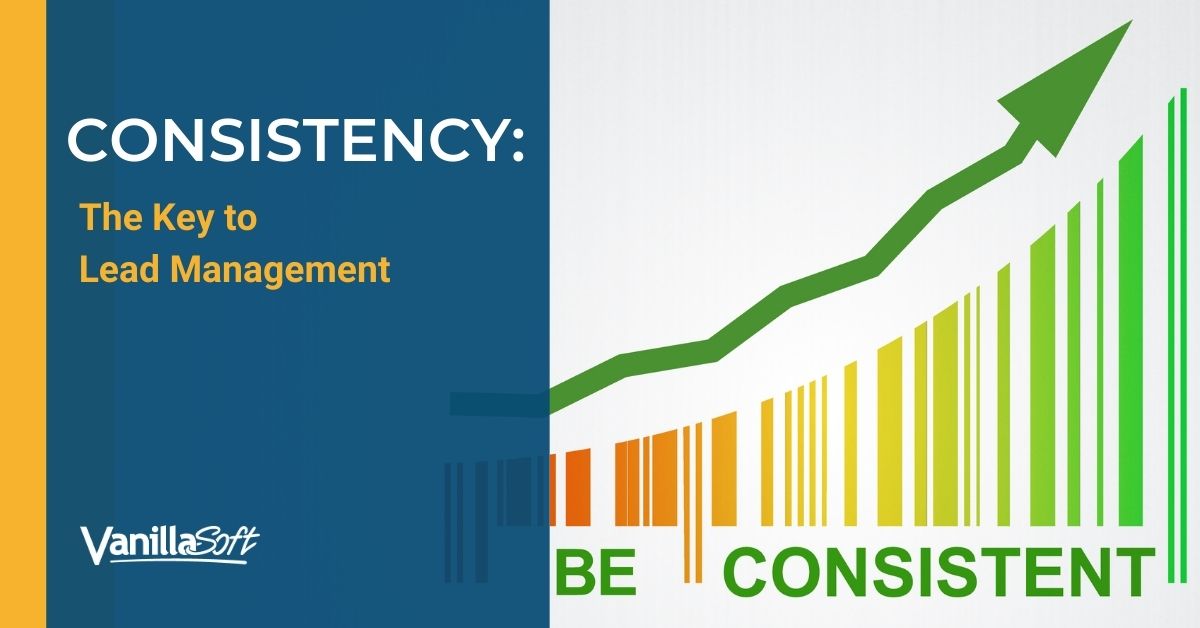 When it comes to great lead generation, you can't just rely on luck.
It's also inadvisable to let your team members wing it or devise their own lead management methodologies. Instead, you need to focus on crafting a process that is effective, repeatable, and scalable.
After all, managing leads is one of the largest expenses faced by inside sales teams. According to analyst firm Yankee Group, it is estimated that between 40% and 80% of sales leads are dropped between marketing and sales – that is, they were lost, never qualified, and most likely fell out of the system. That's a lot of lost opportunities!
To prevent lost leads, you must understand what an effective lead management process is, how to implement it, and why consistency matters big time.
What Is a Lead Management Process?
Lead management is a multi-stage process of acquiring, nurturing, and managing leads and tracking their interactions with your company.
This process requires using different tools, methodologies, and practices to identify potential buyers and move them through an organized buyer's journey. With the help of a lead management process, you can attract, educate, nurture, engage, qualify your leads, and finally pass them from marketing to sales.
Every step has to be carefully coordinated so that your sales reps get only the leads likely to convert and purchase. That's why sales and marketing alignment plays an important role in the process.
A properly built sales management process will smoothly push leads through your sales pipeline without allowing them to slip through the cracks.
Here's how to build and implement a successful lead management process.
Identify Your Leads
Before you start building your lead management system, you need to understand who your potential customers, that is, leads are.
Without this step, you won't be able to tailor your lead acquisition strategy, and you'll have to rely on guesswork.
Your marketing team should work on creating your ideal customer profile and buyer personas, based on some of the following parameters:
Demographics. What industry, geographic location, company size, pain points, and challenges are you targeting with your product or service? If you have multiple products or services that cater to various audiences' needs, segment your leads into several groups to provide them only relevant information through your marketing messages.
Behavior. How do leads interact with your business? Are they clicking on the links you send them, or do they only open your emails? How often do they visit your website and how long they explore your content? Are they reading your blog posts or downloading industry reports and ebooks? Have they subscribed to your blog and newsletter?
Lead source. How do you acquire your leads? Is organic search traffic your primary source, social media, or maybe paid ads perform better?
The point is learning as much as possible about your leads and understanding their needs, wants, and preferences. The more you know about your prospective buyers, the better you'll be able to connect with them.
Generate Leads and Collect Information About Them
After you identify who your target audience is, it will be easier for you to create a lead generation strategy.
The sky's the limit when it comes to this, as there are numerous tactics and sources that you can leverage to reach your potential buyers and attract their attention.
Some of the lead generation methods include:
Lead magnets. Gate your premium content such as whitepapers, webinar recordings, and videos and make them available after filling a lead-capture form. This way, you'll offer relevant and valuable content in exchange for critical lead intelligence that you can later use for your marketing campaign. You can ask for email addresses and information about the size of your leads' company, its annual revenue, their role in the company, or anything else that's relevant to you. Just make sure that your form isn't too long, as that's one of the biggest conversion killers.
Content marketing. Create superb blog posts, videos, infographics, start a podcast, and other types of content that will bring you a lot of traffic. However, for content marketing to generate high-quality traffic, it needs to be optimized for search engines. This means adding relevant keywords that will target specific audiences interested in what you have to offer. Of course, keyword optimization is just scratching the surface as SEO requires a detailed approach to your website and content, but given that it's a surefire way of attracting the right crowd, it's worth investing in. If you are a SaaS business, working with a SaaS SEO agency can further enhance your SEO efforts by leveraging their expertise in optimizing your website, content, and overall online presence.
Social media. Billions of people use social media platforms on a daily basis, which means that you can significantly expand your reach and place your content and marketing message in front of your target audience pretty easily. All you need to do is post quality content and use a weekly social media report to understand how your posts are performing and how you can improve engagement.
Other lead generation tools include paid ads, custom landing pages, email marketing, trade shows, speaking events, and cold calling, to name just a few.
What's also crucial to mention is that not all these techniques will work for you, so keep an eye on your analytics to see which ones you should focus on.
It's not enough to just generate your leads – it's equally important to store them properly so that you can track them and monitor their behavior. The best way to do this is by using a customer relationship management tool.
CRM will help you streamline the process of managing your leads, and if you don't want to add every newly acquired lead into this system manually, you can set up automation.
For example, by using Zapier, you can connect your CRM with your website, Facebook, or any other channel. Every time a new lead subscribes or signs up, it will be automatically added to your CRM, together with all the collected information.
With the help of CRM, you and your team will have a complete overview of every lead and their interactions with your organization.
Score Your Leads
The next step is to score your leads. Assess whether they're interested in your product or service, as well as how likely they are to convert and purchase from you.
You can do this by assigning every lead points based on various scoring factors.
The more points a lead has, the higher their likelihood of becoming a paying customer is.
First of all, your sales and marketing team should determine what behaviors are crucial and create a scoring system by deciding how many points a particular action should get.
Some of the most important factors to consider when coming up with your lead scoring system include:
Time sensitivity. This refers to how quickly a particular lead takes action – will they open your email and click on the link right away. Inactivity and procrastination generally mean a reduced score and indicate a lack of interest.
Website engagement. How often does a lead visit your website? If they only visited once, the odds are that they're not exactly interested. Also, bear in mind that not every page has the same score – landing and pricing pages and specs and features should be awarded more points than browsing the blog.
Overall online engagement. Does a particular lead follow you on social media? Are they commenting, sharing, and liking your posts?
Timeline. What's the timeframe for making a final decision? If your lead isn't in a rush to purchase, then they should get fewer points.
These are only just a couple of factors that you should take into account. The list can go on. To define what you should look into, assess, analyze your existing customers, and identify patterns.
Nurture Your Leads
OK, so you've collected, stored, and qualified your leads, but that doesn't mean that all of them are ready to be transferred to your sales team.
At this point, identify where they are in the sales funnel – awareness, interest, desire, or action. Many new leads are probably still in the phase of discovering your solutions and trying to figure out whether your product or service is the right fit for their business.
That's why you need to understand where your potential customers stand and what they need from you to make a decision. Based on this, you should offer them valuable, educational content that will showcase all the benefits of your product or service and demonstrate that it's exactly what they need to solve a particular problem.
Awareness. At this stage, your leads have learned about your company, and it's up to you to keep on reminding them about how you can help them. This will keep you at the forefront of their mind. Use educational blog posts and videos to engage your audience and show them that you understand their pain points.
Interest. Your leads are considering your product, but they're also checking out your competitors. That's why you need to find a way to cut through the noise and distinguish yourself from the crowd. Now is the moment to offer something valuable such as a discount or free consultation, to give them a little nudge. Building a meaningful relationship with them is also important, so come up with a drip campaign to share interesting and engaging information.
Desire. Your efforts have finally paid off, and your lead is seriously interested in what you have to offer. You still have to help them find all the relevant information to help them make the right decision. Case studies and customer testimonials and reviews can work wonders while your lead is still on the fence.
Action. The time has come to seal the deal, but don't relax just yet because things can still go wrong. That's why your sales rep has to pick the best approach to get your lead to say yes. A free trial or a detailed walkthrough that will help your potential customer set up a product or service can be a nice touch. Timing matters here too, so don't hesitate to reach out and finalize the purchase.
Why Consistency Is Essential?
In our white paper, Mastering the Lead Management Process for Inside Sales, we cover how to develop a consistent and powerful lead management process. Here are a few key points:
Develop a formal, written lead management plan and ensure your sales reps follow it step by step. Your plan needs to define what a sales qualified lead is versus a marketing qualified lead, and there should be a formula for how to proceed with each.
Ensure only sales qualified leads are distributed to your reps for follow up. Marketing qualified leads that aren't yet ready for sales follow up should be placed in lead nurturing and email marketing campaigns for further nurturing and qualification.
Select a queue-based lead management system that enforces your lead management workflows, provides email templates and scripts and prevents human intervention for cherry-picking leads.
Define specific workflows for handling different types of leads:

Web leads: inbound leads from your website
Aged leads: previously worked leads
Purchased leads: leads bought from a list vendor
Event leads: leads from webinars, trade shows, or other events
Trigger leads: leads generated by virtue of the prospect taking a certain action

Create lead nurturing workflows for your leads that are yet ready to buy.
Track your team's process with robust reporting and KPI dashboards.
Leverage inside sales software that allows you to:

Monitor calls for training and quality assurance
Record calls and marry them to the contact record
Analyze patterns to create a strategy for improvement
The success of a good lead management plan relies on the development of repeatable processes, shared templates, and definitions. You can attempt to can manually implement these "must-have" elements of your plan, but you are leaving the process open to human error and inefficiency. When you put queue-based sales CRM automation to work for your team, you will see an increase in sales productivity.
To learn more about lead management mastery for inside sales, read Mastering the Lead Management Process for Inside Sales. To start putting these steps into practice, start your VanillaSoft free trial today!