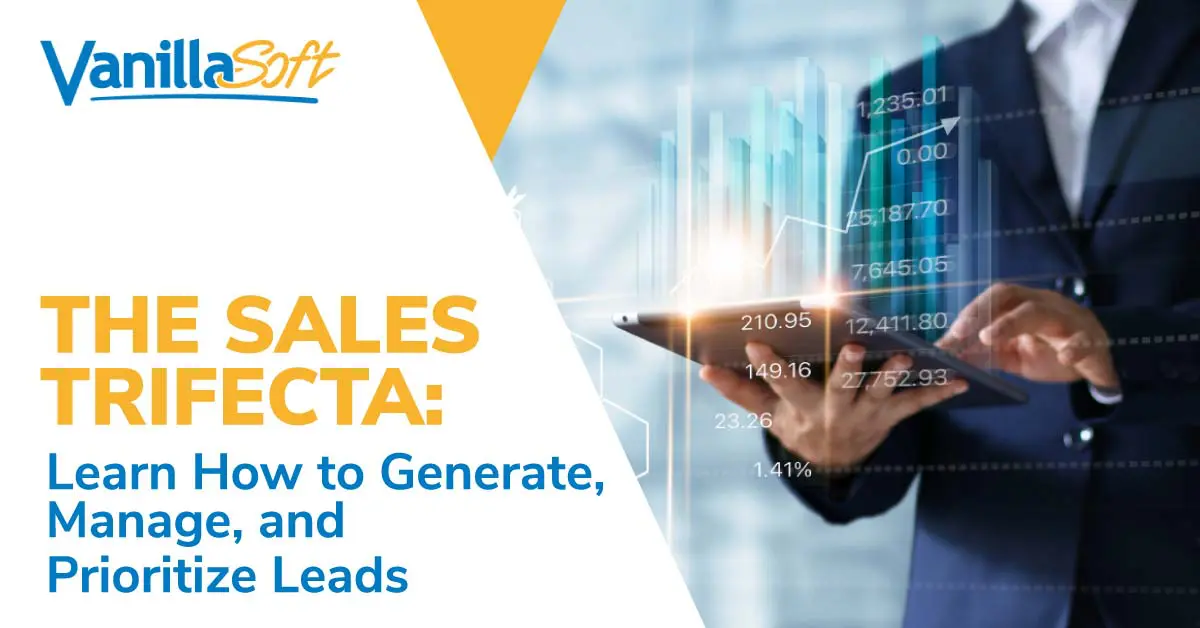 When you first got into insurance sales did you think about how to get insurance leads?
"You mean customers don't just come to me?" Welcome to sales!
Sometimes you'll land those decisive unicorns, but you typically have to give leads a reason to want you – and you do that by appealing to their interests and "talking" to them through various methods they'll respond to.
We're talking about lead generation, one of many things your insurance sales business can't do without.
Get up to speed: Lead generation is when you deploy a variety of strategies and tactics to attract potential clients who might be interested in your products or services.
But it doesn't end there – once you generate those leads, you'll need a system that will both help you manage them and push the most qualified ones to the top of your list so you can follow-up with them first.
Generating, managing, prioritizing, and following up (yes, by phone!) with all your leads are all critical steps for your bottom line – how else are you going to get a healthy pipeline of customers?
How to get insurance leads
In 2020, most lead generation is done through campaigns, SEO, and social media. So to be successful, you'll need to learn how to use these tools.
Are you ready to become a lead gen expert? (Stick around to learn how to generate, manage, and prioritize your leads to always follow up with the most qualified folks first!)
1. Make your website a valuable one-stop-shop
First, create a website with all the essentials: call-to-actions, signup forms, a contact page, a quote button, and any engaging content that will hook prospective leads.
Your website is the core of your lead generation strategy, so it should be a clean, informative site that makes it easy for potential clients to find what they need.
Here's what to include on your website to attract leads:
Lead magnets: Keep visitors on the page and offer lead magnets that'll prompt them to provide contact information in exchange for valuable content. We're talking checklists, webinars, reports, white papers, detailed guides, case studies, and more.
Interactive tools and content: Use quizzes, calculators, and quote generators that can qualify and capture your leads all at once. If you want to go the extra mile, create a 24/7 chatbot for your site! Use the chatbot tool to capture names, emails, and/or phone numbers to follow-up.
Video marketing: Attract buyers and win their trust with videos that tackle important topics or answer common questions – you don't even need fancy camera equipment. Plus, videos show off your personality and allow people to connect with you on an emotional level.
Customer reviews: Insurance is a service-based business, so the words of happy customers validate your business. Ask for reviews on your site and display them ASAP.
Blog posts: Blogs are an effective way to reach a larger audience, and this strategy positively impacts both search engine optimization (SEO) and website credibility. Plus, get this: Small businesses that blog get 126% more lead growth than those that don't! Start with one blog post per week to see how quickly that pipeline of inbound leads fills up.
Referral programs: Use an irresistible special offer that rewards your clients for referring new business to you. Whether they're word-of-mouth or online-based solutions, referral programs can be strong lead generators.
People search online for answers and meaningful insight – create informative content to position your business as a one-stop resource where people can have their insurance concerns addressed.
2. Pull rank (but only when it comes to search engines!)
How else are people supposed to come across your beautiful new website? Organically? Maybe in 2010.
Search Engine Optimization (SEO) methods are used to get your website higher in the search engine results for certain keywords, and these days, it's the backbone of your online traffic.
To get more eyeballs and mouse-clickers on your site, add on-page and off-page optimization to your content marketing strategy so you can have successful lead generation campaigns.
There are plenty of SEO techniques that involve both on-site and off-site work, so it might be overwhelming at first. Here's an easy place to start:
Research highly searched keywords by your target audience.
Use research tools to find out what your audience searches for online.
Take advantage of long-tail keywords to reach users who aren't targeted by other insurance companies.
And if you need to, hire an SEO expert – SEO isn't where you want to cut corners.
3. Get chatty: Take advantage of forums and social media
In 2019, 223 million Americans were on social media. If you want to get global, the 'M' becomes a 'B.' That's a lot of free insurance selling potential.
If you're not on social media, you're missing out on additional exposure, increased traffic, and improved search rankings – all of which have a direct influence on your ability to generate high-quality insurance leads for your business.
To increase your social presence, build relationships, and even generate new business:
Focus on platforms where your target market is most active.
Publish relevant content for your customers and stay up-to-date on industry issues to create content that addresses those topics.
Consistency is key – a good guideline is to post daily on Facebook or Twitter and multiple times a week on LinkedIn.
Use multimedia content to increase interest and interaction.
Respond to every relevant comment or inquiry posted on your page to interact with followers.
Forums are different from social media, but it's worthwhile to position yourself as an expert by joining insurance-related forums and answering questions.
And don't forget the rule of thumb with social channels and forums: Don't be sales-y; just engage, inform, and add value.
4. Don't go at it alone – create content marketing campaigns
As an insurance rep, providing informative, educational, and entertaining content will help you engage prospective leads and show them why they need to do business with you.
But that content can only get you so far if no one is reading it – that's where content marketing comes into play.
Like SEO, content marketing gives your content the boost it needs to attract the right leads, so you should always be on the hunt for new strategies – AKA reaching out to influencers or guest posting on reputable sites to get backlinks back to your website. You can also tackle it with link building tools.
Follow marketing technology expert Keller Tiemann's steps to set up a campaign:
| | | |
| --- | --- | --- |
| Target a buyer profile | Create a landing page | Develop the material |
| Target specific age groups, health classes, genders, or locations to beat out the competition. | Your landing page should have:A catchy and informative headlineContent that explains your offer (videos, blogs, images, etc.)Reviews, testimonials, or ratingsA clear call to action, like a phone number, button, or form to convert the lead | Content that will drive traffic to your offers:Blog postsSocial media postsEmail lists: Keep emails for all current and past clients and email the ones you think should know about your offer |
To promote your campaign, try the PESO model, which is an easy way to categorize your promotion channels by paid, earned, shared, and owned.
5. Use the industry cheat sheet
Want leads fast? Buy them!
There are tons of companies that specialize in selling leads to insurance reps, and all you have to do is specify your location and features.
Pros: You pay no commission when you turn a lead into a customer.
Cons: Those leads have probably been sold to other agents, so you have to act fast, but you can also pay extra for exclusive leads.
Try this other affordable option and best-kept secret: Aged leads.
Real-time leads are generated by marketing companies – when they don't have enough immediate lead buyers to satisfy the promise made to the consumer (like a number of instant quotes), those leads become aged.
Here's the kicker: You can buy aged leads for a fraction of the cost, plus they're pre-qualified and want you to call them. Win-win.
You've generated leads – it's time to manage and prioritize them
Without leads, your business doesn't exist. That's why it's crucial to have an effective lead management and prioritization software to help you get the most out of your lead generation efforts.
Lead management is when you capture leads, track their activities and behaviors, and qualify and engage them until they're ready to be schmoozed and sold to. And prioritizing them means qualified leads populate in real-time, so you always follow-up with the next, best prospect first.
Without a system, it'll be harder to manage your leads in an organized way, which means potential deals will fall through the cracks.
But thanks to solutions like VanillaSoft that simplifies your sales process – shameless plug! – you won't ever forget the cardinal rule of following up with every lead that comes through your pipeline.
The system does it for you and lets you focus on other important tasks (like generating more leads or following up with the ones you already have).
Want to learn more about aged leads? To get more bang from your buck, check out our aged leads webinar to learn how they create the perfect opportunity for you to succeed with your lead generation efforts!