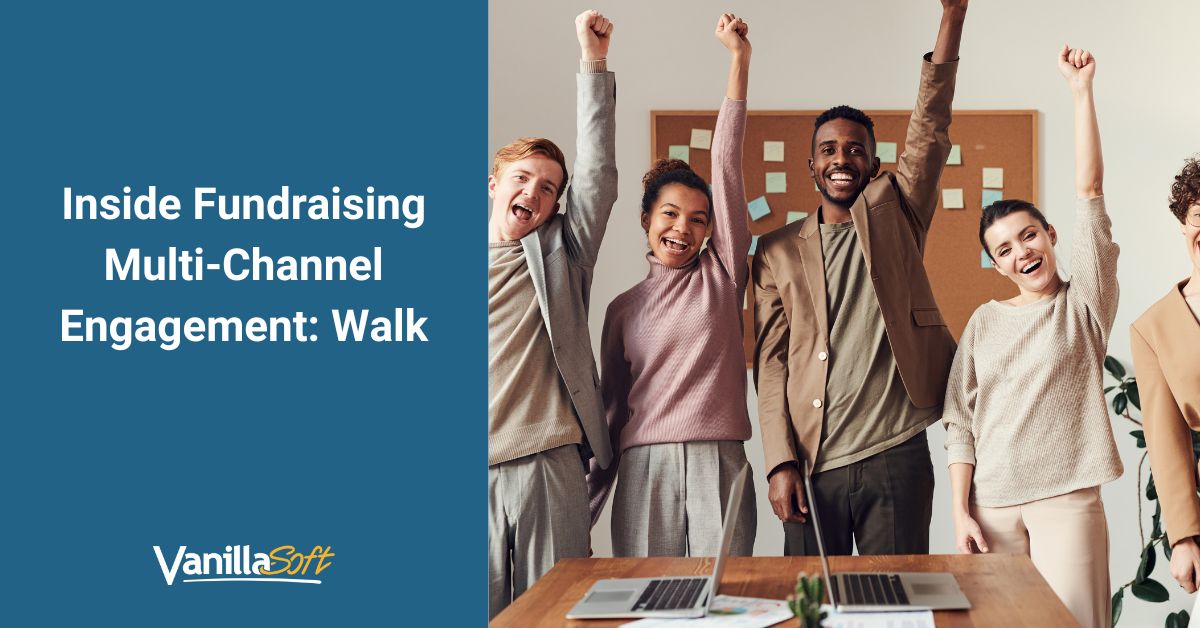 In the initial webinar from our "Inside Fundraising Multi-Channel Engagement: Crawl, Walk Run" series, we crawled our way through topics such as engagement-focused terminology, goal setting, tech, tools, channels, and more.
Now that we've laid the foundations and explained the theory behind the new approach, it's time to actually get our hands dirty and discuss the boots-on-the-ground processes. In the second installment of the series – Walk, Rachel Spencer and myself were joined by a true multi-channel engagement all-star with a lot of trench-based engagement center experience, Danielle Manriquez.
Let's take a deep dive into what a fully-fledged "donor journey" could look like for your program and how you can implement one to facilitate "personalized outreach at (an annual giving) scale."
1. Segmentation Planning: Slice and Dice Your Donor List
The first step of the process is getting your segmentation right.
So, what's segmentation, and why do we do it?
A simplified answer would be that it's breaking up your constituents into different groups based on their shared similarities, interests, preferences, affiliations, and other criteria.
As the one-size-fits-all approach doesn't work, it's crucial to find a way to reach out to your donor base as efficiently as possible but without compromising personalization. And that's exactly what segmentation can help you with.
Do a Segmentation Refresh Regularly
As a popular misquote says, you can't do the same thing over and over again and expect the same results. You can't do segmentation just once and stick to the same groups forever.
As your strategy evolves and changes year to year, your segmentation should follow. So, when you want to prioritize different things/units/groups of people, create new segments whose purpose would be raising money, accomplishing goals, and learning more about your various donor populations. All this will allow you to inform your strategy in the future and make the most of your efforts while achieving better efficiency.
Aim for Balance
Segmentation is a balancing act.
Create generalized segments, and you won't be able to personalize your message. On the other hand, getting too carried away and over-segmenting your audience comes with its own set of downsides. For example, slicing your campaigns into many tiny segments will prevent you from collecting relevant data and lead to over-customizing your messaging, thus reducing its clarity.
A/B Test Your Segmentation Efforts
The set-it-and-forget-it tactic won't hit the mark. You can segment your donor database by several different things, so implementing A./B testing will give you a sense of direction. This way, you'll be able to see what works and what doesn't for specific groups and tweak your campaigns accordingly.
It's possible to segment your constituents by:
Donor type – non-donors, lapsed, or renewal
Affiliation – alumni, parents, faculty staff, friends of the university, or even go into more detailed affiliations such as a degree unit or other campus involvement
Donation size
Time or season-based parameters – constituents who want to be contacted only in spring or in the evening
Channel preferences
You can also layer your segmentation and go super granular and specific in your approach. For example, you can combine a donor type, affiliation, channel, and amount of the last gift and prioritize alumni renewal that have given between $500 and $1,000 in the previous three years and who want to be contacted only by email or text messages.
Set Your Goals
More specific and thoughtful segmentation also contributes to better and more meaningful personalization.
However, to do this, you need to know your goals and priorities, understand what's important to you and your program or department, and what outcomes you expect to see. Only then can you do segmentation and test different approaches.
2. Donor Journeys (of a Thousand Miles Begins with One Step)
Understanding the concept of the donor journey will help you convert potential supporters to donors and, ultimately, to evangelists.
But again, you need to revisit your tactics and methods if you want this to be a journey instead of a short, one-time trip.
What Do We Mean by a Donor Journey?
A donor journey is an entire connection between the constituent and the university. It begins when someone is accepted into the school and ends when they pass away one day. So, we're talking about a life-long stewardship process.
The key to successful relationships with donors is that one ask for a gift, one cadence, or one gift lifecycle is just a single step in this journey. Always think about the bigger picture and focus on the ongoing journey throughout the constituents' entire connection with the university.
Make Every Interaction and Touchpoint Matter
All this means reframing your mindset and doing things differently.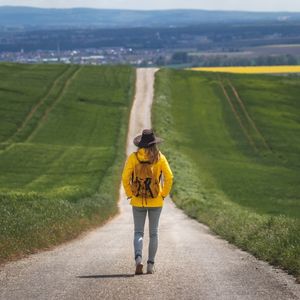 Start thinking about annual giving as much more than dialing for dollars. We've already discussed this shift in the previous webinar, so the fact that you'll transition from the idea of a call center and phonathon to the engagement center should be a step in the right direction.
Trying to squeeze out as much money as possible from constituents during a 5-minute call is something that belongs in the past and can only hurt donor loyalty and your prospects of building a meaningful connection with them.
Make sure to take care of your constituents, listen to their preferences, and help facilitate gifts in a way that makes the most sense to them. Don't simply use the conveyer-belt model of calling, delivering your elevator pitch, hanging up, and moving on to the next constituent on the list.
How to Execute Your Annual Giving Campaign?
All this said, there's still the annual giving space with all its limitations, which translates into having to work with the same large populations that we have to reach out to in a relatively short amount of time.
This brings us back to the topics of efficiency and personalization, both of which can be achieved through granular segmentation and our next topic – cadences.
3. Cadences & Workflow Automation: Cut Costs, Not Corners
Redefining fundraising campaigns in terms of donor journeys means you'll have to structure touchpoints in a logical flow that stretches for years or even decades.
That's where cadences and workflow automation helps you build a sequence of interconnected, meaningful touchpoints.
What Is a Cadence?
Most dictionaries define a cadence as "a regular and repeated pattern of activity." In sales, a cadence refers to a predefined and scheduled sequence of touchpoints to connect with and engage a prospect.
Change a "prospect" with a "constituent," and this definition applies well to a fundraising cadence.
But, it's critical to emphasize that a cadence can't be random and consists of unrelated interactions. In other words, every time you reach out to a constituent, you need to consider previous touchpoints and craft a message that will reflect past conversations with them.
What Should Be a Goal of Every Cadence?
As relationships with your constituents are fluid, your every cadence should branch out into the next one.
For example, let's say you want everyone on a particular cadence to book a meeting with a gift officer or make a gift. Once they take action, you need to have a plan for what to do with them next and how to continue to engage them. Closing them for the year would mean letting that constituent slip through the cracks.
Instead, if they make a gift, move them into a fulfillment or thank you cadence with a different goal. If they book an appointment with a gift officer, move them to a stewardship cadence.
Map out a path for every constituent to follow based on the cadence objectives.
Use Your Tech Stack
Setting up cadences can be overwhelming, especially at first, so it's best to leverage your tech stack to pick up some slack.
First, figure out what you want to achieve and start small. For example, a small cadence that will encourage your constituents to give can consist of an email, a phone call, a text message, and a final call with a voicemail or email attached. Implementing workflow automation will allow you to grow your cadences in complexity and scale them.
The more you learn about your constituents, the more tailored and specific you can get with your segmentation efforts. Not everyone is a good fit for every type of cadence. Having the right data will allow you to meet your constituents where they are, something that we also discussed in the previous installment of our webinar series.
A Cadence Vs. a Truly Personalized or Freestyle Approach?
An important question is when and why you should use a cadence instead of a truly personalized or freestyle approach to multichannel engagement.
The traditional, outdated call-center approach boils down to creating a list of constituents and making phone calls to beat your last year's pledge score. As opposed to this, cadences allow you to grow your program in various ways across several fiscal years and help your constituents grow throughout their donor journey.
Since you're still working with large groups of people and rely on mass outreach when you don't have much time to get in touch with them, cadences help you stay organized and strategic. Plus, with all the information you collect within a cadence, you can keep building on your notes for the next year and improving your relationship with constituents.
4. Personalized Outreach at Scale: Quantity Doesn't Exclude Quality
If the notion of personalized outreach at scale seems like an oxymoron, you're right.
Personalization is at odds with mass outreach, but with all the tactics and methods we discussed so far, it's possible to aim for higher quality conversations with your constituents on that large scale.
Find the Sweet Spot
The role of your student callers is to have quality human interactions with constituents. But they can only work with what they have on the screen in front of them. This means they will never be as specific or deliver highly-personalized phone calls like major gift or even LAG officers.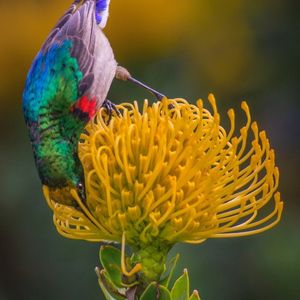 Still, it's okay on this level since the focus should be on quality and quantity.
People will feel good after a phone call with a highly engaged student, but this doesn't mean that your constituents expect student callers to know specific details about them. Moreover, that would seem a bit creepy on this level. So, the trick is finding the sweet spot to engage constituents without being too intrusive.
Is It Possible to Deliver Personalized Outreach to 1 Million Constituents?
Although this is an inherent challenge, cadences allow for the next best thing.
By figuring out your constituents' preferences and implementing them into your cadences, it's possible to make interactions more personalized. Then, as you grow your donor base and pass them along their journeys, they will start having meetings with LAG officers who work with smaller groups and are capable of being more granular.
This is particularly the case with the major gift ethos. MGOs have particularly intimate knowledge of their donors. So, as you work toward annual giving, design the process so that conversations become more personalized and granular as you funnel constituents up the pipeline to major gifts.
Bonus Question: How Can You Effectively Monitor Affinity and Engagement?
When building the pipeline for higher-level giving, it's important to understand how to track affinity and engagement. This process will allow you to pinpoint these warm and engaged leads who haven't yet made a higher-level gift and siphon them down the funnel.
One more time, segmentation plays an essential role in this, together with having a clear strategy and goals you're trying to accomplish. It's also a good idea to include your research team or department to help you identify the people who have been your consistent annual donors but haven't yet made that leap into the high-level gifts category, but they seem like potential candidates.
Another tactic is leveraging smaller segments, having relevant conversations with them regularly, and having student callers gauge whether someone is very engaged and happy to talk to them. You can also include a simple 1-2-3 scoring scale so that constituents can be classified based on their level of engagement. And when someone is a 3, you know you can single them out, move them to another segment, and make a discovery call or pass them on to a leadership annual giving officer.
As you abandon the traditional dialing for dollars approach, you'll be able to cultivate these more meaningful relationships with your constituents. The very fact that they will gradually realize that you're not calling them only to push your agenda and ask for donations will make them more approachable and willing to consider getting more involved in your cause.
Final Thoughts
We can sum up this session by saying that donor journeys are more like a marathon than a sprint. The same goes for mastering personalized outreach at scale – it takes time and effort. But, every touchpoint is a step ahead that offers you a better insight into your constituents and allows you to connect and engage them.