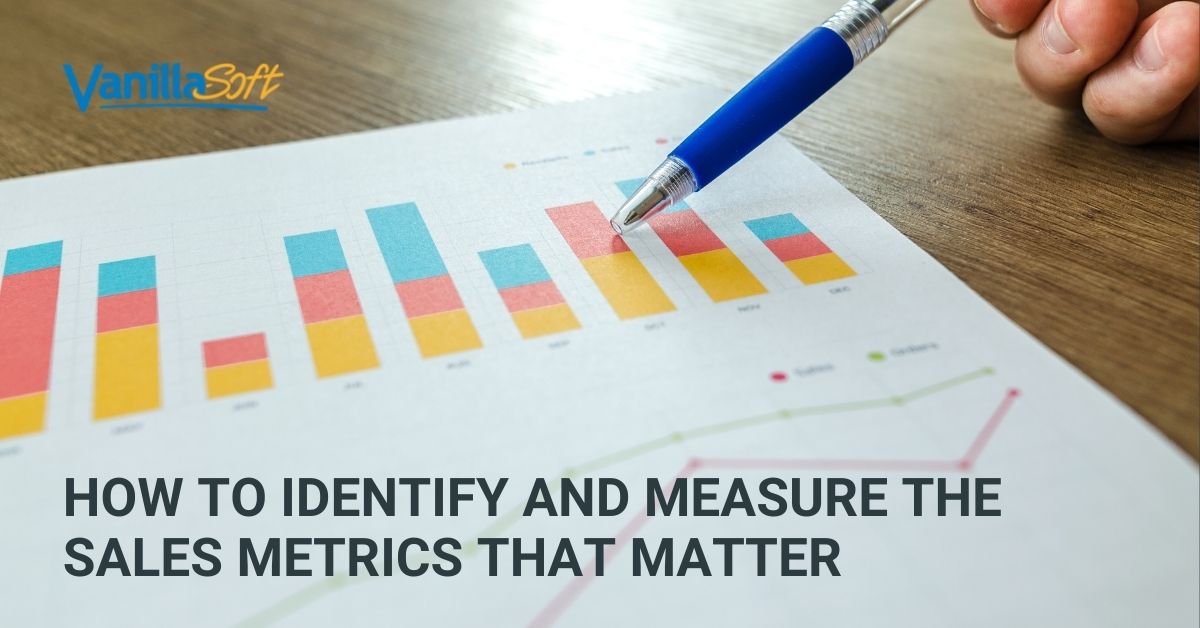 Sales teams care about numbers. From revenue to growth, from conversion rate to customer lifetime value – sales metrics that matter helps us understand what's going on and what we need to accomplish. After all, "what gets measured gets managed."
So life should be good when today's sales and marketing technologies are enabling us to collect as much data as we can, right?
Well, not so fast… now we've got a different problem.
---
Prefer to listen instead?
---
We have too much data! Many sales managers are trying to measure anything and everything without a clear sense of what's really driving business. Meanwhile, salespeople are drowning in metrics and getting lost in the noise.
The real challenge in utilizing data to drive sales is identifying the right key performance metrics (KPIs) so you can focus on activities that have a high impact on your bottom line and profitability.
How to Identify Sales Metrics That Matter
A KPI-driven sales approach provides the focus a sales team needs to grow a business in the right direction. For such an approach to be productive, you first have to identify what needs to be measured and here's how:
1. Start with the Big Picture
First and foremost, you need to define the primary business goals you want to focus on in a specific timeframe.
Do you want higher revenue or more growth? Do you want to increase customer acquisition or improve customer retention?
The KPIs you measure needs to support the achievement of your goals. Otherwise, your sales teams will be doing a lot of busy work that isn't aligned with the company's vision.
2. Look for Leading, Not Lagging, Indicators
The most important question you need to ask is, "What activities are really significant?"
To get a good answer to that question, you need to identify the leading indicators.
Leading indicators measure the proactive steps required to create long-term success. Examples include the number of sales calls made per period, total opportunities added/lost, compliance with the sales process, and pipeline weighted value.
On the other hand, don't get overly distracted by lagging indicators. This data shows what's already happened – total sales, renewals, acquisition costs, etc. – and your sales team can't change the past. Measuring lagging indicators is important; it lets you know if you've achieved your goals. However, only focusing on lagging indicators doesn't allow you to change outcomes – you can only use the information to change behaviors for the next month or quarter. If you're monitoring leading indicator KPIs, you can course correct during the period to reach your sales goals (lagging indicators).
Here's an infographic from Sales Hacker that identifies leading indicators and how to know what the data you have available means.
3. Understand What Makes Your Customers Tick
What would you do if you knew what triggered your customers to buy? You would do more of it, wouldn't you?
To find out what makes your customers proceed further down the purchasing path, you need to deconstruct your sales funnel by examining the different stages: prospecting, qualifying, advancing opportunities, closing, and post-sale.
Look at each stage from the customer's perspective – what happened during the purchasing path that triggered them to move closer to conversion? Was it a phone call from your sales team? Did an email elicit a response? Maybe a social media message piqued the prospect's interest. At what point in the sales cycle did these actions take place? Identify the triggers and evaluate their effectiveness. Try A/B testing scripts, emails, and other messaging to improve effectiveness.
Analyze your sales and marketing activities and their impact at different phases of the buyer's journey. Use this information to help formulate some of your leading indicators to ensure your team consistently takes actions required to generate sales.
4. Get the View from the Frontline
Your salespeople interact with leads and customers every day and are a valuable source of information to help identify the right triggers and activities.
Don't just interview your top performers. Instead, talk to sales reps with different track records so you can compare and understand what activities correlate with sales success.
Your sales reps are on the frontline and have insights about customers that management isn't aware of. Listen to them, enjoy the front row seat, and do your best to understand what makes your customers tick and how you can best equip your sales representatives to address the pain points and needs of potential customers.
5. Assess Information to Identify Trends
After gathering input from many sources, it may feel like you have a lot to measure.
However, tracking too many KPIs can make things too complicated and dilute your team's focus.
Sometimes you just have to pick a horse and ride it. Identify commonalities and trends from all the information you've gathered and choose three to five KPIs to focus on. Keep track of the results so you can fine-tune what and how you measure.
Make the Metrics Work For You
Gathering and measuring KPIs is just the beginning. You must also communicate their impacts and implications to the sales team clearly and improve visibility and transparency of sales with the organization at large.
Use sales tools that allow organization-wide access to these metrics and encourage salespeople to chime in with their insights. Summarize and visualize the data using dashboards, scorecards, and reports to make the data easy-to-digest. Use role-based access to make sure team members can get the appropriate type and amount of information.
Of course, KPIs aren't set in stone, and they can change as a response to market trends and customer preferences. Revisit these steps periodically to validate you're tracking the sales metrics that matter to help you stay on top of your game.