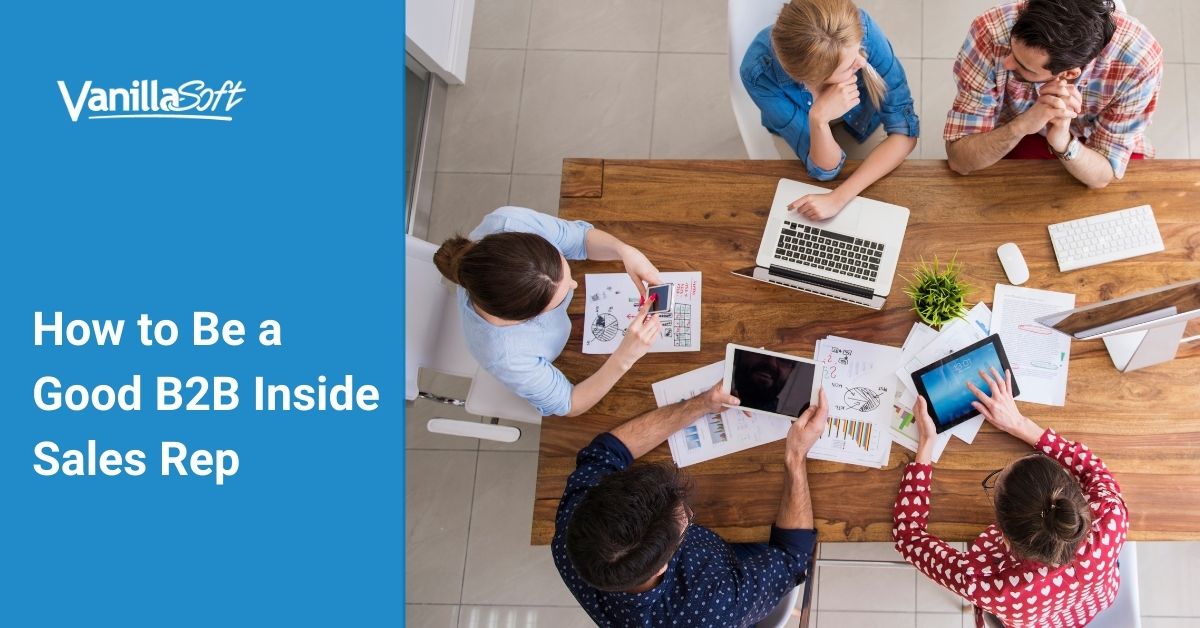 Let's get one thing straight: nobody wants to buy from pushy sales reps.
Prospects don't want to be sold to by you – they want to buy from you.
What's the difference between those two scenarios?
Control.
Prospects want to be in control, and so much of the buyer's journey is now in their hands.
And that's what every skilled B2B inside sales rep understands.
In this article, we'll cover all the bases of what being a good sales rep actually means and how you can become one.
How to Be a Better Salesperson?
What you should know is that the classic hard-sell usually doesn't work in today's sales landscape.
On the contrary, it can lead to dissatisfaction on the buyer's end and drive away possible customers.
Modern decision-makers have time to educate themselves before a purchase which means that they don't want to hear comments like, "If you don't buy now, the offer is off the table."
This makes the customer put their guard up.
Instead, keep the line of conversation open so both parties understand the decision-making process and what you, as a B2B inside sales rep, can do to move the deal along.
The truth is that most people would rather purchase a product or service from someone who answers their questions and gives them space to think it over.
In other words, being a better salesperson means being a helpful, informative individual who tells their prospect about all the specials and deals but doesn't try to force them into a sale.
The trick is to be assertive, not aggressive.
Let's discuss some tactics you can use to achieve this fine balance.
Actively Listen
People buy from people, not brands.
Before you start your spiel of telling your prospect all about your product and how it will benefit them, take the time to listen.
Allow your prospect to set the stage for your conversation.
Ask questions that will allow you to learn what is important to them about your product.
Having a few questions like this prepared will guide you to what else you need to share. If they're more budget-conscious or looking for post-purchase support, that will be useful information to find out early.
This type of intelligence can give you more ideas on how to close the deal.
You're liable to learn some useful information from your prospective client if you simply listen.
Inside sales reps who listen can win more sales.
Be an Educator
By the time you are on the phone with a prospect (unless it's a cold call), the prospect has likely already researched your company and has a pretty good understanding of your product or service.
You must be an expert on your product and know more about it than your buyer.
Bonus points for being fully aware of your competitors and how your product(s) outweigh theirs.
Work on getting prospects subscribed to your email list so you can get something in front of their eyes on a regular basis. 
Your marketing team should have educational content, such as eBooks, case studies, or interviews to share, too. Providing a free demo is another helpful tactic that will help you educate your prospects.
Solve a Problem
Being helpful lets inside sales reps add a sense of connection with the person on the other end of the phone.
If you took the time to listen in the beginning, you should already know what problems they're facing.
Creating a solution that involves your product is a win for both sides.
It's easy to make the sale when you can prove the benefits of the purchase.
How much time (i.e., how much money) will they save, how will their lives be easier, how will your product resolve their pain points?
These are all questions you want to have answers to so you can present them to your prospective buyers.
Follow Up at the Right Time and Frequency
There's a myth out there that you have to contact a web lead within the first five minutes if you want a shot at closing the sale.
In fact, Gabe Larsen of InsideSales.com says you are an idiot if you aren't calling within the first five minutes.
First off, I'm not sure about calling your potential customers idiots, but that's a discussion for another blog post.
Second, his assertion that you must make contact in the first five minutes is just not true, according to the research.
Maybe it was at one time, but the data from the study, Sales Engagement Best Practices: A Study of 130,000,000 Sales Interactions, conducted by Telfer School of Management at the University of Ottawa, tells a different story.
When SDRs contact leads within the first 10-to-60 minutes, they have higher win rates compared to those leads contacted before the ten-minute mark.
Why?
Well, think about it.
Put yourself in the prospect's shoes.
You just downloaded a white paper or piece of sales collateral. You would like a little time to read it and think about it on your own. Instead, a rep has just emailed, direct messaged you on Twitter, sent a LinkedIn InMail, and called before ten minutes has passed. (OK, that's a bit of an exaggeration – only a bit of one, though.)
When you call too quickly, you take control away from the prospect.
Give buyers a little time to review what they downloaded.
Even if someone asked you to call, don't make that person feel like you're a stalker.
Contact your lead within that 10-to-60 minute window.
However, don't wait longer than the first hour—your chances at a successful outcome dive when you wait too long.
While that first contact timing is critical, we all know that successful selling is about more than the first contact attempt.
The top-performing SDRs understand this and use a front-loaded sales cadence with a focus on persistent follow-up within the first four to five days as the sweet spot.
Make Use of Video
Video is a major part of the digital world today.
You can't spend any time on social media without seeing multiple videos.
It's easier for people to digest visuals than text and helps to build a connection. For example, 8 out of 10 people decide to purchase software or an app after watching a brand's video.
Including a video in an initial email increases the click-through rate by 96%.
That's huge! If you're not using it yet, it's time to add video to your sales process.
Creating video doesn't have to be hard or expensive either.
As long as you're among the 85% of adults that own a smartphone, you already have all you need to get started creating video.
Video is a simple, personalized touch you can add to your communications arsenal.
For a list of tools to make it easier to share videos, check out our post about how video impacts the sales process.
Leave Great Voicemails
Don't think of the voicemail box as a dreaded black hole your sales reps will fall into if the prospect doesn't pick up.
Strong salespeople have a plan and know what to say in a voicemail message to inspire a callback.
An effective voicemail provides context for why the SDR is calling, a bit of value, and an ask. Instruct your salespeople to repeat their phone number and keep it short – less than 30 seconds is ideal.
Voicemail is a powerful tool, but it's a repetitive task that can take up quite a bit of time.
Luckily, you can automate it.
With the proper tools, pre-recorded messages can be dropped into mailboxes while your sales rep moves on to their next prospect.
Send Sales Emails
The average open rate for email is currently 20.94%.
It's critical to construct a subject line that will encourage the receiver to open the email. It's best to touch on the prospect's pain point and how your product or service can help.
Getting the email opened is the first step.
A well-written email is concise and written in a tone that isn't too formal.
High-performing sales emails include an enticing offer and a splash of social proof for credibility.
Consider taking historical data from your team's sent emails to create email templates that can be customized for individual prospects.
Not only will it save your SDRs time, but it will also increase the chance you'll get the outcome you want – in most cases, a response.
Don't Neglect Cold Calling
Champion salespeople aren't afraid to cold call.
The Balance stated that "60% of more than 1,000 polled senior executives from the IT industry reported taking an appointment or attending an event after receiving a cold call or unsolicited email."
Cold calling works, no matter what the naysayers claim.
Encourage your SDRs to share their expertise to build trust and rapport with their prospects. Thinking of themselves as an expert consultant instead of a salesperson puts them in the mindset to dig deeper and help the prospect address their problems.
Technology can help with cold calling too.
Instead of digging through a spreadsheet of leads to find the next person to call, lead routing solutions can queue up the next-best lead.
Successful SDRs incorporate an array of sales tactics to get a positive outcome.
Remember what I said at the beginning?
Prospects don't want to be sold to by you; they want to buy from you.
It's all about control.
High-performers remain in control by using multiple sales techniques while making the prospect feel like they have the power.
Be Passionate
If you honestly believe in what you're selling, potential clients will hear that in your voice and feel more confident making a purchase from you.
Having a personal experience to share about the product as a solution is best, but having client testimonials in your back pocket will help too.
An innate passion for your product will make you the best salesperson you can be.
Your enthusiasm will drive you to become the expert in your field and help you to attract potential customers.
Give to Get
As many say, "give to get."
Being helpful shows a human aspect of your business and is key to growing attention for your brand.
Your customers are looking to address a problem. Create a piece of content that addresses their issues, provide it to your sales representatives to give away.
Three ideas to kick start brainstorming for your next content piece:
A short eBook addressing a problem your target audience regularly faces.
A checklist related to something your product or service is a solution.
A list of five tips relevant to your industry.
Understand the Needs of Your Target Audience
If you don't already know what your B2B audience needs – ask them!
Most people are willing to talk about their issues and pain points, and you'll get a lot of valuable insights if you obtain your audience's feedback.
Not only will this gain leverage for you and your brand, but you'll learn the recurring problems in your industry.
Finally, such an approach will also show your prospects that you care about their opinion and that you genuinely want to help them.
Know Where You Stand Against Your Competitors
You need to know your products inside and out, but don't forget about your competitors.
Your customers will likely be making a comparison, and you should have a good understanding of where you stand in the market.
This will also allow you to identify what makes your products or services unique so that you can distinguish yourself from the pack. It's something that can come in really handy in different sales situations, especially when you have to handle sales objections.
Make Your B2B Leads Feel Special
Personalizing interactions in the modern age is easy.
Typing a person's name in a search engine or browsing through social media can reveal massive amounts of information about them.
Consider bringing up a charity event they were a part of or a sports team that they follow.
Take the time to find something about them that can continue the conversation outside of the sale. Just be careful, as you don't want to come across as a creepy stalker.
But, do let your prospects know you have done your homework and you understand what they need.
Stay Focused on a B2B Goal
Each interaction you have with your B2B customers should revolve around an objective.
That objective can be anything from a meeting to a demonstration or even a response to an offer.
Constantly keep moving towards your end goal. But, since there's usually a long way ahead before you can achieve that ultimate, massive goal, it's important to celebrate small wins in the process.
A prospect you've been trying to reach finally responded to your email and is asking additional questions about your product or service?
You've managed to take things to the next level or switched from emails to phone calls with your prospect?
Your new sales rep signed their first customer?
All these small victories should be acknowledged, and many salespeople simply take them for granted.
Closing the Deal
Business is about building relationships.
Treat your prospects as you would your friends and be genuine.
This brings up another point on why you need to be helpful and not aggressively forceful – everyone's connected with social media and the Internet.
If a prospect experiences a not-so-nice sales process, they will likely take to social media to report on it.
And just like that, the reputation of your company will be tarnished.
Today's buyer has many options thanks to the global Internet economy. Beat out competitors with your brand commitment, people skills, and teaching capabilities. In addition to all the tactics we discussed, you'll need a lead management system with sales automation to ensure your leads are worked at peak efficiency. VanillaSoft's Inside Sales CRM provides a number of features to help with your success in B2B sales.