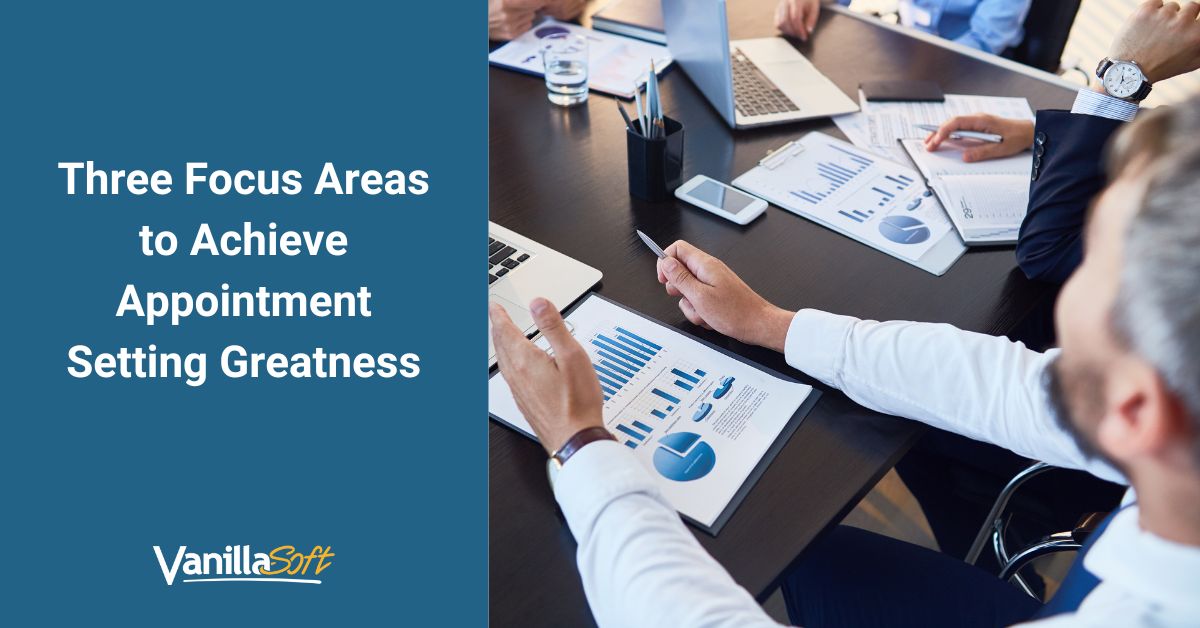 Do a Google search for "appointment setting tips," and you will get nearly 3.5 Million results! A variety of coaches and experts have posts telling you about nine ways, five ways, or even 26 ways to improve your appointment setting abilities.
A glance through some of these posts tells you that the tips are generally reasonable and relevant; however, now that we live in the era of information overload, it can quickly become overwhelming.
So, let's boil these various suggestions down to three key focus areas for appointment setting greatness: people, timing, and tools.
Always keep people in mind
People are the key ingredient in any sales interaction. However, you have to think of all the stakeholders and constituents who can help you when setting up an appointment.
Let's break it down.
Managers
Good managers should ensure that appointment setters receive appropriate training, as well as ongoing monitoring and mentoring.
Managers should be monitoring calls and performing quality assurance checks so they can identify training opportunities.
Marketers
Appointment setters and marketers need to be aligned. Marketers should be sharing lead information – who downloaded the latest e-book or other collateral, who attended the last webinar, and who recently visited the website.
All this data can help you reach out to the right people with the right message at the right time.
Referrals
If your current customers love you, it's time to take advantage of that love. A referral from a customer or vendor partner can be appointment setting gold in helping you secure an appointment with a dream client.
Prospects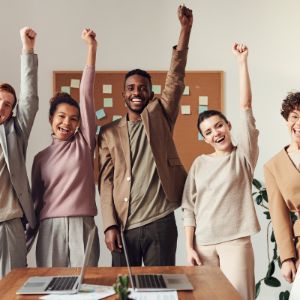 It is vital that you don't simply "smile and dial" just anyone. Instead, aim high and wide when setting up an appointment.
Aiming high means calling the right level of decision-making authority in every call. Don't be intimidated to reach out to the C-suite first. Working your way up to the decision maker typically doesn't work.
Additionally, don't fixate too much on calling the "right person." Chances are there will be a committee of decision-makers in most B2B purchases. During the prospecting phase, it's OK to keep your efforts broad. Even if you don't call the right person the first time, they may make it easier for you to get a call with the right person.
Timing is everything
Timing is about more than placing calls based on the recipient's time zone. When you think about timing, it's really a matter of common sense.
How can timing best serve you when it comes to setting up an appointment?
Speed-to-Inbound Lead
When someone takes the time to fill out a website form for a sales call or demo, chances are you aren't the only company they have contacted.
That's why it's vitally important that your speed-to-inbound lead contact is as immediate as possible since the sale often goes to the first company to contact the lead.
Time Zones
While you may want to try executives during "off hours", as mentioned above, you don't want to call during "off the wall" hours.
If you are in the Eastern Time Zone, calling prospects in California at 9:00 am in your time is silly. It may even be annoying if that decision-maker routes his or her office line to their cell phone after hours.
Trigger Events
Savvy salespeople are harnessing the web to discover new prospects and are monitoring existing prospects' online behaviors. However, listening alone is not enough – you have to be able to identify trigger events that can help you make a great cold call.
Learn that a prospect just bought one of their competitors? That can be a great reason to reach out.
If you do appointment setting for roofers in coastal areas, a trigger event may be the start of hurricane season. Listen online or read trade magazines for triggers of the right time to reach out.
Timely follow-ups
Waiting too long after an initial contact can negatively impact your chances of setting up an appointment.
Customers or prospects are busy. They may not always recall who you are or why you called.
If you don't get an initial answer, follow up within 24 hours by phone and email.
Have the right tools
There are many tools that serve appointment setters well: CRM, email marketing platforms, auto-dialers, call scripts, and more.
However, managing multiple solutions kind of gets in the way of that whole section on timing, doesn't it?
The best alternative is to select an all-in-one inside sales software that offers all of these functionalities and helps you make the most of connecting with people at the right time.
How VanillaSoft can help you
VanillaSoft is designed to allow management to create a standard, automated workflow that all appointment setters follow in order to increase productivity and contact quality.
A queue-based system enforces the workflow and automatically focuses your reps on the next best lead.
This type of system reduces cherry-picking, eliminates wasted time spent searching for the next best lead, and improves the likelihood of moving a lead more quickly through the sales funnel.
Advanced appointment scheduling capabilities provide your team with a competitive edge. Scheduling appointments take less time, effort, and mistakes than ever before with VanillaSoft's advanced features:
Just one click will allow you to send separate invitations to the prospect and the salesperson, each with their own personalized message.
Send the prospect a series of email and text message reminders before the meeting to increase attendance rates.
View and manage several calendars in one location to reduce the likelihood of overlap.
Find out which salespeople are accessible at any given time.
Show events on the calendar in the prospect's local time to avoid confusion caused by time zone conversions.
Proximity booking feature allows sales representatives to schedule appointments near their current commitments.
Setting up an appointment can go more smoothly if all relevant data is acquired in advance, and data collection prompts can help with that.
Over to you
The suggestions listed above are only the tip of the iceberg when it comes to appointment setting.
However, as you employ these suggestions, keep the key elements in mind: people, timing, and tools.
If you're looking for the right tool for your team, check out VanillaSoft and see what a difference it can make in your appointment setting efforts.