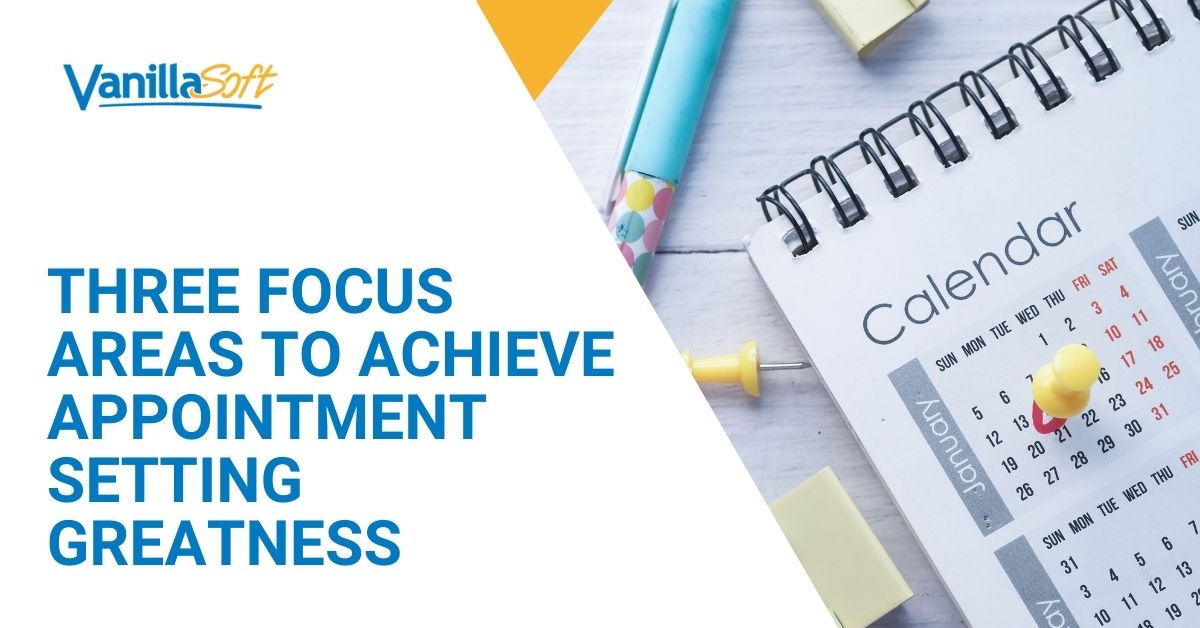 Do a Google search for "appointment setting tips," and you will get back a list of nearly 3.5 Million results! A variety of coaches, gurus, and experts have posts telling you about 9 ways, 5 ways, 46 ways – an infinite number of ways – to improve your appointment setting abilities. A glance through some of these posts tell you that the tips are generally reasonable and relevant; however, remember 5+ tips on the fly is almost asking too much, now that we live in the era of information overload. So, I propose we boil these various suggestions down to three key focus areas for appointment setting greatness: people, timing, and tools.
People
People, obviously, are the key ingredient in any sales interaction. However, we have to think of all the stakeholders and constituents who can help us achieve appointment setting greatness. Let's break it down:
Managers: good managers should ensure that appointment setters receive appropriate training, as well as ongoing monitoring and mentoring. Managers should be monitoring calls and performing quality assurance checks so they can identify training opportunities.
Marketers: appointment setters and marketers need to communicate. Marketers should be sharing lead information – who downloaded the latest e-book or other collateral, who attended the last webinar, and who recently visited the website. All this data can help you reach out to the right people with the right message at the right time.
Referrals: if your current customers love you, it's time to take advantage of that love. A referral from a customer or vendor partner can be appointment setting gold in helping you secure an appointment with a dream client.
Prospects: it is important that you don't simply "smile and dial" just anyone. Sales consultant, Townsend Wardlow recommends that appointment setters aim high and wide to secure more appointments. (source: http://townsendwardlaw.com/2014/02/17/9-most-important-appointment-setting-tips/)
Aiming high means calling the right level of decision-making authority in every call. Don't be intimidated to call the C-suite first. Working your way up to the decision maker typically doesn't work.
Additionally, Wardlow warns appointment setters not to fixate on calling the "right person." Chances are there will be a committee of decision makers in most B2B purchases. During the prospecting phase, it's OK to keep your efforts broad. Even if you don't call the right person the first time, they may make it easier for you to get a call with the right person.
Timing
Timing is about more than placing calls based on the recipients' time zone. When you think about timing, it's really a matter of common sense. How can timing best serve me when it comes to reaching my target?
Speed-to-Inbound Lead: when someone takes the time to fill out a website form for a sales call or demo, chances are you aren't the only company he or she has contacted. That's why it's vitally important that your speed-to-inbound lead contact is as immediate as possible since the sale often goes to the first company to contact the lead.
Cold Calls to High-level Decision Makers: Have you considered cold calling executive prospects during "off hours"? The Rain Group, a sales training company, recommends this approach. Why? Executives and gatekeepers very often have different schedules. A gatekeeper probably works a routine 8 – 5 schedule. The executive will often be in early or stay late. Try calling before 8:00 am or after 5:00 pm to avoid gatekeepers.
Time Zones: while you may want to try executives during "off hours" as mentioned above, you don't want to call during "off the wall" hours. If you are in the Eastern Time Zone calling prospects in California, at 8:00 am your time is silly. It may even be annoying if that decision maker routes his or her office line to their cell phone after hours.
Trigger Events: Savvy sales people are harnessing the web to discover new prospects and are monitoring existing prospects' online behaviors. However, listening alone is not enough – you have to be able to identify trigger events that can help you make a great cold call. Learn that a prospect just bought one of their competitors? That can be a great reason to reach out. If you do appointment setting for roofers in coastal areas, a trigger event may be the start of hurricane season. Listen online or read trade magazines for triggers of the right time to reach out.
Tools
There are many tools that serve appointment setters well: CRM, email marketing platforms, auto dialers, call scripts, and more. However, managing multiple solutions kind of gets in the way of that whole section on timing, doesn't it? The best alternative is to select a queue-based lead management solution that provides these functionalities all-in-one and helps you make the most of connecting with people at the right time
So, what is a queue-based lead management solution? A queue-based lead management platform such as VanillaSoft is designed to allow management to create a standard, automated workflow that all appointment setters follow in order to increase productivity and contact quality. A queue-based system enforces the workflow and automatically focuses your reps on the next best lead. This type of system reduces cherry picking and eliminates wasted time spent searching for the next best lead. It improves the likelihood of moving a lead more quickly through the sales funnel and has the following key features:
Email marketing, one-to-one emailing, and email drip lead nurturing
scoring Queue
Advanced calendaring options such as automated calendaring, multiple calendar management, team calendar management, proximity for appointment setting, and proximity for geography.
A queue-based system for appointment setters gives you the tools you need to be more productive, connect better with prospects, and set more appointments. If you aren't using a queue-based system yet, I encourage you to start your VanillaSoft free trial and see what a difference it can make in your appointment setting efforts.