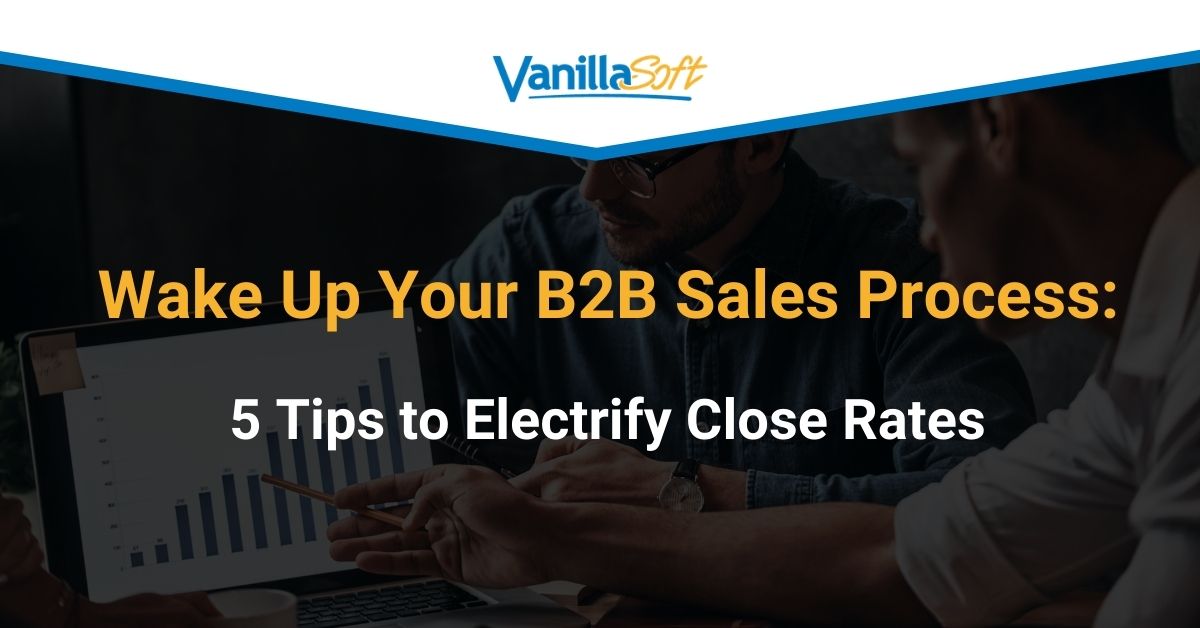 The idea of business-to-business sales (AKA B2B) is pretty straightforward: One business sells its products or services to another business. The B2B sales process sounds pretty simple, right?
Um, if you've been in the game long enough, you know it's a lot more complex than that. B2B sales transactions often involve some pretty pricey deals, so the sales process requires many (many) sales meetings, demos and presentations, targeting prospects across channels, and more.
Here's the thing: The prospects you interact with in this category are well-informed, skeptical, and they've met about a hundred other yous. That's why your primary job is to solve their problem and identify how you can tackle the ones they didn't even know they had.
Sometimes, however, even with the right solution, the wrong approach will tank your success.
To make your B2B sales process iron-clad, you'll need to align it with your buyer's behaviors and improve it every chance you get. How? Well, it goes something like this:
B2B sales process vs. B2B sales cycle — is there a difference?
Yep! There sure is.
Before we go over what your B2B sales process should look like, let's debunk a common misperception: Although you may have heard "sales process" and "sales cycle" used interchangeably, they don't mean the same thing.
Your sales process contains the replicable steps and prospecting activities you follow to move your prospect down the funnel in hopes they'll convert into a customer.
The cyclical aspect of your process, on the other hand, refers to how long you take to move your potential customer through the steps.
That means if you want to speed up your sales cycle to convert a prospect faster, it's less about the steps in your process and more about the amount of time you take to move a prospect through each one.
Capiche?
Your B2B sales process should be…
The B2B sales process you create should cater to the needs of your organization — but a pro like you could've guessed that. Besides being replicable, your process should also be:
Adaptable
Clearly defined
Customer-centric
Goal-oriented
Measurable
Predictable
Scalable
But who wants to think about each step over and over again every time they're trying to drive in a new sale?
Rely on your sales process to guide your interactions with prospects so you can take the (over) thinking out of your prospecting and spend more time personalizing the buyer's journey.
A simple, 7-step B2B sales process typically goes like this:
1️⃣ Prospecting
2️⃣ Preparation
3️⃣ Approach
4️⃣ Presentation
5️⃣ Handling objections
6️⃣ Closing
7️⃣ Follow-up
(Psst… always ask for a referral!)
After you close a deal and land a new customer, repeat these steps in a cycle for every prospect.
Always be improvin': How to fine-tune your B2B sales process
Everything requires updates here and there — even the rock-solid B2B sales process you swear by. Sure, it works, but could it work even better? The answer is always yes.
Check out these five ways you can take your B2B sales process from great ➜ greater.
1. Define your metrics
What's your ideal close rate? Sales cycle time? How about the average sales price? Don't go into your B2B sales process blind with no idea of how you measure success.
How else will you know what to aim for? When you design your process, also define your key performance indicators (KPI) so you can measure sales and marketing efforts effectively — and as your business evolves, re-evaluate the KPIs.
Here are some other metrics you might want to track:
Sales to date
Customer lifetime value (LTV)
Customer acquisition cost (CAC)
Churn rate
Lead response time
Sales cost ratio
Sales pipeline coverage (SPC)
Besides being able to measure your success rates, defining your KPIs also means that you can measure problem areas — and work to improve them.
All sales processes won't yield the same results, so it's best to analyze KPI metrics and conduct A/B tests to compare outcomes.
2. Discover the best B2B sales methodology for your target market
You can't throw any sales technique at your prospect and think it'll work — your clients aren't a monolith, sales rep.
To improve your B2B sales process, test-drive the many sales methodologies and frameworks out there to find the most effective ones for your business and target market. À la Cinderella's glass slipper, they won't all fit your needs, goals, and metrics.
Think about it: Your current customers aren't all in the same industry and don't have the same portfolio value, right? So, why would the same approach work on all of them and their unique needs?
Give these well-known sales techniques a shot as you build and improve your B2B sales process:
Consultative Selling
NEAT Selling
Sandler Selling System
Solution Selling
The Challenger Sale
The sales methodology of your process is the language you speak with your target customer base — so make it easier to reach them and choose one they'll understand.
3. Make room for automation in your playbook
You don't need me to tell you this, but it's hard to manage and consistently refine all the moving parts of your B2B sales process, especially as your business grows.
Use marketing automation, a sales engagement platform (like VanillaSoft!), plus a customer relationship management software to make the most of your sales efforts as you efficiently move a prospect through each stage of your funnel.
That way, you can focus on one of the most important parts: prospecting AKA selling AKA growing your bottom line.
When you improve your process with automation, you'll get to streamline mundane tasks that take up way too much prime selling time, like manual data collection, filling orders, making reports, and more.
Plus, technology is unbiased. Humans? Well… *points to the entire history of the world.* Not as much.
It's also flexible and adaptable. And in an evolving landscape, it's critical to meet market demands with the most up-to-date tools and methods to succeed.
4. Subscribe to what your prospect is consuming
If you aren't on social media, do you even exist? These days, not as a sales rep, you don't.
Your B2B selling approach is nothing without an omnichannel solution that targets prospects across several channels, like SMS, email, social media, or Facebook and Google ads. Still, what you do on those platforms has to be effective. 
Try this strategy: Subscribe to your prospect's content. In an article for HubSpot, best-selling author and founder of Sales Strategy Academy Marc Wayshak writes, "Does your prospect's business have a blog, newsletter, or social media feed they regularly share content to? Give them a follow and check out their updates."
He says doing so will help you understand your prospect's business priorities and how they engage with their prospective customers, and that's a goldmine.
With insight about what they find valuable, you can personalize your sales process to show how you'll better serve them and their customers.
5. Be open to changing your process along the way
It's just as important to re-evaluate your B2B sales process as it is to build an effective one.
You can't have a one-and-done mentality — to grow a successful business, you'll never have to stop looking for ways to enhance it; there's no way around it.
If you regularly review and improve every aspect of your sales process, not only will you strengthen it, but you'll also eliminate the problems your competitors still struggle with (because they're not as smart as you). Plus, you'll speed up your cycle. You can't beat proven methods to close faster.
Want more tips to improve your B2B sales process? Way ahead of you:
Use technology to help you personalize customer communications.
Be an active listener and ask the right questions to build an authentic rapport with your prospects.
Measure and improve performance for all sales efforts.
Track all customer feedback and share success stories and testimonials across your sales communications, websites, or social channels.
Improve the responsiveness of your strategy.
Remember, sales rep: Consistency is 🔑. If you use that logic to improve, you're pretty much unstoppable.
On top of all these ways to improve your B2B strategy, download our "Ultimate Guide to Prospecting" eBook to learn how to increase your sales even more with these creative strategies.