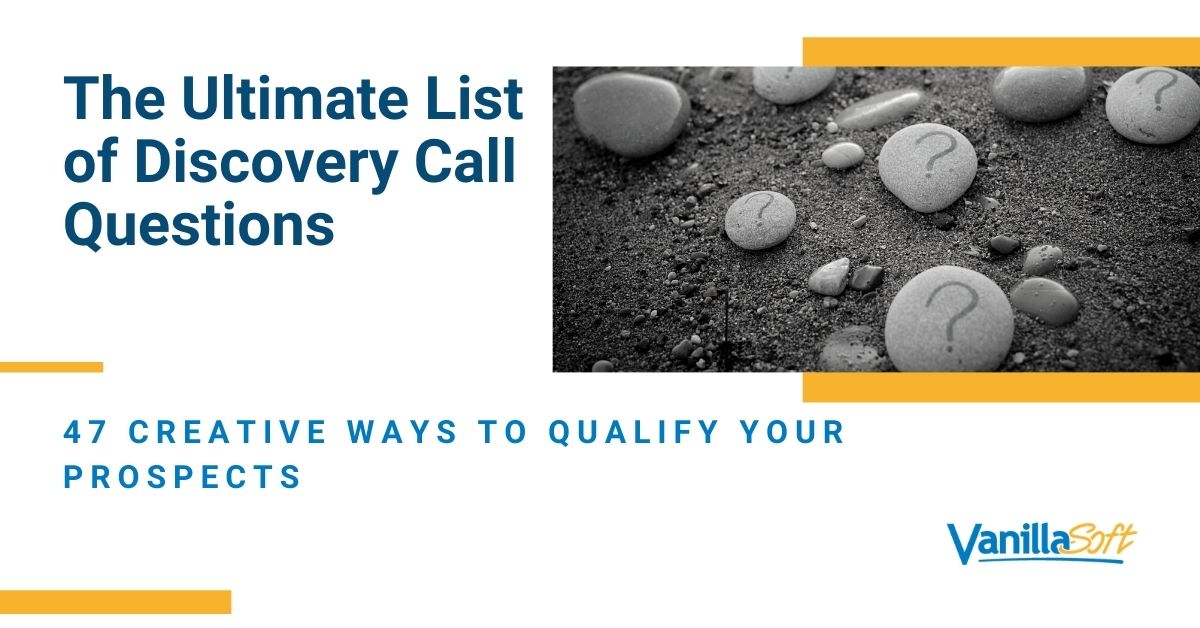 Before you can think about the end of your sales process, make sure you ace the beginning: the discovery call.
This tone-setting call is the first brick in the foundation of your relationship with a prospect and will allow you to navigate them through the buyer's journey – if there is one.
During this call, you'll get the answers to critical questions like:
Does my solution really help solve their problem?
Am I talking to the right person?
What's their timeframe?
Do they need my product/service?
After a successful discovery call, you should understand your prospect's needs and how your solution can solve their challenges.
Plus, you'll rid your pipeline of any dead leads. And when you get to the sales meeting, you'll get to pitch to folks you know are sales qualified opportunities. AKA smoother road to the moolah!
A bad discovery call is tough to recover from. So win your prospects over by asking questions that put them in the right mindset to consider a new solution and those that help illuminate problems they may not know they had. Let me show you what I mean.
The ultimate list of discovery call questions – 47 Q's for success
On each discovery call you lead, your goal is to build trust and ensure your prospects leave the conversation feeling more confident about your ability to provide a creative solution.
Here are 47 sales questions (across seven categories!) to ask that'll validate your discovery call research and drive you closer to a win.
Close 'em by getting to know 'em
Always look for ways to create a connection with your prospects – it's a major component of your ability to close a deal.
During your discovery call, find some common ground by taking an interest in their personal and professional lives.
Build rapport by leading the conversation with questions about books, movies, or sports they've mentioned social. Or try relating to them on a more personal level about their family. Prefer connecting on a more professional level? Try to identify a connection you have to a company they've worked for or a position they've held. This call is like a first date… you want to get to know them.
Use these questions to nurture a personal connection with your prospect that'll create trust:
1. Are you originally from [shared location]?
2. How did you get into [industry, club/group, job discipline, hobby]?
3. What do you most enjoy about [industry, club/group, job discipline, hobby]?
4. Are you a fan of [sport, cuisine, team, cultural attraction, or recognized event]?
Assess timelines and goals
Timing is everything – but you already know that. It's no use to your bottom line to be the right solution for your prospect next quarter, so ask discovery call questions that reveal intel about timing, implementation, core motivations, and long-term goals.
To find out if you can provide the right service right now (and not later), ask:
5. Do you and your team have the time and resources ready to transition to a new solution?
6. What could make this a more effortless and timely transition?
7. What's the ideal team/business performance for you?
8. What business solutions do you think will get you to that ideal state?
9. When is the contract up for the current solution you have in place?
10. What are your timeline goals for deciding?
11. When do you ideally think you'll implement this? What will it take to make that happen?
Nail the ultimate combo: needs and pain points
It's no mystery that you want to make the sale, but genuinely caring about whether your product or service offers your prospects a solution that benefits them is crucial. Learn which pain points you can solve by actively listening to their unique needs, and be empathetic as they share their concerns, past struggles, and future goals.
To dig deeper and help them open up, ask these discovery call questions to identify your prospect's needs and challenges:
12. What part of your job is most frustrating?
13. What are the biggest challenges you look to solve? What roadblocks hold you back?
14. What's led to you wanting to make a change now?
15. Tell me about your current process and what you want to improve.
16. How do you see our solution fitting into your plan to move forward?
17. What KPIs do you measure? How often do you achieve those targets?
18. Which components matter most when you decide the right solution for you?
19. Would you change other areas of your operations to fully benefit from the ideal solution?
20. What would a [percentage] jump in your [metric] performance mean to your business?
21. What is your highest priority right now?
22. How do you envision a successful outcome? How would you feel if you achieved it?
Suss out your competitors
Never assume you're the leadoff hitter – you can sometimes be, but is that really the norm? I wouldn't bet on it. You snagged a discovery call (way to go!), but you're far from home base.
To get a little closer, bite the bullet and ask about their experience with competitors. Your goal is to learn how they resolve their pain points with a product or service like yours, so here are the questions to ask:
23. What solutions do you currently have your eye on?
24. How do you address the challenges you've shared with me today?
25. What's been your experience with [competitor]?
26. What positive impact has [competitor] had on your business?
27. How do you feel we compare to other solutions you've looked at so far?
28. Which aspects do you like/dislike about the solution?
29. Do you want more from the solutions you already have? What other features/capabilities are on your wish list?
Can they afford you?
Money is often uncomfortable to bring up, but your discovery call won't be successful if you don't determine your prospect's budget.
When you talk about money, prepare for them to say that your solution is too pricey – but don't let it throw you off your game; most of them say that, right? That's your cue to highlight value through ROI figures, success stories, and more to convince them that what you're offering is exactly what they need. It might surprise you how quickly funds can be available when they realize your worth!
Set yourself up for success with these questions:
30. Who signs off on purchasing decisions?
31. Do you already have some budget allocated?
32. What do you want to invest in, and how do you know if an investment is worth the cost?
33. How is your budget established for a solution like this?
34. Do you already have a budget for a solutions upgrade? Who sets the budget?
35. How would you determine ROI?
Find the ones who call the shots
The decision to work with you is big, expensive, and important – your prospect doesn't shoulder that responsibility on their own. Who's the who's who of their c-suite?
On your discovery call, ensure that you ask about your prospect's buying process, the stakeholders with buying power, and what motivates them to hand you their $$$.
Get some clarification about decision-makers with these questions:
36. Do all the decision-makers agree with your ideal solution?
37. Who else in the company should we reach out to?
38. Besides you, who else needs to review and sign off on this?
39. Have you adopted and implemented a solution like this before?
40. What departments are you affiliated with?
41. What's the process to make a major decision in your organization?
Make them want to follow-up (be bold!)
You made it to the end of the call! Now, you can focus on setting the stage for the next step of the sales process. Remember: The quicker you take prospects through your pipeline, the closer you get to added revenue.
You've primed your almost-client to move the deal forward, so if you think they're a good fit, accelerate the process with these last questions:
42. When could you, the other stakeholders, and I connect next week?
43. What goals do you want to accomplish at our next meeting?
44. What's the best time to follow up with you on what we discussed – late this week or early next week?
45. Where can I contact you with [content prospect agreed to see or hear] later this week?
46. How can I make it easier and more beneficial for you to decide?
47. What would be the best time for our next meeting?
Psst… don't underestimate discovery call prep
The other half of crushing your discovery call is being well-prepared – checking your prospect's LinkedIn and Twitter profiles are important, but that barely scratches the surface of what you should know before you dial.
The steps of your multistage prep process should include:
Test your tech to ensure it's all connected and available.
Research your prospect's company on Crunchbase and check for company news.
Prepare a call agenda to set the meeting tone and show you respect their time.
Create a personalized deck based on what you know about prospects to lead smoother calls.
Bookmark this list of questions, then whip them out for your next discovery call to really stimulate the conversation.

Once a prospect schedules an appointment after the discovery call, how do you keep them from canceling? Download this eBook, Stop the Lost Sales Fallout From Cancelled Appointments, to find out plus more!