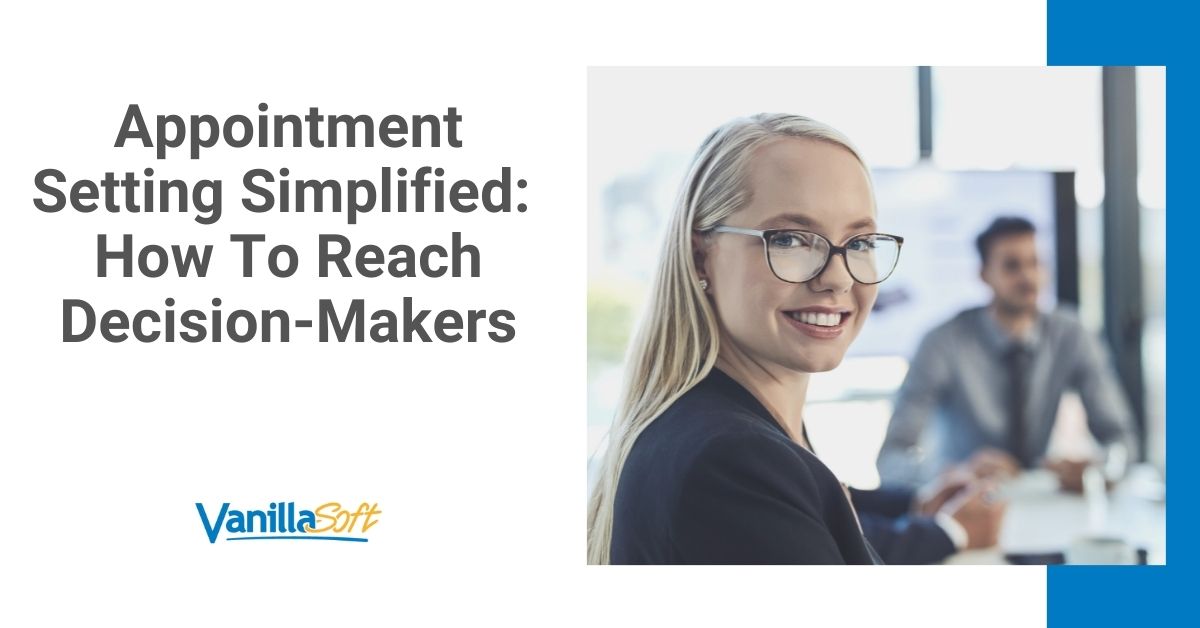 Appointment setting is definitely at the top of your priority list if you're an SDR. Or at least it should be.
It's this skill that will help you connect with a decision-maker who has the authority to sign on the dotted line and purchase your product or service. If you sell yourself well enough on an appointment setting sales call, your prospect will agree to set an active meeting or demo with you or an account executive.
Sounds easy enough, right?
Well, reaching decision-makers is all but easy. That's the reason why appointment setting is its own separate role.
Here are some of the tried and true tactics I use to get to the Very Important Top Officers (VITOs) and find my way into their busy schedules.
1. Identify Your Target
Before you pick up the phone and spend a couple of hours pitching, it's crucial to make sure you're talking to the right people. Every organization has different buying processes and roles, and you have to find out who has the power to greenlight your offer.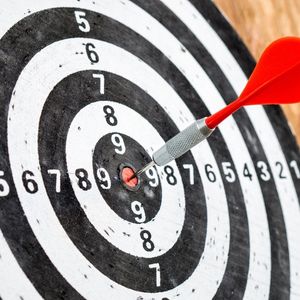 To avoid the wild goose chase, you have to start by asking yourself these questions.
Who signs the contract?
Whose approval do they need to sign the contract?
Who would you be working with post-sale?
These questions are here to help you clear the air since one of the most common mistakes SDRs make is putting the equals sign between a decision-maker and a particular job title and assuming that there's only one person in charge of making the final decision.
In reality, a decision-maker's job title varies depending on the organization's size. For example, larger companies have buying committees or decision-making units (DMUs), so it's crucial to understand how many people are in charge of making a purchasing decision. Smaller companies mainly have one person who gives the go-ahead.
Finally, if more than one department will be using your product or service, the odds are their level-C executives will want to be included in the process.
You have to take all this into consideration when making a call list.
And then back to the long haul: Hang in there and keep calling.
2. Lay the groundwork
Before you make a call and go for gold, ask yourself if you really know who you're calling and how you can help them.
Researching your prospects and their company is the next step of the process.
Mapping out an organization is the best way to ensure you reach out to the right people — but you'll have a hard time doing it without access to sales intelligence. We're talking contact databases and sales engagement tools.
This is the kind of insight these tools can give you:
Direct-dial phone numbers
Confirmed email addresses
Opportunity insights
Company demographics
Tech stacks
And that just scratches the surface. Save time and money, plus make your job easier by getting help to do the heavy lifting.
VanillaSoft, for example, comes with features such as auto-dialing, logical-branch scripting, appointment setting, and lead & sales tracking. This comprehensive toolstack automates repetitive and mundane tasks and helps you always have all the information about the prospect you're calling at your fingertips.
3. Make every minute count
When you finally land that decision-maker on the phone, remember they've had a day filled with meetings, appearances, phone calls, and putting out fires — you're just one more task that luckily made it to their list.
So how can you stand out?
Listen carefully and identify their needs 👂
Don't over-talk yourself out of a deal. Ask questions, then listen to your prospect's problems and needs before you offer a solution — and don't forget to be human. 
No one wants to do business with a pushy rep, so focus on understanding how your product can meet their unique needs.
Preparedness is key 🔑
Who wants to hand over their money to someone who's all over the place?
Don't all raise your hands at once.
Before the call, gather your customizable script and any research or audience segmentation data needed to persuade prospects to give you The Golden Ticket.
Manage objections 🛑
Never ever ignore your prospect's objections. 
Here's where preparation comes in handy. Use your data to provide specific details about why your product is #1.
If they say they can't afford your service, explain why they can't afford not to buy it by proving how it will improve their bottom line.
Show and tell 📈
Generic examples don't cut it anymore.
Surveys say that 85% of buyers believe it's important for sales reps to demonstrate a stronger knowledge of their business. Don't just explain how efficient your product is — say, "Our product significantly reduced X times for our clients by upwards of 90%."
In a nutshell, get straight to the point with a pitch that highlights your solution and its outcomes.
Pro tip: The more stats, the merrier.
4. Cozy up to the decision-maker behind the decision-maker
Sure, the CEO or VP is who you want the appointment-setting sales call with. But it's not them who actually pencil you in themselves.
The people you really want to rub elbows with are the receptionists, secretaries, or assistants — aka the gatekeepers, who wield more power than you think.
These folks are valuable people to have on your side because they can literally decide whether or not you get a hold of your high-level executive.
Get in the good graces of gatekeepers in three ways:
Always be respectful
First (second, third, fourth, etc.) impressions matter, so don't waste the time you get with them by being upset that yet another sales call didn't reach the promised land.
Instead, use every opportunity to be polite and build rapport.
Note their name, pay attention to small details, and use what you learn to engage with them on a personal level.
Lead with transparency
Don't pitch — just introduce yourself.
You're just one of the dozens of sales calls that the gatekeeper has had to field, so be direct and save the sweet talk for someone who hasn't heard it before.
Share your company name and an overview of your solution, and pique enough interest to incite some curiosity.
Reconnect
To land an appointment setting call with a decision-maker, you have to call way more than once or twice — be organized and set reminders to call back and reconnect frequently.
And since you'll be talking to the gatekeeper, keep track of your touchpoints and note anything that might be useful for a later call.
5. Cut in line and leverage referrals
Stats say that 84% of B2B business decision-makers start a purchase process with a referral.
Because why do business with a stranger when your colleague's neighbor's boss can connect you with someone on LinkedIn? That's what C-Suite execs wonder, too.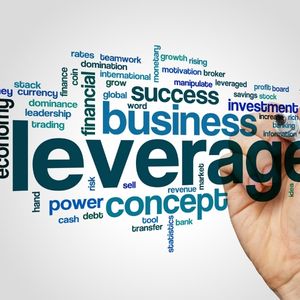 Trust is weird that way — but don't just philosophize about it; work it to your advantage!
Cultivating a developed network helps tremendously in landing face-to-face meetings with prospects. By leveraging social networking services, such as LinkedIn, you can speed up the process of reaching decision-makers.
Try this: Connect with prospects on LinkedIn to have any easy way to reach them and have visibility into their networks. Running in similar circles, you're bound to know some of the same people — some of who you can tap for an intro to your ideal decision-makers.
You should also share an overview of your offerings with the people in your network, even if they're not high up the corporate ladder — you never know which business leaders they can connect you to.
Don't be afraid to lean on the power of referrals to speed up the long process of landing an active appointment with a decision-maker. Everyone else is doing it, so don't lag behind your competitors and leave money on the table for them.
6. Resist the Urge to Pitch and Sell
Yes, it does sound a bit counterintuitive, but if you want to set an appointment with the VITO, curb your sales enthusiasm.
We've already established that appointment setting is challenging.
There are different obstacles to overcome, including
identifying decision-makers,
getting past the gatekeepers,
handling brush-offs, and
overcoming rejection.
But the most difficult part of appointment setting isn't any of those things.
It's avoiding a common mistake SDRs make in defining the ultimate goal of their appointment-setting call, which is, of course, to make an appointment.
Way too obvious, right? Still, it can be difficult to shake off your natural instinct to sell.
Here's how to reframe your sales pitch:
Tone down your narrative and stop trying so hard
Be a problem solver and don't push your solution upon your prospects
Ask the right questions, establish the prospect's pain points, and carefully listen to what they have to say
Don't let the initial objection scare you off even if they give you that dreaded "We have no budget at the moment."
How to handle the initial "no budget" objection like a pro?
❌ A pushy SDR would immediately start talking about pricing and different subscription plans and ruin their chances of landing an appointment. And that's a big no-no.
✔️ A helpful SDR would make it all about connecting with a prospect and educating them about potential solutions to their pain points.
It's so much easier for a prospect to accept an appointment when they understand that you don't expect them to commit right away.
Pro tip: A disclaimer such as "let's talk about how to fix your problem so that you know what your options are when you're in the market for a solution" can be a great way to take the pressure off your prospects.
Final thoughts
Appointment setting is the cornerstone of successful sales. To do it right, you need to research your prospects thoroughly and prepare for your calls. And remember, if your appointment-setting calls are thinly veiled attempts to make a sale, your prospects will keep their guard up. Use these tips to disarm them and give you a chance.