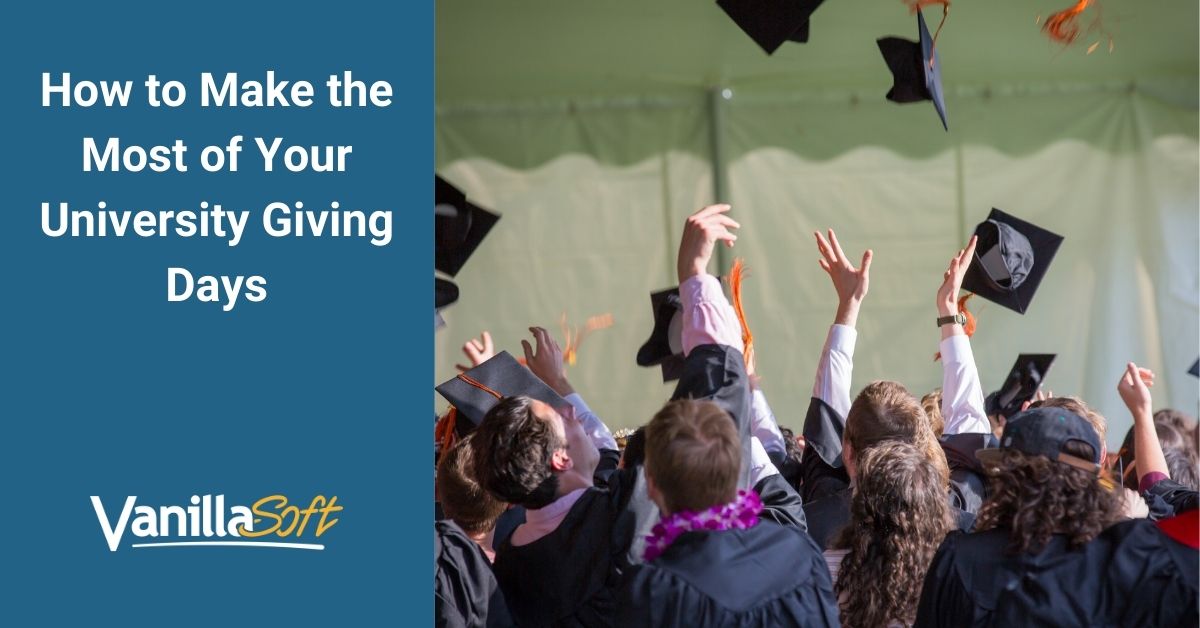 In March 2021, Cornell University made headlines when its 14,411 donors managed to raise a whopping $10,040,921 in just 24 hours, thus breaking the school's 2020 record by approximately $3 million!
The 2021 Purdue Day of Giving made an even bigger splash by bringing in $52,489,367!
These are some impressive numbers that you may think only high-profile institutions can hit, but what if your school sets five or six-figure fundraising goals?
Don't panic! You can still hit your fundraising goals by following their recipe for running successful university Giving Days.
Below is a 'How To' guide on setting the stage for attracting new donors, engaging the previous ones, and increasing overall participation and dollars.
1. Create a killer value proposition 💥
It is easy to fall back on highlighting the importance of donating to one's alma mater. But alumni already get that. You need something more to grab their attention and get them excited.
It's crucial to tell them why they should allocate at least a portion of their charitable budget to the university. Remind potential donors of the numerous philanthropic causes around campus they might be interested in to get them excited about giving.
Although a unique value proposition is mainly associated with the sales industry, this concept lends itself well to fundraising and charity events.
Odds are your potential donors are most likely asking themselves, "Why should I donate to XYZ university instead of some other school or cause?" Alumni are indeed more likely to give to their alma mater than some other institution, but you still have to convince them to reach for their wallets.
Luckily, crafting your value proposition doesn't have to be a hit-and-miss affair. The trick is to:
Come up with a slogan or theme for your giving day that will express the importance of your cause
Create a list of proof points in the form of supporting statements that will serve as evidence for your slogan.
For example, Columbia's 2021 Giving Day slogan reads, "Thank you for changing lives that change the world." This short statement communicates how every single donation has an extremely powerful impact by creating a ripple effect. Donors could pick among many different causes, decide where their donation would go, and understand how their money would contribute to a particular cause.
In short, tell your donors WHY they should donate and illustrate HOW their gift will make a difference.
Finally, leveraging emotional communication and messaging will allow you to build more meaningful relationships with your donors. Such an effort will quickly turn them into loyal supporters you can count on in the years to come.
2. Rally up your key stakeholders: Alumni, parents, students, faculty, staff, and campus leaders 🏁
It would help if you had all the support you can get on this big day, which means cross-campus buy-in. Make sure to include students and their leaders, faculty and staff, parent volunteers, and alumni in rooting for the cause.
Getting buy-in from all of these individuals is a vast network that can amplify your fundraising efforts by spreading the word on social media and other channels.
Have coaches to lead the way
While most universities enlist the help of their students to reach out to alumni and other donors, using coaches as giving volunteers can transform your entire Giving Day strategy.
Let's not forget that most giving days are centered around athletics, so having coaches on board in the outreach process is a must. They can start campaigning a couple of months before the red-letter day and regularly update their prospect base – personal connections, former players, parents, and alumni – via email and text about the benefits of their program and explain how to improve things.
Through these updates, coaches should introduce their vision and goals for the program. For example, they might propose enhancing the student-athlete experience, building a new facility, or funding scholarships for talented students. When your Giving Day comes, they can pick up the phone and reach out to their prospects personally to ask for a donation.
Make it easier for them to succeed
Let's be honest and admit this isn't easy even for seasoned fundraising professionals, let alone those whose everyday role doesn't require generating revenue. Instead of leaving them to their own devices, you should consider implementing a donor engagement platform equipped with features that will help facilitate the process.
For example, logical-branch scripting will provide your team with talking points and relevant information so that they chat naturally and with confidence. You can bet this can be a lifesaver for an inexperienced caller.
Another valuable feature to look for in a tool is dynamic donor prioritization – to ensure your team will always call the next best available donor. Once the call is over, personalized emails and text messages based on its outcome get triggered as a way to follow up on your donor and maximize engagement.
3. Leverage personal videos 📽️
Thanks to its ability to convey more than just words, as well as put a face to the name, video has become an integral part of every marketing campaign. People prefer this format over blog posts and written content pieces because it's more dynamic, engaging, and personal.
The popularity of this medium has increased over the past three years. In 2018, people watched 1.5 hours of video every day, while in 2021, this number went up to 2.5 hours. These stats clearly indicate that you should take advantage of video throughout your Giving Day campaign.
There are different ways you can incorporate videos into your Giving Day campaign, and here are some suggestions.
Focus on maintaining your legacy
Don't be afraid to boast about how great your university is and talk about all the bright minds it has educated over the years.
That's why videos that showcase the legacy of your university and invite donors to help you
improve the quality of your curriculum,
attract and keep top teaching talent,
maintain your values, and
protect the tradition of your institution.
Reminding donors of your legacy can help persuade them to donate.
Illustrate the everyday life on campus
Videos about college life and campus activities, particularly those recorded by students, add a touch of authenticity to your campaign.
They're usually unscripted and spontaneous, and that's what makes them impactful and engaging. Another upside is that you don't need a hefty budget, expensive production, and state-of-the-art equipment to record campus life videos.
Go live
Going live during the Giving Day is a way to keep your donors up to speed about the progress of your campaign and offer them a behind-the-scenes glimpse into the events.
This tactic creates an immersive experience and adds a touch of urgency to your campaign. Most social platforms offer the opportunity to go live on camera, so find out which one will have the best reach and make the most impact.
Say thanks
Follow-up thank you videos can do wonders for forging strong bonds with your donors, especially when they contain a personal message from the specific student who secured the gift.
The result is maximizing an emotional impact and recruiting loyal brand ambassadors.
Make video testimonials
Social proof is everything.
91% of people rely on online reviews to help them with their next purchase – charitable giving is no different. Remember, you're asking them to part with their money, and your cause has to be strong to convince them to do so.
That's why you need videos of previous donors talking about why they decided to donate and why they think it's the right thing to do.
Video is also an excellent medium for building trust with your audience, as it's more transparent than any written content. Donors want to see your students, lecturers, and other staff – that is, to see the people behind the institution. This connection is what will make them decide whether they want to put their trust in you.
Create a Giving Day landing page to showcase your personalized videos. Share the link to the landing page with donors to check it out. The landing page can allow donors to donate instantly and raise the bar on the donor experience.
Don't just stick to sharing these videos on social media channels; use them in your email marketing campaigns.
Even adding the word "video" in a subject line will boost your open rates – that's how engaging this medium is. Tools like VanillaSoft allow you to seamlessly embed video messages directly into your emails through integrations like Vidyard GoVideo. You can either attach the video you already recorded or create and embed a new one from your email composition window.
4. Create matching gift opportunities 💸
The success of your Giving Day depends on how much urgency you manage to create. As there's only a short time frame, you should make sure to engage your donors if you want to secure donations.
One of the best ways to achieve this goal is through creating matching gift opportunities.
84% of donors say they're more likely to donate if a match is offered, meaning that by implementing this incentive, you can easily engage your audience and get them more involved in your fundraising efforts.
Start by developing a matching grant program well ahead of your Giving Day. Put together a list of mid-level and major donors who participated in your previous Giving Days and get in touch with them with an offer to sponsor matching gifts. Frame your message around their generosity and how it will inspire others to donate, thus doubling their impact.
This is a clever method for re-engaging long-term supporters of your institution and getting them excited about helping your cause. By sponsoring matching gifts, your existing donors will feel more invested and take a more proactive role in the entire process.
Do you know how to optimize your efforts and make the most of your Giving Days? 🤔
The fact that you have a dedicated Giving Day won't do much if you email your alumni and other donors to let them know gifts are welcome. This event may only last (in some cases) for 24 hours, but you should start laying your campaign groundwork several months in advance. If you do your homework, your potential donors will be more than happy to participate not only by giving but also setting an example to others and inspiring them to donate.