While it's true that the future of university fundraising revolves around digital engagement strategies and an omnichannel approach, phone is still an inevitable part of this mosaic. However, to successfully and seamlessly integrate into this new, donor-centric landscape, this old-school medium needs to depart from the obsolete phonathon concept and get a facelift. 
Here are some tips to consider when preparing the calling part of your fundraising campaign. 
Start with a Great Call Script
A great script can perform a few different duties in your university's fundraising efforts.
It's the primary guide – the source of messaging – that sets the tone and conveys the objectives of a call.
It's a training and execution tool that helps instill confidence in your volunteers.
It's a persuasion piece that helps donors understand what's in it for them and helps callers feel good about their participation.
Those are pretty important objectives for your script to accomplish. Keep it simple for the fundraiser to use and easy for the donor to understand. It's worth highlighting that in the context of university fundraising, scripts aren't carved-in-stone monologues that callers are expected to recite verbatim.
Rather, they serve as reference points, providing fundraisers with key talking points to carry smooth and meaningful conversations with potential donors.
Essentially, these so-called talk tracks are crafted to guide the flow of the dialogue, maintain focus on the goals, and assist students in overcoming potential objections. Their purpose is to help maintain the conversation momentum, ensuring it doesn't veer off course.
Here's what the anatomy of an effective call looks like:
Introduction
The introduction answers the following questions: Who are you? What is your relationship to the organization running the fundraising effort? Why are you calling?
Making the case
This part clarifies the following: Why is your organization asking for donations? What will the contributions be used for?
Use something as close to home as you can for each group of constituents and make the narrative resonate with their interests. To personalize the outreach even more, mention their previous gifts and how they made a difference.
First ask
Always ask for a specific amount for the initial request for a pledge.
Use their gift history to determine the right amount. Try to raise the bar but make sure the ask is reasonable.
Address common objections
To best go up against the inevitable objection, ask them specifically what's holding them back, and keep it to the point: "What's holding you back today?"
Asking the question in an open-ended, non-leading way can help you determine what their objection is. Maybe it's the dollar amount, the designation, or simply the timing is just bad.
Once you pinpoint their reasons for being hesitant to give, address those in your response specifically as well. If they're objecting to the timing, let them know you can email them a link that allows them up to 30 days to fulfill their pledge.
For example, you can say something along the lines of "No worries, I understand tonight isn't great for you to give on a credit card. What I can do for you, though, is send a link to your email that will allow you to fulfill your donation online when you're ready, and you have the next 30 days to complete that. Would that work better for you?"
If they're objecting to the dollar amount, do some negotiating to explain where the donation is going to make an impact and offer up a moderate amount that might better fit their budget.
In this case, your response could be: "I understand that $300 is jumping right now, of course. We're just trying to aim high for your students and provide scholarships to at least 2,000 students again this year. I wouldn't want to put you in a tight spot, though, perhaps a more moderate amount of $150 might better fit your budget?"
Pledge confirmation
Success! Be sure to repeat back the amount and designation and exactly what will happen next to ensure there are no misunderstandings and that the pledge commitment is firm.
Nothing is worse than sending out 5 pledge reminders just to find out there was no real commitment at all.
Non-pledge close
For those calls that don't end in success, it's important to end each conversation by having your constituent feel good about the call and the school.
You could even wrap up by inviting them to an event or something interesting to look for in the mail.
The trick is to end every call on a positive note.
Look at Your Statement of the Larger Purpose and WIIFM.
Who hasn't seen the heart-wrenching ads from the Humane Society or the SPCA asking for donations?
What about the uplifting, positive stories featured in the American Cancer Society or Susan G. Komen spots that encourage participation and donations to fight cancer?
Let's face it: there are a lot of organizations out there making the ask to the same donors you are targeting. They've done excellent jobs identifying their "larger purpose" and the "What's in It for Me?" (WIIFM) factors. The process of creating your talk tracks needs to take conversations to the next level to compete for donations.
That means really thinking about the larger purpose of your efforts and framing it in a way that is going to appeal to alumni when they answer calls from your fundraisers.
Try using one of these appeals to ego, passion, or altruism to help you ideate the right messages for your audience.
Ego – protection of an investment
This appeal may be especially effective when contacting alumni with business degrees, but it's one worth exploring with all your constituents.
When alumni give back to their university, they are ensuring its continued growth. With the expansion of new facilities and programs comes additional prestige to the school and those associated with it.
Passion — funding endowments for groups and activities
If you have segmented your alumni based on activities they participated in during their matriculation, you can appeal to their love of a particular activity or sport – student newspaper, student radio, theater, choir, debate, athletics, and more likely receive endowments from alumni donations.
Without their ongoing support, the next generation of students won't have the opportunity to participate.
Altruism — helping new students through scholarships and programs
Ensure your messaging includes information about how donations will fund exciting new programs, state-of-the-art equipment, and modern facilities for students.
Be specific about the programs and what they will offer.
Talk about scholarships that will be available, thanks to donations.
Focus on how alumni can help ensure new generations of students have opportunities for quality, modern education.
Revisit Tools & Training Methods to Empower Callers
Now that you have your talk tracks up and running, it's important to make sure your fundraisers are up to the task.
But, it's not enough to provide training to your new hires only — it's continuous education of your entire time that's critical to the success of your fundraising efforts. 
Leverage role-playing. Take time to review talk tracks with your team and conduct role-playing exercises. Be sure to pair new fundraisers with more experienced callers so they have the benefit of working with someone who knows the ropes.
Conduct mock calls where your team will get talking tracks and respond to different questions from various donor personas on the spot. They need to learn how to handle objections, challenges, and obstacles along the way. For example, a donor might have additional questions about the campaign or insist on a more complex payment method. Your callers have to learn how to adjust and personalize the communication to every donor's particular interests and preferences.
Incentivize your team. Another way to empower your students — and incentivize them — is to give each caller a fundraising goal. Encourage them, pump them up, and help them believe in their ability to hit or exceed the goal. Offer rewards or recognition as an incentive for meeting these goals.
Teach them how to use the right tools. Finally, take time to familiarize your fundraisers with your donor engagement software. The platform you select should be intuitive and take minimal time for the average user to learn. It should make everything in the process a no-brainer by automatically routing the next best donor to call, providing interactive talk tracks, allowing on-the-spot credit card processing, and generating email acknowledgments to donors.
Additional Considerations
Above, we've addressed some important areas of your phone fundraising planning, but those aren't the only areas to consider. If you haven't incorporated these into your fundraiser plan, find a way to work them in, if possible, or include them in next year's event.
Additional gifts
It's hard to ask for donations – even for professional fundraisers sometimes.
The fear of causing your donors to burn out on giving or offending them by implying the first gift wasn't enough has caused some fundraisers to shy away from asking for an "additional gift" in the same year.
The truth is it's important to acquire an additional gift earlier rather than later – ideally, within the first 90 days of the original gift. Donors who follow this additional gift engagement have a higher lifetime value to your institution.
Establish Gift Club levels
Gift Club levels can be very persuasive in your fundraising efforts.
Don't underestimate the power of peer recognition – ensure donors are mentioned in alumni newsletters and/or annual reports based on the Club Level.
Offer more than one level with different benefits to each.
You can also try a gift club approach that focuses each level on a different initiative. A $500 donation provides textbooks to a scholarship student, while a $750 donation pays for a meal card, etc.
Pick the right time to call
Reaching donors is one of the most challenging aspects of this entire process.
If you call them while they're at work or at an inconvenient time, your odds of actually reaching them are slim. Besides, even if a potential donor answers your call, they won't be able to fully focus and listen to what you're telling them when they're busy.
Hence, the key to a successful phone fundraising campaign is scheduling calls when donors are most likely at home or available, which has become somewhat more predictable since many people have switched to work-from-home or hybrid schedules.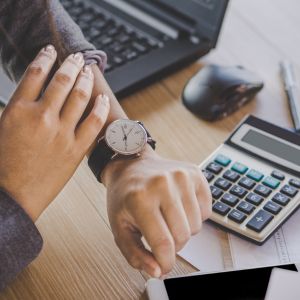 It's best to try later in the morning and in the afternoon, Monday through Thursday, but you can give evenings a shot and see how this timeslot performs for your constituents.
Avoid Fridays as people are tired from the previous week and looking forward to relaxing and spending some time with their friends and family. The same goes for Saturdays, so skip to Sundays and opt for the timeframe between 4 PM and 7 PM.
Finally, since your donors are scattered across the country and in different time zones, consider this when you're planning your calls.
Focus on the donor
Donor retention is another challenge that can significantly impact your fundraising efforts. 
It's your approach that matters the most when it comes to "closing the deal." Since you're trying to sell your idea to your donors, what you should do is take a cue from great salespeople who know what it takes to convince a potential customer to say yes. 
One of the most effective methods is focusing on how donating will benefit your donor – it will make them feel good as they will contribute to a greater cause. If they're alumni, a donation will also improve the college ranking and the value of their degree, as we've already mentioned.
In other words, instead of following the narrative of what a donor can do for your organization/college, change perspective, and talk about them.
To achieve this, collect as much information about your donors as possible, and during conversations with them, ask a lot of questions and practice active listening. That way, you'll be able to figure out what makes every individual donor tick and align this with how helping your cause will be good for them.
VanillaSoft allows fundraisers to update donor information on the go during interactions and keep your database clean, organized, fresh, and easily accessible.
How Is Your Phone Fundraising Going in 2023?
Despite an abundance of new fundraising channels and tactics, phone is here to stay, but only if you know how to do it right. These tips can help you set your student fundraisers up for success and substantially boost your gifts. harnessing the power of personalized connection can turn every call into a persuasive appeal and every potential donor into a loyal contributor. Remember, phone fundraising is more than just ringing numbers — it's about striking the right chord with each conversation and building relationships.