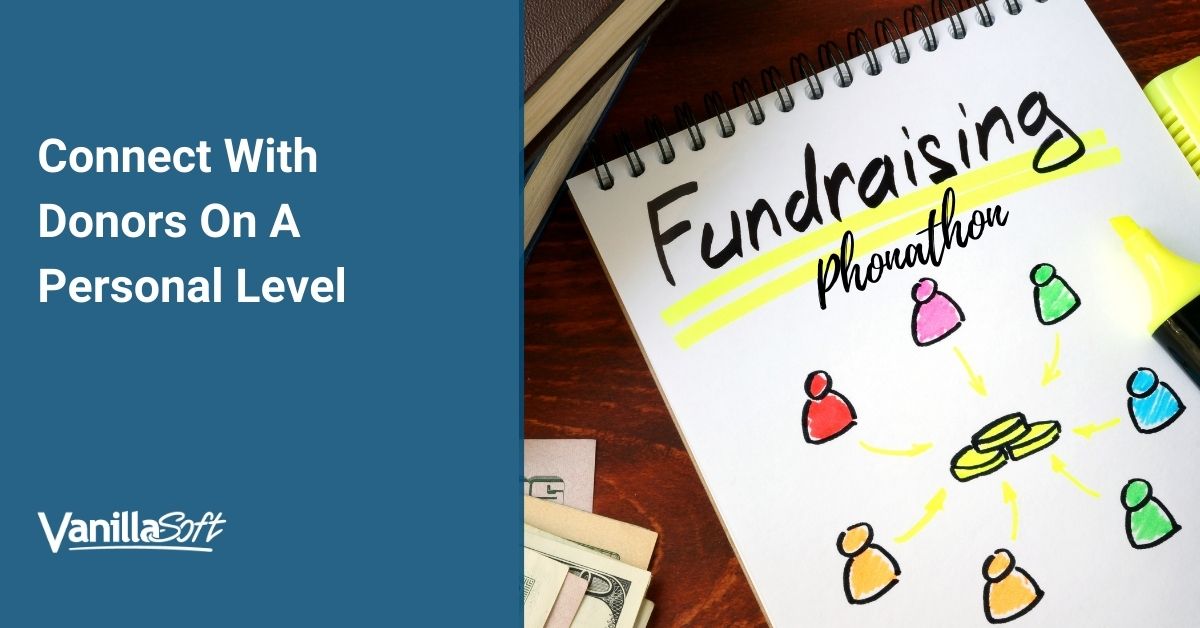 What is a phonathon? A phonathon is a way for colleges and universities to raise money by calling new and previous donors. Staff, alumni, and current students may participate. Callers use a script to ask for annual pledges or one-time donations. Most institutions hold phonathons in the fall or spring.
College & University phonathon season is almost around the corner, and you should start preparing for it in advance. Even if you're reading this in the midst of your campaign, it's never too late to take a step back and review your progress. The best time to address what's not working is while you still have a chance to change the outcome. Below I've outlined several areas to help you improve your phonathon success rates.
Did You Start with a Great Phonathon Script?
A great script can perform a few different duties in your university's fundraising efforts.
It's the primary guide – the source of messaging – that sets the tone and conveys the objectives of the phonathon.
It's a training and execution tool that helps instill confidence in your volunteers.
It's a persuasion piece that helps donors understand "what's in it for me?" and helps callers feel good about their participation.
Those are pretty important objectives for your script to accomplish. Keep your script simple for the caller to use and easy for the donor to understand. When creating your phonathon script, keep these tips in mind:
"Introduction: Answers the questions: Who are you? What is your relationship to the organization running the campaign? Why are you calling? Mention an achievement to make them feel proud of their alma mater.
"Making the Case: Why is your organization asking for donations? What will the contributions be used for? Use something as close to home as you can for each group of constituents.
"First Ask: Always ask for a specific amount for the initial request for a pledge. Use their gift history to determine an aggressive but reasonable amount.
"Offer prepared responses to common objections: Always use open-ended questions to explore the reason for the objection. "May, I ask is there a particular reason you are not interested this year. Could it be the school or the amount we are asking for?
Acknowledge their objection first of course, but when you come back to ask for a pledge again, start with a lower amount. Try to group people together while making a second ask. Try "I talk with a lot of alum who feel the same way and they prefer to do $20 or $25 which raises our alumni participation rate which in turn affects our regional and national rankings. How do you feel about participating at a different level?"
"Pledge Confirmation: Success! Be sure to repeat back the amount and exactly what will happen next to ensure there are no misunderstandings and that the pledge commitment is firm. Nothing is worse than sending out 5 pledge reminders just to find out there was no real commitment at all.
"Non-Pledge Close: For those calls that don't end in success, it's important to end each conversation having your constituent feel good about the call and the school. You could even end with inviting them to an event or something interesting to look for in the mail. Every call should end on a positive note."
Look at Your Statement of the Larger Purpose and WIIFM.
Who hasn't seen the heart-wrenching ads from the Humane Society or the SPCA asking for donations?
What about the uplifting, positive stories featured in the American Cancer Society or Susan G. Komen spots that encourage participation and donations to fight cancer?
Let's face it: there are a lot of organizations out there making the ask to the same donors you are targeting. They've done excellent jobs identifying their "larger purpose" and the "What's in It for Me?" (WIIFM) factors. The process of writing your phonathon script needs to take it to the next level to compete for donations.
That means really thinking about the larger purpose for your phonathon and framing it in a way that is going to appeal to alumni when they answer calls from your volunteers.
Try using one of these appeals to ego, passion, or altruism to help you ideate the right messages for your script and audience.
EGO – protection of an investment. This appeal may be especially effective when contacting alumni with business degrees, but it's one worth exploring with all alumni. When alumni give back to their university, they are ensuring its continued growth. With the expansion of new facilities and programs comes additional prestige to the school and those associated with it. It also means that the university's likelihood of ranking well on a national poll goes up with more alumni donations. The better a school becomes thanks to generous alumni donations, the better those alumni are perceived for getting a degree there.
PASSION – funding endowments for groups and activities. If you have segmented your alumni based on activities they participated in during their matriculation, you can appeal to their love of a particular activity or sport – student newspaper, student radio, theatre, choir, debate, athletics, and more likely receive endowments from alumni donations. Without their ongoing support, the next generation of students won't have the opportunity to participate.
ALTRUISM – helping new students through scholarships and programs. Ensure your script's messaging includes information about how donations will fund exciting new programs, state-of-the-art equipment, and modern facilities for students. Be specific about the programs and what they will offer. Talk about scholarships that will be available thanks to donations. Focus on how alumni can help ensure new generations of students have opportunities for quality, modern education.
Revisit Tools & Training Methods to Empower Callers
Now that your script is wrapped up and ready, it's important to think about training. Pre-event and "during the phonathon" training is critical to the success of your volunteers and the fundraiser.
Pre-phonathon. Take time to review the phonathon script with your team and conduct role-playing exercises. Be sure to pair new volunteers with more experienced callers so they have the benefit of working with someone who knows the ropes.
Another way to empower your volunteers – and incentivize them – is to give each caller a fundraising goal. Encourage volunteers; pump them up and help them believe in their ability to meet or exceed the goal. Offer rewards or recognition as an incentive to meet goals.
Finally, take time to familiarize callers with your phonathon software. The platform you select should be easy to use and take minimal time for the average user to learn. It should make everything in the process a no-brainer by automatically routing the next best donor to call, providing HUD (heads up display) scripting, allowing on-the-spot credit card processing, and generating email acknowledgments to donors.
During the phonathon. When your team is in the thick of the fundraiser, you can use your phonathon platform to monitor calls. A solution like VanillaSoft allows you to listen to live calls, as well as recordings. This lets you intervene immediately if an urgent issue arises and revisit calls later that represent training opportunities.
Additional Considerations
Above I've addressed some important areas of your phonathon planning, but those aren't the only areas to consider. If you haven't incorporated these into your fundraiser plan, find a way to include work them in if possible or include them in next year's event.
Additional Gifts. It's hard to ask for donations – even for professional fundraisers sometimes. The fear of causing your donors to burn out on giving or offending them by implying the first gift wasn't enough has caused some fundraisers to shy away from asking for an "additional gift" in the same year. Research shows that it's important to acquire an additional gift earlier rather than later – ideally, within the first 90 days of the original gift. Donors who follow this additional gift engagement have a higher lifetime value to your institution.
Establish Gift Club Levels. Gift Club levels can be very persuasive in your fundraising efforts. Don't underestimate the power of peer recognition – ensure donors are mentioned in alumni newsletters and/or annual reports based on the club level. Offer more than one level with different benefits to each.
You can also try a gift club approach that focuses each level on a different initiative. A $500 donation provides textbooks to a scholarship student while a $750 donation pays for a meal card, etc.
Pick the Right Time to Call. Reaching donors is one of the most challenging aspects of this entire process. If you call them while they're at work or at an inconvenient time, your odds of actually reaching them are slim. Besides, even if a potential donor answers your call, they won't be able to fully focus and listen to what you're telling them when they're busy.
Hence, the key to a successful phonathon campaign is scheduling calls when donors are most likely at home or available. This means avoiding the 9-5 timeslot during the working days. For the best results, try 6 PM – 9 PM Monday through Thursday. Avoid Fridays as people are tired from the previous week and looking forward to relaxing and spending some time with their friends and family. The same goes for Saturdays, so skip to Sundays and opt for the timeframe between 5 PM and 9 PM.
Finally, since your donors are scattered across the country and in different time zones, consider this when you're planning your calls.
Focus on the Donor. It's your approach that matters the most when it comes to "closing the deal." Since you're trying to sell your idea to your donors, what you should do is take a cue from great salespeople who know what it takes to convince a potential customer to say yes.
One of the most effective methods is focusing on how donating will benefit your donor – it will make them feel good as they will contribute to a greater cause. If they're alumni, a donation will also improve the college ranking and the value of their degree.
In other words, instead of following the narrative of what a donor can do for your organization/college, change perspective, and talk about them.
To achieve this, collect as much information about your donors as possible and during conversations with them, ask a lot of questions and practice active listening. That way, you'll be able to figure out what makes every individual donor tick and align this with how helping your cause will be good for them.
Conduct Mock Calls. Your volunteers are your most valuable asset, and it's critical to train and prepare them well for a phonathon campaign.
Conducting mock calls where your team will get a script, read through it, and respond to different questions from various donor personas on the spot. They need to learn how to handle objections, challenges, and obstacles along the way. For example, a donor might have additional questions about the campaign or insist on a more complex payment method.
Your callers have to learn how to adjust and personalize the communication to every donor's particular interests and preferences.
How Is Your Phonathon Going in 2021?
I hope your phonathon is on the right track and achieving results this year. Given that the entire world is in a peculiar situation due to the ongoing pandemic, it's essential to follow all these tips as they will allow you to connect with your donors on a more personal level.
However, if your campaign isn't running smoothly, take a step back to review and tweak your approach. You may find a little fine-tuning coupled with a best-in-class phonathon solution like VanillaSoft can help you exceed your expectations. Why not take a free trial and find out!