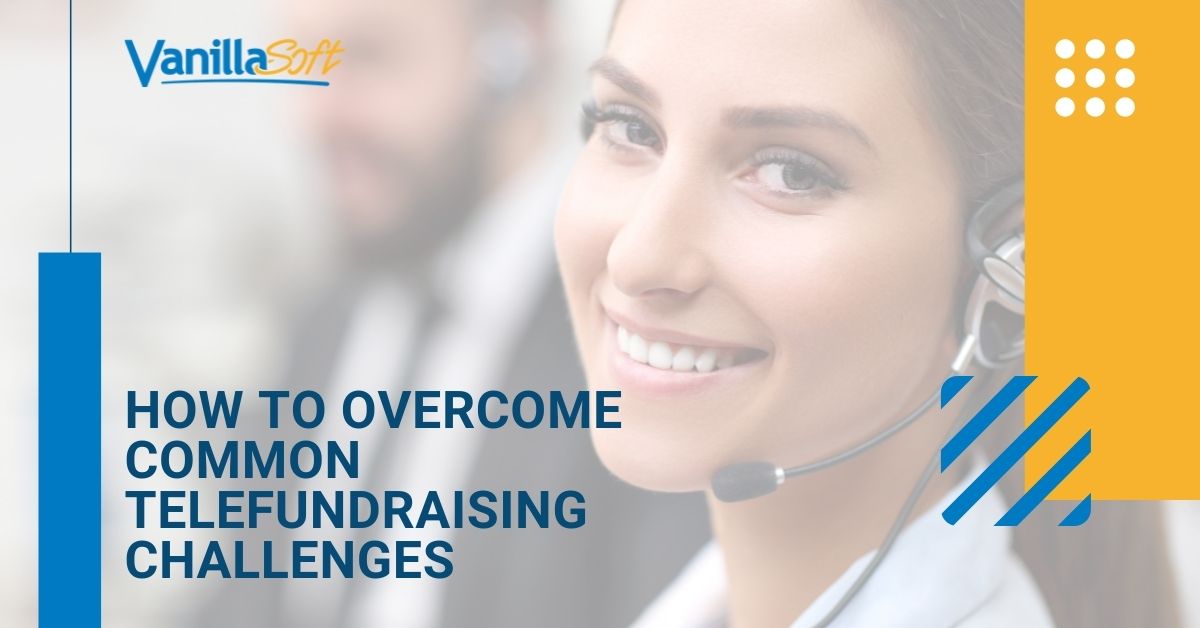 The support that donors give to educational institutions is invaluable.
That being said, getting individual donors to pledge support and cultivating their loyalty is not always easy.
The economic recession caused by the ongoing pandemic left many people and organisations struggling to recover their financial footing. It is only now that the pace is picking up steadily and normality is returning.
For that reason, charities and educational institutions are on the lookout for the most effective, and efficient, means of raising money.
As such, elephone call campaigns make for an excellent complement to other communication forms such as email and direct mail.
Fundraising professionals and volunteers can call donors to follow up on an email message or direct mail piece to give it an added layer of donor-cause connection and personalisation.
To get the most out of telefundraising, educational institutions need to be aware of certain obstacles and difficulties facing their fundraisers.
Sticking to "Free" Processes
Obviously, a university doesn't want an unnecessarily extravagant and expensive fundraising campaign solution or approach.
That's why so many alumni associations stick with low-cost or free solutions: paper, a spreadsheet, home-grown databases, etc.
If your campaign is small, this may work fine.
However, as your donor base and associated outreach grow, your approach must scale with it. What you once managed just fine on paper or a simple spreadsheet gets time-consuming and confusing when you increase your target population of donors.
It's a recipe for negative ROI or, at the very least, a less successful campaign than you could have had if you selected the right solution.
Solution
Evaluate your process.
How much time are you spending compiling call sheets or spreadsheets?
How much time do callers spend on manually filling out forms or looking up donors?
Do a time study then compare that to the time your team takes with a telefundraising solution, such as VanillaSoft.
If your callers are dialing more potential donors and raising more money, it may be a great investment for your organization.
Failing to Pay Attention to Scripts
Almost every institution out there has some type of script for their callers to use.
For smaller organizations, it may be tempting to copy the successful scripts of other organizations.
That said, when doing your research on successful scripts, keep in mind that you should look for insights only. Your organization has its own mission and values that you should reflect in your fundraising appeals. Copying a script from another organization may water down (or worse, confuse) your message with potential donors.
Equally, you should avoid recycling your scripts each year. If they are seeming repetitive and familiar to you, no doubt they feel the same way to your donors. Instead, refresh and update them on a regular basis.
Segment-specific scripting and messaging are also increasingly popular, helping to make the call feel more personal to the individual.
Solution
Write your own script or contact a local marketing or public relations firm that does pro bono work to get a compelling, mission-specific script.
Another consideration when thinking about call scripts has to do with implementation.
Training and role-playing using the script with team members certainly help to educate your fundraising team.
However, a software platform that includes logical branch scripting will make it even easier for your volunteers.
Logical branch scripting keeps your callers on message, puts objections and rebuttals at their fingertips, and helps them quickly gather information and responses.
Not Using Auto Dialing and Next-Best Donor Logic
If your team has hundreds or thousands of people to call, manual dialing is just going to limit your ability to reach donors quickly.
This will negatively impact your donations.
Solution
Progressive auto-dialing, coupled with next-best donor calling logic, will increase your contact rates and ensure you are reaching out to the highest-value donors first.
Not Perfecting the Voicemail Message
Many times fundraisers do a lot of great work to perfect the call script, but they forget to perfect the voicemail message script.
A voicemail message is an important part of the message you want your donors to hear.
If your volunteer's message is confusing or rambling, you probably won't get a callback and the donor may still screen your calls.
Solution
Check out The Top Performer's Voicemail Playbook. It's written for inside sales reps, but many of those tips are applicable to fundraisers, too.
Caller Recruitment and Training
Of course, your callers are critical to the success of your fundraising efforts.
Identifying individuals with the skills you need, and then training them, is necessary to get the most out of their invested time and efforts.
Solution
Your training should include an overview of the fundraising software you use (if any) and a review of your phone and voicemail scripts.
Consider pairing up new volunteers with experienced ones to role play calls.
Below you'll find some recruiting advice.
Make it known that you need volunteers by sharing this fact in the school's newsletter, blog posts, social media posts, and email signatures. Posting flyers around the campus is another good way to get the word out.
Similar to seeking donations or closing a sale, your messaging should focus on the potential employee's needs and not the institution's.
Encourage volunteers to recruit a friend to make it more enjoyable for them and increase your support.
Provide incentives that will motivate people to apply.
Inspire your team to support you again in the future by acknowledging their involvement and thanking them for their support.
Donor Retention
Donor retention is a challenge that many nonprofit organizations and educational institutions face.
For example, the overall donor retention rate in 2020 was 43.6%, meaning that it dropped by 4.1% compared to 2019.
The first thing you should do when it comes to this issue is taking a realistic look at your numbers and identifying your current performance level.
Solution
Improve donor loyalty by gearing your messaging toward your supporters.
Let them know how their gifts make a difference, what the funds are for, and why their continued support is so significant.
Another way to increase donor retention is by setting up recurring donations. Automating gift collection eliminates the need to have a volunteer call them again in your next round of campaigning.
Follow-up is another key to retaining donors.
A personal thank-you call would influence many donors to give again.
Use a mix of outreach methods to follow up with donors including social media, text, email, phone call, and direct mail.
New Donor Outreach
Imagine walking up to a perfect stranger in the street and asking them to donate a certain amount for your cause?
You'd probably feel awkward.
You probably harbor the same sentiment when you have to pick up the phone and reach out to people you have never contacted before and ask them for a donation.
So, how to make this less uncomfortable for both parties?
Solution
First of all, although you may never have interacted with some of your prospective donors in the past, you can at least begin by calling those that you think are most likely to be interested in supporting your cause.
How do you do that? By understanding your potential donors' needs, beliefs, and interests, and strategically segmenting your lists.
In the process of finding new supporters, you'll likely have better luck getting alumni to donate over non-alumni individuals, such as parents and friends of the university. They are likely to have the greatest level of affinity
Lastly, if your fundraising effort doesn't already include some telephone based outreach, you should consider adding it. Using the telephone to reach out to prospective donors yields a 34% higher response rate.
You should also make sure to host an attractive, intuitive giving page on your school or university website.
While a prospective donor may not immediately commit to a donation over the phone, he or she may come back to your website later to give. Also, ensure your fundraising page is mobile-optimized to meet the browsing preferences of your audience.
Additional Tips on Asking for Donations
Apart from overcoming these challenges, there are some other areas that you can improve, thus expanding your donor base and increasing giving.
Stay Positive (People Still Want to Support!)
If you find yourself still wondering whether it's a bad time to ask for money right now, you're not alone.
We're still in the middle of a global pandemic. So, it's only natural to hesitate to ask for a donation, especially when a good number of the people you contact probably need a bit of help themselves.
It's no surprise that fundraising activity slowed down when COVID-19 first showed up in March and April 2020.
But Inside Higher Ed reports that since the end of April 2020, community colleges raised 47% more in the first nine months of 2020 than they did in all of 2019. Indeed, many VanillaSoft customers ran their most successful phonathon campaigns ever in FY21.
Even where donation sizes or average gifts may have decreased, the number of donors (participation rate) may well have increased this year. That being said, some schools have also seen the inverse, with participation being down, but average gift being up.
It's important to remember that generally speaking people in a crisis want to help other people in a crisis.
Omnichannel Outreach
With the help of email, direct mail, SMS, video, and social media, why are you still only telefundraising?
Develop an omnichannel strategy that incorporates all options for outreach and communication, including online and offline efforts, and allow donors to use their preferred channels, instead of taking a siloed approach to campaigning.
For instance, donors who prefer social media won't miss the content in your newsletter because you also post it on Twitter, LinkedIn, and Facebook. That means you can occupy multiple spaces and not miss a single beat.
(Psst… if you add our VoIP telephony to your software, you can enjoy all-in-one VoIP and SMS functionality that drives even more engagement. Just sayin'!)
Take video, for example. Previously the exception and now the rule, video-based communications will long be a part of fundraising because of its inherently engaging, personal nature.
There's no doubt phone touches are critical to your higher education fundraising strategy, but your donors still value face-to-face interactions. So, without in-person alumni events to bet on, video is a great tool to thank, update, and engage donors and potential donors alike.
Plus, with a more effective cadence to reach out, you can really get to know your donors, track their engagement and strengthen their desire to support and donate over time by raising both awareness and affinity.
For example, send out direct mail or emails before a phonathon, so callers can reference that content in their conversations. Include information about the impact their donations will make as well as a link to a page on your site that shows the funding progress in real-time.
Tracking engagement with pre-campaign emails also enhances your ability to segment strategically; calling your most engaged donors and prospects as a first priority.
Tell (Even More) Authentic Stories
Now more than ever, it's important to craft meaningful content to translate why contributions will help solve the new challenges experienced by your students and institution.
Personalized outreach was important before, but post COVID-19, it's everything. Take it from universities themselves:
The president of the University of Wisconsin Foundation started an online series at the onset of the pandemic — compared to alumni events that drew in maybe 150 donors, he says the series has had 48,000 views.
Marquette University's webinar series for donors has been so popular that the team wants to implement it permanently.
When scholarship dinners were canceled on campuses across the country, fundraisers used ThankView to send donors thousands of thank-you videos and express the students' gratitude.
During its last fundraising campaign, Case Western Reserve University's top donors said they wanted more meaningful interactions, like hearing about research and discoveries and having more opportunities to mentor students.
With a ton of worthy causes competing for donations, you have to tell human stories unique to your institution and demonstrate the impact your donors' gifts can have.
Lock in Integration with a User-Friendly Giving Page
Another important element in your multi-channel approach is where you direct your potential donors to donate or fulfill their pledge.
It's plain old smart to have an appealing and easily navigable giving page, but it's not wise to only direct donors to it through one channel.
When people across the country experienced massive mail delays throughout COVID-19, for example, you could easily implement phonathons, emails, personalized texts, and video channels alongside direct mail to increase ROI. It's that simple.
Integration is key to align the donor experience, folks. And on your end, who has time to track metrics on multiple platforms that don't connect?
Plus, giving pages create more opportunities to be proactive and go the extra mile. When you see a donation come in, you can immediately thank your donor personally through the outreach channels they most respond to.
The best part?
You can customize your giving page to coordinate automatic follow-ups after donations or incorporate guided donations (i.e. $50, $100, $250) to encourage donors to complete a gift.
You also want to share tons of case studies, statistics, videos and photos of beneficiaries to remind your donors why you need them in the first place.
Technology Needs
The software you select for your volunteers should be simple to learn and enable them to complete their work efficiently and productively.
Ease of use is the key here. With the student staff, you can expect high turnover; therefore, it's critical to select a fundraising platform that is simple to learn and facilitates productivity and efficiency in the fundraising process.
Your fundraising software should include:
Call routing of the next best donor to dial.
Scripting that lets the caller know what to say.
Credit card processing to immediately accept payments.
Emails to donors acknowledging their gifts.
The ability to monitor calls and jump in if the volunteer needs assistance.
Collaborate with Colleagues
Drawing inspiration and insight from your peers can help you return to work rejuvenated and full of creative new ideas and strategies to apply in the year ahead.
CASE conferences and other comparable events allow phonathon managers to seek advice and insight from their peers at other institutions.
It also helps keep them on top of the latest trends and expert advice in marketing communications, fundraising, and other related topics.
Phonathon managers must not allow themselves to become complacent or to fall into the pattern of recycling tired phonathon materials.
Instead, every campaign, shift, and call should represent an opportunity to hone and refine your phonathon approach so as to maximize engagement and participation over time.
Are You Ready for Your Next Telefundraising Campaign?
Technology has provided numerous avenues for educational institutions to raise funds.
Phone calls, however, offer a chance to create one-to-one relationships with donors that can be hard to accomplish any other way.
Short of face-to-face communication, phone calls are the next best thing when you want to appeal to a donor.
If you're looking for a way to increase your call rates, consider giving VanillaSoft a try. With a live demo, you can get a sense of how productivity increases can improve your fundraising initiatives.