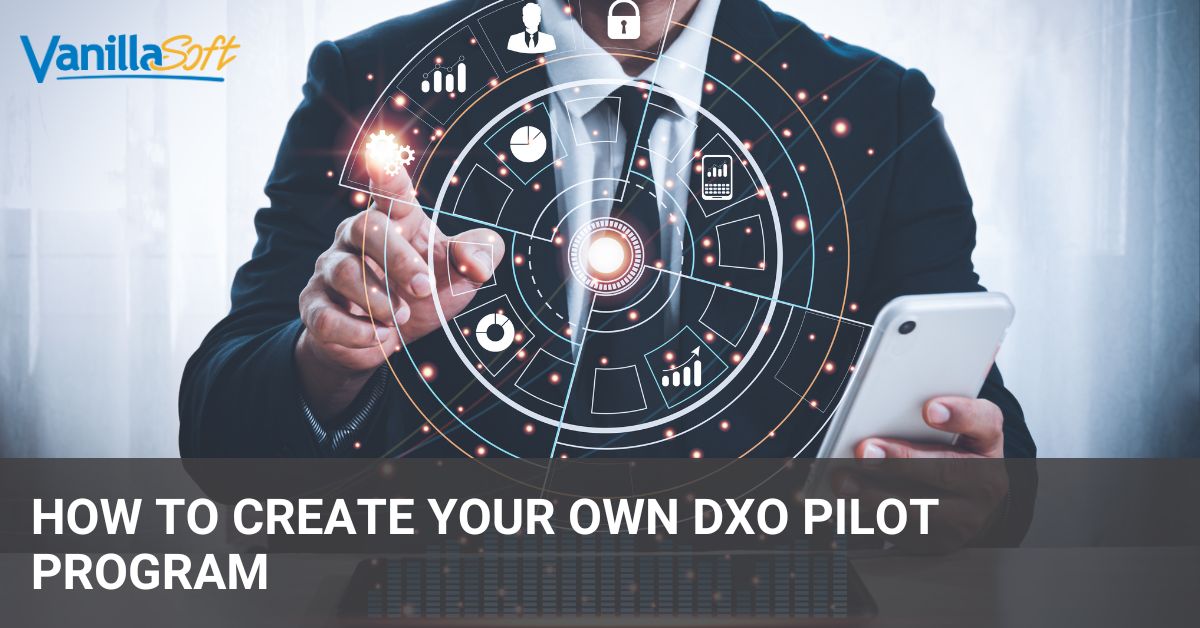 In our recent D(X)O-It Yourself: Piloting Digital Experience Programs webinar, Emily Etzkorn and I had a great time breaking down what digital experience programs are, why they can be valuable to your fundraising program, and how you can test one out. 
This article will recap the highlights of our discussion and give you more ideas about how to structure a pilot program for yourself.
Let's dive right in!
What's a Digital Experience Program, and How Can It Help Support Your Fundraising Goals?
It's a good idea to first cover some basics and see what a DXO program is and why it's so crucial to your fundraising efforts.
What is a DXO program?
The term DXO is getting thrown around a lot, and, as you probably know, it's short for a Digital Experience Officer or, as some people also refer to this role, Digital Engagement Officer. What these types of positions have in common is that they're taking the full suite of what we do in annual giving, and it's designating an officer — one person to really scale that up to individual prospects.
Basically, we're talking about scaled multi-channel outreach.
So, instead of mass texting prospects, you have one team member individually texting your base and trying to forge personal connections with them by:
Getting to know and understand your constituents
Identifying where your goals align with theirs
Finding a way to create partnerships together.
That being said, there's a little bit more to this entire process since you should take some of the best practices from the world of sales and marketing. And that's where a customizable donor engagement platform like VanillaSoft comes in.
So, how does a platform like VanillaSoft make it possible?
We've gotten pretty good at mass outreach over the last decade, but as of recently, its downsides started to show. We're losing people's attention and a personal touch, and there's only so much you can do with segmentation, building personas, and other tactics that help you show you understand your constituents and get them to know you and your institution better. Tools like VanillaSoft can help you enrich what you're doing and expand your reach in annual giving.
And a pilot program paired with VanillaSoft will make it easier for you to achieve all these goals.
Donor engagement platforms are effective because they add the element of customization to your campaigns. The thing is that people aren't picking up like they used to, and it's hard to keep their attention for longer, and the only way out of this mass outreach blind alley is to have a custom solution. In other words, the one-size-fits-all approach simply doesn't cut it.
These platforms allow you to pay more attention to the specifics that people want — whether it's the time of year that they want to be communicated with, their preferred channel, you name it.
But this is so much more than saying what we're texting now in addition to making phone calls. Multi-channel engagement goes much deeper and well beyond this notion, meaning it has to be more strategic and thought-out. We're talking about a lot more opportunities for personalization through cadences and touch-point diversification.
Why Is a Pilot a Good Way to Start a Digital Experience Program?
When you're implementing this approach, you still need to figure out what you don't know about the process, and the pilot gives you a chance to understand it better and pinpoint the areas that need improvement. So, it's about creating data that will help guide you to do this in the way that is right for your program and your entire institution.
When you're working with different team members and trying something new, you need to be on the same page. Having the pilot allows you to test the waters and get both your colleagues and leaders on board with the idea. It's securing yourself a soft launch with more measured expectations and a more narrow set of deliverables.
It's much safer to create a new program designed to grow based on the lessons learned during the first go-round instead of starting out full steam ahead. This type of approach helps set and manage expectations for all involved, acknowledging that it's a process with a learning curve. Some of it will work really well in the first go-round, and some of it might not go as expected, but regardless, there's going to be plenty to take away. With limited resources, staff, time, and budget, it's crucial to lower the stakes of a launch. You can't predict the future and control everything with a brand-new program. Instead, a pilot will give you better information, more control over a full-fledged program, and a softer landing out of the sandbox and into the playground of a DXO program.
You're setting yourself up for the long run and understanding that it is going to be a work in progress.
With limited resources, staff, time, and budget, it's crucial to play it safe. You can't predict the future and control everything. A will give you better information and a closer ability to predict or be a little bit more careful instead of having it totally ready to go out of the box from day one.
To sum up, a pilot will:
Give you space to experiment and see what works without being too prescriptive from the get-go
Create room for implementation without the expectation of rolling out a perfected program
Make it easier to safely experiment to find what works for your institution – your audience, your culture, and your business operations.
How to Get a Pilot Started?
Q4 is the perfect time to start conversations with leadership about this.
During this time, you'll likely be working with multiple teams, which may require resources or investments, so start your pilot by pitching the idea to your leadership and getting the buy-in to try this. This can set you up to begin your pilot implementation over the summer and into the beginning of the new fiscal year.
I strongly recommend that you build your pilot in support of other top-level goals that you already have, using the pilot first as a channel before you develop it into a full-fledged program.
As you build the pilot and experiment, you will learn more about how to translate this into the right program for your institution.
Creating a Pilot Plan
Once leadership is on-board for you to start a pilot, the next step is creating a plan. Since that plan needs to be informed by your existing business practices and goals, start by looking to connect these to the pilot.
Know your data
If you are using VanillaSoft, you've already established processes to move data, including contact information, giving history, and affinity information, in and out of your CRM and made it easy for your prospects to make gifts directly through communications enabled in the software.
You probably also have a good idea of how to set up cadences that grab the attention of your prospects and have the tools to do that outreach. Having these things behind you will make implementing your pilot so much easier.
Determine the pilot strategy (or more than one)
Next, you need to work with relevant stakeholders to determine your pilot's strategy. The best strategies should help you make progress toward your most important goals.
For example, if your team is working to increase donor retention, set this pilot up to focus on creating a high-touch personal cadence of outreach to LYBUNTS.
You can set up multiple cadences and tests for the pilot.
Picking two to three strategies gives you the opportunity to try different approaches and see how they work in the scope of the pilot. If you only picked one and didn't get the results you wanted, that may deter you from expanding the pilot.
Get very specific with what you test
Having a few very clear strategies to test will give you room to see what works best for you and set you up for success. Once you have a broad idea of what you test, it's important to get very specific in defining that strategy and what a successful pilot of that outreach would look like.
Going with the example of a donor retention strategy, you can use reporting or the knowledge of your team to narrow this focus. If your reporting shows you that donor retention is especially lagging for alumni who graduated in the 90s, you could choose for your pilot to revolve around getting renewal gifts from that segment throughout your outreach.
Then you will decide the metrics of success for this campaign and what goals you would like to reach. For this cadence, focusing on donors renewed as well as contacts made will ensure that you are renewing gifts as well as doing the outreach activity needed to make those solicitations successful.
Two goals like that will also help you determine what may really be getting in the way of results – are people saying no to solicitations, or can you not even get their attention in the first place?
So, it's essential to:
Facilitate the gift-making process
Set up cadences
Determine more than one pilot strategy
Define what success means for each of these campaigns.
Running the Pilot
Now that you've decided on your strategies, there are just a few more steps to make your pilot come to life.
First, select the staff member who will be conducting the outreach and complete any necessary training. Check if they know how to use VanillaSoft or if they need templates for their outreach messages and calls. Next, create your outreach segment and prepare it with your best cadence in VanillaSoft.
Then make sure your analytics are ready to go to monitor your progress towards the measurable goals you have created, and you are ready to go live.
Depending on your cadence set-up, your outreach may last weeks to a few months. During that time, it's crucial to continually evaluate the quantitative progress you're seeing in your metrics as well as the qualitative insights you're getting about the outreach itself. Is there feedback or data that shows you can tweak this campaign for improved results? If so, adjust as you go along.
Pilot Evaluation
Once your pilot is over, get your stakeholders together to review the results.
Ask the following questions:
Did you hit your goals?
Was the content for your outreach right for the audience?
What could be better or different in the future?
From your internal operations to the user experience of your staff to those all-important metrics, how did it go?
The answers to these questions will help you decide whether to extend the pilot and keep testing strategies and iterating your outreach or go all-in on a DXO program that will help elevate your outreach to meet your most important goals.
Is a Pilot Right for You?
DXO programs can be transformational for your fundraising and engagement, and a pilot can help you unlock that possibility. If you want to explore the possibilities of a DXO pilot program, discuss this topic further, or ask any questions, please feel free to get in touch.
Author Bio
Perry Radford is the Founder and Principal of Rad Philanthropy. In this role, Perry helps fundraising organizations as interim staff, serves as strategic counsel, and manages key projects. Additionally, Perry serves as a donor advisor, helping donors hone in on their giving priorities and developing their individual philanthropic strategies. Prior to launching Rad Philanthropy, Perry spent the last 15+ years working in annual giving and alumni relations at Scripps College, Emerson College, Caltech, Harvey Mudd College, and got her start at her alma mater, UC Santa Cruz. Her responsibilities included project managing large-scale digital fundraising events, leading affinity fundraising programs like reunions, volunteer engagement, creating marketing campaigns, personal solicitation, and more.