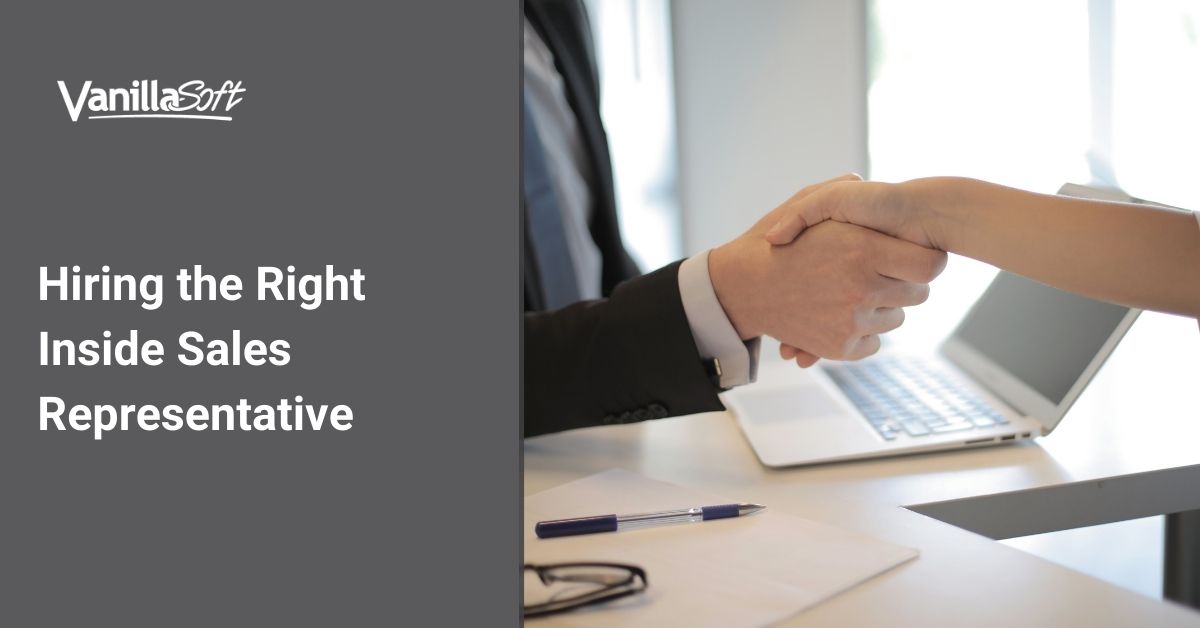 Buyers are waiting longer and longer to interact with your company's sales representatives. Are you hiring sales representatives that meet customer expectations?
When they finally fill out the request for a demo or contact form, you want top-notch talent on the phone and sending emails to these prospects. You probably have some great performers on your team.
Did you luck into those hires, or do you have a methodology when hiring for inside sales pros?
Here's how the world shakes out when it comes to people pursuing sales: 5% of people can sell anything to anyone at any time.
Those people are typically successful entrepreneurs.
They don't need your sales job.
Then there's the 5% who couldn't sell a fire extinguisher to a man on fire.
These people need career counseling if they continue to try to pursue a job in sales.
That leaves the rest of us — people with the potential to be great sales representatives for your organization.
The keyword is potential.
Four Things Skilled Salespeople Have in Common
According to Lee Salz, Founder and CEO of Sales Architects, people with the potential to be your next inside sales rockstar have the following things in common, and they are all non-negotiables for your hires.
If you want to learn more about evaluating candidates on each of the characteristics below, watch Lee Salz's webinar.
1. Resilience
Sales is a job where the number of rejections outweighs the number of wins. However, the quality of wins makes those losses bearable.
You must hire sales representatives who are resilient enough to handle every "no" and intelligent enough to understand that multiple small rejections are nothing compared to significant, quality wins.
2. An Inclination Toward Continuous Self Improvement
While we may agree that sales is a job where you hear "no" quite often, the successful sales representative doesn't just accept every rejection and move on to the next lead.
Great salespeople should occasionally examine those rejections.
While they should let the obvious "no's" go, talented sales pros will review the questionable losses and find ways to improve their pitch or approach should they face a similar situation in the future.
People with a zest for learning and dedication to improvement are a sales manager's dream candidate.
3. Goal Orientation with a Focus on the Client
When hiring your next sales rep, don't just think about how goal-oriented the individual is.
Consider how client goal-oriented they are. When hiring managers think of "goal-oriented" candidates, that often means the candidate is driven to achieve their own goals.
To build a successful sales organization, you start with people passionate about helping clients achieve their goals.
This type of sales organization is a win-win-win. Customers get great counsel and service.
Your company is more effective with consultative selling.
Your sales representatives make more sales when they care about the client.
4. A Naturally Inquisitive Personality
What makes a salesperson really successful?
Successful salespeople master the ability to ask questions and listen to the prospect's answers.
Curiosity is a remarkable trait in salespeople.
The more thoughtful and intelligent questions they ask, the more opportunities they have to uncover pain points and help solve customers' problems.
Hiring a Sales Representative Based on Potential for Greatness
Great inside sales performers have two things in common.
First, top inside sales performers possess the four traits listed in the section above.
Second, they have a committed sales leader focused on doing what it takes to ensure the salesperson is the right fit for the job and has the necessary support and solutions to excel.
That second commonality requires that sales managers do a little more homework before hiring.
Here are seven things that Lee Salz suggests, plus four bonus tips to help hiring managers identify and hire the best inside sales candidates.
1. Accurately Define The Performance Factors For The Sales Role
Even when your candidates possess the four non-negotiable skills, they may need additional competence in key areas.
Define what those are — phone sales skills, writing, etc.
2. Determine what skills you are willing to help a new hire learn
The odds are that you won't find the ideal, dream candidate, so you must be ready to compromise.
Are there skills that you are willing to help the right candidate cultivate?
3. Conduct A Phone Interview With Those Candidates Whose Resumes Stand Up To Your Scrutiny
This conversation isn't just the typical HR interview.
You, the sales manager, should perform a phone interview to get a general feel for the person's phone presence.
If they can't deliver during a phone interview, how well will they perform in your inside sales job?
4. Allow The Candidate To Interview One Of Your Top Performers In The Same Role
This reverse interview allows the potential employee to understand the role and know whether they really want this job. You'll recognize a truly great candidate as they will ask the right questions that reflect their more profound understanding of an SDR role.
5. Run Through Simulations To Test Drive A Candidate's Skills
A crucial step in building your dream sales development team is to test their skills with a practical task.
What you want from your SDRs in this portion is a high level of clarity, persuasion, and great attention to detail.
Since emails and voicemail tend to be SDRs' preferred form of communication, use these two tasks to narrow down your choice:
Prospecting email – Have your SDR candidates identify a company or person they think would be a good target for your product or service.
Instructions: Have them conduct research of the company and find the decision-maker you can contact, draft a personalized email to them, use a simple and effective subject line, then add a clear CTA to book a phone call with this person.
Voicemail message – Say the person they emailed responded and left their number. But they call back and get the voicemail. Use this as an opportunity to check out your candidate's voicemail pitching skills.
Instructions: The voicemail should be 45 seconds or less. Make sure to mention the email you previously sent, have a clear next step in the voicemail, and remember to leave your phone number.
Don't forget to take notes on their performance!
6. Check Whether a Candidate Can Follow Their Own Plan
Request a one-page plan from the candidate that outlines how they will prepare to succeed in the role.
Ask the individual to set the due date.
If a candidate can't follow instructions (a one-page plan) and deliver on their own timetable, then that person probably isn't right for the job.
7. Take Calculated Risks
You've heard the old adage, "Hire for attitude and train for aptitude."
While you can go with the "safe bet" candidates who fit exactly what your inside sales talent needs in terms of skill and experience, you have to be willing to take calculated risks on potential hires who show tremendous potential.
At a minimum, though, make sure you're hiring world-class listeners. If a potential hire listens and asks great questions during an interview, they have part of the foundation to become a top-notch inside sales rep.
The bottom line is – make your organization a place where serious talent blossoms.
Not everyone will be where they should be when you hire; the key is finding those on the verge of greatness.
8. Give Mental Promotions
See team members as being one role ahead of where they are today and treat them as such.
Give people some of the responsibilities you know they want to have but are technically designated for someone in a higher position.
Monitor how they perform and put your belief in them; you'll be surprised how many people rise to the occasion to meet your standards for inside sales talent.
9. Offer Referral Incentives
Jim Rohn famously said that we are the average of the five people we spend the most time with.
If that's true, we need to make sure our best employees are bringing in like-minded people.
Chances are, if you've got someone who is excellent at what they do, they are also surrounded by lots of other people who are great at what they do.
Make sure to incentivize them to invite other high achievers to the company.
10. Define Your Brand Online
When someone becomes interested in working for your company, the first thing they're going to do is Google your company and see if there's any information about what it's like to work there.
Do you have a dynamic company and call center culture?
Have employees at your company gone on to do great things elsewhere?
Write about it on your company blog or another platform. When people start looking for evidence that your company is a great place to work, make sure it shows up.
11. Hire In Groups If Possible
While it might not always be possible given the size of your company, hiring in groups has some significant advantages.
Having a group of new hires coming on at the same time can create an amazing environment for peer-to-peer learning.
New hires' ability to share tips and even commiserate to a degree with fellow new hires can increase their success rate and help lay an early foundation for trust and teamwork.
Advertising to and Attracting Passive Candidates
How and where you advertise a position can make a big difference in candidates you attract.
Of course, all inside sales teams want the most talented reps, but drawing their attention is an art.
Many of the most successful candidates are already working and not actively looking for a job.
They're called passive candidates.
According to some stats, 70% of the global workforce are passive candidates, which means that you have one big pool of talent to tap into.
You can attract them by letting them know that the grass is greener on your side. Stay in front of these sales reps in a positive light, and they will notice your company.
So maybe later, when you make an offer, they won't refuse.
You can stay in front of passive candidates by putting ads in the places they frequent.
Placing an ad in industry-related groups or LinkedIn usually produces more qualified candidates than generalized job sites like Monster and SimplyHired.
You can also use Facebook, Twitter, and YouTube. Share information about your company and the job opening. Candidates can get to know you and your company on a personal level.
And don't forget about current employees. They can be active recruiters to spread the word about your company. The bottom line is to get creative and not just rely on standard job sites to attract the best candidates.
After you've found the best places to advertise, you have to ensure that your ad is enticing.
How do you attract the best candidates?
Write the ad as if you are speaking directly to the candidate.
What would they be interested in?
Besides the key requirements for the position, ensure that you address sales reps' main concerns: opportunity, earning potential, training, professional development, business culture, etc.
Money Talk$ -Don't Be Cheap!
Want to pay the bare minimum for your SDRs? You get what you pay for!
There's a reason high-growth companies are more successful — they invest in products and people that get them to where they need to be.
To reign in the right sales talent, let your benefits do the talking. And I'm not talking about a beer or snack fridge — to get the best, you need to offer the best.
What benefits set your company apart from other sales employers?
Your potential SDRs will want to know about your compensation package, commission structure, bonuses, sick and PTO days, 401(k) options, health benefits, autonomy over their work, and more.
With the right approach, you can make talented SDRs eager to work at your company. And once you've hooked them, get ready for a bigger pipeline for a broader sales team.
Want to learn how to hire a sales team that can deliver?
Lee Salz spent time with VanillaSoft to create two webinars to help hiring managers hire inside sales talent and onboard sales reps. If you'd like to hear terrific tips and insights on hiring, view these webinars today.
Getting Your New Hires Up to Speed
You've evaluated and found the perfect candidates for your sales team. The first 90 days and onboarding process are crucial.
The first 30 days are about learning.
After the initial training session, set up a mentoring program.
Let new sales reps shadow the mentor for observation and to ask questions.
This should include practicing your company's standard presentation, observing the mentor and other salespeople, and spending time with management and in sales meetings to review accounts.
Before new reps can begin the onboarding process, they need the correc­­­t tools.
Having an easy-to-use and efficient sales CRM system available after training can shorten the sales floor's transition.
It's one less thing for the new trainee to worry about. This can make a difference in sales reps' performance. Sales CRM software like VanillaSoft lets you save time and money on training new employees because it is easy to operate.
Sales reps will feel comfortable, and­ can be up and running in as little as 15 minutes when ready to sell.
So, Instead of spending time learning the software, they can concentrate on selling.
Track Progress with Monitoring and Recording
After the training session and onboarding period, it is important to monitor new sales reps' progress to ensure that they understand what was learned in training and how they're progressing during each sales cycle stage. Measuring overall performance will identify the strengths and weaknesses.
Gain New Insight with Real-time Calling Statistics and Reporting
VanillaSoft offers a call-activity dashboard so you can quickly and easily monitor a sales rep's performance.
See real-time calling statistics for each sales rep, broken down by lead source, call result, or result group.
You can directly impact new customer interactions as they happen with live monitoring and eavesdrop. Also, easily record calls for later review and to use in retraining sessions.
This is a valuable tool to teach sales reps about what happened during the call.
And when combined with the VanillaSoft Web reports feature, you can easily see historical data broken down by sales rep, last call information, and more.
Measure the Right Sales Success Indicators for High Performance
Once new sales reps are ready for the sales floor, give them reasonable goals and sales quotas to achieve.
Measure their progress with indicators. An essential part of creating a high-performance sales team from new trainees is to measure the right indicators of sales success and progress.
It's not just a numbers game: number of calls, time on the phone, etc., which drives sales. Though these are important, it's the quality of calls that make the sale.
Things like making sure that sales reps call qualified leads, knowing how to overcome objections, and engaging conversations are vital to your team's success.
Coaching and measuring these key performance indicators without the right sales CRM software can be a daunting task.
Managers can spend more time collecting data than analyzing and reviewing information.
VanillaSoft offers a comprehensive suite of tools to streamline the evaluation process and make creating high-performance sales teams easier. Its dynamic reporting wizard gives managers visibility to let them ­­­­­know what's going on at each stage of the sales cycle.