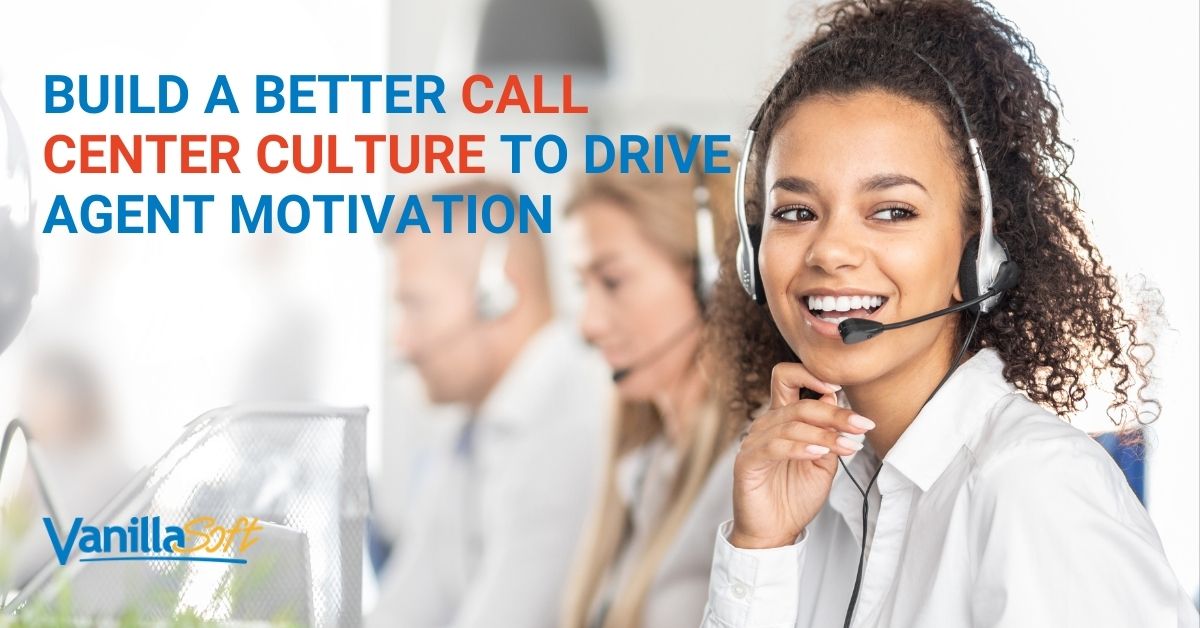 A company's call center is often the front line in customer service.
For many organizations, it is the primary driver of booking appointments or making sales.
With such an important role, it seems like this department should have one of the most rigorous hiring, training, and employee retention programs. However, many of us know this simply isn't the case.
It may be an issue of perception about the role of the call center agent and its importance to the company.
Maybe it's just a matter of budgetary limitations. Whatever the case may be, it's time to kick your call center culture, motivation, and training to the next level. Your call center should be considered an investment – not merely an expense.
Define Your Call Center Culture
You may not have the bandwidth or influence to change your entire corporate culture, but you can take small steps within the call center itself.
Formally defining the call center culture can improve productivity and start shifting upper management's perception about your department.
What makes up any culture?
People with similar traits and values united around a common purpose who share a common language, customs, and symbols. At a big-picture level, this is where you need to start.
Why?
People who have a common set of traits and values will likely work in harmony toward the larger organization's goals.
To achieve this you should define the characteristics of an ideal call center agent and hire for those attributes. In the long run, you get a better ROI on your hire when you select the best-suited individual rather than just any warm body to fill the position.
Also, employees trained to use the same language and customs – procedures, in other words – will be better equipped to meet sales goals.
Try formally defining your sales and lead management processes, and training new hires on these processes. Also, it's essential to familiarize new employees on how to accurately talk about your product or service beyond the call script, and ensure they understand any specialized or industry jargon your customers may use.
Finally, symbols and symbolic gestures will reinforce brand values, motivate call center agents, and reinforce desired behaviors. Symbols and symbolic gestures include everything from marketing collateral to the sales tools you provide to rewards you give for performance.
That's the reason why you should identify symbols that support your department's goals and values. Symbols should reinforce and encourage your brand as well as employee behaviors.
Take time to think about what you want your call center culture to embody, then begin taking action to build it.
Prevent Call Center Agent Burnout
Your call center reps are frequently dealing with problems and get in touch with unhappy or annoyed customers.
It can slowly erode their enthusiasm and motivation as well as lead to burnout. No wonder call centers have a notoriously high turnover rate between 30% and 45%.
The risk of burnout in call centers balloons during a crisis, and according to research, it reaches 74%. The reason behind all these underwhelming stats boils down to unrealistic expectations placed on call center agents and high call volumes. In other words, call center reps are supposed to be happy, positive, patient, helpful, and empathetic, and living up to all these expectations is challenging, particularly when a crisis hits.
Don't let your agents fight this battle alone. It's critical to show them your support and help them overcome these challenges.
Prioritize stress management
Taking breaks and leaving right after the shift ends can significantly reduce the likelihood of burnout in your call center. Show your support team that you value their personal time, and instruct them never to take a call when they should be having their regular lunch or any other break.
Respecting their personal time will give them some breathing space and allow them to destress and decompress.
Update your office policies to reflect your determination to keep call center agents happy and healthy. Working from home, breaking shifts into several time blocks, and offering healthy snacks can be a great way to show them that you care.
Offer manager support
Your call center reps have a lot of challenging calls every day, and every one of them takes its toll on their mental health and motivation. While working from home is a good idea, it still has to be properly organized so that your support team gets all the support from managers.
Ensure that managers are available so that support reps can reach out to them if they need to talk about a particularly difficult situation or need guidance.
A study by Gallup says that the likelihood of suffering burnout drops by 70% in employees who get support from their managers.
Provide regular feedback
Customer support reps need regular feedback from their managers. If that's not the case, they will be in the dark regarding their performance, leading to stress and burnout.
Every time a manager touches base with an agent, they should tell them what aspects of their work need improvement and praise their performance and dedication. This way, your team will know exactly what habits to change, what mistakes to correct, and what good things they should focus on.
As a result, they will develop a good work ethic and build good habits, which will, in turn, make them more productive and successful while keeping stress and burnout at bay.
Build Your Call Center Culture to Motivate Agents
All that "culture" talk can sometimes seem like a lot of "warm and fuzzy" mumbo jumbo.
However, there are very real actions and outcomes that will help position the call center as an area for investment.
Hire the right people
When you hire individuals who are the right cultural fit, you will see improvements in employee retention, recruitment, and individual performance.
The right hire will mesh well with the team and the brand promise.
They will be more likely to enjoy call center work and the industry you serve.
The right hire means better retention rates. Better retention rates can translate to better recruitment opportunities.
Your best hires can help attract like-minded recruits. Most importantly hiring for cultural fit also increases the likelihood for overall call center improvements and success.
What traits would an ideal call center employee have? Enthusiasm, curiosity, ambition, helpfulness?
Hire for the traits you want your representatives to have. Skills are important, too, but many skills can be learned. On the other hand, not all traits are easily acquired.
Provide the right tools
If you've dedicated time and expense to recruit and hire the right people, you need to ensure you provide the right tools and equipment to help them do their jobs effectively.
Agents struggling to hear what the customer is saying won't perform well. Invest in an excellent VoIP system and quality equipment that help agents hear and be heard clearly.
Reps who can't quickly determine the next best lead to call will have low call rates. Provide a sales call management platform that takes the guesswork out of "who to call next." Your system should automatically route the next best leads to agents to call.
Make some actions effortless for your agents. Provide solutions such as progressive or preview auto-dialing, voicemail drop, and email templates available to increase sales productivity.
Take time to coach and train new hires and old pros
As the call center manager, it's up to you to get the best performance out of your team every day. Taking time to mentor and train new hires and existing employees is an essential part of that effort.
Develop a new employee orientation program for your call center agents. Include product training and sales software and procedures training. Also, assign a team "buddy" or mentor, and check in with new hires to see how things are going.
Invest in external training programs when possible to expose agents to new ideas and industry best practices.
Conduct in-house training and role-playing sessions.
Use technology that allows you to monitor calls your new hires are making. Consider technology that allows you as the trainer to have one-way communication with the caller to help him or her through a tough call.
Invest in software that lets you record calls and tie them back to contact records; this gives you the opportunity to recordings for coaching.
Communicate expectations so everyone understands not just procedures but desired outcomes. Let the team know – and access – information on key performance indicators.
Recognize and reward success
Even a team full of ambitious, self-motivated individuals can benefit from recognition and rewards. There are a variety of ways to implement rewards at the team and the individual level.
Use team outings, parties, and tokens of appreciation (branded apparel or gifts) to foster a sense of belonging and commitment.
Celebrate employee milestones (years of service, promotions, etc.) to demonstrate the value you place on individual contributors
Hold sales competitions to drive agents to excel.
Recognize an "Agent of the Week/Month" to highlight desired behaviors and success drivers.
Applaud team accomplishments and milestones to show the company's appreciation of success.
Are You Creating a Culture of Motivation for Your Call Center?
Sales by phone is hard work.
You hear "no" many more times than you hear "yes."
While that's a given, it doesn't mean that it doesn't still run even the best call center agents down from time to time.
A call center culture focused on hiring the right people, preventing agent burnout, conducting continual training, providing the right tools and equipment, and rewarding sales efforts will inevitably be productive.
What specific ways are you creating a culture of motivation?
Share your thoughts in the comments below.