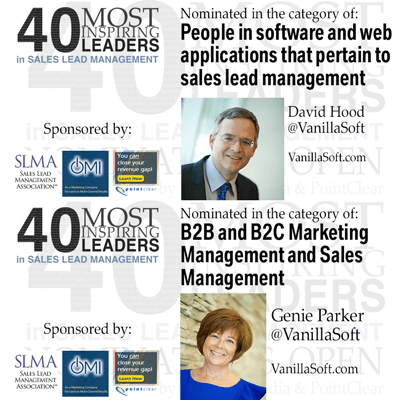 The annual recognition program is sponsored by the Sales Lead Management Association (SLMA)
November 9, 2015 — (Plano, TX) — VanillaSoft, an award-winning provider of queue-based lead management and appointment setting software for Inside Sales Teams announced that both David Hood, CEO, and Genie Parker, COO, have each been nominated as one of the "40 Most Inspiring Leaders in Sales Lead Management for 2015," in the Sales Lead Management Association's annual election.
James W. Obermayer, CEO of the SLMA, said, "The complicated nature of sales lead management using new tools and sales processes requires unique leadership capabilities and we enjoy recognizing those who take the sales lead management mantra into the market place."
"I feel honored to be nominated as an inspiring leader in the field of sales lead management, and it's exciting to be recognized with other influencers in the world of sales," said Genie Parker.
David Hood echoed Ms. Parker's sentiment by stating, "Both Genie and I are pleased to receive nominations from our peers. It's important to us as sales software leaders that we connect with the customers we serve."
This year, SLMA's seventh annual election has a nomination period of October 1 through October 31, followed by a voting period from November 6 through December 6.  Only members of the SLMA may nominate people they think deserve recognition (membership in the SLMA is free).  On December 15, the 'Inspiring Leader winners will be announced in the order of highest votes received in four categories.  The complete rules for nominations, as well as nomination forms, are available on the SLMA site.
About VanillaSoft 
VanillaSoft is the award-winning Lead Management Software and CRM solution for phone-centric selling. VanillaSoft enables thousands of individuals and sales teams to do more than store their data and report on it like traditional CRM. VanillaSoft customers drive productivity by deploying an award winning Best-in-Class feature set which includes next-best-lead routing, progressive dialing, on-board intelligent messaging, integrated e-mail, real-time lead distribution, live dashboard and digital call recording.
With VanillaSoft, typical users realize a productivity increase of 30% to 100% over traditional CRM, creating an easy to justify ROI. VanillaSoft dials over existing phone systems or VOIP meaning no new or high fees for telecom. VanillaSoft is based in Plano, Texas, where it has served a global client base since 2005.
About the Sales Lead Management Association
The mission of the Sales Lead Management Association is to help companies become successful in the critical business process of managing sales leads.  The SLMA has 8,200 worldwide members, 300-plus articles from 60 authors, and interviews with 345 executives achieved from the SLMA weekly radio program. For more information about SLMA call Sue Campanale at 360 933 1259