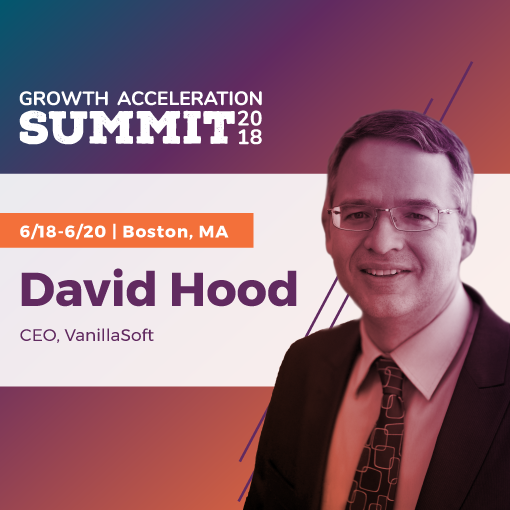 Plano, TX (June 18, 2018) – VanillaSoft, a leading sales engagement technology company, is pleased to announce that CEO David Hood will be a featured speaker at the ZoomInfo Growth Acceleration Summit, taking place June 18-20 at the Intercontinental Boston.
The Growth Acceleration Summit is geared to B2B sales and marketing leaders and features inspiring keynotes and informative breakouts presented by over 35 of the industry's foremost experts and thought leaders. David joins other high profile industry-leading speakers such as Tiffani Bova, Neil Patel, Michael Brenner, Trish Bertuzzi, and Matt Heinz.
In his session, "Slow Down, You're Moving Too Fast: How the Right Data Can Help Improve Your Sales Process", David will share findings from the largest ever academic study of sales data, recently undertaken by the Telfer School of Management at the University of Ottawa in partnership with VanillaSoft.
David Hood, Chief Executive Officer at VanillaSoft, said: "There are certainly varying opinions in the industry when it comes to sales cadence and lead response times. I am looking forward to sharing the findings of the study we have undertaken alongside the Telfer School, and to engaging in what I think will be an animated discussion with the session attendees who may not all agree with the findings, but who will all come away with some new insights from the session."
For more information on VanillaSoft, visit www.vanillasoft.com.
About VanillaSoft
VanillaSoft, the industry's most successful sales engagement platform, helps sales development teams engage over 10,000,000 contacts every month. Used standalone, or in combination with existing traditional CRM systems, VanillaSoft empowers sales reps to respond to new leads faster, interact with leads more consistently, across more channels, and generate more qualified sales opportunities. Globally, thousands of users employ VanillaSoft's queue-based sales engine and intellective routing to implement sales cadence automation resulting in substantial gains in speed-to-lead, persistency, productivity and revenue-per-rep. VanillaSoft is a privately held company headquartered in Plano, Texas, USA. To learn more, visit www.vanillasoft.com.