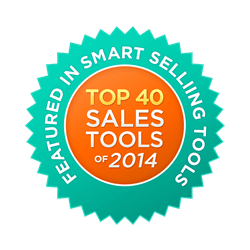 Plano, TX (May 6, 2014) – VanillaSoft, the award-winning provider of cloud-based CRM & Lead Management Software Solutions for Inside Sales Teams, is pleased to announce its inclusion in the Top 40 Sales Tools of 2014. The Top 40 Sales Tools is an annual list from Smart Selling Tools designed to provide guidance on the best sales and marketing tools for driving revenue.
Smart Selling Tools evaluated sales software and solutions across 12 different categories.  VanillaSoft, a multi-year honoree in the Inside Sales category, is this year's only selection for this category. Smart Selling Tools' Nancy Nardin adds, "Why We Like VanillaSoft: VanillaSoft brings together the very best of CRM, Lead Management and Call Center related tools – the three essential elements for driving sales productivity – into one solution."
Kevin Thornton, VanillaSoft Executive Vice President of Sales & Marketing, said, "We are honored to be included in this list of elite selling tools. VanillaSoft is committed to providing best-in-class tools to Inside Sales organizations and appointment setting professionals who engage prospects and customers by phone. VanillaSoft's Call Scripting, VoIP Integration, Progressive Dialing, SmartCaller ID, Email Marketing, and Lead Nurturing features provide powerful tools for improving sales efficiencies and increasing overall productivity."
ABOUT VANILLASOFT
VanillaSoft is the award-winning Lead Management Software and CRM solution for phone-centric selling. VanillaSoft enables thousands of individuals and sales teams to do more than store their data and report on it like traditional CRM. VanillaSoft customers drive productivity by deploying an award winning Best-in-Class feature set which includes next-best-lead routing, progressive dialing, on-board intelligent messaging, integrated e-mail, real-time lead distribution, live dashboard and digital call recording.
With VanillaSoft, typical users realize a productivity increase of 30 to 100% over traditional CRM, creating an easy to justify ROI. VanillaSoft dials over existing phone systems or VOIP, meaning no new or high fees for telecom. VanillaSoft is based in Plano, Texas, where it has served a global client base since 2005.