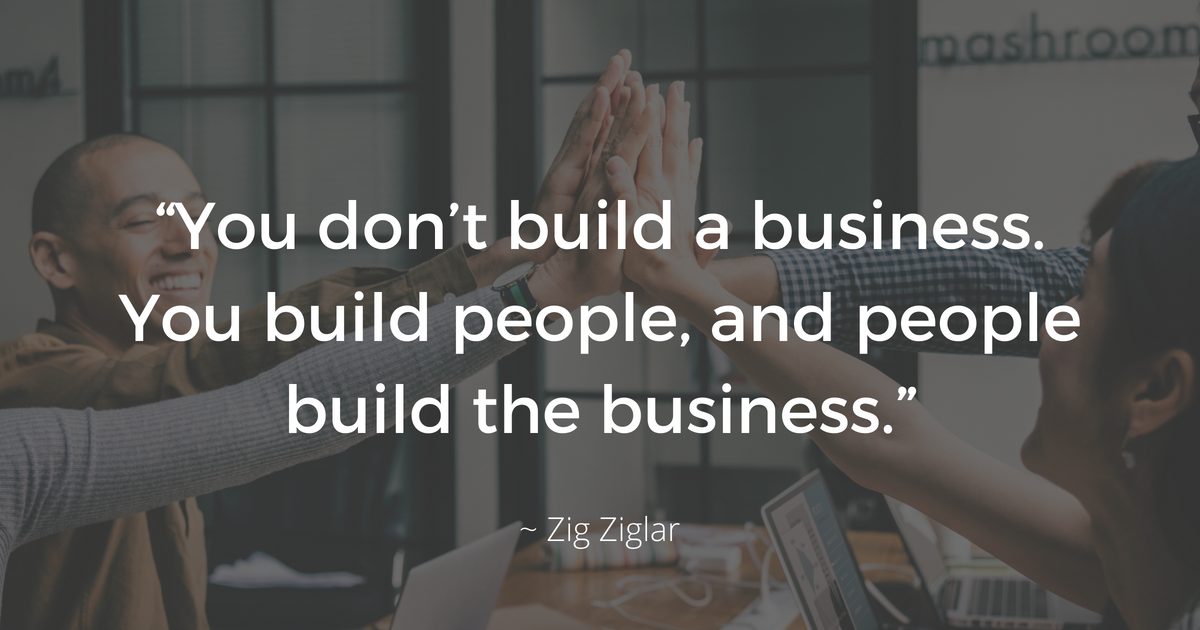 Engaged employees can reduce costs. Keeping your sales development reps (SDRs) engaged is key to your bottom line. Some ways to keep your SDRs engaged and motivated: foster competition, provide processes and tools, reward performance, visualize results, provide training and mentoring, and remember to say "Thank You!"
---
"You don't build a business. You build people, and people build the business." -Zig Ziglar
I love this quote because it speaks to the core of how you should be running your company, especially when it comes to your sales team. Employee morale is key to seeing positive results to your bottom line. Are you motivating your SDRs?
Productive sales reps who are committed to the goals of your company and motivated to deliver great work will produce results.
Organizations with high employee engagement outperform those with low employee engagement by 202%. (Business2Community)
Disengaged employees cost organizations between $450 and $550 billion annually. (The Engagement Institute)
Highly engaged business teams result in 21% greater profitability. (Gallup)
Companies with engaged employees see 233% greater customer loyalty and a 26% greater annual increase in revenue. (Aberdeen)
Disengaged employees cost organizations between $450 and $550 billion annually. 😧Learn how to motivate your inside sales team. #SalesTips #SalesLeaders #SalesMotivation
Click To Tweet
As you can see, employee motivation is imperative to the success of your company. So, let's take a look at some ways you can kick up the motivation on your sales team.
Foster Competition
Most sales reps are competitive by nature. Top-performing reps have an overwhelming desire to compete and, more importantly, to win. Fostering this competitive nature can drive your team not just to meet your expectations, but smash them. Some businesses have seen sales increase by more than 200 percent simply by fostering a competitive atmosphere.
Start by developing concrete metrics that your reps can use to evaluate themselves and crown a winner. Sales numbers are an obvious and easy figure to measure, but being more creative can help flesh out your team's performance and give opportunities for more members of your team to enjoy the high of winning. If you can conceive of a way to measure it, you can drive your team to excel in the category. Possible metrics include:
Total Number of Calls
Likes on a Sales-related Social Media Post
Emails Sent
New Leads Found
New Accounts Opened
Number of Accounts Reactivated
Call-to-Sale Ratio
Size of Orders
There are so many different ways to create competition with your SDRs. However, a word of warning is necessary when fostering competition: for every winner, there are many more losers. You want to celebrate success but not punish those who don't win. As long as each of your team members are meeting your expectations, don't give them a hard time.
Provide Process and Tools
Although most salespeople have their own selling style, there are definitely aspects of the sales process that they shouldn't have to figure out for themselves. Setting up a uniform sales process and providing tools to address common sales situations can reduce unnecessary tedium, increase efficiency, and maintain motivation among your sales team.
92% of employees say that having the technology to do their job efficiently affects their work satisfaction. (Ultimate Software)
92% of employees say that having the technology to do their job efficiently affects their work satisfaction. 😁👍How do you keep your #SalesReps motivated? #SalesEngagement #SalesLeaders
Click To Tweet
Creating a repeatable sales cadence for a new sales lead will reduce uncertainty and make it easier for your team to keep their motivation high. With fewer questions to ask before starting each contact attempt, your reps will have fewer opportunities to invent a discouraging thought. Streamlined follow-up processes, such as emails or text messages created from existing templates, will reduce the mental strain associated with the sales process and increase adherence to good sales practices.
Implementing a sales engagement solution can help improve sales rep motivation by taking some of the tedious tasks off the sales reps' plate so they can focus on selling. Having the right processes and tools in place is imperative to creating an environment your sales team can thrive in.
Reward Performance
Selling is one of the more challenging jobs that most people will ever do. Most contact attempts don't end in a sale, customers can be demanding, tasks are often tedious and repetitive, and competition can be fierce.
When your sales reps perform up to expectations, reward their performance to keep motivation high. Motivational incentives can go beyond financial compensation; other rewards, such as public acknowledgment, free lunches, flexible schedules or extra time off, can also be excellent motivators. If possible, tailor these rewards to your individual reps, and allow them to choose between different options. Different things motivate each of your team members, so don't expect the same approach to inspire all of your employees equally.
70% of employees say that motivation and morale would improve massively with managers saying thank you more. (Reward Gateway)
70% of employees say that motivation and morale would improve massively with managers saying thank you more. 💯😊#SalesLeaders don't forget to thank your #SDRs!
Click To Tweet
Yes, it can be as easy as saying, "Thank You!"
Keep rewards attainable and equitable. If first prize is a Cadillac, second prize is a set of steak knives, and third prize is a pat on the back, don't be surprised if many of your reps don't get motivated. Your reps often know where they stack up in comparison to one another, and those who don't believe they have a chance at winning are likely to check out when rewards are imbalanced.
Visualize Results
When trapped in the doldrums of constantly calling and emailing new leads, it's easy for your sales development reps to lose sight of the bigger picture. Losing focus is especially easy for new members of your team who won't have prior experience with your sales environment to fall back on. Tracking your sales team's performance and sharing the results in a visual format can help your reps appreciate the impact of their actions.
80% of employees felt more engaged when their work was consistent with the core values and mission of their organization. (IBM)
Help your SDRs understand the overall mission and goals of your company and your sales team. Charts, graphs, and spreadsheets can bring your team's performance to life and provide a clear picture of goals. For new reps, you can relate their early performance to some of your team's top performers to help them keep their motivation high as they build their sales pipeline.
For your established reps, visualized data can help identify areas that they can focus on to improve their performance. Regardless of where your reps are in their careers, visualized feedback empowers your reps and helps them develop strategies to enhance their sales; with an active plan of action instead of aimless calling, your reps will be motivated to attack their leads.
Provide Training and Mentoring
Far too many companies expect salespeople to figure out selling on their own. Instead, businesses should consider investing in sales training to keep positivity high, increase retention rates, and improve sales. Selling is a skill, and just like any other skill, it can be taught.
When you hire new reps, get them started on the right foot. Make sure your onboarding process sets your sales reps up for success. Equip them with the knowledge, tools, and mentors they need from the get-go to create a motivating atmosphere.
53% of HR professionals say employee engagement rises when onboarding is improved. (SilkRoad)
There is no shortage of resources for teaching sales techniques. Books and websites about selling are abundant; with a bit of research, you should be able to find books that support your vision for your sales team. Sales seminars can also help your team members develop new skills. Role-playing can teach your team members to think on their feet, and going over common sales objections ahead of time can give your reps a ready-made answer when they encounter that objection in the wild.
Individual mentoring can also help your SDRs improve their skills. Your experienced team members can help coach newer members on how to speak to customers, provide valuable product knowledge, and set reasonable expectations to keep your team members from getting discouraged over momentary slow sales. If possible, monitor your team's communications so that you can also provide valuable feedback to your team members.
Final Thoughts
Inside sales can drive revenue growth for your company, but an unmotivated team won't live up to their potential. Don't forget, you need to stay focused on building your people, and they will build your business. Keeping your sales team motivated will help them to overcome the daily challenges they face and enjoy the benefits of a rewarding sales career.