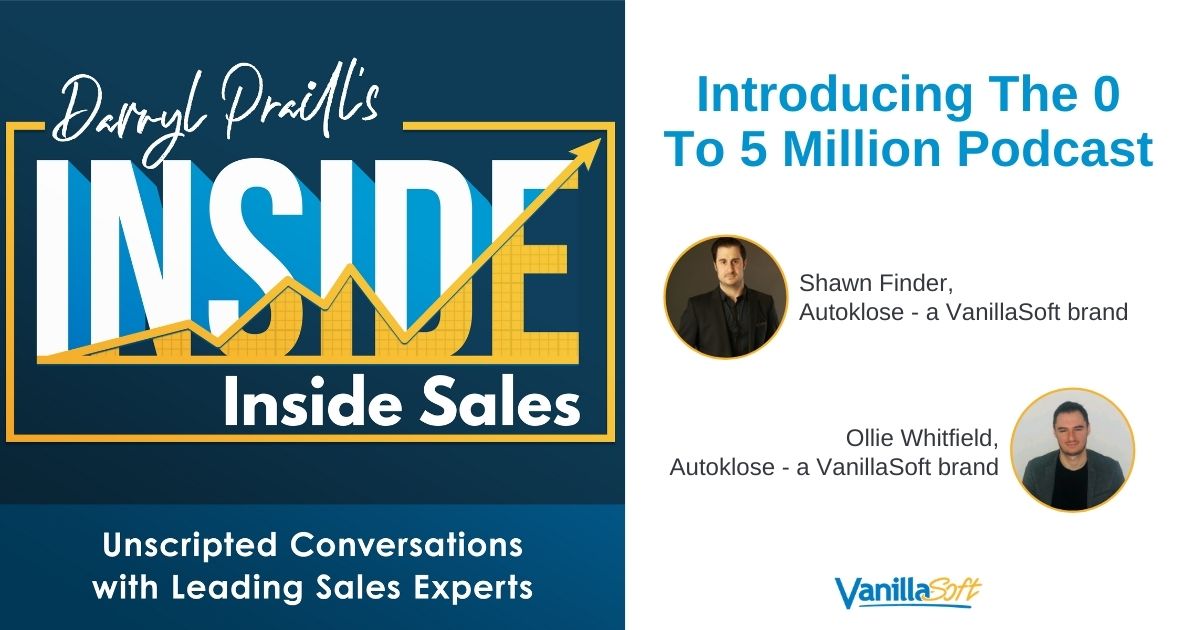 Have you ever wanted to become a full-time entrepreneur? What about a successful business owner?
In this podcast-within-a-podcast episode of INSIDE Inside Sales, Darryl shines the light on The Zero to Five Million Podcast, hosted by two sales & marketing experts, Shawn Finder, Sales GM at Autoklose, and Ollie Whitfield, Product Marketing Manager at Autoklose. This seasoned duo welcomes successful business founders to their show to help you decide where to invest, how to pick the best channels, scaling your business, and may even prompt you to revisit your career path. You know that learning is earning, so subscribe now to expand your knowledge and hear first-hand experiences from people who have made it.
WATCH/LISTEN/READ
---
RECAP

From HubSpot VP to Startup CEO: Peter Caputa on Growing Databox to $4M ARR
Are you an SDR, BDR or AE with dreams of founding your own successful business? The sales skill set you're building now is invaluable for your career growth at every stage.  
Former HubSpot VP of Sales Peter Caputa spent nearly a decade growing that company into the $100 million juggernaut it is today. But he felt the entrepreneurial itch and left to serve as CEO of Databox –– and, for a time, its only salesperson.
Peter describes how he's leading Databox with a mission to create products that directly respond to its customers' needs, along with a content marketing strategy to grow the company with just a small team.
No matter how high up the organizational ladder you climb, you never stop selling. The skills you're developing now will not just be relevant, but they'll prove vital for the rest of your career. Just ask Peter Caputa. 

As one of the first employees at HubSpot, Peter was the brains behind its entire channel strategy. He spent nine years building that company into the powerhouse it is today. Then he left behind all that infrastructure, access to budget and capital, and cachet… to go back to a startup.
And although this time around he's the CEO, in his new role as head of Databox, he's back to selling again. 
On a special show-within-a-show episode of INSIDE Inside Sales, Peter drops by the Zero to Five Million Podcast to talk about his career trajectory, returning to the startup hustle after a high-powered position and why content marketing is the low-cost way to scale with small marketing and sales teams.
Lesson 1: Join early
Peter has been working in online marketing, as well as building and selling software, since the late '90s. He founded and bootstrapped a startup of his own until he met the founders of HubSpot. After they pitched him their vision, he decided to join them. 
"I think I was the 14th employee or something like that," says Peter. "I built out a big portion of their sales and marketing funnel around working with marketing agencies."
At HubSpot, he rose through the ranks to become VP of Sales. By that time, it was a public company, and Peter was looking for a new challenge. He joined Databox as CEO in 2017.
As he explains it, Databox helps companies pool all of their performance data into one spot, aggregating data from tools like Google Analytics, QuickBooks, HubSpot, Facebook ads and your own databases. The Databox platform allows users to set goals, track progress, and build dashboards (which the company calls "databoards"). 
It all adds up to a more "data-driven culture," says Peter –– which can help businesses improve their metrics and scale more efficiently. 
Over the last four years, Peter and his teams have grown Databox to nearly $4 million in ARR. Having built HubSpot from $25,000 in MRR (approx. $300,000 annually) to $100 million in nine years, he's optimistic he can do the same again.  
Lesson 2: Do your due diligence
The three founders of Databox –– Andrej Zitnik, Davorin Gabrovec, and Vlada Petrovic –– hail from Slovenia. They "flew over here with no plan, no apartment, and no funding," says Peter. "They ended up getting into Techstars and incubating the product." 
Andrej, Davorin, and Vlada found some early success after that. They raised a $3.3 million seed round in 2015 and closed several big deals with Fortune 500 companies, mostly in Boston, to do mobile analytics –– "pulling data out of systems and letting executives track it on their mobile phone," Peter says. "Back then, that was, like, the hotness."
In the mid-teens, "everybody thought mobile would take over the world and eliminate the need for desktop," he reminds us. "So the value prop worked. Unfortunately, Databox started growing out the go-to market team and it didn't work."
When he joined the company, it had just pivoted to a self-service model where anyone could sign up for the free version of the product and start using it right away. 
At that point, there were only a few handfuls of people left at Databox.
"They slimmed it down after they had that first shot that didn't quite work," says Peter. "They slimmed it down to a very small team. There was one support/QA person, along with 11 engineers and product people."
The first thing he did was get on the phone and start talking to prospects. 
"I had done some due diligence on both the product, the company, and the investors –– all of that," he says. "So I had already started introducing Databox to a few of my close contacts at marketing agencies, and had them start checking it out." 
That's how Peter, as a newly minted CEO, could start with momentum.
Lesson 3: Build a problem-solving team
Hiring the right people for your team is critical.
As Peter introduced Databox to agencies, he quickly discovered that many of them were doing manual reporting –– "literally pulling data from different systems into spreadsheets, taking screen grabs, putting them into a slide deck, and sending them to clients." 
Seeing how Databox could help, he began pitching agencies on automating that process. 
"I think in the first month, I closed maybe 10 or 15 of those deals. We weren't charging a whole lot then, but I could get them on board," Peter says.
Then he hired two people to focus on marketing and customer onboarding/success. It was just the three of them for a little while, but then he "got lucky" when a senior sales pro from HubSpot was looking for something new. Peter hired him, and Databox added a few hundred customers within a year. Soon he hired a director of marketing, and the company began its laser focus on content marketing as the main driver of its marketing efforts. 
Today, Databox employs 55 people, a little more than half of whom are engineers. More than 50% of its head count has always been in product, says Peter.
Before he joined, the company had already invested about a million dollars in "the kernel of a product, the most important part of the product," he says. Since then, "we've drastically improved the feature set, the UI and the UX." 
But the remarkable aspect of Databox is its 70 integrations (with platforms like Salesforce, Twitter, Stripe and GSuite) it built in-house and continues to manage. That's up from 10 core integrations when Peter arrived at the company.
About a third of Databox's employees work in customer support. A three-person sales team and a five-person marketing team are boltered by freelancers who write much of the marketing content. 
Lesson 5: Content is king
The marketing team uses those solved problems to generate content. Databox publishes about 12 pieces of content each week, including video and long-form articles. 
"Obviously, coming from HubSpot, I'm a big believer in content marketing," Peter says. "It can be a huge driver of any business. I think it scales well because an investment today has a long-term return, not just a short-term return. But what I really love about Databox is that our content marketing could be so broad. We can write about Google Analytics one day and QuickBooks the next."
That gives Databox's marketing team "a massive, no-limit potential we can address."
That content drives about 4,500 signups for the free product every month, he says. The company doesn't spend a dime on ads. 
There's always room to grow, though. Just this past quarter, Databox juiced its SEO with a refresh of all its product pages. They're much longer now, and every one has a video, images that demonstrate how to use the product, multiple calls to action, FAQs, and a before-and-after "value prop story." 
These product pages "are a gold standard," Peter explains. "And they popped."
They skyrocketed from the second or third page of search results for high-key, high-volume, high-intent keywords to the first page ––  "literally two days after we relaunched them," he adds. "So we're still improving."
This article is based on an episode of The Zero to 5 Million Podcast. Hosts Shawn Finder, Sales GM at Autoklose, and Ollie Whitfield, Product Marketing Manager at Autoklose interview entrepreneurs about their journey from the ground up to the top of their game. Guests share insights on where to invest, how to pick the best channels, scaling a business, and more. They may even inspire you to start a venture of your own.