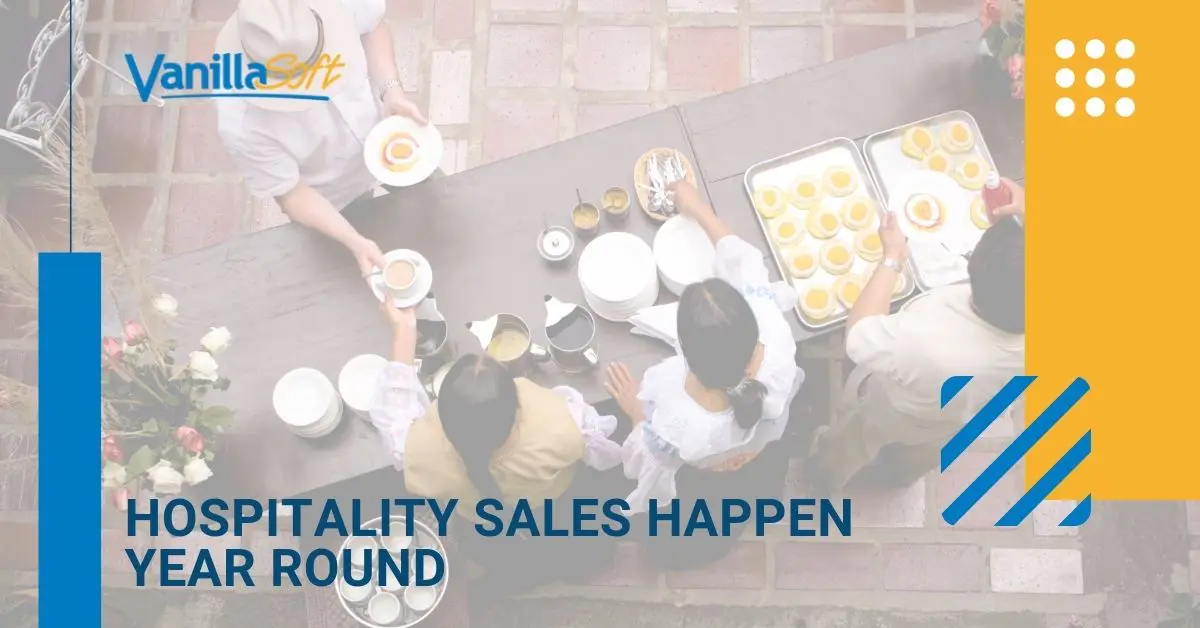 When you are in the Hospitality business, you know that it's important to sell all year long regardless of the season. There are several ways to keep rooms and services booked in advance when you provide your team with the right sales & marketing tools. Let's review some of them now.
Make the Most of Digital Marketing Tactics
Website
In the months building up to your peak season, you probably have an influx of visitors researching your business. Make sure you have incorporated best-practice Search Engine Optimization (SEO), engaging content, and web forms to capture inbound leads. Make sure these leads immediately route to an inside sales person for follow up – the first person to respond to a lead typically gets the sale. Beat out the property down the street by calling the potential guest back first. There is a quote about 50% of sales go to the company that responds first to add here
Email
All year long you should have a good email outreach plan in place. Here are the different ways your lead management solution should put email to work for you to keep your facility busy all year long:
Automatic email responses to web forms.
Lead nurturing campaigns to keep in touch with patrons and prospects year round.
Email marketing for sending out specials and incentives to your segmented lists.
Emails to guests who just completed a visit with a request for a review.
Ability to send one-to-one emails from reps to prospects.
Each of these different email scenarios play a role in engaging potential guests and returning patrons. Does your current sales enablement solution provide all of these?
Social Media
With an increasing number of your visitors participating on social media, it's more important now than ever that your sales team listen for opportunities to engage and sell via social media. With the right inside sales software, your reps will be able to research prospects as well as reach out to them through social media. The new VanillaSoft Web Link Integration allows sales reps to open social media platforms to review customer profiles and perform other social media actions.
Make the Most of Your Data
With a queue-based lead management solution, you can take the data you have collected or lists that you've purchased and take your outbound sales follow up to the next level through highly relevant and targeted calling campaigns.
Here are just a handful of ideas of how you can create persona-based call campaigns:
Locals – offer local customers special discounts and packages during the non-peak season.
Holiday Patrons – provide early-booking specials to those patrons who historically book stays or visits during major holidays.
Repeat Customers – extend loyalty programs or incentives to repeat customers.
Corporate/Group – drive more large-event bookings through incentives for corporate and group bookings.
Niche – identify a niche your business can serve and generate awareness of these specialty services or amenities that aren't offered elsewhere (gluten-free menus in on-property restaurants, pet-friendly rooms with pet-friendly services, etc.).
With a queue-based lead management solution, you create workflows that help sales reps call the next best lead for each campaign. It lets them focus on execution instead of finding the right person to call for each calling campaign. Thanks to logical branch scripting functionality, agents can stay on message no matter what script he or she may use.
Conclusion
While each of your properties may have lulls in activity, your sales team needs to stay busy year round to keep rooms and services booked. A queue-based lead management solution will help you increase call productivity and keep your brand at top of mind with past patrons and new customers. The VanillaSoft platform incorporates email, progressive and preview dialing, scripting, and custom workflows to help you make the most of your sales & marketing efforts. Start your VanillaSoft free trial today to help ensure your properties are busy year round!