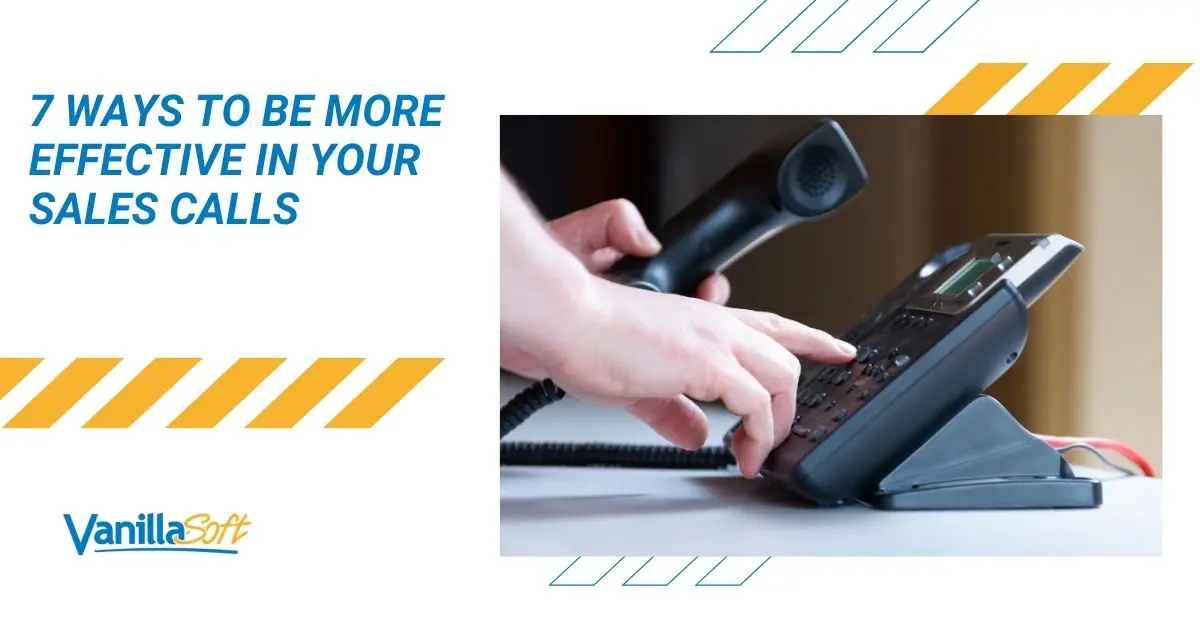 Even seasoned sales experts can sometimes still get nervous when making a first sales call to a potential customer. The truth is, most "first call" mistakes that salespeople might make are fixable in the long term if your first impression on your prospect is positive overall. In this post, we cover seven tips for more successful sales calls.
Tip #1: Develop rapport.
Rapport is simply a measure of how well you are able to connect with a prospect. A phone call does not permit either of you to see expressions, body language and other nonverbal cues. Since nonverbal cues can make up over 90% of communication you must be prepared to use your words and tone of voice to effectively compensate and be able to develop rapport from that first call.
Techniques to develop rapport:
Be very polite and courteous.
Know your stuff when it comes to the prospect's company and job role. Nothing kills rapport building more quickly then having to admit to a prospect that you haven't taken the time to at least look at their website.
Be prepared with short, open-ended questions you can ask to learn more about the prospect's needs. In order to be effective you need to solve a problem.
Be a GREAT listener. As Mr. Inside Sales Mike Brooks suggests, use the mute button after each question to force yourself to listen. On the initial call you should be listening much more than you talk.
Tip #2: Speak the prospect's language.
Even if you are new to the industry you are selling to, you don't want to sound like a "newbie" to the prospect. At the same time, you never want to oversell what you know. Use any gap you have as an opportunity to ask questions and get back to them with answers. Conversely, even if you are an expert in the industry, you want to remain humble and open to learn more from your prospects during your sales calls.
Techniques to help you speak the prospect's language:
Study the vertical you are selling into and learn their jargon and industry nuances.
Know the major problems and opportunities that companies like your prospect face.
Study up on current industry events and trends. When possible, have an industry report or statistics open on a browser or within a panel in your inside sales software to reference.
Even if you're new to an industry, you don't want to sound like a "newbie" to the prospect.
Click To Tweet
Tip #3: Tailor the pitch to the prospect's business.
Even if you don't know the precise nature of the prospect's needs before you dial, you can make some industry-specific assumptions to help move the initial conversation along as a part of your sales call strategy.
Tips on tailoring your pitch:
Make a list of the challenges other prospects have had to use as your starting point. Follow up with a case study. Inside sales solutions like VanillaSoft have a centralized repository of sales & marketing assets that help you immediately follow up with the right email template and collateral and tie that follow up to the call record.
Join (or start) a LinkedIn discussion group, organization or association to generate qualitative research.
Don't try to sound like you know everything. Be open to letting the prospect educating you about his or her needs.
Tip #4: Get past the gatekeeper.
One of your biggest challenges – especially when trying to reach executives – will be simply getting past the gatekeeper (receptionist, executive assistant, etc.) to actually speak directly with the prospect.
Here are some tactics recommended by Mike Brooks:
Say "please" – a lot.
Ask for the department the prospect works in rather than his or her name.
Ask for the gatekeeper's help to identify the right person to speak with.
Have ready answers for common barriers, such as "will s/he know what the call is in reference to?"
Most of all treat them with respect and as an equal. Remember their name. When you call back, engage with them and don't just treat them as an operator. Remember, they hold the keys to the gate and can make or break your sale very easily even after you have connected with your prospect.
Tip #5: Leave effective voice mails.
When your call goes to the prospect's voice mail, you have two choices: leave a message or hang up. If you are not prepared, you should consider the second option. Anything is better than leaving a garbled or rambling message for someone you have never spoken with before. Make a great first impression even with voice mail.
Tips for leaving an effective voice mail:
Keep it short and sweet (aim for 30 seconds or less).
After you leave your name, make sure to leave your number twice
Speak clearly and slowly in your normal tone.
Pose a specific question or offer intriguing information.
Consider using voice drop technology to leave the perfect voice mail message every time.
Tip #6: Practice for perfection.
One of the hands-down best ways to prepare for a sales call is to simply practice. Just as a superstar athlete trains and practices, a superstar sales rep should exercise his or her sales skills for continuous improvement.
Tips for practicing for perfection include:
Role play different call scenarios with a colleague.
Shadow another rep.
Listen to your call recordings to assess your strengths and weaknesses and make a plan for improvement.
Tip #7: Use technology to stay organized and productive.
Finally, one mistake you never ever want to make is to confuse one prospect with another. This happens to even the most organized people from time to time, but using the right inside sales software can keep your risk factor to a minimum. A queue-based lead management solution for inside sales ensures that the rep has the right contact information at the right time – it's automatically deliver to the reps calling queue. Typical CRM systems that allow for cherry picking and filtering increase the likelihood of a call mishap. A queue-based system ensures you and your reps are organized and on point with every dial.
A few key features to look for in an inside sales solution include:
Queue-based lead routing
Lead scoring
Logical branch scripting
Email templates
Lead nurturing
Record & monitor features
Progressive dialing
Conclusion
With these seven tips, you can take your business-to-business sales calls from unremarkable to effective and build from there. As you make more calls, you will identify your own unique phone strengths so you can do more of what works with future prospecting sales calls. With the right technology, you can also begin to identify team strengths and build workflows that maximize your team's capabilities. Give that technology a try today with a VanillaSoft free trial.