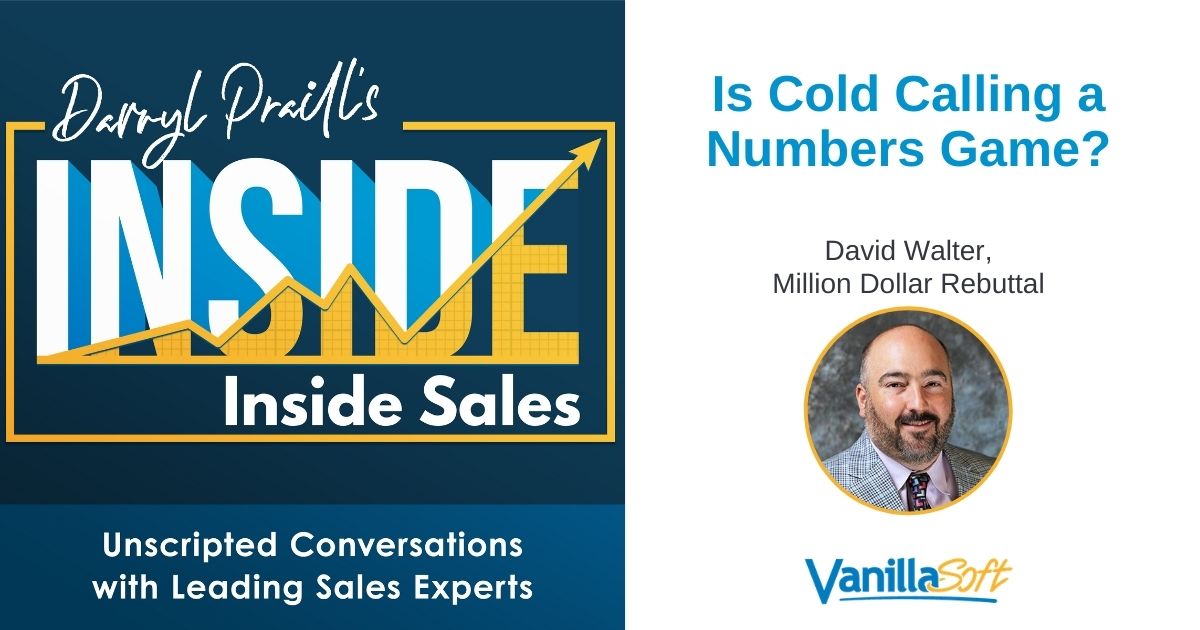 There is no shortage of opinions when it comes to cold calling, but is it just a numbers game?
This week on INSIDE Inside Sales, Darryl welcomes David Walter, best-selling author of The Million Dollar Rebuttal. Darryl and David discuss the many aspects surrounding cold calling, from the roles that should be responsible to where your leads should come from. They also share the many secrets to making more quality appointments that are highlighted in David's book. Learn how you can make better and more successful cold calls on this episode of INSIDE Inside Sales!
WATCH/LISTEN/READ
---

Love It Or Hate It, Cold Calling Is a Big Part of Sales: Tips to Up Your Game
Cold calling is one of the most notorious (but necessary) tasks in sales. Love it or hate it, everyone has an opinion about how best to do it.
David Walter, best-selling author of "The Million Dollar Rebuttal," says there's a stubborn belief in the sales industry that cold calling is a "numbers game" –– more calls mean more sales. But he thinks that's not true.
David shares his philosophies on cold calling: who should do it, how often, and how to make them count.
The movie "The Pursuit of Happyness" tells the true story of Chris Gardner (played by Will Smith), a single father who has fallen on hard times but defies the odds to become a successful stockbroker. Early on, Chris is an intern struggling through a cold-call list. He was instructed to call from the bottom up. Even though Chris works so fast he never drinks water (so not to waste time going to the bathroom), he can never get to the top of a list in a day.
But eventually he eyes the top of the list –– a CEO. He makes the call, gets an appointment, and Chris' career (and his life) starts to shift in his favor.
David Walter, the best-selling author of "The Million Dollar Rebuttal", calls it "one of the most impactful movies I've ever seen about drive and determination." And that scene depicts just one of the tactics he writes about.
On this episode of INSIDE Inside Sales, David shares cold-calling secrets that will help you work smarter, not harder.
High volume, high impact
David wanted to be an author all his life. The catalyst for the book was his experience working in call centers –– and then starting his own.
He worked for years at a company where he scheduled 15 appointments every day for six months (while colleagues set just two per day). He achieved so much partly because he was motivated by something quite powerful –– and personal: After David helped him build a million-dollar business, David's father went bankrupt in the '90s recession. Getting his parents back on their feet became his driving force.
David didn't realize what he had done as a call-center agent until he launched his own business.
"I had actually revolutionized the concept of cold calling. But when I ran my center, lots of people didn't want to pay my price –– about $10,000 a month to have my team cold call for them. Then they'd try to get my secrets. But I held them close to my vest."
Years later, he read a passage from Stephen Covey's "The 7 Habits of Highly Effective People," which asked: Have you found yourself at the top of your ladder leaning against the wrong building?
"I realized that, while my call center was successful, I wasn't really having the impact I wanted," David says. So he got to work on his new role: author.
Get the green light
Whether you have a CRM loaded with leads or a spreadsheet full of names to call, most cold-calling teams attack their lists in the same way: one right after the other, trying to make hundreds of calls a day. That's the essence of the (mythical) numbers game.
But it's "almost an insane idea," says David, because it doesn't take real-life randomness into account.
Imagine if your list was coded by color, and each was able to change from red to green like a stoplight, with green signifying that it's a great time to call –– the guy's there waiting for you. That would be awesome, right?
Well, we can't make that happen, but it's a useful analogy precisely because it's just hypothetical.
Even if you could start with everyone who's green, you'll eventually hit those who are red.
"Once you get to the 10th or 12th lead, the first and second lead is showing green," he explains.
In other words, when you call and the prospect's assistant (or voicemail) says they're on the phone or in a meeting, "they're telling the truth," says David. "These people are dynamic."
After decades in the business, he knows callers will miss most people on their list if they just make one pass and one call to 100 companies. You absolutely need to make multiple calls to every company you can't reach on the first go-round.
Think about it like this: If you gave this task to someone else who's not a cold caller –– say, your assistant. You tell them you need to make contact with somebody important –– a vendor, your lawyer, your astrologist –– stat.
You wouldn't imagine your assistant would place one call and give up after one try. Most likely, they'd make several, along with texts and/or emails, to make sure you reach them.
Sales pros should make cold calls
Even now, most people still think cold calling is a numbers game, says David. In fact, adding that tagline to ads for his book drove it to become a number-one bestseller.
At the core of his philosophy is a simple but revolutionary idea: "Companies should do their own cold calling and salespeople should do it" –– instead of outsourcing cold calls to a business like David once ran.
He explains why:
Most call centers hire folks at a lower pay scale, which means they're not necessarily the most qualified.
Manager and agent are usually the only positions available at a call center, with little room for advancement. But a company with several departments –– including a dedicated sales team –– can hire rookies, pay them less for "pre-sales" jobs and, if they do well, move them up to sales, management, and beyond. Bottom line: You can attract better candidates from the jump.
Cold calling requires a trained salesperson. "If you're going to talk to a CEO or a controller and persuade them to set an appointment, that's harder than actual selling, believe it or not," David says.
"I've done both," he adds. "Setting appointments requires more sales skills."
(Don't) feel the burn
David says when he was setting 15 appointments a day, it only happened because he started making 40 contacts a day. That's the only way you can scale up enough to play the real numbers game: More appointments > more demos > more deals.
"To set more appointments, dramatically increase the number of contacts you have. And the way you do it is counter-intuitive."
The reason why more people aren't doing David's way is that "they're afraid of burning the lead," he says. "You have to call more times. It's that simple."
To avoid burning the lead:
Call one lead three times a day.
Space the calls out over the course of the day.
Call three times a day –– for three to four days. Then give him a break for two days.
You can also make contact through email, LinkedIn, or text.
Avoid this: "Most people call with a glorious announcement: their name, company, and the first and last name of the person they're trying to reach. It screams salesman; it creates gatekeepers."
Do this instead: "Hey, is Steve around? Can you try his line for me? Call from Bob." [Magic!]
"In a way, it is a numbers game," David says. "But it's calling more records less, not calling more records fewer times."