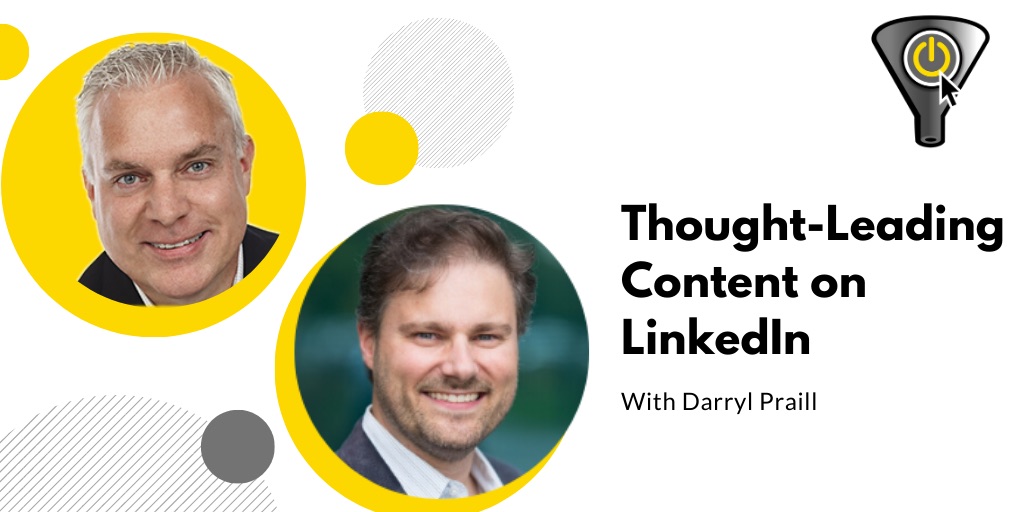 This episode talks with someone who has used LinkedIn as a platform for promoting branded content. It nicely complements Episode 27 on LinkedIn Ads with AJ Wilcox.
In his three years with VanillaSoft, maker of SaaS-based sales software, he has brought them visibility in the form of a podcast, virtual events, and conference keynotes. This exposure and the resulting growth in pipeline revenue has resulted in Darryl being promoted to Chief Revenue Officer for the company.
Listen to this episode to hear:
How to draw global attention to a brand by being yourself.
Choosing who makes the content – the founder or a person hired to do this.
How to devote time to creating content, by pushing your own ego out of the way.
Why you shouldn't pay too much attention to your likes and comments statistics.
How the use of Video falls in and out of favour with LinkedIn's algorithm
How you can turn a larger competitor's strength into a disadvantage by how you position yourself on social media.
People/products mentioned in this episode:
https://engineering.linkedin.com/blog/2020/understanding-feed-dwell-time
https://www.linkedin.com/in/davidhoodvanillasoft/
WIIFM – What's in it for me?
How the company that best markets itself ends up the winner – VHS vs Beta 
Connect with Darryl on LinkedIn