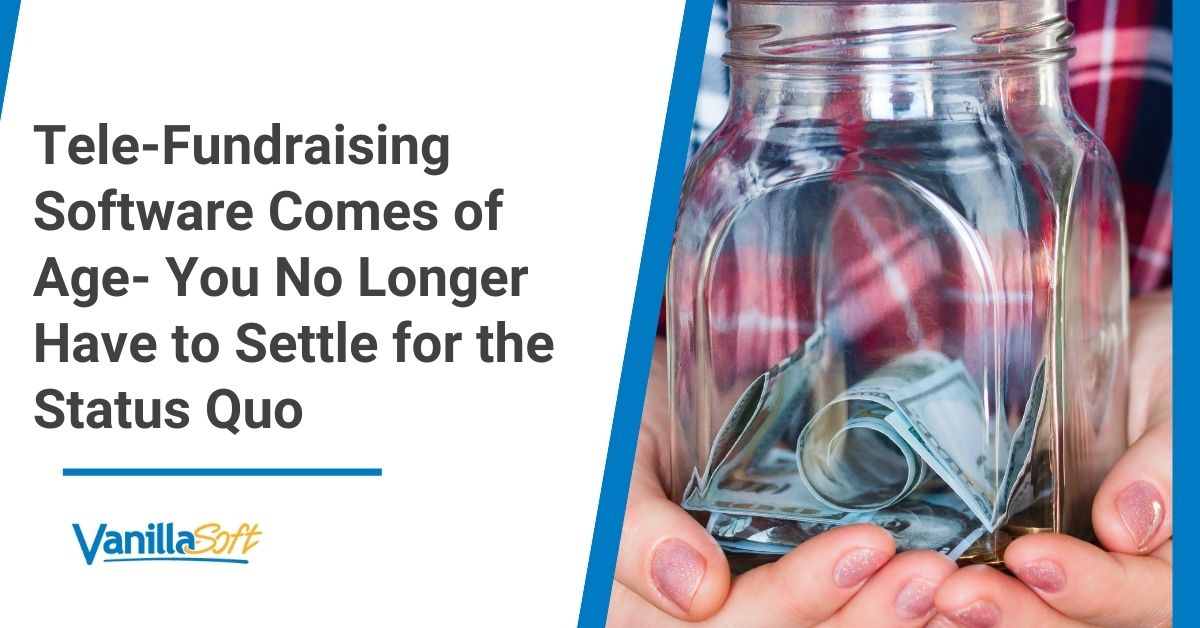 Not so many years back, non-profit organizations aiming to do membership drives, renewal campaigns or the traditional annual fund drive or phoneathons had very limited choices in terms of software. A handful of players dominated the landscape with expensive and complicated platforms that were often out of the reach of many smaller organizations. Sure, the big universities, private schools and national organizations could pay the price, do the implementation and send their folks away for training to make it all happen. However, 1000's of other smaller non-profits were left out, or forced to take a disproportionate part of their budget to acquire the tools that drive success.
Oh, how times have changed. Today, non-profits have many choices outside of the traditional providers. Many have amazing features that go well beyond the software of yesterday. More importantly, they cost less, do more and do not require a contract. I know you are asking, "What gives, Ken? How is this possible?" To understand the why, I need to take you on a short journey. The journey begins with software providers that did not serve the non-profit sector, all competing for market share in areas like lead management, contact management, tele-prospecting, data collection and so forth. As these companies became successful, they moved to what we call SaaS models (software as a service). This move allowed these companies to offer amazing features on multimillion dollar platforms, starting at $65 per month. This fundamental change revolutionized the software industry, making great sales and sales management software available to every business that wanted it. Sadly, non-profits got left behind. The good news is that has all changed.
Today, top SaaS companies that are driving best-in-class performance for the profit sector are doing the same for the non-profit sector. They have not fundamentally changed their software to make it for non-profits. What has happened is that these programs have become very customizable, allowing non-profits to add what is unique to them, but pick up the best-in-class features that are well documented drivers of productivity and success. Think about it– a non-profit utilizing the same great software that runs the best and biggest sales organizations, uniquely tailored to their specific needs. It is truly the best of both worlds.
"SaaS companies that offer enablement tools to non-profits have changed the playing field, allowing organizations that have 3 fundraising reps the same powerful resources as a sales organization that has 70. It is no longer about the cost. It is about making the wise choice to enable."
To achieve Best-In-Class productivity, non-profits have to realize that there is a world that moves beyond their traditional platforms, and adopt new technologies that are driving successful sales organizations- but do so in a manner that is unique to the fundraising world.
According to Aberdeen Research, Best-In-Class sales organizations are more likely to deploy a form of CRM or lead management software that includes auto dialing, next-best call logic, utilizes a form of intelligent call recording, on-board intelligent branch messaging (scripting) and has e-mail integrated into the solution. Non-profits can do the same. Additionally, they are more likely to adopt a SaaS (externally hosted) solution. By adopting a SaaS solution, organizations can ensure that they are getting best-of-breed solutions at a favorable market price. These features give organizations a significant lift in productivity because they enhance and automate the calling and fundraising process, eliminating wasted time, ensuring consistent messaging, tracking every donor from cradle to grave and providing a platform making training easier and more productive.
What are the drivers that build success for non-profits?
Software has to be donor centric– It is not about reports, mail merge or other fancy nice-to-haves. It is all about donor acquisition and donor renewal. The first question to ask yourself is, "Does this software help us get more donors and keep the donors we have? Does it provide tools to help us increase the average pledge? Does it make running a campaign easy and efficient? Can we have fundraisers anywhere and everywhere, both volunteer and paid? Does it make us a better organization?" WOW! Tough questions, but the right questions to be asking. And yes, software can do all of that. Now for the features…
Progressive phone dialing can increase your donor contact rates by as much as 20 to 40 % vs. manual dialing This action alone can give a significant boost but, when combined with next-best donor logic (determination of the ideal donor to call next), the results are even better.
Next-Best Donor Logic, or "ideal donor," utilizes the institution's knowledge and historical donor data, which is applied to the routing order of donor calls to be made. For example, some institutions can't call 100% of their universe of names. Next-Best Donor Logic ensures that the highest value donors are pushed out first, followed by donors with the highest pledge rate and so forth. The routing is limitless but ensures that each and every donor record is given the greatest opportunity for conversion to a pledge or renewal and at the highest possible dollar amount. The concept is simple: get the right donors to the fundraisers at the right time.
On-Board Messaging, or scripting, is a vital tool that ensures that the mission, vision and ask are clearly available to the fundraiser. Far too often, volunteers and even paid fundraisers miss the mark and let a qualified donor get away without making a pledge or let them make a pledge too low. Messaging tools mean that on each and every call the fundraiser is prompted with a reminder of the goal, the "ask," and is prepared with tools to over comes objections. It is like having a manager next to them on every call.
Integrated e-mail. Today, communication has to be fast and efficient. Sure, you can send out gift reminders with built in mail merge. However, you can also send instant e-mails allowing the donor to click through to a portal and enter their gift through a secure portal or take the credit card information on the fly. When entered, the record is instantly updated and can be routed for a quick and efficient "thank you." Integrated e-mail ensures that each and every fundraiser is utilizing the same messaging, the same processes and that each and every donor communication is recorded and reflected within the reporting platform.
Performance Dashboard gives the campaign manager real-time access into what is happening now vs. viewing reports later. Management can drill down by campaign, fundraiser, SYBUNTS, LYBUNTS, or any combination to get important granular data on the fly and in real time. Rank your best fundraiser, best donors and best messaging to ensure campaign success.
Intelligent Call Recording. Unlike a stand-alone recording system, intelligent call recording marries the recorded call to the contact record. This gives management the ability to slice and dice recordings by fundraiser as well as result code for training purposes or verification. Having the recording attached to the record and the result of the call reduces the work load of QA or the training manager, allowing them to focus on the right calls, the right recordings and the right fundraising reps.
These are just a few of the features that large successful sales organizations deploy to ensure maximized growth. Today, all non-profits have the same access to these amazing tools through Telefundraising Software, neatly tailored to their non-profit campaign needs. Take a look. You will be surprised how the world has changed.
Best Regards,
Ken