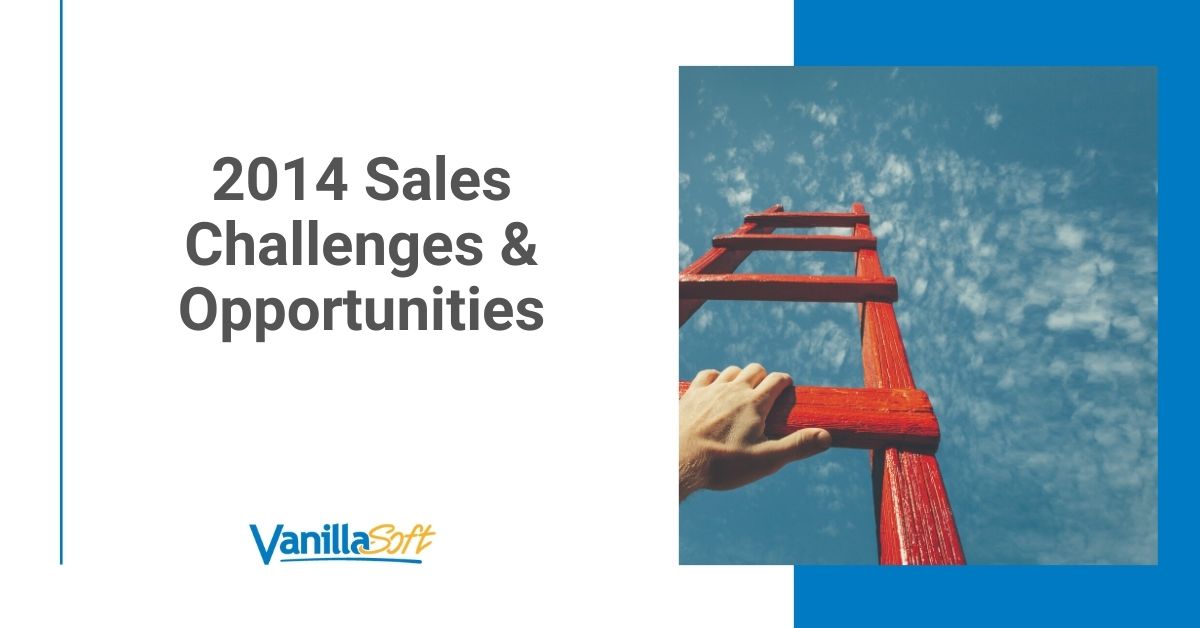 Happy New Year! Can you believe it's already 2014? By now you have shaken off all the New Year's Eve confetti. You are ready to focus on your new annual sales plan, but are you ready for 2014's sales challenges? Here's a look at three areas to address in 2014, and our recommendations for rising to the challenges.
Shorter Response Time Window
As we've noted in previous posts, response time to contact inbound leads can make or break your ability to connect and potentially close sales. Several factors come into play beyond "customers just wanting what they want when they want it." A certain level of impatience was born with the microwave — can you imagine spending more than three minutes to make popcorn? The internet has increased our level of impatience when it comes to answers and information. We want it now!
Consider these points:
The internet has formed an expectation that answers should be found easily and immediately.
Email and social media have created an even greater expectation that companies should listen to and respond to inquiries in almost real time.
People who have lived the majority of their lives in the internet age — those who can't imagine a time when there were no cell phones — don't know that patience is a virtue — and they are now your potential customers.
If a potential buyer found your "request for more information" form, he or she is ready right now for that information. Chances are they've requested information from your competitors, too. Who will win the race to respond? By shortening your response time, you have a better chance of winning the sale. Ensure your inbound leads from email, web forms, and social media are followed up on in a very timely manner. Your lead management software should allow your agents to quickly respond to these leads within a matter of seconds.
Adapting to the Buying Process
Hand-in-hand with the shorter response window comes the shift from thinking in terms of "sales cycle" to "facilitating the buying process." The internet has put more power in the hands of decision makers. They can visit your website and do anonymous research. They can ask questions on sites like Quora.com to discover "crowd sourced" recommendations and expertise. Buyers can look up reviews across the internet via forums, blogs, and social media. Today's buyer is self-educated, and they aren't necessarily looking to engage with your sales reps until they are ready to buy.
In 2014, sales professionals need to do more than merely hunt for leads. They need to seek opportunities for engagement with potential buyers. By monitoring conversations on social media and routinely reviewing blogs and sites for opportunities to engage, sales pros can embed themselves into the buying process early on in the customer's self-education efforts. The key, though, is to act as a trusted advisor or subject matter expert — not a sales person — at this stage in the early engagement phase. When the prospect is ready to buy, they will come to you first if you've provided good counsel and sound advice.
Make Things Simple
2014 will be the year of "making things simple" for the customer and your sales team. Consumers are assaulted with information at a mind-blowing rate — emails, meetings, phone calls, social media, conference calls, reports, etc. Your sales team and prospective customers need solutions that make doing business simple.
Make sales multi-tasking the exception rather than the rule. According to an article on Health.com, "Experts estimate that switching between tasks can cause a 40% loss in productivity." (source: http://www.health.com/health/gallery/0,,20707868_4,00.html). Choose lead management software for your sales team that removes desktop distractions to ensure sales call productivity meets expectations.
Make "ease of doing business" a point of differentiation. By arming your sales team with tools that help them immediately reach out to leads with the right information at the right time, you will position your company as one that's easy to do business with. The right lead management solution can help set the stage for your company's image of responsiveness with email templates for quick and easy use by reps, immediate placement of inbound leads in the call queue, call scripts and other documents that help your sales reps facilitate the buying process with ease.
Make mobile a priority. More and more people are searching the web using their smartphones and tablets. Ensure your website has a user-friendly interface to make it simple for those users to navigate your site to find the information they need.
Consider VoIP (Voice over IP). VoIP solutions have steadily gained traction over the past several years. VoIP service providers can offer unified communications that makes it easier for you and your team to work from anywhere as long as you have an internet connection. Some VoIP providers also offer mobile apps that allow you to "bring your extension with you" via your cell phone. VoIP solutions can also offer integrated web conferencing and conference call solutions, as well as integration with your lead management software.
As they say, it is out with the old and in with the new! Are you ready to face the new trends and challenges awaiting you in 2014? We hope that you and VanillaSoft is here to help with your lead management software and VOIP needs.