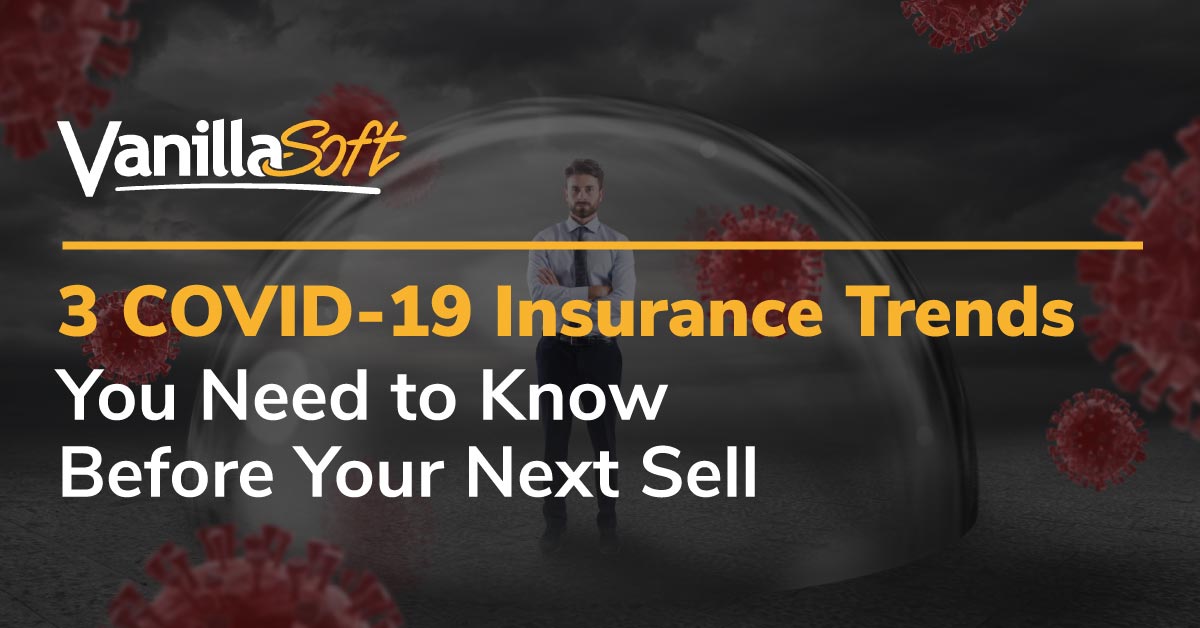 COVID-19 has changed everything (yes, that includes insurance trends), and the world looks much different than it did back in January when we thought we still had a fighting chance for 2020. Joke's on us, amiright?
From the way we spend time with loved ones (or the way we don't) to how much we doom-scroll and watch TV, life has never been so sui generis.
Plus, since most of our asses have been parked in the years-old chairs of our home offices (aka the kitchen table) since March, it's clear the workforce has changed dramatically too. And this is especially true for insurance reps.
Insurance trends you need to know
Even though the pandemic's impact on insurance is still being evaluated, there's enough information out there to be sure of one thing: It's time to rethink your sales game, agents.
Here's what's happening in a nutshell: COVID-19 has spurred all sorts of realizations, including the one that there are tons of features in employee benefit programs that both employers and employees have overlooked. More than ever, employers are interested in benefits that will support their team, and employees realize they need to better protect themselves.
Where does that leave you? Well, sales reps, that's where you come in with a brain chock-full of ways to pivot as you sell and prospect in an evolving industry. To shift your sales strategy to meet the demands of how COVID-19 has impacted the industry, here are the three insurance trends you need to know about.
1. Employers want to spend more $$$ on benefits
You're used to persisting, making repeat calls, and leaving tons of voicemails so your clients can take advantage of the good deals you know you offer — sometimes it works; sometimes it doesn't.
But after COVID-19's impact on insurance? Pfft. Expect to do a lot less to gain a lot more.
"[Employers] are evaluating their benefits packages from a much broader purview than they have before and realizing there are gaps," explains The Hartford's Jonathan Bennett in an article by Human Resource Executive.
After polling U.S. employees and HR and benefits decision-makers in March and June for the Future of Benefits Study, The Hartford found that employers want to add benefits that will further support their employees.
Did someone say upsell? Yep!
Before you set more meetings, you gotta be aware of the insurance trends — especially when numbers from this study prove how much your clients have changed in the last few months:
Overall, more employers want to be responsible for ensuring their employees understand the offered benefits.
31% to 52% of employers are more interested in offering more paid time off; 34% to 48% want more hospital indemnity insurance benefits; 42% to 51% want more behavioral/mental health services and wellness benefits.
Previous research also found that 47% of employers are enhancing healthcare benefits.
2. You now have wide-open access to an untapped market
Aaah, the unobtainable Gen-Z.
While millennials have come around, most — all? You do the math! — of Gen-Z are covered by their parent's insurance policies.
It's probably safe to bet they don't attend the open enrollment info sessions at work, so you wouldn't be wrong to assume your products don't suit their YOLO lifestyles. (Do the kids still say that?)
That's where COVID-19's impact on insurance can increase your bottom line: "The pandemic has brought to light the importance of having the right protections in place, especially those that protect life and health," says Editor-in-Chief of Insurance Journal Magazine Andrea Wells in a recent article.
Andrea also shares that, according to The Hartford, the youngest generation typically has the lowest participation rates in company-sponsored benefits. But get this: the latest study says employees in their early 20s are now more likely to upgrade or buy additional benefits offered by their company than they were before the pandemic.
The Future of Benefits Study says that 40% of U.S. workers will consider purchasing life insurance during open enrollment as a result of COVID-19.
Although, "While more workers overall showed interest in upgrading or purchasing additional benefits," writes Andrea, "the youngest workers indicated the most notable shifts in attitudes."
3. Open enrollment has new demands and a bigger audience
Agents, open enrollment will look a lot different this year, especially when it comes to participation.
First, the Hartford study says COVID-19 has urged surveyed employees to consider purchasing these additional benefits during the next open enrollment:
40% are interested in life insurance
30% are interested in short-term disability insurance
29% are interested in long-term disability insurance
27% are interested in critical illness insurance
23% are interested in hospital indemnity insurance
Next: Out with the old, in with the virtual!
The way your clients plan to help their employees understand your benefits package during open enrollment is changing, too.
Need (more) proof? "63% of employers say their company's open enrollment strategy will depend more strongly on online resources this year due to COVID-19," explains The Hartford in this article about the study.
Depending on online resources might not be the case for smaller employers with fewer than 50 employees, but you still need to be prepared for how COVID-19's impact on insurance will shift your investments in research, data capabilities, and the right digital tools to support your clients.
"We've seen employers begin to transition to more digital tools over time, but for many, the shift to a more virtual experience has been accelerated due to the pandemic," says Jonathan Bennett.
That means it's on you to make sure your customers — ya know, the ones offering virtual enrollment experiences for the first time — have the essential resources they need as they turn to digital tools for the benefits season.
Need help closing deals over the phone? Check out our eBook, Closing Insurance Sales Over the Phone: A Pocket Playbook, to snag more clients without being face-to-face and develop a crucial skill for today's insurance trends.