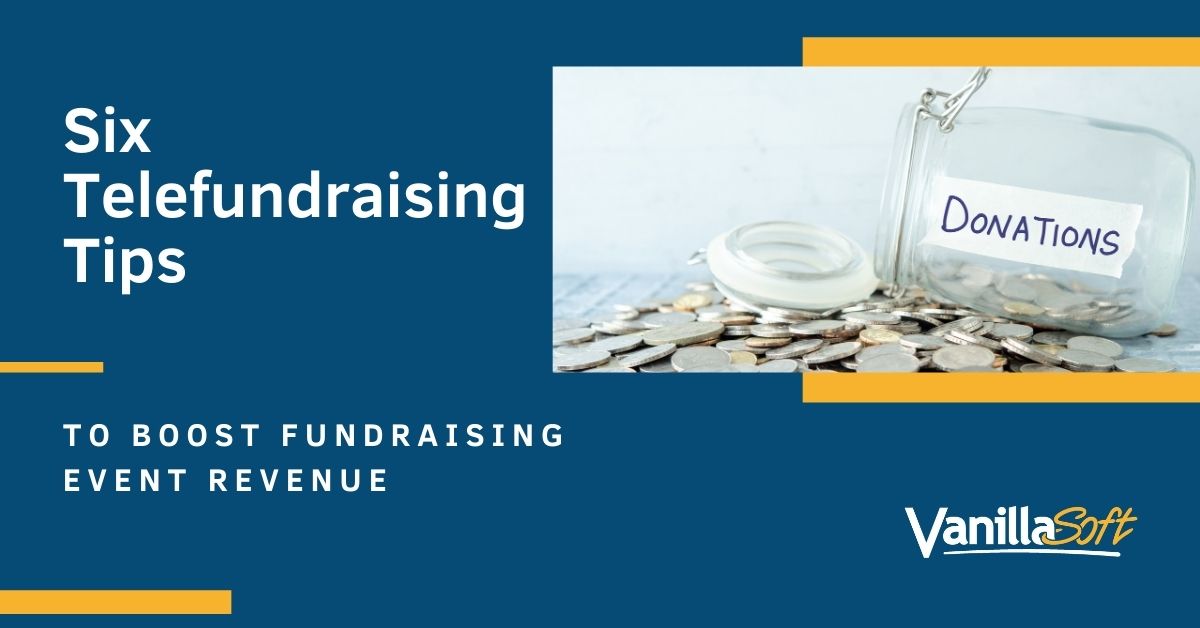 The art of telefundraising will never go out of style.
Why? To put it simply, calling donors on the phone allows you to connect in a way that's engaging, direct, and, ultimately, highly profitable for any type of nonprofit organization.
Even better, telefundraising pairs perfectly with other fundraising efforts, including the equally classic event fundraiser!
Because these two tactics fit so nicely together, we thought we'd go through a few strategies for how to use telefundraising to raise even more money from your fundraising event.
Why stick to just one star strategy when you can reap the benefits of two? With this insider telefundraising advice on your side, your event fundraiser will bring in even more revenue than it would on its own.
Your donors are waiting—let's dive in!
1. Identify Whom to Call on Your Donor List
We know this suggestion might seem counterintuitive at first. After all, you want to maximize your fundraising potential through telefundraising, not minimize it.
But think about it: would you rather cast an incredibly large net across your entire donor database, hoping to land on a lead, or narrow your focus to those supporters who are your most likely candidates for a successful phone conversation (that is, one that ends in a donation)?
When you tailor your focus to a smaller pool of call recipients at first, you'll end up with a higher percentage of receptive supporters on the other line.
So, who are these most likely candidates who should be on your call list?
If you're using telefundraising techniques to promote your event and invite supporters to register to attend, start with the following individuals:
Past event attendees.
Major donors.
Regular volunteers.
Recurring donors.
Survey respondents or those who've indicated interest in the event.
Of course, before you call anyone, make sure they've given your nonprofit the permission to contact them on the phone.
In general, it's a smart idea to store communication preferences in your CRM and sync that information up with your auction or event fundraising software, so it's easy to view in one central location.
When you have the necessary donor data on hand throughout your event planning process, you'll never have to worry that you'll inadvertently disturb or offend a supporter who'd rather be emailed, texted, or contacted another way.
The bottom line: You should use telefundraising to ask for donations or invite supporters to your upcoming event. For best results (and less time wasted!), tailor your call list, so you're reaching out to the most receptive donors first.
2. Share Why Your Fundraising Event Matters
One of the greatest benefits of telefundraising is its unique ability to foster an immediate connection between a donor and your organization.
In a digital, screen-focused society, the phone call is one of the more personal forms of marketing or communication—one that greatly appeals to a number of donors, young and old!
Because telefundraising gives you a direct line to your constituents, you can use this channel to communicate with your donors in a one-on-one fashion, sharing the mission behind your fundraising campaign and, specifically, your upcoming event.
When scripting your calls, consider including the following elements:
The purpose of your event. Not only should you tell your donors how much money you hope to raise, but why that dollar amount matters. What exactly will their money help you accomplish? The more details you can provide, the better!
The communities you'll impact. Help your constituents see themselves in the people, animals, or environments they're effecting change in. Open your call by sharing a story that will evoke a personal connection between the nonprofit's beneficiaries and the donor.
The stakes at hand. What happens if you don't fulfill your goal through this event? Make sure your donor is aware that there is an urgency associated with your cause, and show them how easily they can make a tangible difference.
Your phone call can make your cause feel present in your donors' lives, just like your fundraising event can. When you pair these powerful fundraising strategies together, you have a chance to get your nonprofit's message across in a new, exciting way!
If you haven't figured out how to outline your nonprofit's purpose in a succinct, compelling way, take a look at Fundly's list of outstanding nonprofit mission statements to glean some inspiration from organizations just like yours.
The bottom line: Your telefundraising calls can show donors the importance of your fundraising event in the community or world. Take advantage of this unique fundraising tool to communicate your message in a personal way.
3. Reach Out for More Than Just Money
Telefundraising is traditionally used to solicit donations or pledges from supporters, but financial contributions aren't the only thing you can use your phone fundraising efforts for.
Especially if you're planning a fundraising event, telefundraising can be a multi-purpose strategy to help you collect donations of all kinds.
For example, consider reaching out to donors to ask for:
Donated auction items for your live or silent auction.
Sponsorship for your event.
Matching gifts through the donor's employer.
Volunteers for your event.
In-kind donations.
Because donors will appreciate the straightforward, personal approach of phoning them directly, they might be more likely to donate in a way that they haven't previously considered.
For example, a donor who took home a noteworthy item at last year's silent auction might feel honored that you've come to them for help with procurement for this year's selection. They'll be excited to have a say in helping someone else experience the joy of being a top bidder like they were!
And don't forget to add local businesses and corporations to your call list as well. When your telefundraisers relay the benefits of corporate giving, employers will be lining up to purchase tables for their teams at your upcoming event.
The bottom line: Think outside the box when it comes to telefundraising. Asking for multiple types of donations will ensure that you cover all the bases for your upcoming fundraising event, and it will give donors a chance to get involved in a new way.
4. Build Meaningful Relationships With Your Donors
Getting straight to the point is crucial in any communication, but that doesn't mean that you should just say hello and deliver your pitch in one breath.
What you do is in a way similar to a traditional sales call – you're trying to sell your donors on the idea that their contribution will make a difference.
However, there's a catch: you don't want them to feel like an ATM. They are your partners and part of the team, and that's how you should treat them.
Therefore, take a page from great salespeople's book and work on your active listening skills. The trick is to engage your donors in natural two-way conversations and build rapport with them.
Going off-script will allow you to connect with your donors on a more profound level and build meaningful relationships. So, a slight digression is okay if it will encourage people to open up.
Some tips that can help you humanize and personalize your calls include:
Mentioning relevant information you have about your donors, such as their previous donations, their interests, and causes close to their hearts.
Using their name, but not too often. If overused, this tactic will make you come off as manipulative and insincere.
Asking questions. This will encourage your donors to talk to you and share their thoughts and feelings and show them that you're interested in hearing their opinions.
Leveraging social media. These communication channels can be used to share relatable stories, as well as show all the efforts you invest in making a change and the impact of donations.
The bottom line: Make sure that you're authentic and genuine when talking to your donors. Let them know why their help is indispensable. Use different channels of communication to get them on board.
5. Focus on Post-Event Stewardship.
Telefundraising isn't just a great way to obtain donations; it's also an excellent method for stewarding your donors long-term.
We've already gone into detail on the benefits of telefundraising as a direct, personal fundraising approach, but don't forget that these phone calls can also help your organization develop sustained donor relations long after a single fundraising event or campaign ends.
After your event doors close, use telefundraising to follow up with donors and expand your fundraising potential.
To ensure your calls are retention-focused, keep the following suggestions in mind:
Ask for feedback first. Before you ask for an additional donation, ask your supporter to share their thoughts on the success of your event. Start with a general question such as, "Did you enjoy our event?" and follow up with questions related to their specific involvement.
Make sure the conversation goes both ways. It can be easy to get caught up in the call script and forget that an actual person is on the other line. Take the conversations slowly and allow the donors to speak. When donors know that you genuinely appreciate their time, they'll be more likely to respond to a donation request.
Be thankful! Whether you're calling to follow up after an event or not, telefundraisers should always be grateful throughout every step of the call. Remember to thank donors for their time, event attendance, previous donations (with specific amounts!), and purchasing auction items, if applicable, before considering to ask for another gift.
A well-timed, strategic follow-up call will not only encourage guests to give again, but it will also remind them how much they enjoyed your event and leave them with a positive impression of your nonprofit—which will, in turn, lead to more donations and event attendance in the future.
The bottom line: When making follow-up calls after a fundraising event, focus on the relationships you're building with your donors. You're sure to see more donations and higher retention rates because of it!
6. Turn Event Guests Into Recurring Donors
Many types of events (such as those associated with peer-to-peer campaigns) are known for attracting new donors. While you're undoubtedly excited that you've brought in these donations, you may not be sure how to effectively engage with those donors.
Alternatively, your event may have garnered a host of gifts from sporadic donors—those who are happy to attend an event every year or make a donation once in a while, but haven't yet made a commitment by becoming a recurring donor.
That's where trusty telefundraising can be your nonprofit's greatest ally!
After your initial follow-ups (including any donation acknowledgments or thank-you emails), you can use telefundraising to reach out to event donors and ask if they'd be interested in setting up recurring donations.
Thanks to effective fundraising technology, donors no longer need to remember to mail in a check to give on a regular basis. Instead, they can make automatic payments to your organization on their own schedule.
Explain to them the benefits of automating their gifts, including:
Extended impact on the communities they care about.
Simple, instant donations with no added effort on their part.
Flexible giving schedules so they can donate weekly, monthly, quarterly, or whenever is convenient for them.
Automated receipts for each transaction (no bank statement surprises!).
It's no secret that donor retention is a challenge for some nonprofits, but many donors don't make a second donation simply because they aren't asked.
Step up to the plate and show donors how they can make a lasting impact on your cause—all through one simple phone call!
With these tips in mind, we know you'll knock your next fundraiser out of the park. Now go plan your event!
Telefundraising is a staple in the nonprofit world. While it works well on its own, it can be even more of a game-changer when you pair it with your fundraising events.
About the Author:
Joshua Meyer brings over 14 years of fundraising, volunteer management, and marketing experience to his current role as the Director of Marketing for BidPal. Currently, as a member of the BidPal sales and marketing team, Josh manages all of the firm's marketing efforts. He has a passion for helping to create positive change and loves that his current role allows him to help nonprofits engage new donors and achieve their fundraising goals.