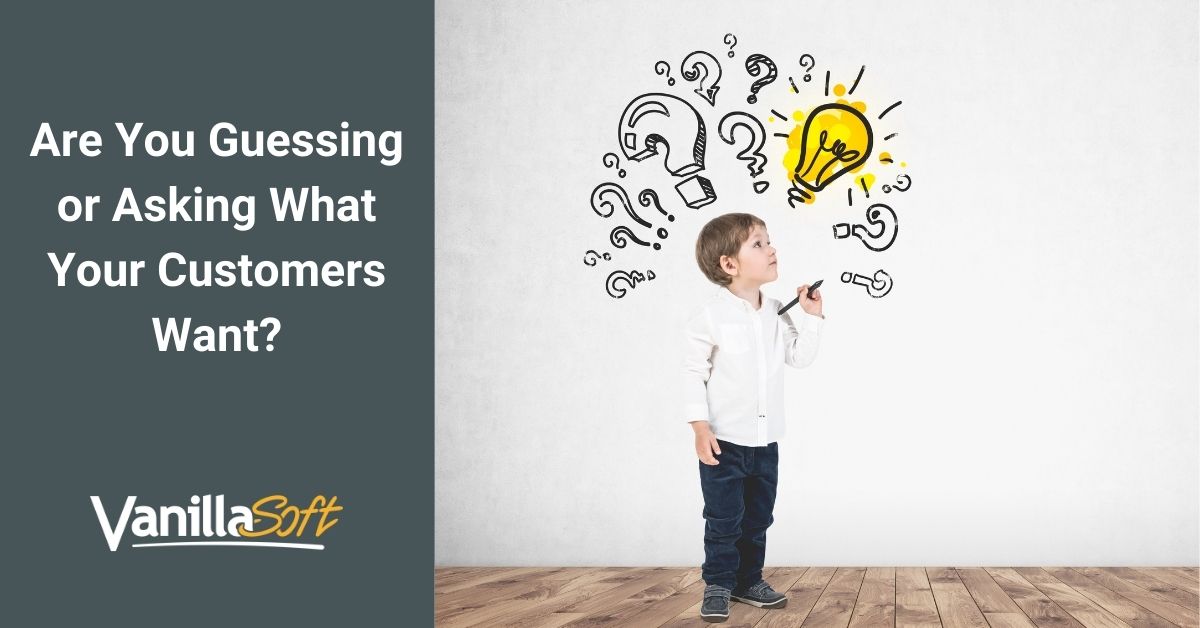 If you have the opportunity to gather insider information that can help you to achieve your goals, why wouldn't you? Assuming is a horrible business practice. Invalid and incomplete assumptions can lead you down an empty rabbit hole, and in the case of inside sales, away from closing a deal. Conduct the research, fill your customers wants and needs, and augment your sales by applying the sales prospecting tips in this article.
4 Research Tactics for Management
Management should research target audiences before salespeople jump on a call. The more information and understanding your callers have about your prospects and the daily issues that they face, the more they'll be able to relate and dig deeper into specifics. Regularly scheduled training is an excellent way to provide sales representatives with the information discovered.
Here are four ways to find out more about your current and future customers:
1. Conduct Surveys – Survey your current clients. Ask questions about how their purchases have improved business, what were the major selling points. While you're at it, ask for criticisms. The customers' responses will be highly valuable in building your relationships with them, as well as with your prospective clients.
2. Review Industry Statistics – Industry research can reveal a lot about your customers. What other areas are they investing in? Are there any new trends affecting how they do business? How much are they spending on products like yours? Find out anything you can about driving factors in their companies and industries.
3. Ask your Salespeople – Meet with your sales team and ask for insights. They're the ones calling on your prospects and working to understand them better to make the deal. Find out the questions and concerns your salespeople hear over and over again. Ask reps about the requests they receive, too.
Maybe clients want an app that pairs with your product or customers have voiced concerns about an online chat system. You may never know if you don't ask. Are any of these concerns and requests that are falling through the cracks? Establish an open line of communication so your employees can easily share this type of information with you.
4. Consume Trade-Related Content – Staying up on current trends is vital in business. In addition to the newest technologies that can simplify your processes, you'll learn about tools and problems your customers face, too. You may even find out what your competitors are doing. In addition to magazines, follow hashtags on social media to see what's trending in real-time.
15 Sales Prospecting Tips for Your Salespeople
After researching, be sure to relay any new insights to your sales team. From there, ask them to familiarize themselves with the following sales prospecting tips.
Ask the right questions. You should already know the basics about your prospect, but try to get more details from them by asking open-ended questions to get contacts talking.
Find out what problems your prospects face and how your product or service can serve as a solution.
Build your social media presence and your position as a thought leader by sharing your knowledge. When people see you as an expert in your field, they're more likely to trust you.
Be confident. On the occasional call, you will stumble. Use those experiences as learning opportunities to build your confidence for the next time when you're in a similar situation.
Remember that not everyone you call is a good fit. Prospects that you initially thought would be the perfect buyer for your product may actually be better suited for a competitor's product.
Be more helpful and less salesy. Take on the role of a consultant. Relating back to number five, being helpful includes letting them know if your product isn't right for them.
Don't give up after one objection. If the prospect cites price as a barrier to entry early in your conversation, don't accept it as a no. Instead, explain the value of your product to them and show how it can actually save or make them money.
Maintain a positive mindset. Don't let an objection or a missed sales quota keep you down. When you're optimistic, you're more productive.
Be a human, not a robot. Scripts are very helpful when making sales calls; however, be sure you're not speaking in a monotone voice. Study and practice your pitch. Don't just jump on a call and simply read the script verbatim with no rise and fall in your voice.
Remember that the call is about the prospect, not your pitch. Ask about the person and his or her processes and any issues they face. Find out what the buyer wants!
Organization is key. Software can help to keep you stay organized throughout all your calls. If you're taking any notes, keep them orderly. You don't want to be flipping through papers or browser tabs while on a call.
Take a break. As with any work, regular breaks allow you to refresh and come back to the phone more focused.
Follow up with prospects. Most sales will require multiple calls and meetings to close the deal, especially if you're selling a high-dollar product. Use technology to set reminders and send personalized communications.
Ask for referrals. Once you transform a prospect into a customer, it's time to ask for referrals. There's a reason the person did business with you and not your competitor – it could be your shining personality, your expertise, or your ability to listen. The customer likely knows contacts in the industry who could benefit from your product too. If you ask for referrals, your customers are more apt to take action.
Be open to coaching. Most inside sales professionals today are familiar with having their calls recorded. To improve your selling skills, review recordings with your manager from time to time and pay attention to any constructive criticisms.
These sales prospecting tips combined with the above research tactics will set your sales team up for success. Knowing exactly what your customer wants simplifies the selling process and saves time for everyone.