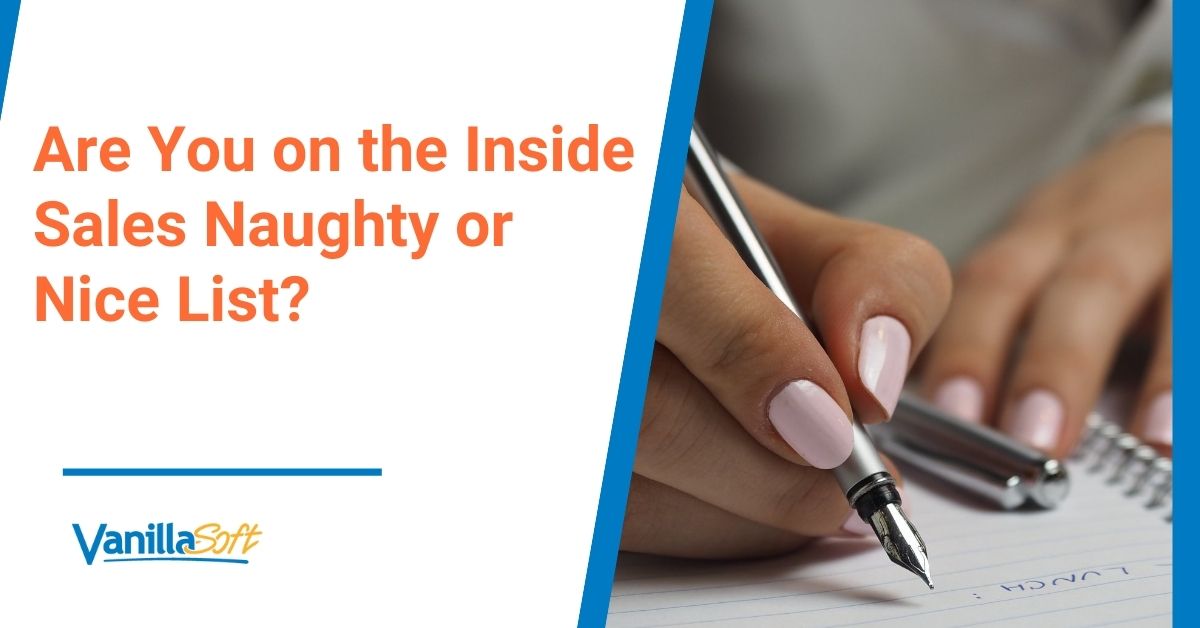 "He's making a list, and checking it twice; gonna find out who's naughty and nice…" It's that time of year again. Wondering where you stand with the big man in the red suit? Let's look at what lands an inside sales professional on the naughty or nice list and what you can do to avoid coal in your stocking.
Naughty List
No one wants to be on this list whether they're two years old or sixty-five years old. Let's review the negative attributes of an inside sales salesperson first.
The inability to lose or accept a no. You already know every prospect you speak to isn't going to end with a sale. As a salesperson, you need to be able to accept a no and move on. Salespeople who dwell on their losses or show their disdain to the prospect are on Santa's naughty list this year.
Not asking the right questions. To make the sale, you need to be asking your prospects the right questions. Questions that can help you understand your buyer's problems and help you to guide the conversation towards the sale.
Lacking product knowledge. You should be knowledgeable about the product you're selling and how it levels up to competitors. Your prospects will likely be doing research on them, so it's good to have an idea of how your product compares. The more educated you are on your product, the more confidence you will exude. This confidence will lead to trust from your buyer and hopefully to a sale.
Calling a prospect multiple times throughout the day. This is on the same level of annoyance as a three-year-old that won't stop asking "why?" Annoying salespeople are certainly on the naughty list this year. Persistence is not the same thing. You want to stay on their radar without being overly tenacious.
Being lazy, negatively affecting your sales career. Lazy salespeople lack a pipeline of leads. And though they may squeeze by hitting their goals each month, they're missing a lot of chances to make a sale. Get off the naughty list by preparing and knowing that there is always something else you can do.
Not keeping records. Naughty salespeople don't review reports or take the time to evaluate their wins and losses. They're not learning from their mistakes or setting future goals for themselves.
Nice List
Santa's elves are watching and reporting on your sales calls. The qualities of an inside salesperson on his nice list reflect top-performers.
Think beyond the sale. Top salespeople focus on the bigger picture of building the business. They set their sights beyond the sale that's right in front of them. For each prospect turned client, they're seeking referrals and have their overall focus set on the business goals.
Less talking and more listening. Good salespeople understand the necessity to listen to their prospects and clients actively. They know the right questions to ask that will get the buyer talking. Their questions help to uncover what they need to know to make the sale a reality. Top sales people also appreciate feedback from current clients to help them improve.
Under promise and over deliver. Sellers that give their customers more than they've bargained for, in a good way, are on Santa's nice list. If you have a standard product that can't be incentivized, you could focus your over delivery on time or customer service.
Have a passion for selling. Salespeople who have pride for their profession are not only on Santa's nice list, but they're also often extremely successful in sales. Buyers can sense a salesperson's attitude and often reflect that attitude back. A nervous and negative seller will often trigger similar qualities in their prospects and lose the sale from the start.
Be honest. Santa's nice salespeople reveal all the information they have. They even share the intelligence that the prospect may not like and could cost them the deal. Being forthcoming with any relevant information before closing the deal is better than dealing with the fallout of a disappointed client on the backend.
Stay focused. A good salesperson concentrates on the task at hand. Their list of prospects and what they need to do consumes their attention, and they aren't distracted by Facebook or office gossip.
There's still time to turn things around if you're on the naughty list. After all, Santa's elves are watching. 😉