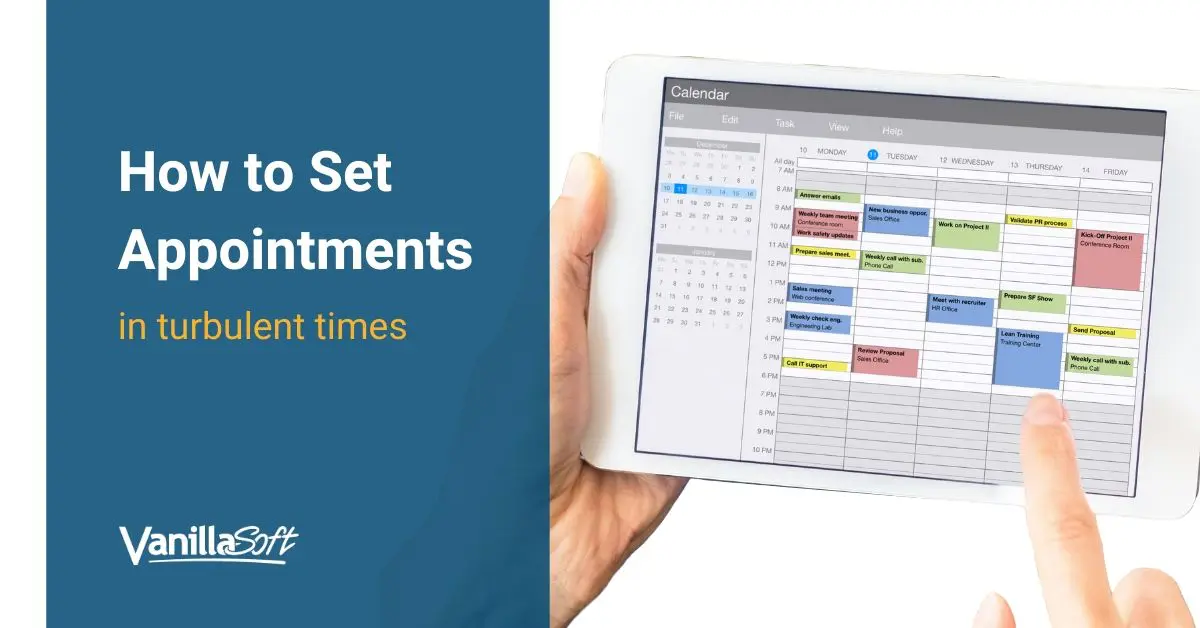 Bob Dylan once wrote, "For the times they are a-changin'." While his song certainly wasn't about the global pandemic we currently face, these words ring as true today as they did 56 years ago when the song was released. We are living in a time with a lot of uncertainties and unknowns, leaving appointment setting professionals, especially in the B2B space, scrambling to catch up.
So how can you adjust your appointment setting strategies to ensure success? In this article, we hope to provide you with three extremely important appointment setting strategies to ensure you keep a full pipeline, even in the most turbulent of times.
Be Human
This sounds like the most basic advice, but it is also the most important when speaking to prospects. No matter your situation, we are all in this together. Use this common ground to grab a foothold with your prospect as soon as you can.
So let's take a step back and think about what you would like to hear on a cold call. If someone called you and was obviously reading off a script, would that hold your attention or make you feel like that company cares about helping you solve a problem? Absolutely not, you would be looking for an excuse to get off the phone as soon as possible.
Specific empathy is the key to success. How does specific empathy differ from just regular empathy? Rather than just saying "I understand," it ties back to something specific the prospect says. So not only do they feel you understand, but also that you care enough to really listen.
For example: You reach out to a new prospect, John, to see if he would be interested in your product or service. John instantly cuts you off and says his company is reducing costs across the board due to a spending freeze, and there is nothing he can do right now. This could be the end of the call, but why not use it to empathize with him since this is something the majority of companies are dealing with?
"I definitely understand the cost concerns with everything going on right now, even my company has had to make some cuts that have everyone on edge about spending; however, I am sure our service can not only benefit you but save your company money as well."
Exactly how you transition into a pitch is going to be different for everyone. Still, the key here is that you express understanding for the prospect's situation and relate it to a situation you are familiar with within your own life. Since almost all companies have some concern over costs right now, this is a great opportunity to grab your prospect's attention and relate to their situation.
So how else can we "be human" when calling our prospects? How about another universal truth with humans: Humor.
A great example of this has been used effectively by our callers here at SalesRoads. We are a completely remote B2B Appointment Setting company, and our agents are constantly on the phones, so we've seen everything. A dog barking, a child busting into the room demanding your attention, joining a Zoom meeting without realizing your camera is on, and the list goes on. The important thing for these situations is to have a sense of humor about it.
When you are talking to a prospect and hear something in the background, don't hesitate to make a little joke or relate to it in some way. If you hear a dog bark, laugh it off and mention that your dog does the same thing from time to time and joke around about how our dogs probably hate having us at home too.
The possibilities are endless, but it's important to find your stride in connecting with people on a deeper level than just prospect and caller.
Look for Other Channels
This one is definitely tricky and requires that you think outside the box. Your prospect list may have been based on criteria that made sense before the outbreak, but what has changed, and how can you adjust?
First and foremost, people are working from home now more than ever. Many didn't have the option of taking their phone with them, so how can we get in touch? The least invasive option is email. Did your company previously take a call-centric approach? It may be time to focus more on email outreach.
At SalesRoads, we use VanillaSoft as our CRM and Lead Management Tool, and one thing we have been using is the email drip feature for prospects we can no longer contact. Our drips are not overly sales-oriented, but they simply ask the prospect if they have more up-to-date contact info and wish them good health. If you notice prospects suddenly aren't picking up the phone and your appointments have dropped off, you may want to look into your own drip campaign.
Another avenue for increasing your B2B appointment setting success is social outreach. Let's face it, as people are more physically distant; they are turning to social media to stay in touch. Most networks are seeing huge upswings in traffic, with the popular messaging platform WhatsApp seeing a 40% increase in usage. This is the perfect opportunity to maximize your social media presence as you may reach a wider audience than before.
Finally, you may need to look at your appointment setting call strategy from an organizational level. A lot of companies are shifting responsibilities internally, so your previous prospect may not be the best target anymore.
If you get someone that is no longer in charge of the area you are seeking, ask them who is. If they tell you the individual doesn't have access to their normal work phone, ask them what number would be best. It may sound invasive, but ask if they are using their personal cell phone or email account for work and if you can reach out to them there. Persistence has always been the best strategy for setting B2B appointments, but in these times it is even more important than before.
Play the Long Game
The last and arguably most difficult adjustment to your strategy comes in the form of long-term requests. Many businesses are struggling, and organizations are afraid to commit to new solutions with so much uncertainty.
Ideally, you want to set an appointment on the first call, but even in normal circumstances, this is rarely the outcome. With so much uncertainty, setting an appointment for the next few days may not be in anybody's best interest, especially if your prospect doesn't have an immediate need for your product. Spend more time digging for information about when your prospect company thinks they will be ready to invest and ask when you can call back.
Say you reach out to someone in April that says their company is on a freeze until October. Six months is a long time in the appointment setting world, but it doesn't mean you can't commit to follow-ups. Ask them if they would be okay with you calling back sometime around July or August. This is the halfway point between when you would like the appointment set (now), and when they think it would be plausible. Building your pipeline in this way will allow you to keep up with potential clients and also build you up for future success.
Times Are A-Changin' for B2B Appointment Setting
No matter what B2B appointment setting strategies you utilize to make it through this time, one thing is certain; you need to adjust to the current climate. To quote Bob Dylan once again, "you better start swimmin', or you'll sink like a stone. For the times they are a-changin'."
---
About the Author:
Maria Enns has more than 25 years of sales and business development experience. She currently serves as the Director of Business Development for SalesRoads, an industry leader in B2B Appointment Setting, Lead Generation, and Sales Outsourcing.
SalesRoads is North America's leading B2B Appointment Setting and SDR Outsourcing firm. With nearly 12 years of demand generation experience, SalesRoads has built more than 425 Outsourced SDR Teams setting more than 50,000 appointments in the process.