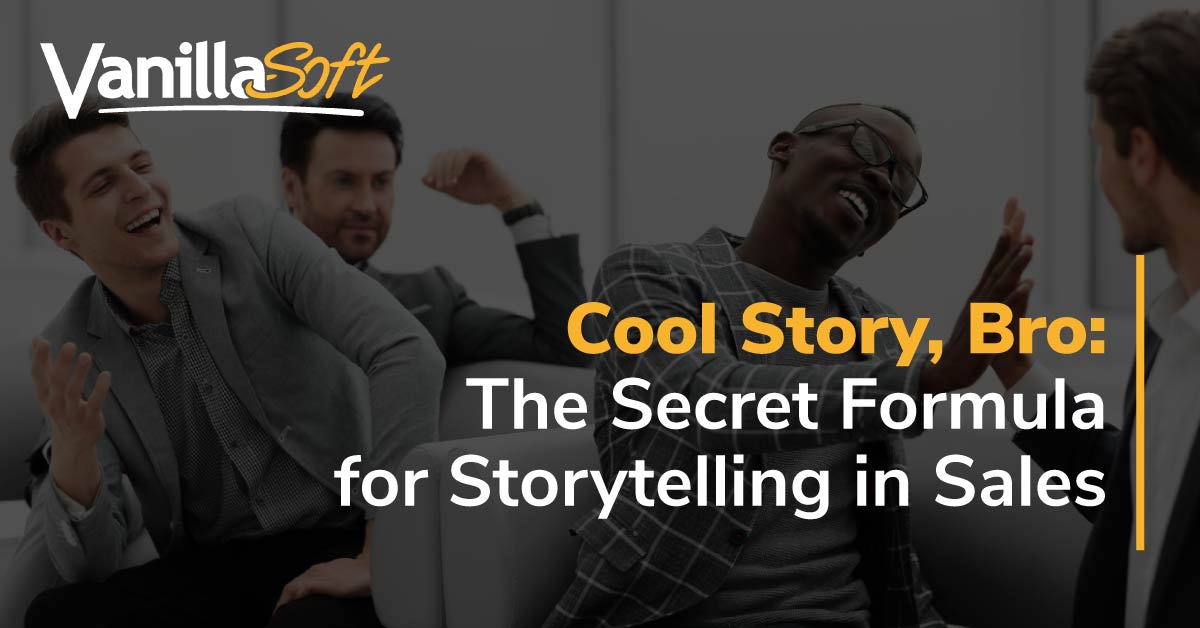 Your sales pitch needs a compelling story if you want to close more deals.
Storytelling is one of the fundamental things that makes us human. It helps us connect to others –– which is critical in sales.
Master storyteller and sales expert Ed Bilat shares his own narrative about going "off script" to break through a prospect's objections.
Ed reveals his "STAR" formula: an easy way to learn how to tell authentic, effective stories.
Storytelling is fundamental to the human experience.
Sure, it's a bit of a trend recently: Webinars are abuzz with tips on how to use storytelling as a tool for pretty much everything – from resume writing to courtroom litigation to, of course, sales.
But as story coach and author Lisa Cron writes in her book "Wired for Story," it was crucial to human evolution, even "more so than opposable thumbs." In fact, we learned to survive through stories, so now our brains are literally programmed to respond to them.
Ed Bilat tells a good story. He began his career as a telemarketing agent who worked his way up to VP in telecom/wireless and SaaS companies. Now, he's president of Storytelling Sales, a firm dedicated to helping organizational leaders and sales pros perfect the craft of storytelling.
Ed's affinity for storytelling began accidentally, around 18 years ago in Ottawa, Canada, he says on an episode of INSIDE Inside Sales.
Once upon a time, in Southeastern Ontario…
"My old Honda died on the way to work, and I managed to push it off the street to a Tim Hortons parking lot. While I was waiting for my mechanic, I made cold calls – truly cold calls, because it was -19 degrees on December 19."
As Ed peered through his frozen windshield, he saw cars packed with Holiday gifts while folks inside Timmy's enjoyed coffee and crullers. But Ed himself wasn't feeling very merry. He had recently emigrated to Canada, and his first job as a telemarketer for a telecommunications company was not going great.
He was still on probation, and his job – which took him nine months to land – was on the line.
"I had absolutely nothing on the board. Zero," Ed recalls.
At that moment, he was really wondering: Who can I close right before Christmas?
The "y'all" that changed it all
"Stories truly connect people," says Ed. "They're where the magic happens."
If you've ever been stressed and under quota, this one will warm your heart.
After countless cold calls, Ed had one last hope: the Lord Elgin Hotel. On his fifth dial, the general manager, David Smythe, finally answered.
"It became an ugly conversation quickly," says Ed.
David quickly launched himself into a litany of objections: I don't know where you got my cell number… There's no way in hell we're changing our wireless provider; we signed a contract three months ago with Bell… I don't think much of your company… And so on and so forth.
But then something happened. David moved away from the sales pitch and brought up the unexpected. "In addition to calling, you sent me about 12 emails. In your signature, I saw you have a degree from the University of South Alabama. But you don't sound like a guy from Alabama. What's your story? Can you even say y'all?"
Without missing a beat, Ed replied: "Yes, sir. Y'all come back now, ya hear?"
And that was intriguing enough for David to set up a meeting: "Listen, Ed. It's Christmas. Why don't you come tomorrow for coffee? 20 minutes. I wanna hear your story in person."
Coffee and a contract
Ed met up with David the following day. "That 20-minute conversation became a two-hour discovery meeting. I quickly realized that my original proposal meant nothing to him."
When he discussed exactly what issues the hotel manager was struggling with, Ed was able to close the deal – and right before Christmas.
"And he didn't stop there," Ed adds. "He introduced me to the Ottawa Hotel Association and then, one-by-one, I started closing big brands."
It was at that moment he realized that prospects don't care about rehearsed objection-handling techniques. They want to know your story.
"It's foundational to establishing a relationship, building trust and rapport – so you want to work together," says Ed.
Our attention span is in the tank
The biggest threat to successful sales is our increasingly short attention span, Ed argues.
He points to a study from the year 2000 that claimed the attention span of an average North American was about 12 seconds. And that was before smartphones and other mobile devices. By 2016, it dropped to eight seconds.
"As a comparison, the attention span of a goldfish is around nine seconds," he adds. "Microsoft did that study, and I don't know how they measured the attention span of a goldfish, but they did."
You could go to a pet store and practice your sales pitch in front of a fish tank, "and the fish will pay more attention to you than shoppers," Ed says. "I actually did it. Nobody cared, except for the fish."
Serving off-script realness
Storytelling is a way to show authenticity – who you are and what you represent.
"We have sales scripts. We memorize and practice them, but that doesn't work anymore," says Ed. "There's nothing authentic about a script."
Because our attention span is so short, prospects will immediately know if you're just reciting a script – and dismiss the whole conversation as a trite pitch.
That means that they'll also know when you're "speaking from your center, from your heart," he adds. And this is something that everyone can do because everyone has a story.
At a recent workshop, Ed was in a room of about 40 people. By his estimate, each of them had between 20 and 30 years of experience.
"Think about it," he told them. "Together, we have 1,000 years of true stories. Do you know how powerful that is?"
Ed's STAR-quality formula
We all tell stories even if we don't realize we're doing it. But Ed has a secret formula that can help you do it well.
His formula is simple and actionable. He uses it with his own sales team and the teams he trains. Here's how he breaks it down:
Situation: "I'm in a frozen car in a Tim Hortons parking lot."
Trouble: "I'm under quota at my first job. I'm about to get fired."
Action: "I made a cold call to the hotel manager."
Results: "He invited me to a 20-minute coffee."
The key is to make the story relevant, relatable – and plausible.
"The more details you can put in, the more believable the story," says Ed.
In his example, supporting details are crucial: I'm an immigrant. It's my first job, which took nine months to get. I have a quota to meet. It's -19 degrees. Christmas is around the corner.
"This is how future customers decide if this is BS, or if it's a true story, something that actually happened to you."
Objections, overruled
As Ed demonstrates, storytelling is a great way to respond to objections.
"Otherwise, what are you gonna say?" he asks. "What do you mean you don't like my prices? You'll love it! Just sign up."
Uh, no. But how do you use stories in a sales conversation?
Tell an authentic story with a little buffer in front of it, like: I understand how you feel.
Think of it as a bridge that assures the prospect you hear their concerns, that their feelings are valid.
You could say: Thank you for sharing this. In your shoes, I would probably do the same thing. Absolutely, budget constraints are a concern for a lot of our customers. Two months ago, I was working with a company that was struggling with…
Use the STAR formula to explain a relatable situation that happened to you – and make sure to include the positive outcome.
Magic!
(Well, not quite. But sometimes it can seem that way.) Life – and sales – has a way of coming full circle, like a good storybook ending.
"David Smythe is still my friend, 18 years later," says Ed. "We still go for coffee and laugh about that call I made."